Greetings Revolutionaries!
It's that time again. The holidays are nearly upon us, but it's also time for a new book release and an ever higher bomb, bullet, and body count. Porter Melo is still in Hong Kong, and the world is collapsing around his ears. After the fiasco of the last job for the CIA, Sam's on the ropes mentally, Porter is exhausted, and the Yan family is waging war against the state. But there's no rest for the weary, and a Melo always looks after his own, so Porter is right back in the thick of things as the revolution turns into an all-out war.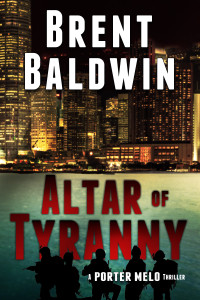 The book is available for preorder at Amazon US, Amazon UK, Amazon AU, Amazon CA, Kobo, and Apple. It will be available on December 8th at those retailers as well as at Barnes & Noble.
Every writer wants the newest book to be his best work yet. I can say with certainty that The Altar of Tyranny is a big step forward for me. It's been a year that I've been working on it, and it's been through more work and re-work than anything else I've ever written. I've tried to raise the bar for characterization, detail, and general mayhem higher than ever before. I hope you all enjoy reading it as much as I've enjoyed writing it.