One of the first things I noticed when I met the Chinese team at work was that they all go by American names. It seemed unlikely that folks born and raised in China to Chinese parents with Mandarin as a first language and English as a second language would be named things like Larry or John, and after talking to the team over lunch, they explained that their English names are chosen based on translations of their Chinese name or a nickname from college or a character in a movie or—in my favorite case—on a powerful weapon from a video game. One of my American coworkers made the comment that if he had that option, he'd just go by BFG9000. It seems to me that it would be more appropriate that the American folks go by Chinese names while we're in China, but that's just not how it works here. If I get to pick a name, I'm going to find something nice and simple and humble. Anyone know how to say "Super Ninja Software Master" in Mandarin?
The day after I first arrived the American folks that were already here took me out to lunch. Somewhere along the way one of them explained that in the first two weeks he was in China he lost about 10 pounds while he learned how to use chopsticks, where the good places to eat were, and what kinds of things he liked. So far I am having none of those problems, and certainly not *losing* 10 pounds. I think I just ate four pounds of noodles at dinner, and that was after a smorgasbord at lunch. We went to the park on Sunday and played soccer for a couple hours, and I'm going to have to put in a few more shifts on the pitch if I want to go home without finding the 10 pounds the other guys lost.
Aside: There were three of us on the soccer pitch Sunday. We walked down to Shenzhen Stadium and "asked" (it may or may not have involved kicking gestures) a helpful policeman where the soccer pitches were. He pointed us around to the back of the stadium, so off we went (right through the middle of the Shenzhen International Car Show, because why wouldn't you have a car show in the parking lot of a soccer stadium?) When we found the practice pitches, we also found a couple dozen Chinese kids having soccer practice. There were a couple empty pitches, so we slipped around the edge and started kicking a ball around, no big deal. Every time we mishit a ball (often), and someone went to retrieve it, the little heads on the pitch turned to follow us with wide eyes. It's a very strange experience for me as a white guy that lives in the Midwest to draw so many "you don't belong here stares." Strange and humbling.
The food here is outstanding. The last two days have included dumplings for breakfast, a feast of a dozen dishes for lunch today, a bowl of beef noodle soup for dinner tonight, and finally (finally!) some actual chocolate from a little bakery down the street for dessert. (As we left the bakery they were getting their eggs delivered. Two milk crates FULL of gorgeous brown eggs.) I've now been to three group dinners where we ordered a number of different dishes and sampled from each, and I've been able to sample and enjoy plenty of new things. The only negative is that I don't actually know what anything is called, so I have no idea how to order again. My favorites have included a braised pork belly; roasted goose; a seafood bowl that had about four heads (not cloves, heads) of garlic mixed in with the fish, squid, onions and peppers; and the aforementioned piece of chocolate cake with raspberry filling.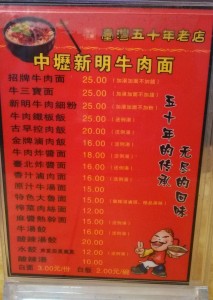 One of my other favorite dishes is something the American folks call "The Larry Special." We went to lunch at a little place near the office and found a table near the back. The menu was on the table, and it had items ranging from 25 yuan on down. The leader of our merry band pointed to the menu and held up four fingers. After some pointing and some smiling and saying the word "four" a few times we had ordered four of the fourth item on the menu. The Larry Special. It came out on a sizzling, steaming cast iron plate. A healthy mound of rice dominated the middle, but I could barely see the rice for all the onion and vegetables and gravy and beef that surrounded and covered it. The Chinese are big on mixing textures, but this thing had it all. Tons of flavor from the beef and peppers and anise. Lots of texture from the rice and the vegetables and onion. The Larry Special was a win.
As we were eating, they explained that they had come to the restaurant with one of the Chinese guys from work, and he had ordered that item. As soon as they saw it, they wanted it, too, and once they had it they loved it. Thus we trek to a hole-in-the-wall Chinese joint, point to the Mandarin menu, and confidently inform the proprietor that we want the "Larry Special."
(All names have been changed to protect the innocent.)