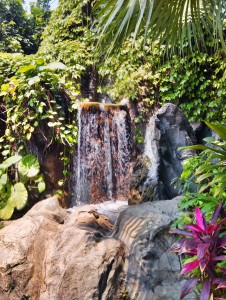 As I write this I'm sitting in the Hong Kong airport waiting on my flight home. It's the third weekend in a row that I've been to Hong Kong, though the last two involved trips to Hong Kong Island and Kowloon rather than a direct trip to the airport on Lantau Island.
On my first trip to the city I went to Hong Kong Island and walked around for a while. It's glass and buildings and hotels and parks. Bentleys and BMWs, Mercedes and Maseratis. Prada, Gucci, Michael Kors. If you're looking for luxury and excess, Hong Kong is a great place to find it.
But you don't have to walk far to see the poverty.
Above the streets crawling with hundred thousand dollar cars were walkways full of women. Old and young. White and brown. And they're all women, at least from what I saw. Covered walkways and stairwells teeming with women and girls playing cards and eating lunch and telling stories and living their lives. It reminds me of New York. Ostentatious wealth and abject poverty shoulder to shoulder. I don't know where they are from or what their stories are.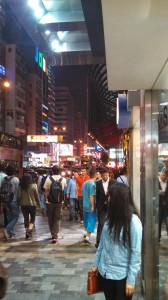 After my first trip to Manhattan a few years ago I told my wife that Springfield and Manhattan have as much in common as Springfield and the moon. The differences between Hong Kong and Springfield are much the same, if slightly further apart. Shenzhen, though, I'm not so sure about Shenzhen. It's very different, of course. Very Chinese. But the part of Shenzhen I was in was a middle class part of town. There's a mall by the hotel, and as I walked through it on my last day in the city I noted the vehicles. The Hondas and the Toyotas, the Chevys and the Fords. It could have been the parking lot of any strip mall in Springfield. The stores were names I didn't recognize, but they could have been the Chinese equivalents of Dr. Judy's office or Rick's Automotive or Buddy's Carpet Care.
The cell phone is just as ubiquitous in China as it is in the US, but they're bigger. Physically bigger. Everyone carries a giant white cell phone and talks into it (often on speaker) constantly. From the dolled up girls in their Benzes to the cabbies making their rounds. It's a status symbol, and it doesn't matter how poor a person is, they have a giant phone.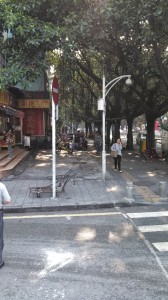 Children are the same little tyrants in China that they are in the US. They fight and cry and run and make their parents want to pull their hair out. And a minute later they come running back and grab your legs and wipe their snot on your hip and tell you they love you and pretty much just steal your heart. In China the kids pee on the sidewalk until they're about five, but I've seen more than a few college kids relieving themselves in worse places, so I think it evens out.
I spent a fair amount of time talking to my Chinese colleagues. We were about the same age, and we were all programmers. They were traveling for work, too, and none of them were from Shenzhen. They came from Beijing and Shanghai and Guangzhou. They left behind their wives and children, and they looked forward to the weekends when they could visit with their families. We talked about work and family and American TV shows. We worked together, side by side, and we made progress even as the treadmill beneath us continued its endless cycle.
Folks have asked about everyday life in China. It is not so different than life in America. My life in Springfield is not the same as Carey's life as an actor and a waiter in New York. Nor is it the same as Karen's life as a stay at home mom in Chicago. Shenzhen is a city full of people from all over China, people of all economic classes. There is no set pattern of daily life across such a spectrum, no more than there is across the spectrum in America. We all live differently in some aspects, but we all have responsibilities. We work and we eat and we play and we laugh and we cry. We hug our wives and our husbands, our children and our parents. The wheel turns, and we turn with it. My colleagues, nay my friends, in China, they speak Java and I speak C#, but the syntaxes are not so different. And neither are we.