Hello again, you handsome jumble of electrons. I have a few exciting pieces of news, which is synonymous with "I have things published again!"
As anyone following the blog is likely aware, I spent a chunk of my Spring in Shenzhen, China. I blogged about the trip at the time, but I also set to work on a novel set in the same area. I am very pleased to announce that the novel is finally finished. In addition to the novel, I also have a novella (i.e. a short novel) and a short story set in the same general area.
I grew up reading the Hardy Boys. Frank and Joe, those All American bad-asses, always running across parking lots without losing their breath, always foiling evil through cleverness and a little fisticuffs. (I always saw myself as Frank, more cerebral, more brown-headed.) From there I moved on to Tom Clancy and Jack Higgins and Micheal Crichton and grown-up thrillers with guns and spies and science. Take a few drops of spy thriller, mix in a little technothriller and dash with a trip to Hong Kong, and you apparently end up with Porter Melo, retired SEAL and CIA agent, dragged back into the shadow world.
When I set out to tell a story set in China, I looked around for historical conflicts I could use, and sure enough, there was a really obvious one right in front of me in Hong Kong and the democracy protests. Of course, I was about half-way through writing the novel when the 2014 Occupy Central protests began, and my fictional story was overtaken by reality. In my fictional world the protesters are not going to go quietly into that good night, but that's a story for the sequel.
And so, I'm happy to share that Kowloon Sunrise and Kowloon Spring will both be available on Wednesday, November 26th. Both can be pre-ordered now at Amazon, and Kowloon Sunrise can be found at Apple, Barnes & Noble, and Nook.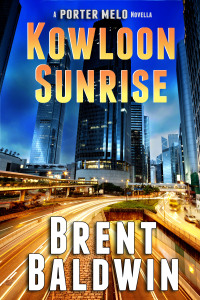 After a decade of service in the U.S. Government's black ops branches, former Navy SEAL and CIA agent Porter Melo has retired to a quiet life of fishing, sailing, and corporate espionage in Hong Kong. When a shipment of Top Secret weapons is hijacked just off the Chinese coast, Porter is yanked back into the shadow world he thought he'd left behind.

With vicious Chinese secret police, a murderous Japanese assassin, and ruthless Hong Kong Triads on one side, and a power-hungry CIA station chief on the other, Porter is in a race for his life to recover the weapons before they can be used against him… and against millions of innocent civilians.
The Kowloon Sunrise is a fast, furious story that centers on Porter, and I intend it to be the appetizer before the longer, meatier Kowloon Spring. You can find it here on Amazon, on Nook, on iBooks and on Kobo.
When a mysterious Chinese agent tracks down former Navy SEAL and CIA agent Porter Melo in Hong Kong, Porter isn't interested in the man's offer: a ten million dollar payday for the high-profile assassination of the Mayor of Hong Kong, an assembly of Community Party officials, and the President of China.

But there's one form of leverage Porter can't refuse. When Porter's brother Sam is kidnapped, the clock starts ticking, and Porter only has three days to find his brother and unravel a conspiracy that threatens to start a new world war with China on one side and the United States on the other.
Kowloon Sunrise is only available on Amazon for the first 90 days, but it will be everywhere else on February 27th. You can find it here.
In addition to the novel and novella, I also have a short story that will be published in late December. "Who We Once Were, Who We Will Never Be" has been purchased by Fireside Fiction, and it will appear the January 2015 edition of the magazine. This is a story set in China, but not precisely in the world of Porter Melo. It's a dark, twisty little tale that originated when I wandered down the wrong back alley and later wondered what the worst thing that could have happened would be.
It will be available on the Fireside website in late December.