Things to Do in Advance
Before you leave home, download City Mapper and Trip Advisor on your phone. City Mapper handles the transit options better than Google maps. There are more restaurant reviews for London on Trip Advisor than Yelp. I would also download the official Transport for London Tube Map to your phone. While there's supposed to be 4G reception in the tube starting in 2019, there's no guarantee visitors will have working data plans.
Bring comfortable walking shoes. If you're accustomed to hopping in the car to get everywhere, your feet are in for a surprise. I'm seriously not kidding here, and I have the tendinitis to prove it. London and New York are similar when it comes to getting around. Springfield has more in common with the moon than it does New York or London. My first trip to London I had a pair of stylish sneakers, and I wore them some and dress shoes some. My feet were killing me after two weeks. When I went back to the States I bought a pair of decent running shoes and some high quality insoles to go in them. (Shout out to Fleet Feet Shoes in Springfield.) Three weeks of daily walking in London, and my feet feel great.
A rain jacket is a good idea. A compact umbrella is a good idea. A big golf umbrella is a poor idea. London gets less rain than New York, but the rain it gets falls more slowly and lasts longer.
Have a pen in your carry-on. You'll need it to complete the immigration arrival form. Also know the address for where you'll be staying. Be prepared to spend an hour standing in line at immigration.
Things to Know Once You Arrive
If you want cheap mobile service in London, do not do it at the airport. Get into the city and stop at any of the mobile shops that are on every street. As long as you have an unlocked phone, you can buy a sim card for £10 that will give you a few gigs of data, some amount of minutes, and unlimited texts for a month.
To get from Heathrow to central London you have a few options. There are cabs and ride hailing services, but expect them to take an hour and set you back £50 or more. The better options are to take the trains. If you're in a hurry, the Heathrow Express will get you to the middle of the city in 15 minutes for about £25. As you leave the airport, look for signs indicating trains. You want an actual train, not the Underground (aka tube aka a subway, though a subway here is actually an underground footpath). The most common option is probably the tube. Look for signs saying Underground. The trip will take about 45 minutes on the Picadilly line and cost around £3. Personally, if I'm just lugging a suitcase or two, the tube is fine. Everyone else leaving Heathrow will be hauling luggage, too.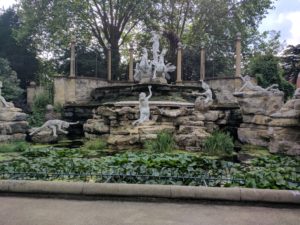 To use public transit you will need either a contactless bank card or an Oyster card. If you're coming from the States, you should plan to buy an Oyster card. This can be done at any tube station, including Heathrow. If you're going to be in London running around doing touristy things, £5 to £8 per day is a good estimate. You can add more to the card in the middle of your trip, if necessary.
Busses don't stop unless you signal them. Many bus stops have multiple routes, and the driver will assume you're waiting on another bus unless you signal. To signal, step to the curb and extend an arm, fingers outstretched.
Once you're on the bus, it might not stop to let you off unless you signal. There are red buttons all over the bus. Simply push one when you hear your stop announced. A bell will ring, and usually a sign will light up at the front of the bus that says, "Stopping."
Double-decker buses offer a great view of the city. You should probably sit upstairs unless you are elderly, with a small child, or disabled. Or if your ride is only a few minutes, in which case consider standing.
The tube is great, though it gets crowded at rush hour. When you're using the escalator, stand on the right only. People will shoulder you out of the way if you block the left side. When waiting to board your train, stand to the side of the doors and let people exit down the middle. You have to tap in when you enter the station, and you also have to tap out when you leave it. This shouldn't be an issue unless you ride the DLR (Docklands Light Rail).
Things to Do While You're Here
Most museums in London are free, though they do often have paid exhibits. They also have a donation box, but it's truly a donation and not a shakedown. Feel free to drop £5 in the box. Or not. Your call.
I loved the Museum of London. It shows London from the Paleolithic through the modern era. You walk through in sequential order, and it is wonderfully arranged. The Imperial War Museum is the 1B to Museum of London's 1A. The tanks and planes are good, but the can't miss portion is the Holocaust gallery. Prepare to be gutted.
Other places I enjoyed
Victoria & Albert
The National Maritime Museum
The Cutty Sark
The Tate Britain
I need to spend more time at the V&A. What I saw I enjoyed, but it was only an hour.
There are plenty more I haven't visited yet, too. (Yet!)
Bits & Bobs for Other Things in the City
If you go to a football match, you will not be able to take your beer to your seat. The fan culture is even more tribal than in the US. Where Americans will jeer the opposing players, the fans here will jeer the opposing players but especially the opposing fans. It's uglier than I expected. My understanding is that the beer prohibition is to prevent thrown cups and to contain some of the ugliness. This is one of the biggest cultural differences I've found, but to be fair to the English, I haven't ever been to a Raiders game, either.
If you go to the theater, you will be able to take your beer, wine, or cocktail to your seat. I saw Wicked for 30 quid and bought my ticket the day of the show. The seat wasn't great, but it was incredible value. There are plenty of shows with similar options. Also plenty with better, pricier seats. The performance was fantastic, and I can't wait to go back with my girls.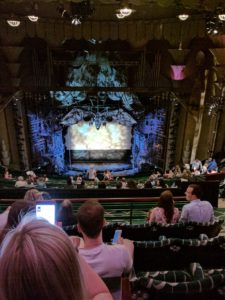 I'll do some food reviews once I've visited a few more places. There are plenty of amazing places to eat here, and I'd like visit a few more so I can present a wider variety.
Safe travels!