Welcome back, footy nerds. If you're just joining, the previous installment is available here, and the first installment in the series is available here.
My biggest regret in the save is how poorly I prepared us for our first campaign back in the Premier League in 2022-2023. Particularly in terms of tactics, but also how I spent our transfer budget to improve the squad. One smaller regret is an offshoot of that transfer spending. I wish I hadn't bought so many mediocre 17-year-old prospects. I can't even call them wonderkids. Not because of the money, but because they arrived after the Premier League season, which meant they counted toward this season's limit of 6 under-21 international players. We're up to three deals I've had fall through, and one that happened this January stings.
I tried to offer another contract, but this news broke a few days later:

I'm gutted. He's one of the best left back prospects in the world, and we've missed him. He's signed a new 4-year deal at Sao Paulo, and he'll probably cost 30m if we want to pry him away next season.
We also missed out on Karel Hysky this January, which turned out to be fine.
A few years back I read that half of all transfers in the real world don't work out. (Everton supporters are nodding.) Not just that every transfer isn't a star, but half of all transfers don't even become squad players. Liverpool supporters are casting furtive glances at Naby Keita, but he's a success by this metric.
I've done better than 50% in this save, assuming you include "sold for profit" as part of "worked out." Still, I wish we had landed Hugo. He's already good, and he's only going to get better.
After writing all that, I've reverted to my nature. I've lined up another solid youth prospect for the summer. I'm like the scorpion on the frog's back; I just can't help myself.
Kevin isn't as quick as I'd really like to see, but he has plenty of time to develop further, he's already mentally solid, and he has a good starting point for technical skills. I have no idea if he'll be better than Neco Williams by the time he gets to 22 (where Neco is now), but he might be. If I can pry Neco away from Liverpool at a decent price, I will, but I expect that Kevin will be getting most of Neco's minutes with Ross McCrorie flexing into the rightback position as needed. (I'm super excited about having McCrorie's versatility to cover MC, DC, and DR.)
Kevin was the fourth of my six transfer slots for next season, and I don't plan to use any more until the summer window. (He says, before he sees the European youth intake.) The good news is that our squad is decent enough that I don't feel compelled to find players that are only decent and have good potential. I can find genuinely good players that have outstanding potential. (See the last post for some examples of the true wonderkids that won't join us yet.)
With Alakouch on his way out, I brought in a new left back on deadline day. Key things to note: he's English and he's 24. This does NOT count against my wonderkid transfers. 🙂
I've had my eye on Josh Tymon for a while, but I never felt he was quite good enough for us. Now that we're in a pinch with Alakouch, I've spent the money on him.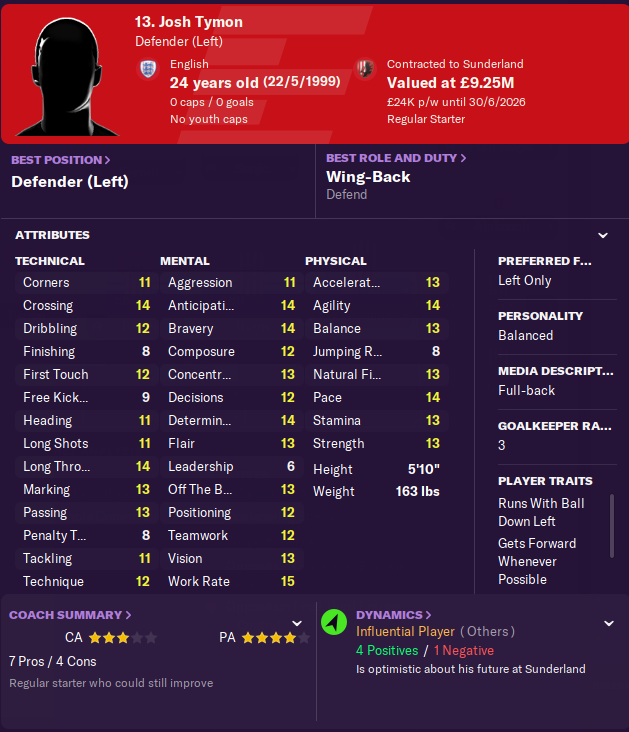 He's not brilliant, not in the way Vlad Dragic will be or Victor Hugo would have been (I'm still salty), but he's English and he's useful, and I really need someone to take minutes from Dennis Cirkin, whose legs are about to fall off. Worst case is that I sell him in a year and break even.
I took a deadline day shot at bringing in a 24-year-old Portuguese winger (doesn't count against my limit if they're over 21!), and while Porto were willing to work with me on finances, the player refused to even discuss a contract. To be fair, he went to the Premier League, where he'll probably play plenty of minutes for Aston Villa.
In an attempt to help Brad Laws further his development, I offered him out on loan. He's played about 400 minutes for our senior team, but he needs more football if he's going to make it.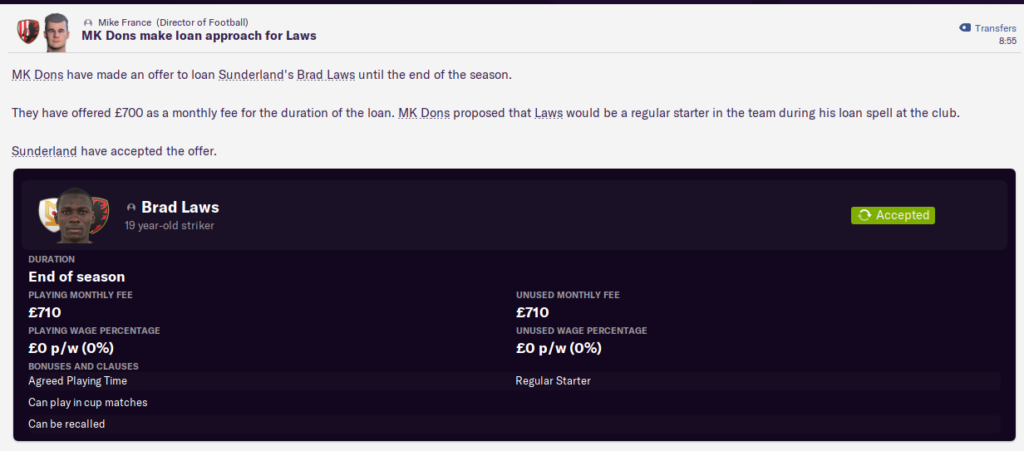 MK Dons kindly offered to take him as a regular starter and even threw in 700 quid a month for the privilege. I would have let them have him for free, but thanks, I guess.
I'm already looking at our squad and thinking about the Premier League. It may be a bit presumptuous, but we'll be far more ready for the top flight on our second attempt. The first priority is to bring in a centerback better than Kean Bryan . We only have three Championship-calibre centerbacks at the club, and I don't think Dan Almond is going to be useful for next season. McCrorie will be a big help, but I think we need someone really solid that can be part of a three-man rotation with the excellent and still improving Augusto and Burns. Plus, if one of them gets poached, I'm not up the proverbial creek without a paddle.
I wouldn't mind a midfield upgrade on Burnic or Sunjic, but we're probably okay there with Ferrell and Enric developing as they are, plus the midfield wonderkids already joining in June.
We're okay at striker. Sima has been great, and Pure Magic broke a NINETEEN match drought in January and has scored a couple since. If ever you wanted proof I'm not using the editor to find players, it's that I had such hopes for Pure Magic and he's turned to be a little bit meh. He's not come on as well as I had hoped, and our coaches now think he's 3.5 star potential, which is baseline Premier League quality. Our top 5-star prospects are Enric, Augusto, Burns, and Farrell.
Speaking of Fearrell, here's how the Scottish Mistake is looking these days.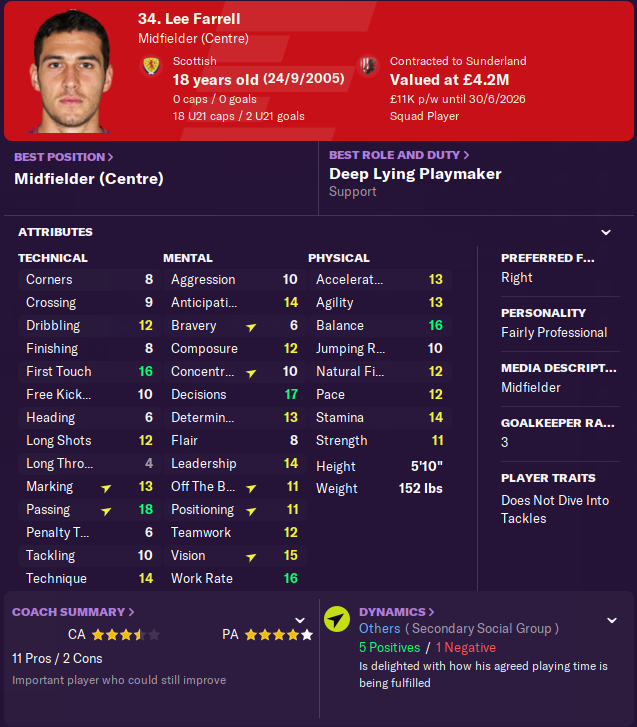 As handsome as ever, and look at that passing and those decisions! I am fully intending to build a team around him at the base of midfield threading killer passes between the lines.
It took until after the transfer window ended, but Alakouch finally signed a contract with Al-Arabi. He left for 5.25m, which was a bit less than I wanted and a bit more than I paid.
Maybe I handled him poorly, but he always seemed to have a mistake in him, and that last red card tipped me over the edge.
Our big FA Cup match against Manchester City was in early January. The Cityzens came to the Stadium of Light and we actually held serve, to my shock and delight.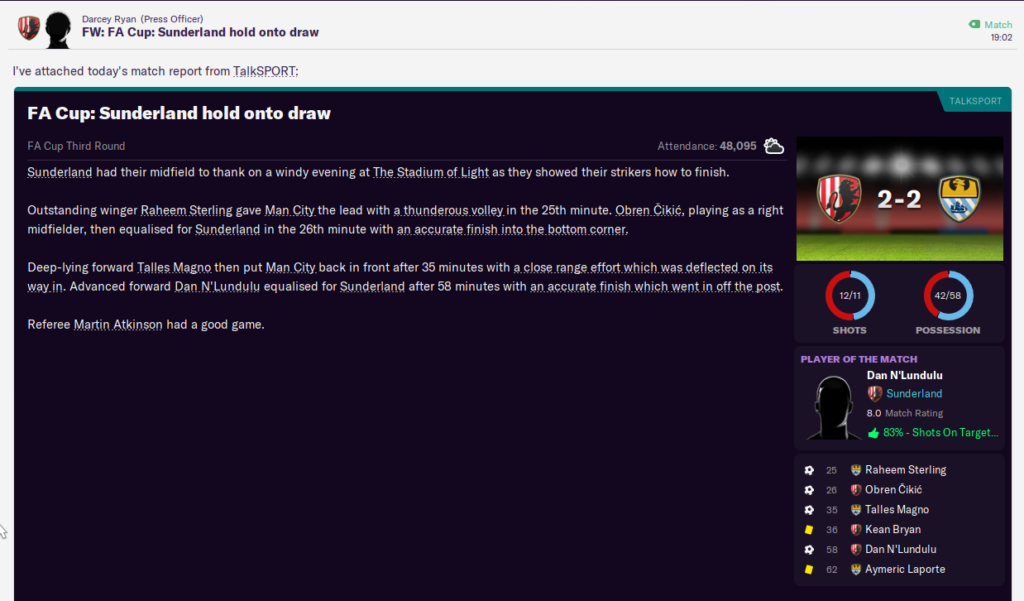 I tried using the 442. It didn't work terribly well. We were down 1-2 at halftime, and City looked far better. I switched to the 4231 in a positive mentality, and we looked much better.
Look at that beautiful xG graph. I don't know that I'd want to try starting in the 4231, and I certainly won't in the replay in Manchester, but I'm very happy to see how it turned things around for us here.
The poor performance of the 442 makes me think I need to revisit it in the preseason when I have some meaningless matches to tune it.
The replay in Manchester was not a highlight reel for our Black Cats, but we did have a nice Enric to Pure Magic goal on a counter-attack to score a late consolation goal. We fell 1-4, and 3-6 on aggregate.
We cruised along in the league in January and February. We weren't perfect, but we racked up points and stayed near the top of the table, all while giving the wonderkids plenty of minutes.
Our youth recruitment players arrived in late March. I mention them only because I feel like I should, to be complete.
I'm not sure if they're bad (they're bad) or if it's only by comparison to how much better our first team is compared to a couple seasons ago. We'll sign a few of them to have bodies for the under-18s, but I don't have any hope of any of them ever reaching the first team. I did convince the club to upgrade our recruitment after I saw the warning about this group being mediocre. I'll try again in the summer to see if we can get some actually useful players coming through.
You remember how I told you Abdallah Sima was on fire? Here, have a few pictures worth a thousand words to show you how great he's been.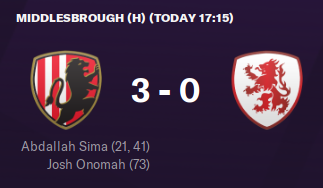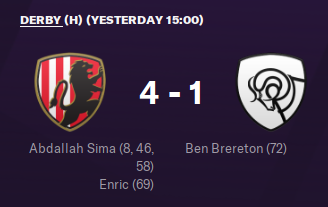 Fun fact: Abdallah Sima had an active relegation release clause in his contract for 22m. He had a Champion's League release clause of 43.5m. Operative word: HAD.
That work permit calculation is a little wonky. I have intimate, excruciating knowledge of the British visa process, and it depends on how many dependents you have and how long you're applying. (Maybe it's different for athletes, but this applies to normal people.) If Sima has a spouse and a kid, that 20k is about accurate. It's expensive to move to England.
And the deal is done!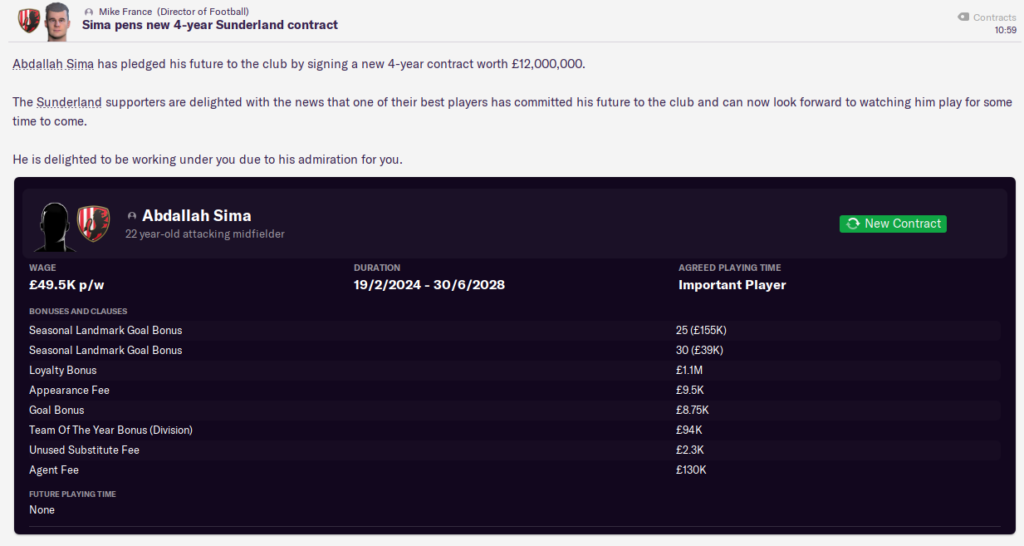 He's only 22, he's scored 25 league goals this season, and he hasn't been the starting striker for most of the season. Well, he is now. (He'll probably fall off a cliff next season since that seems to be my luck with strikers…)
Me, working late on transfer options for the summer: Hey, Dan, what's up?
Dan N'Lundulu: I was thinking about a new contract…
I open the spreadsheet with this season's stats

Me, looking calmly at the sheet: And?

The door closes quietly behind him.
Me, already heads-down in scouting reports: Peace and love, Dan
Is it horrible to say I'd like to find an upgrade on N'Lundulu? He carried us to the Premier League two seasons ago, but he's been mediocre this season, and I don't think he's quite good enough to be a consistent starter in the future. If I can find an upgrade, I will. If I get a good bid for him, I'll let him leave. I'd say that I'd like to have him sub at ST/AML/AMR, but if we're playing a 4141 or 4411 most of the time, there's limited need for him since he doesn't have the defensive chops to play further back on the wings. If he goes, it'll be with a case of whiskey, much like Ross Stewart.
The biggest issue as we go grind through the matches is squad rotation. My players are tired and the coaching staff keep telling me they need rest. The defense is the biggest area of concern. I'm trying to rotate as much as I can, but I only have 3 senior centerbacks and 1 senior rightback.
Darcy Ryan, our press officer, popped by one morning.
Darcy: Boss, one of the broadsheet lads said he found something in your search history
Me, my heart stopping in my chest: Oh?
Darcy holds up a page of search results: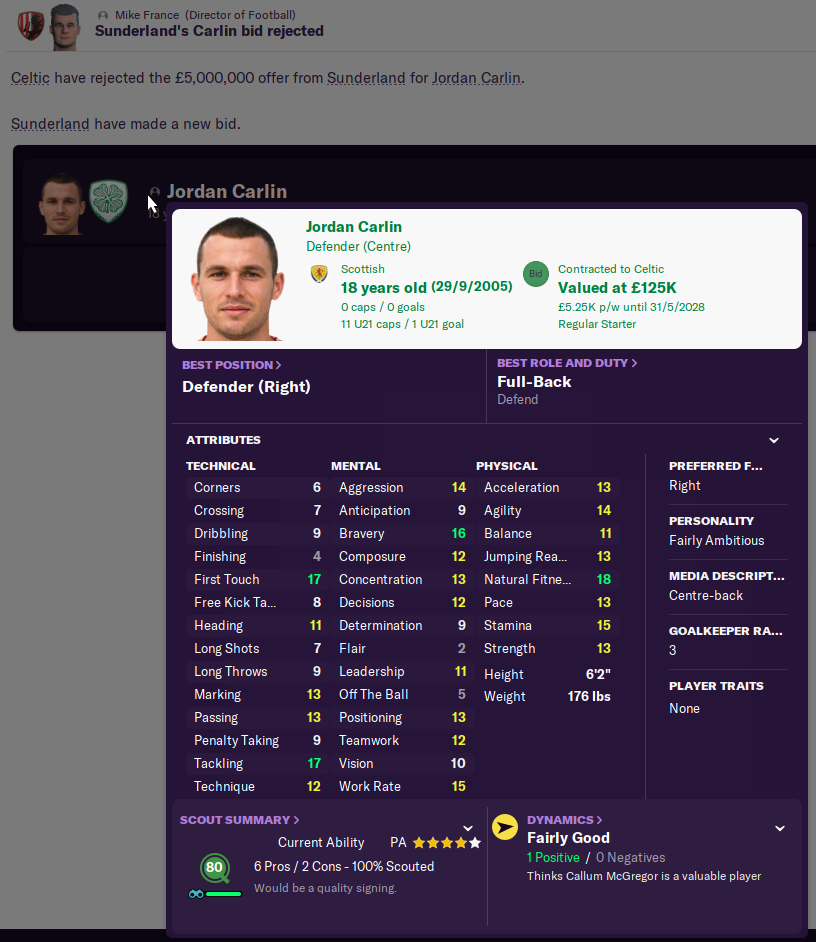 Darcy: He asked if you wanted to comment on searching for "How to unsettle a player"?
Me: No comment
Also me: how the hell are they hacking my search history?
Darcy, whistling as she walks away: No idea, boss
Celtic declined my 10m bid for Jordan Carlin, which was annoying, so I thought I'd just check to see when his contract expires.

Wait, what's this?
Hahahaha! Victory! Being rich is f***ing great!
Now, before I pull the trigger on this, let's make sure there aren't better options.
First up is Jonatan Arrua at Boca Juniors. He's Argentine, which would take one of my precious under-21 foreign player slots. Carlin is Scottish, which most wonderfully does NOT take one of those slots, so that's already a point in his favor if we need a tie-breaker.
Carlin is looking good!
Actual stats are more of a mixed bag, but I still like Carlin. Physically, he's not the leaper Arrua is, but he's a touch quicker. Mentally I like Arrua's anticipation and bravery, but I like Carlin's composure and decisions. Technically it's really no contest. Carlin is ridiculous in the tackle, he has a great first touch, and his passing and marking are both superior. And did I mention that he doesn't take one of my foreign player slots? It'll cost about 8m more than Arrua for that privilege, but we're rich, and we're coasting straight back to the Premier League.
Let's be thorough, shall we? The best senior player that will sign for us right now is probably Joe Rodon.
Physically, it's the same story all over again. Rodon is better in the air, but it's about a wash otherwise. Mentally, Rodon wins. That's not a surprise, given he's 8 years older. Technically, Carlin is ahead again. That 17 tackling is good at any age, the marking is comparable, and Carlin has better passing.
One last comparison, this time to a legit superstar that wouldn't return my calls unless we were in the Champion's League.
Upamecano is better physically, for sure. Much quicker, and a marginally better leaper. He's superior mentally, though the flair hardly matters. He's better technically, but again, 17 tackling is superlative, and if Carlin's marking improves, he's going to be very comparable.
Do you see that release clause? No? Me, either.🙂
The only area I can think of that I know I need to reinforce for next season is rightback. We can probably loan Neco again, but I'd rather be developing my own players at this point. I tried to make the transfer permanent, but they wanted 63m. Uh, I may be rich, but I'm not that rich. If Liverpool won't sell him for a reasonable price, I'll let him go back and sit on their bench a while. His contract expires in another year, though they do have an optional one-year extension that I'm sure they'll use.
I know it's only MK Dons (sorry, Dave G), and I know the Premier League will be more of a challenge, but TWENTY-THREE shots on target. My tweaks to the 4321 (and our improving young players) are working.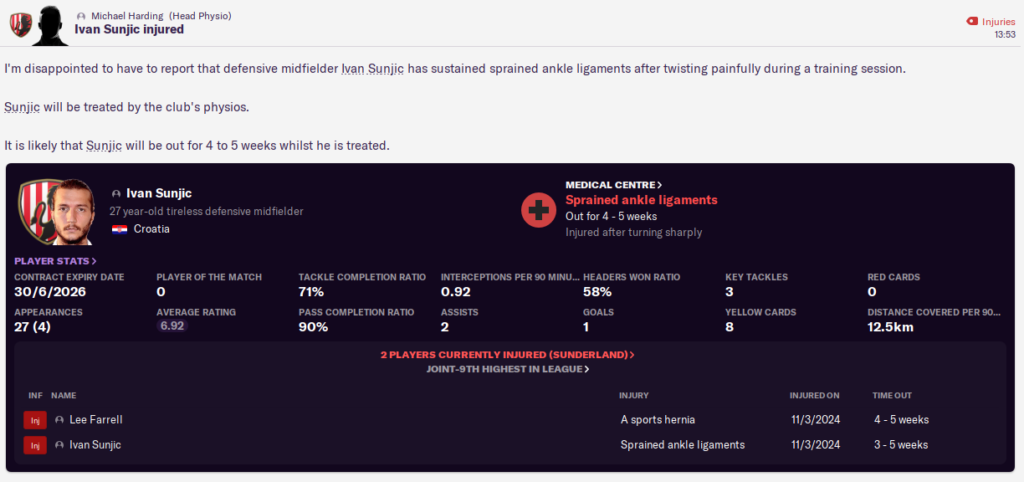 I'm not worried, but that's not great, either. Two starting midfielders injured for what's likely to be 7 of our 8 remaining matches, if not all 8.
A Neco Williams red card and subsequent two-match suspension added to my troubles. Finley Burns picking up his 10th yellow of the season and getting a two-match suspension didn't help, either. We ended up playing some matches with some very middling youth players getting minutes. We won, anyway, so it was more of an "opportunity" than a crisis.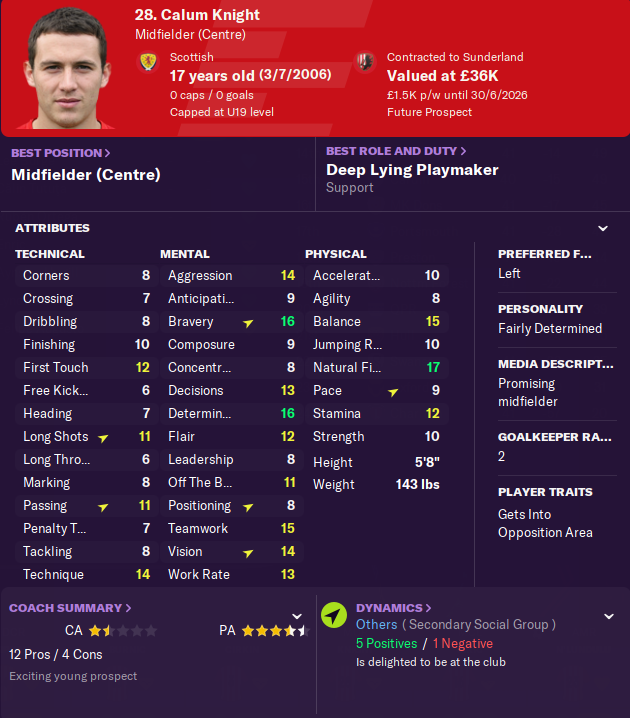 Young Calum Knight (they're only "young" if they're not good enough for the first team) did well in his starts. He's my best prospect from our homegrown players.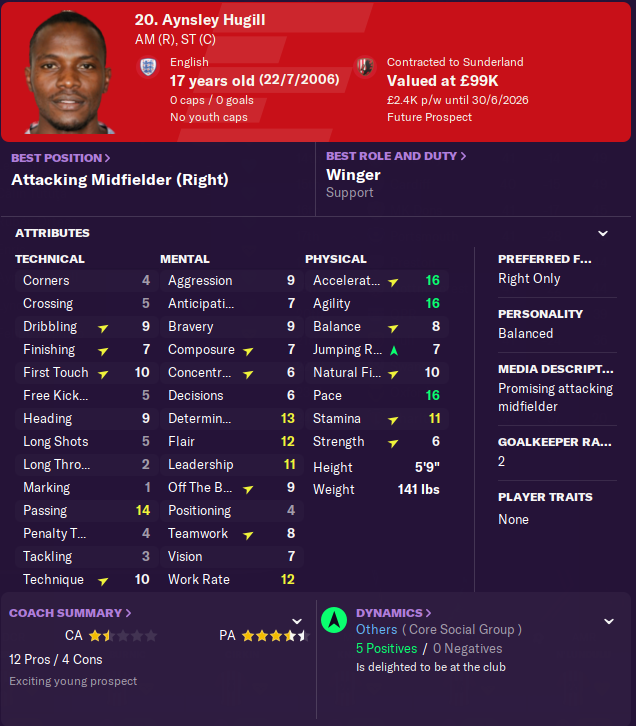 Ainsley has fab pace, but little to go with it, though he bagged some goals on sub appearances, so I think he'll have a good career somewhere, even if it's not with us.
Calin is rated highly by my coaches, but I'm under no illusions about him making it to the senior team for more than the emergency cameo, and even that will hopefully cease after this summer's arrivals. Check out his determination and work rate. That's a lad that has felt my wrath for poor match performances. I fear the artificial stat growth in those categories has impeded him in other categories, though. I don't know that for a fact, but it seems like that's how the game would work, weighting bigger numbers more and suppressing the others.
April brought two massive matches in a row. Watford away and Newcastle at home. We were still in the midst of the injury and suspension crisis, compounded by Calum Knight getting a knock on international duty. If I had a nickel for every time we played well and dropped points this spring I'd, uh, be broke. Because we played well and won. Future club legend MAX POWER has been our emergency rightback while Neco Williams has been in the clink. He's been–I don't want to say immense–but very adequate. His set-pieces have been massively helpful, and he hasn't shamed himself in defense. He's nowhere near the level we need for a backup in the Premier League, but he's also been earning his enhanced paychecks against the opponents put in front of him. Anyway, we crushed Watford 5-1.
Another personal milestone rolled around, and it happened to be against arch-rivals Newcastle United in a match that could guarantee our return to the Premier League.

Aww, thanks lads. You couldn't have given me a better gift.
Um, Kyril, what the hell? We're rich already. We're going to be even more rich soon. Why is my transfer budget LOWER for next season?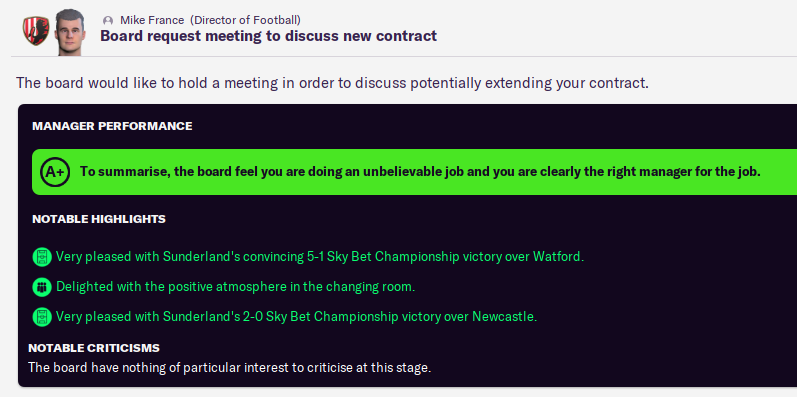 Oh, you mean to put those extra millions into my personal pocket? I'm listening…
Well, he didn't exactly give me that difference, but 35k a week is nothing to sneeze at, either. (Manager salaries are meaningless in this game, other than maybe making you harder to sack or forcing a club that wants to poach you to pay a little more to get you.)
We needed to beat 20th place Hull in our next match to win the title in front of our home supporters.
We are the champions (of the second tier), my friends! We are the champions (again)!
If I'm truly going to keep at this until I'm sacked, we could be here a while.
Aw, thanks.
Apparently, I didn't share the final table after our last Championship championship. Consider that mistake rectified:
Here's how we finished this season.
I can't complain.
After a rough December and the Manchester City drubbing, we turned on the style.
I count 21 matches unbeaten until the final day when it didn't matter.
Some final stats (in pictures because I can only write so much about such dominance):
Kyril stopped by with his vision for next season. I'm a little concerned about playing entertaining, possession football in the Premier League, but it's more likely than this past season's goal of signing high-reputation players.
Our facilities were downgraded, and Kyril has kindly agreed to upgrade them.
Turns out that the last time I asked and he declined it was because we already had excellent facilities. Who knew a League One side would? Oops.
A few final bits of news before we wrap this.
Liverpool won the league for the 5th season in a row. Leicester survived, barely.

West Ham beat relegated Sheffield United in the FA Cup final.

Huddersfield will be joining us and Derby in the Premier League. Newcastle were great for most of the season and were terribly unlucky not to be in the automatic promotion places. Tied on points and goal differential with Derby, but lost out on goals scored.
We won a pile of individual awards. Sima set a new league record for Player of the Match, Danjuma won Player of the Year, Sima was the top goalscorer with 33, Burns was Young Player of the Year, I was Manager of the Year, and we were well-represented in the league's team of the season.
We finished with 98m in the bank, which mostly means I have cash on hand for the 30m in pre-arranged transfers that are going to hit us in early June. (McCrorie, Lacroix, Carlin, some nearly-wonderkids from last summer.)
I'll pause here. The transfer window looms, and we will have some new players joining and probably a few departing.
Until next time, footy nerds.