Welcome back, footy nerds. If you're just joining, the previous installment is available here, and the first installment in the series is available here.
In most circumstances, it would be blasphemy to say you don't care about winning the league. One of the few exceptions is the EFL Championship. The trophy was nice, but being promoted is so valuable that the league was only icing on the cake. After the ignominy of relegation, I am stoked to return to the Premier League and prove that Sunderland belong there. I don't just want to go up and come back down. I don't even want to go up and cling to survival. I want to go up and thrive. I want European nights for the Black Cat supporters. I want a 40-year-old Leo Messi playing in the Stadium of Light with the wind howling off the North Sea, the supporters shaking the rafters, and his last chance of Champion's League glory slipping from his frozen grasp.
We've been building a decent foundation over the last year. The summer of 2024 where we solidify it.
I mentioned before that about half of all real transfers are unsuccessful. I don't want to go through every single transfer, but let's look at just the young players, the nearly-wonderkids, we've brought in so far.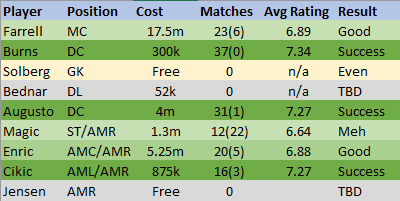 I don't think any have been flops, though Bednar and Jensen are very much TBD and may never be good enough for the first team. (Missing out on Hysky and Filip Beck (the Danish kid that fell through last summer) is helping my case here…) Burns and Augusto are 100% successes. Cikic is off to a fantastic start with the half-season we've had him. I have Farrell marked only as "Good" due to his lower average rating, but he's played tons of minutes and been important for us. Enric hasn't quite gotten up to full speed, but he's been plenty good enough to deserve his minutes. Pure Magic had a rough spell mid-season, but kicked on decently in the second half. Solberg played one match and was sold for a profit, so I don't think it's fair to count him as a success or a flop.
Farrell and Pure Magic dropped by my office hunting for new deals. They both deserve them, to be honest, so I've gone ahead. Pure Magic's was easy, and had no special clauses. Farrell's agent pushed me harder than I really wanted to be pushed, and I've had to agree to some release clauses.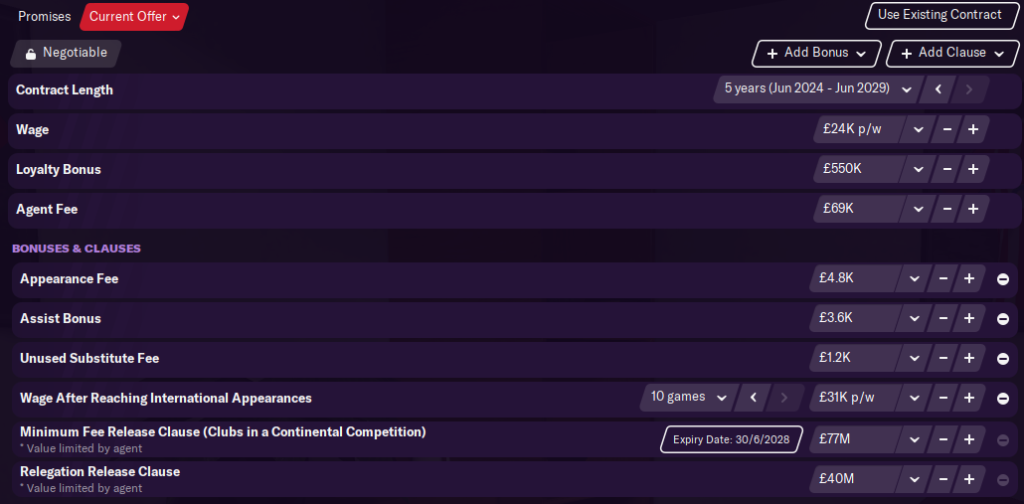 On the plus side, if anyone offers me less than 77m for Farrell, I can tell them to pound sand, and he can't complain about it. On the down side, I can easily see him being worth that money in 18 months, so I'll probably be giving him a raise by then.
We have a handful of new players joining. Ross McCrorie is the most-senior of the group, though I'm not at all sure he'll end up being the most important.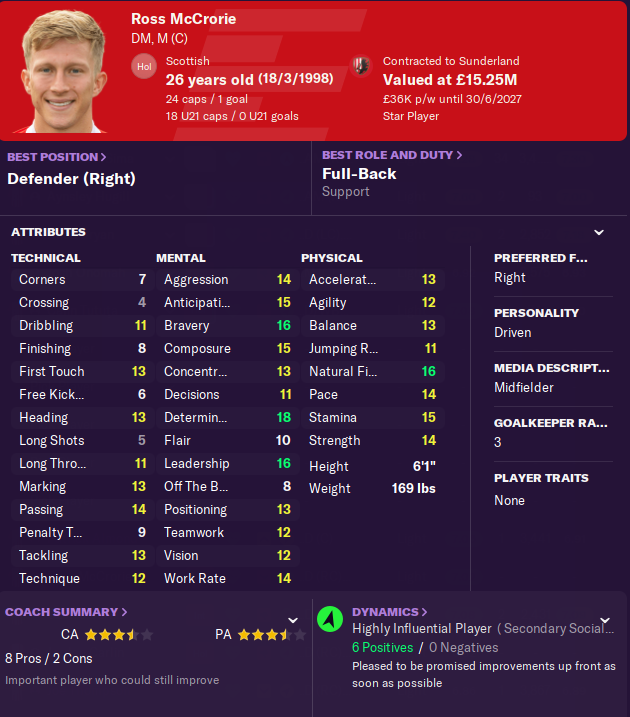 He's the kind of utility player I rave about every season. Having someone that can effectively cover a number of positions is the difference between relegation and mid-table. MAX POWER did a fine job as our emergency rightback in the second half of last season, but no one wants to see him reprising that role.
I'm excited to see how Jordan Carlin does for us. I expect that he'll fit right in with Finley Burns and Phelipe Augusto in our centerback rotation.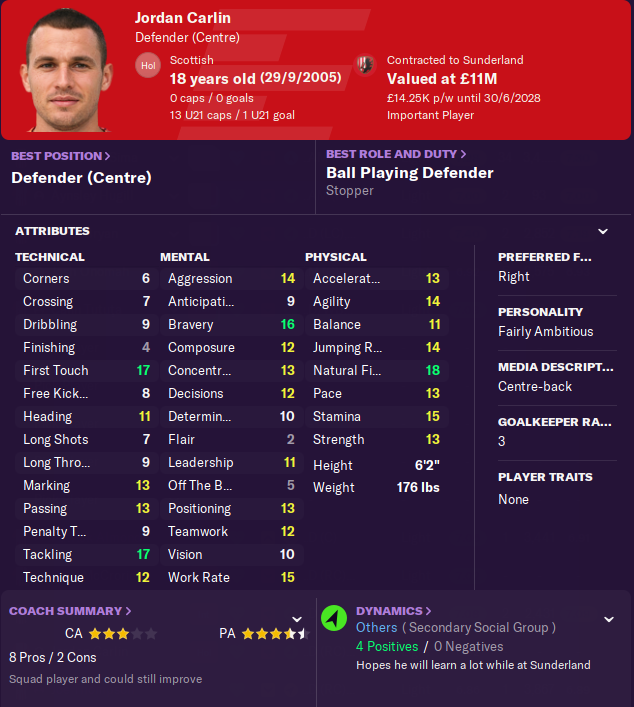 I've heard centerbacks described as being of two arch-types: dogs and cats. Dogs are players that are physical, aggressive players who shut down opposition attacks by charging in. Cuti Romero is a great exmaple. Cats are more patient, using their superior positioning to always turn up in the right spot and snuff out an attack before it gets started. Think Toby Alderweireld at his peak. I think Carlin is going to be more of a dog with his ridiculous tackling, good work rate, and decent positioning.
Kevin Lacroix is a promising rightback. Not quite a wonderkid, but lots of potential.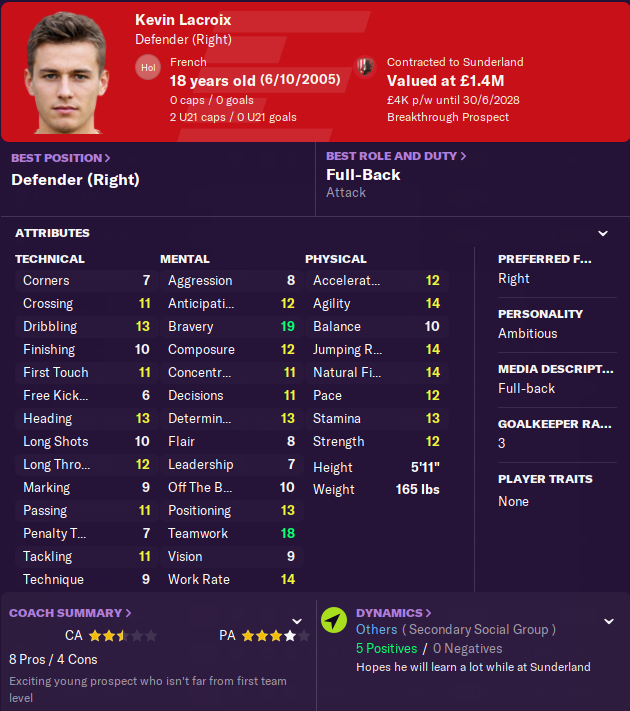 We'll see how he does with first team minutes. Hopefully he develops well playing part-time.
Vlad Dragic is my leftback of the future, leftback of the present, and possibly midfielder of the future. He's already looking amazing. That level of passing out of a fullback screams for me to play him far up the pitch with an inside forward cutting in ahead of him. I'm actually really looking forward to seeing Vlad ping balls across the opposing penalty box and onto Cikic's forehead.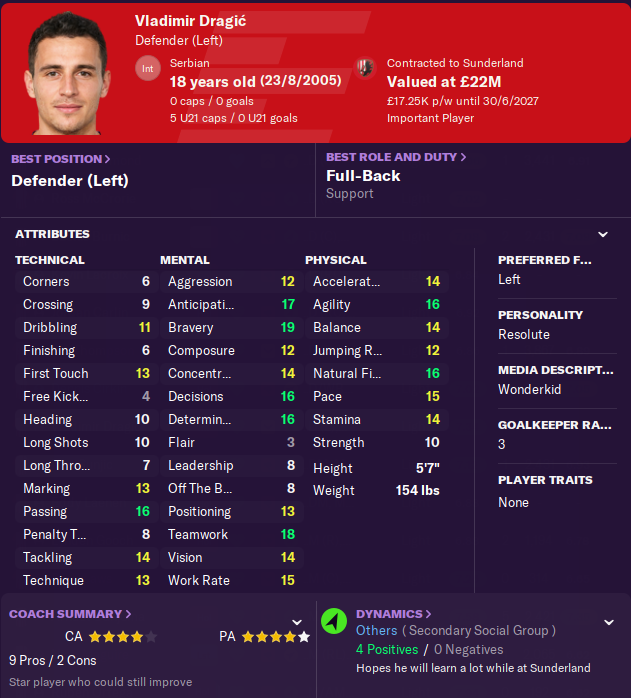 The midfield option here is interesting, though I'm not sure yet what I'll do with it. I don't expect to play him there much, and I know our fullbacks (wingbacks, really) need heavy rotation given how demanding their roles are. If all he does is play a bunch of minutes in rotation with Josh Tymon, that should be plenty.
Eddy Laenen is one of those players who looked too good to pass up. He's hopefully going to get enough minutes to further his development, though I think we do need him to develop more before he's ready to be our midfield destroyer.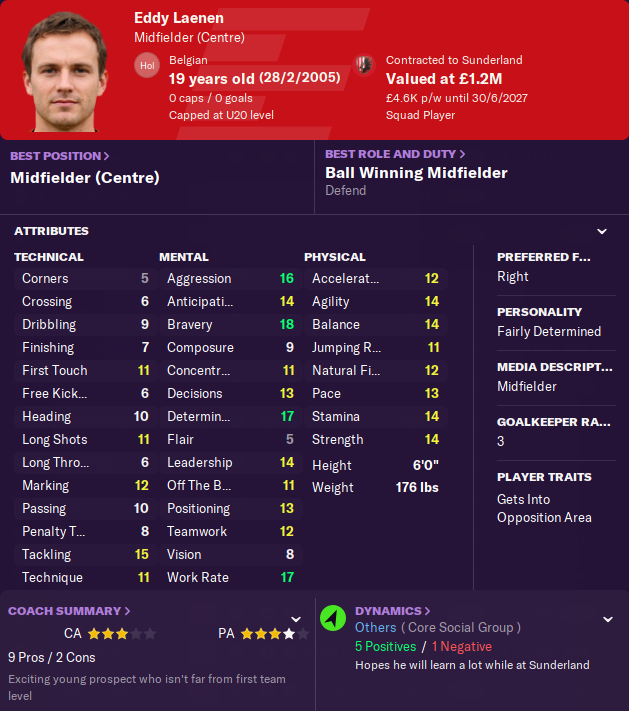 Our existing crop of nearly-wonderkids are coming along well.
Lee "the Scottish Mistake" Farrell is a capable midfield starter for us now.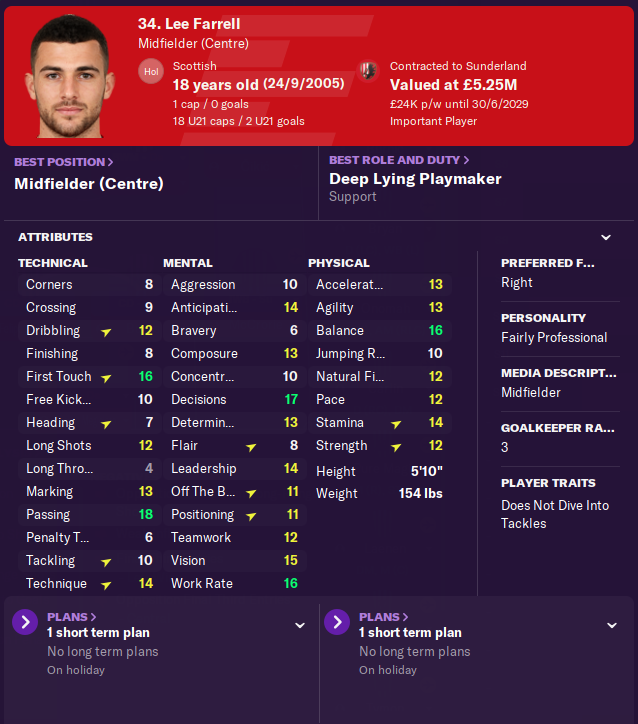 Lee, my dude, what did you do to your hair? You might want to go back to the old barber.
(There was a technical issue with updating the regen faces, and I seem to have replaced all regen faces in the game rather than just the new players. I'll try to figure it out for next time.)
Finley Burns is one of our starting centerbacks.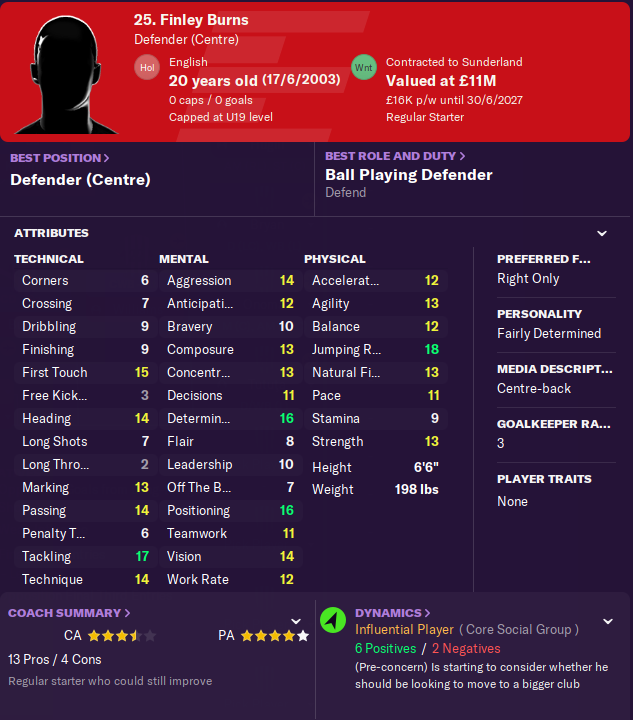 Felipe Augusto is our other starting centerback.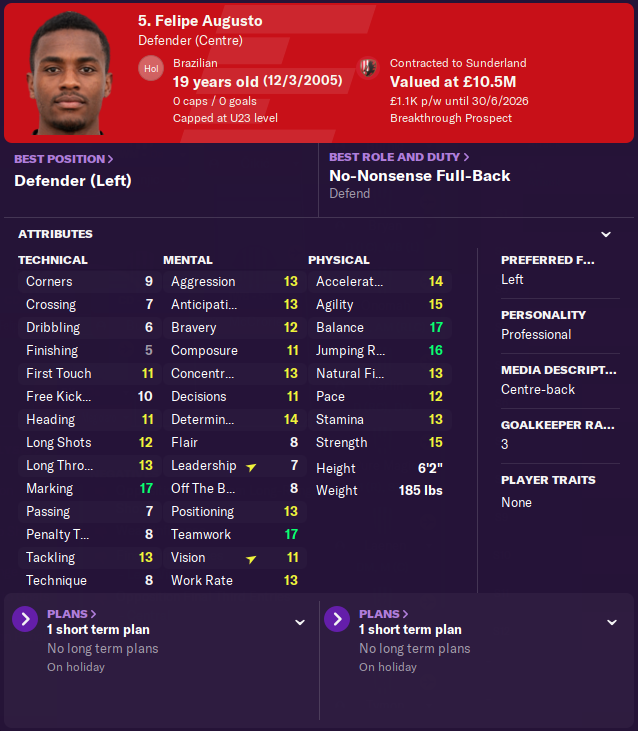 He dropped by the office asking for a raise, and I've given it to him. He's gone from 1.1k a week to 20k a week.
Cikic has done a solid job at AMR now that Sima has moved to ST.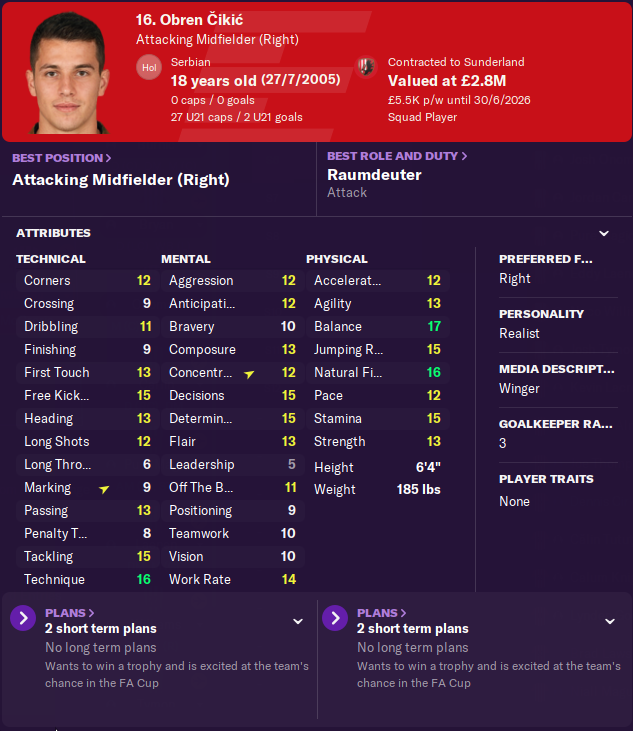 Apparently he's thinking about a new contract. Given his 5k a week wages, I don't blame him.
Enric played a bunch of minutes at AMC, taking Josh Onomah's old spot. He can also play on either wing or in midfield. Once he develops a little further, I'll likely send Onomah off to his next challenge with a pat on the back and a case of good whiskey.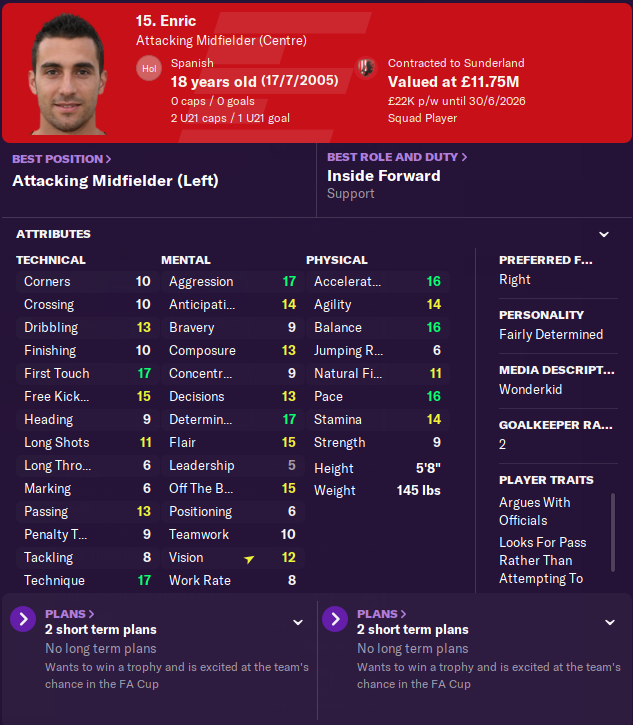 Pure Magic is the most disappointing of the group, though he's young enough that he may yet turn out to be a good player.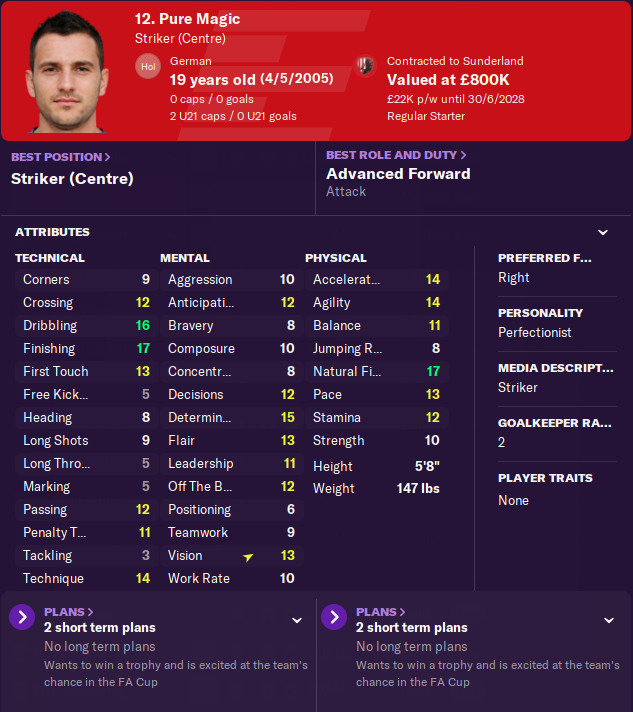 I won't be sentimental about him, though. If I can find an upgrade, I'll cut bait.
Jensen still needs a work permit, and he's not getting the Denmark youth callups I expected. That really should be a lesson learned for me and for anyone scouring for youths. If they aren't in their country's U21 or U19 side, tread very carefully.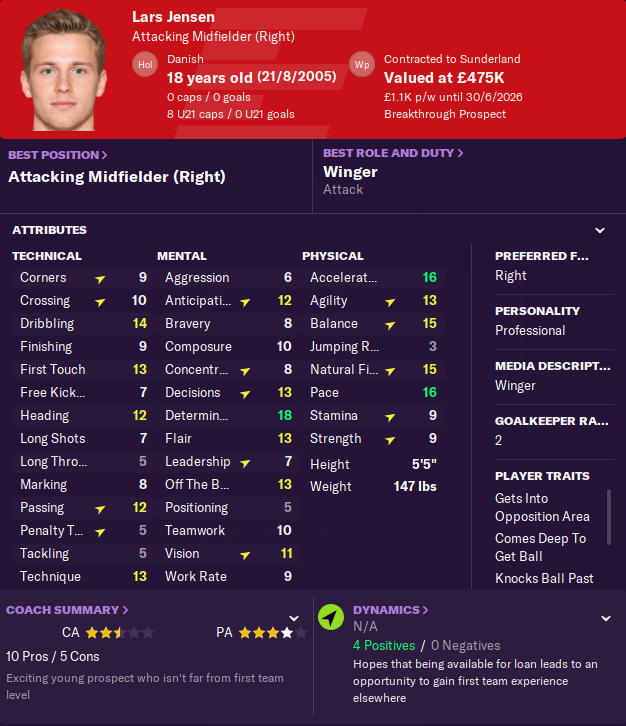 He's off to MLS for another 6 months in the hope that he'll get some youth callups. If he comes along, he could be a useful player for us.
I'm not sure what to do with Bednar. Probably loan him another season and see. If he's good enough to replace Tymon in the future, then great. I'll keep him. Otherwise, his transfer fee can fund the next generation of nearly-wonderkids.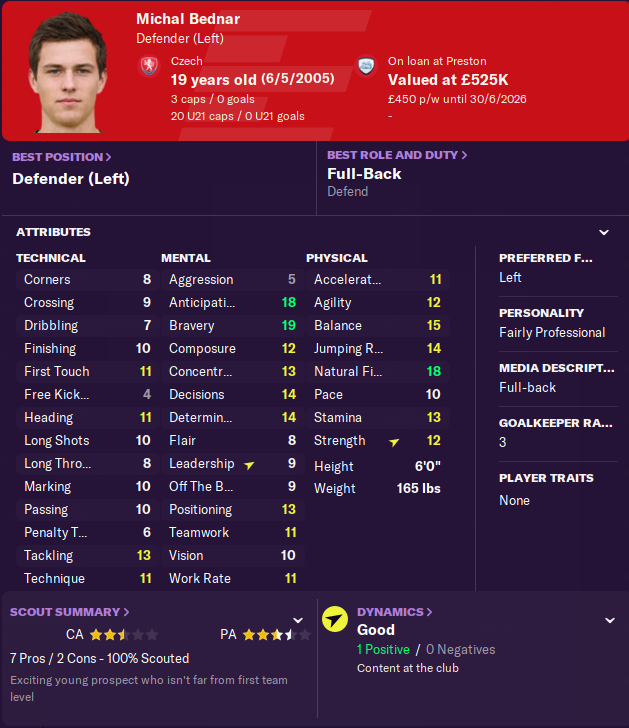 Our homegrown players have less potential, but I still have hopes for a few.
Calum Knight looks like he might make it in our first team.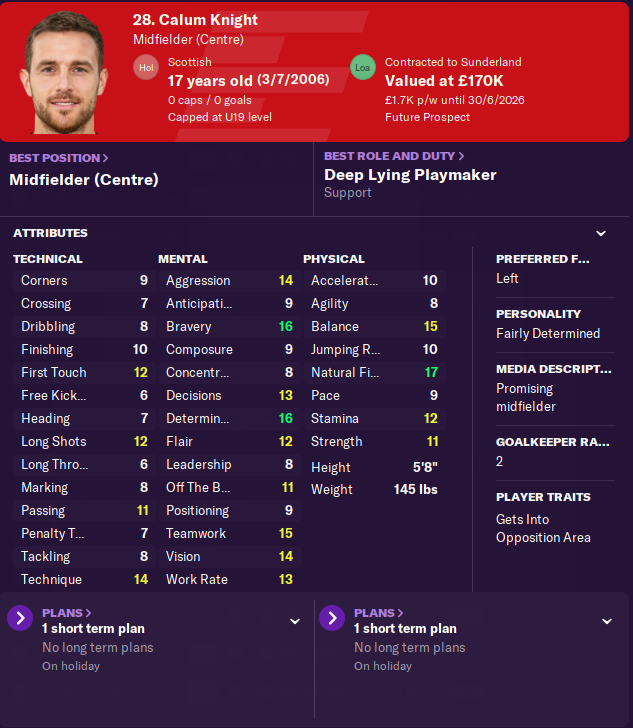 He has a promising start mentally, his first touch, passing, and technique are okay, and his physical abilities are okay. He won't be a worldbeater, but he could be a good squad player for us.
Brad Laws is our best striker prospect.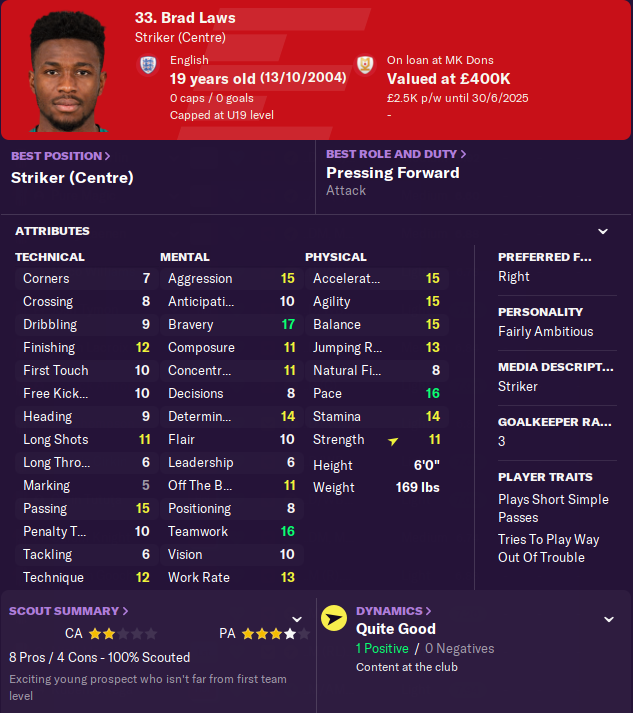 Good pace and acceleration, okay mentals, kind of weak technically. I really need to see his dribbling, finishing, and first touch improve before I give him any real minutes.
I've lost hope in Patrick Almond.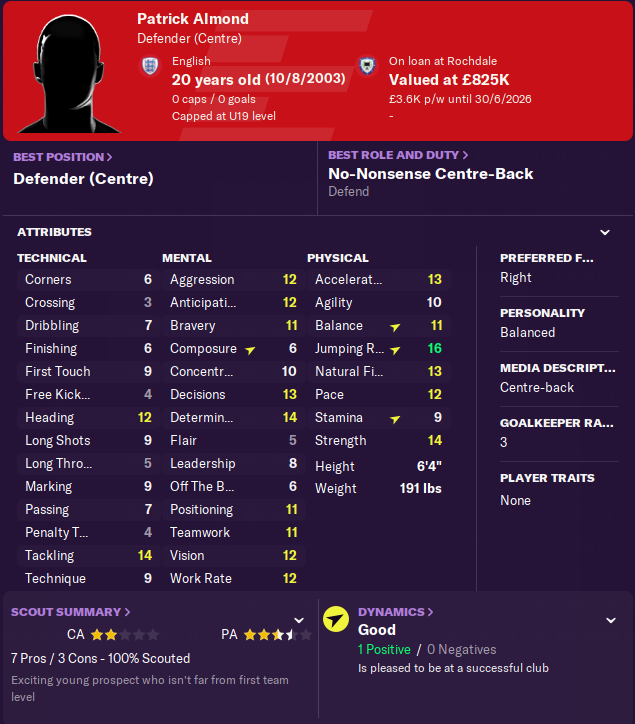 He's just not come on much, and he's technically poor at 20 years old. He'll likely go on to a successful League One career.
Lest everyone riot, here's the man, the legend, Abdallah Sima.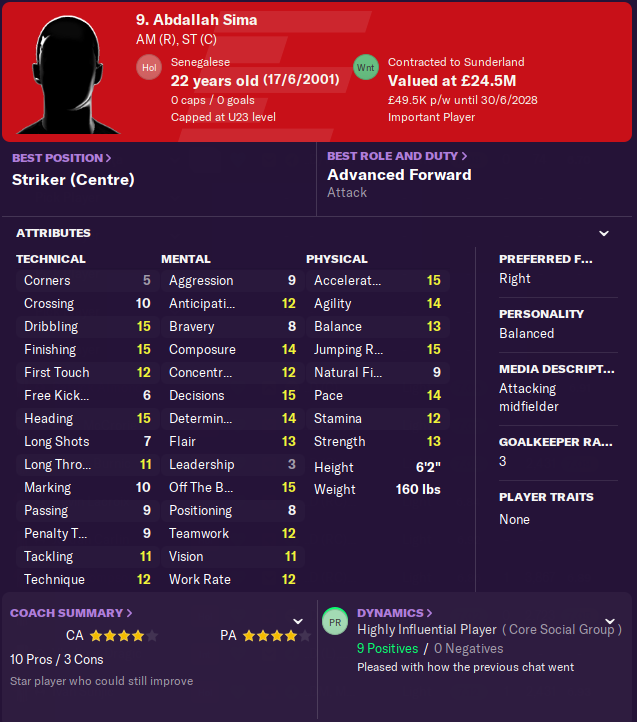 He's pretty good all around, but not stellar anywhere. I don't expect another 30 goal season, but if he scored 15 in the league, that would be amazing. The best part of having him is that if I find an upgrade at striker, I can slide him to the right wing and rotate minutes with Cikic and N'Lundulu. I love flexible players.
Here are the tactics I'm planning to use. Unlike last time in the Premier League, we have different ways of playing.
The 4141 is often suggested on Reddit and FM forums as a good option for newly-promoted sides. It's similar to the Mourinho-esque 433 that we attempted to use two years ago, though it starts with the wingers further back when out of possession. My plan is to use this for away matches to the biggest clubs.
I have a 4411 as well. It's tuned to be a bit more adventurous than the 4141, both in having the AMC rather than the DM, but also in the individual roles being more attack-oriented. My plan is to use this away to smaller sides and at home to the bigger sides.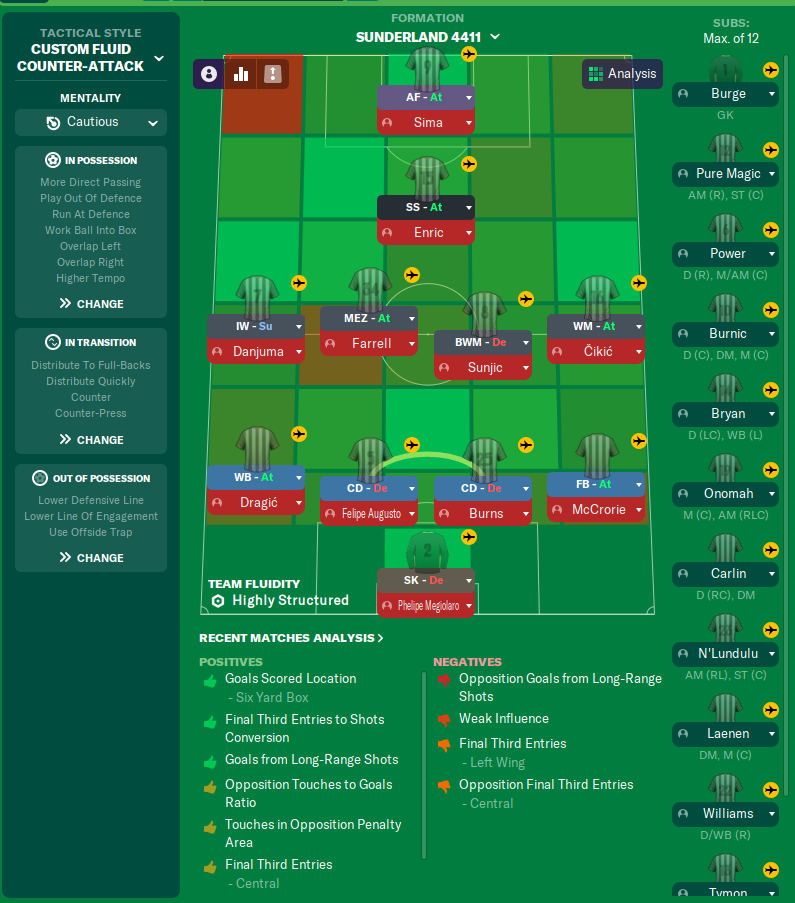 I took our old 4231 and made a bunch of tweaks based on guidance I found on Reddit and Youtube (ZeaIand's FM videos on Youtube were particularly helpful).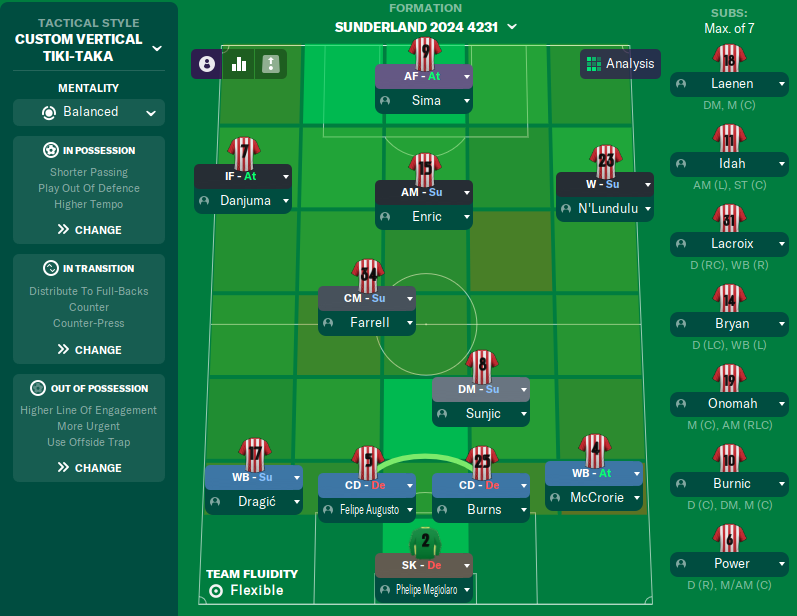 We moved to a Balanced mentality. Going between Positive and Cautious has pretty drastic changes on what players will do, so I'm starting at Balanced and adjusting on a per-match basis.
I've dropped the DLP from the midfield line to the DM line and set him as DM-S. This is because I want the body back ,but I wanted to limit how the team treats the player as a playmaker. I don't have a Camavinga. I have some good passers with okay defensive stats, and some good destroyers with mediocre passing stats. I'd rather use this player as a destroyer.
Our instructions have adjusted slightly. I want shorter passing to maintain possession, but I want higher temp to get the ball up to the attackers. I also changed our line of engagement to be Standard. We're still going with higher pressure, but our centerbacks are great leapers and only mediocre sprinters. I'd rather have the opposition lob balls into the box and let our giant head them away.
The hunt for wonderkids never slows. I've signed another one for next summer.
Antonio Schmitz is joining from Club Brugge for 3.5m.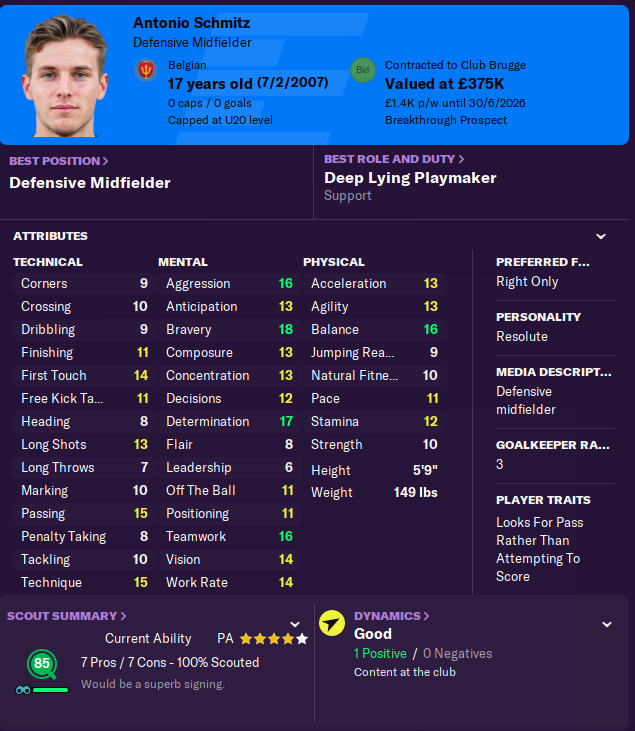 He's actually coming along with John Ramirez, who I signed last year. We're just waiting on him to turn 18.
I took a shot at signing Silvio Kramaric from Dinamo. They wouldn't take my 20m.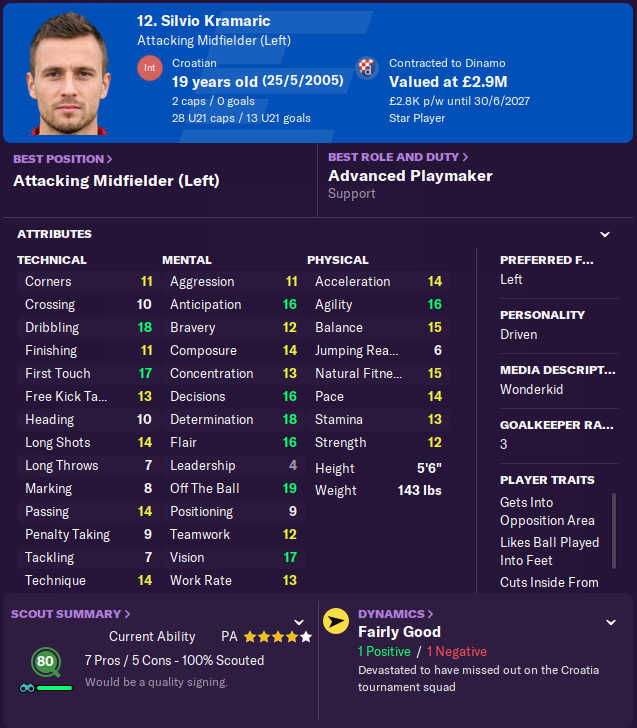 I'm not sure he'd even sign for us, but I'll keep after him.
The squad is now complaining about having three players in a position. I was a little surprised when Josh Tymon turned up at the doorstep whining about being replaced by Vlad Dragic (he's not wrong), and then I realized that I made a teensy error. Apparently I have somehow renewed the loans for Cirkic and Neco Williams until the summer of 2025, i.e. for all of this season. I'm now three deep at leftback and 2.5 deep (McCrorie is the 0.5) at rightback. Huh. I have no idea how I managed that, and I'm not sure how I feel about it. I'm inclined to keep them both and prioritize minutes for my own players.
We're just about to the point that I have to stop buying kids unless I start selling them. After playing a bunch of friendlies, there are two areas I can still see a need: striker and goalkeeper. We're actually fine in both, but we can certainly upgrade Dan N'Lundulu, and I'd like a better backup to Megiolaro in goal.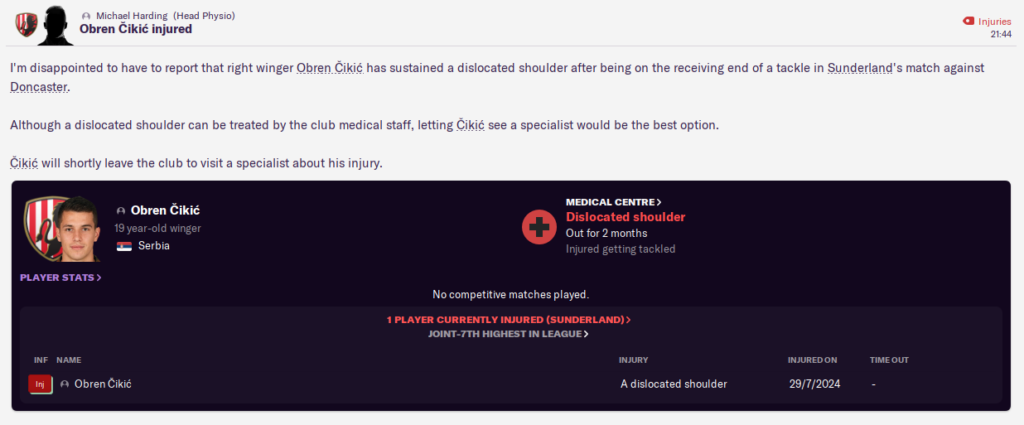 That only reinforces the need for another striker. N'Lundulu and Sima can rotate on the right, but I'd rather have them rotating up top.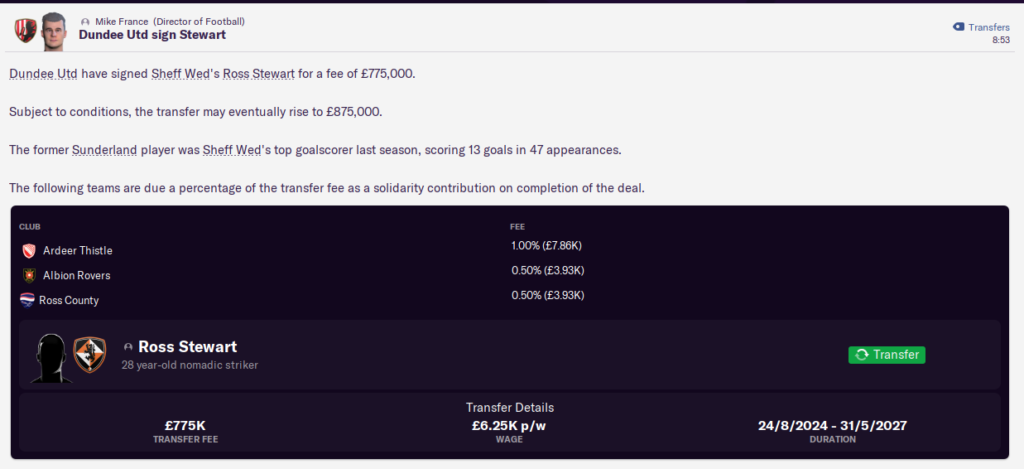 Well, well, look at our pal Ross getting a move. I'm legit happy for him.
We played our first match of the season and did shockingly well, but even so, it reinforced my thinking about us needing another striker who can contribute immediately. So I've gone back to the well for a familiar name.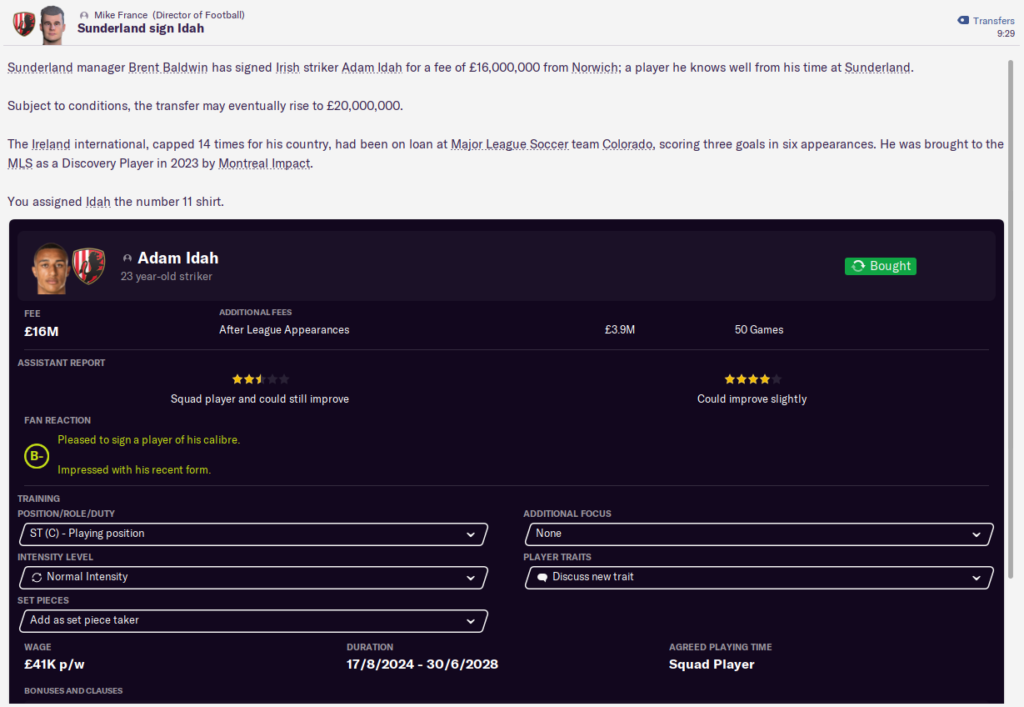 Did I overpay? Probably! He's good, though.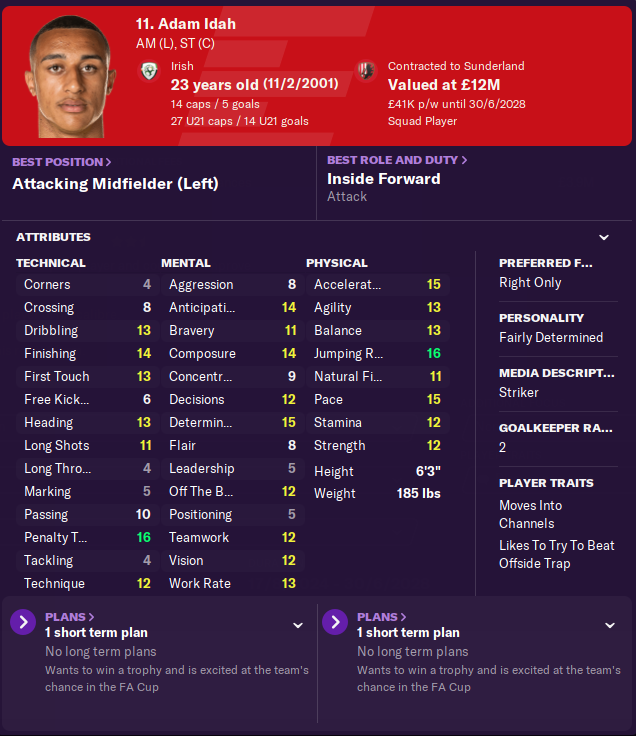 Good pace, good finishing, still some room to develop. I looked at a bunch of other options, but he was overall the best option for someone who would sign for us.
I took another tilt at the wonderkid windmill, and I don't know if Dinamo would have taken my offer, but the bloody board intervened.

Gentlemen, please. Have I not gotten you to the Premier League twice? I have not won four trophies in my short tenure? (We're counting the Pizza Cup.) Let me work my magic!
I mentioned doing well in our first match. Manchester United came to the Stadium of Light and left with their tails between their legs. Black Cats 2 – 0 Red Devils.
Our first away match of the season was a narrow 1-2 loss at Stamford Bridge. We laid down a marker for the rest of the league.

We may not win the match, but we will leave our mark. On your shins, your ribs, your foreheads…
We had a brutal schedule to start the season and did really well out of it.

A famous win at home against Manchester United, two narrow losses against Chelsea and Liverpool, and a couple wins over Norwich (cup) and Derby (league).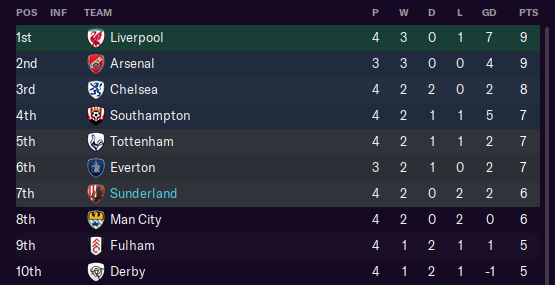 We finished off August in a spot for European football. Stop the count! And the blog, until the next update, that is.
Until next time, footy nerds.