Welcome back, footy nerds. If you're just joining, the previous installment is available here, and the first installment in the series is available here.
It's a month into the 2025-2026 season, and Sunderland are alive and well in the top flight after comfortably avoiding relegation last season. Our summer transfer window saw some new faces join the club, and our first month of results was good, other than one shambolic away loss.
After the excellent run in August, we cooled a bit in September, losing to Villa, drawing at home against Everton, and drawing away at Arsenal. We did scrape a 1-0 over Portsmouth in the Carabao Cup, but that was expected.
October was better with a 2-1 win over Manchester United at home, 2-0 over Bournemouth at home, and 2-0 over Derby at home in the next round of the Carabao Cup. The only blemish was a horrific 0-2 loss way at Fulham.
November started poorly with a 0-3 loss away at Wolves. At this point I took a long, hard look at our tactic. We were doing great at home, but really struggling on the road, including some embarrassing losses.
Here's how we looked at the time (ignore the injuries as this screenshot was from mid-December).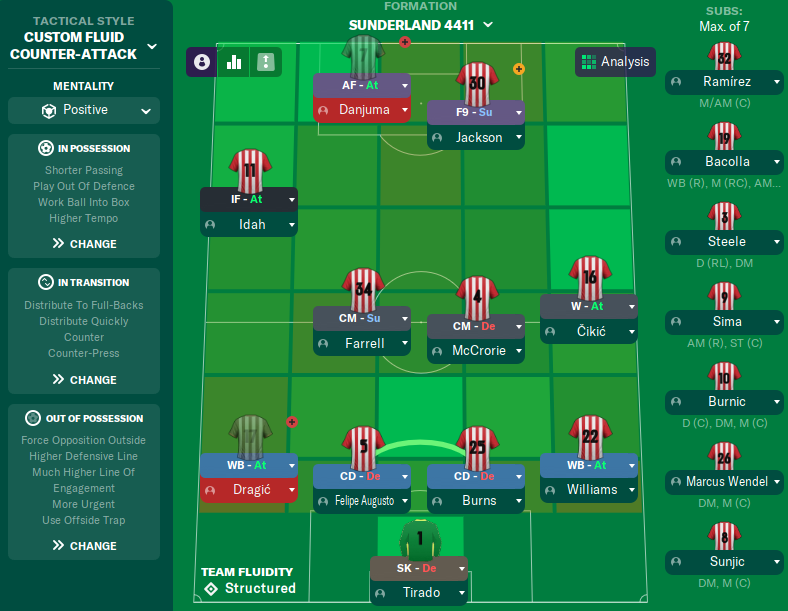 I looked at our players and thought about why we were getting beat and where our strengths were. We couldn't maintain possession as I wanted, and we were getting beat by counter-attacks.
I switched things up.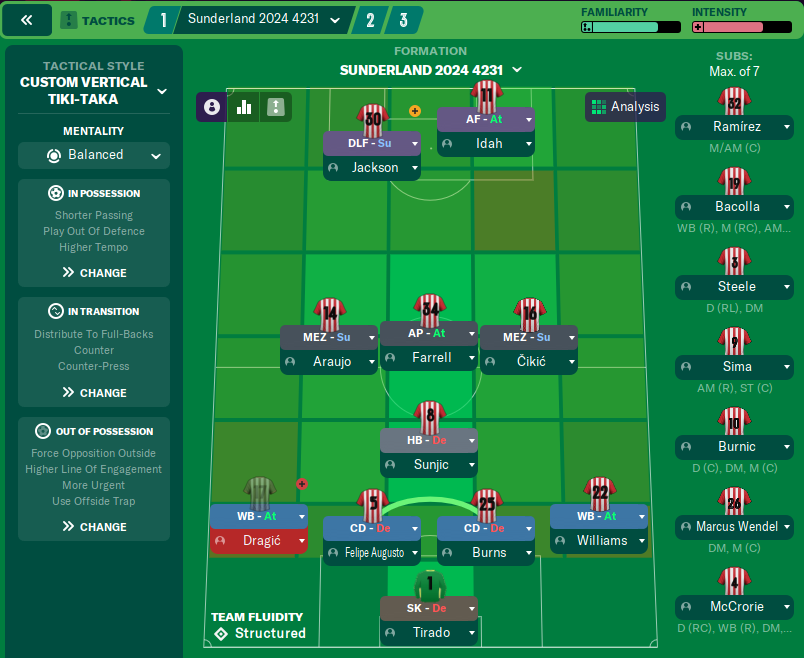 Yes, I will admit that this basic formation is pretty meta within the downloadable tactics, BUT this is something I cooked up by shifting around from our old 4231. You can even see the tactic name at the top since I haven't changed it. I know, from watching far too many YouTube videos, that two strikers is generally better than one in FM21, and wingers are not as necessary as they were in FM20.
The key principle here was to stop conceding so much. My hope was that the halfback dropping between the centerbacks would give us the extra stability in the back line and the packed midfield would disrupt possession around our box. The formation in the tactic is the shape the players will take in defense. Their roles and individual instructions govern what they do in attack. The wingbacks will charge up the field and give us width, and the mezzalas will slide wider and occupy the half spaces between the opposing midfield and defense. I have the AP-attack at CM to move up and support the DLF and Advanced Forward.
Instruction-wise, I kept it simple, as you can see. Shorter passing and playing out of defense to maintain possession, higher tempo because I do want us to have some attacking threat on the counter. I'm distributing to my fullbacks because they're better with the ball than my centerbacks or DM. We're counter-pressing because you pretty much have to in this match engine. Forcing the opposition outside was a conscious decision since we have so many great leapers in defense. The higher line of engagement is to get pressure from the strikers, but we're maintaining a standard defensive line to prevent those counter-attacks.
I did add individual instructions to the AP. He should be getting further forward and make more direct passes. With Farrell's 18 passing, 16 vision, and 18 decisions, he should be incredible in this role. Ramirez has 16 passing, 15 decisions, and 13 vision, so he's not far behind and will be the second choice here.
All this combines to mean that we're conceding some possession in the middle third, but we're clogging the center of the park in the final third, and when our giant centerbacks head the ball away, we're quick to pick it up and move it upfield.
Leeds came to visit, and I used the old formation since it was working at home. We smashed them 5-0. Norwich came to visit, and we won 2-1. On a trip to Leicester, I tried the new tactic. It wasn't pretty, but we won 2-1. Then we had to go to Burnley, who haven't been kind to us in our Premier League encounters. We won 4-2.
Our next series of matches was ugly.
Spurs away
Liverpool at home
Manchester United at home in the Carabao Cup
Manchester City at home
Chelsea away
West Ham at home
We throttled Spurs 3-1, to my surprise and delight.
Then Liverpool came to the Stadium of Light, and it was proper English football weather. Cold, driving rain. Oliver Skipp was starting in midfield after a 69m transfer from Spurs in the summer of 2025. We went up early but gave one back on 20 minutes before Idah scored his second of the day. Midway through the second half Alaba cleared off the line to prevent an Idah hat trick, and I thought we were going to take a famous 2-1 victory, only to be denied by a dodgy penalty call at 90+6. The draw flattered Liverpool more than us, to be honest. We were robbed by the penalty call.
After the Liverpool match, another head-hunting message turned up on my WhatsApp.

Did I want to leave 5th placed Sunderland, who I lovingly crafted into a decent top-half Premier League club for last-placed Aston Villa? No. I did not.
And that's that. Bring on the Manchesters.
Man United at home in the Carabao Cup was a match where I considered going back to our asymmetric attacking formation, but injuries wouldn't let me. Danjuma was out, Jackson had a knock, Enric was recovering from a long-term injury, and Dan N'Lundulu wasn't match fit or good enough. I rolled with the tactic above, and we cruised to a 3-0 victory. Unfortunately, Idah picked up a 4-week injury, and Farrell picked up a 4-day knock.
We played Manchester City at home in the league without Lee Farrell or Adam Idah, our two most important players. This is a City team we have beaten before at home, but they were too good for us. Both their goals came from their centerbacks on set pieces, which was disappointing given that we're usually dominant on set pieces. We actually looked okay going forward, getting some shots on goal, including a very late Harrison Jackson consolation, but ultimately our 6 match winning streak ended in a 1-2 loss that really could have gone either way.
Chelsea in 2025 are, if anything, more stacked than City. Their front line of Moukoko, Leao, and Rodrygo is preposterous. Amusingly, their back four still includes Chillwell, Tomori, and James. We got outplayed. The xG battle was Chelsea 1.85 – 0.73 Sunderland. Not great, and a match you'd expect to lose 99% of the time. Usually when we get 5 shots on target we can get a goal. We did not. No problem; it happens. Chelsea had 12 shots with 7 on target, including the penalty. They scored FIVE.
And they hurt Neco for a month. Pricks.
Every bad loss is an opportunity for free work rate or determination (if you know what I mean (and I mean yelling at the lazy bastards for such poor performances)), and Tirado, Sima, Jackson, and Farrell all picked up stats.
We followed up the Chelsea loss with a slightly less shitty loss to West Ham. At home. The injuries and accumulated fatigue were brutal.
The November and December results were so good, and then the wheels fell off after the narrow loss to City.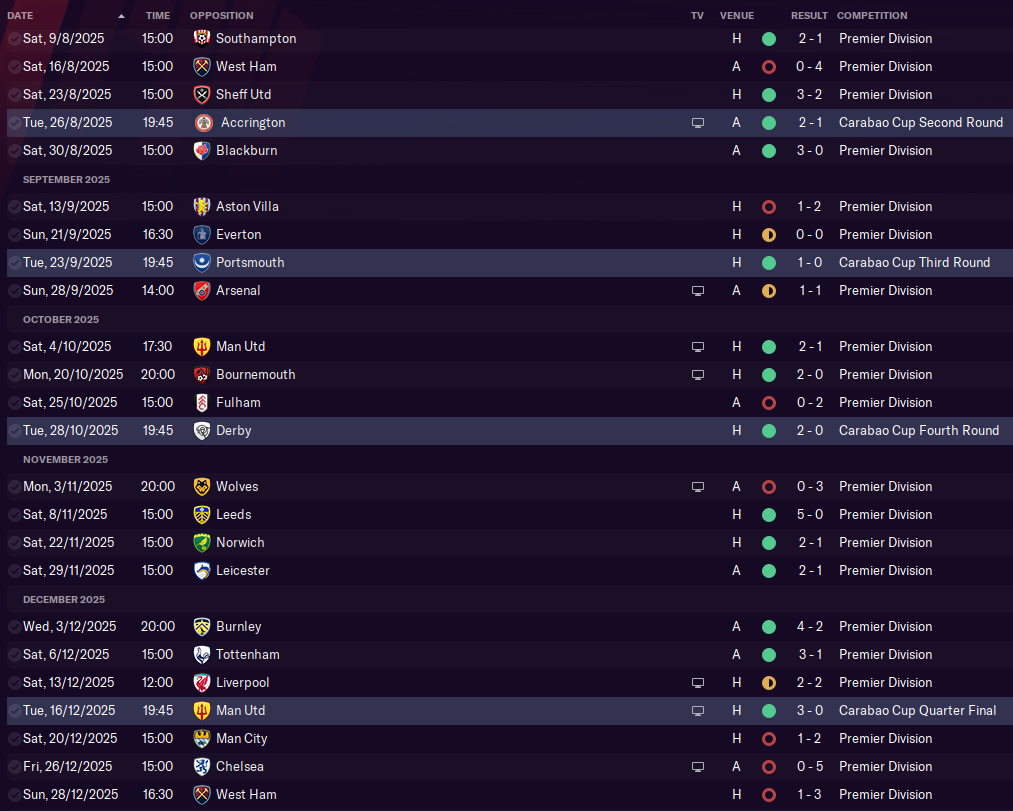 The West Ham loss left us in 7th place, on 33 points.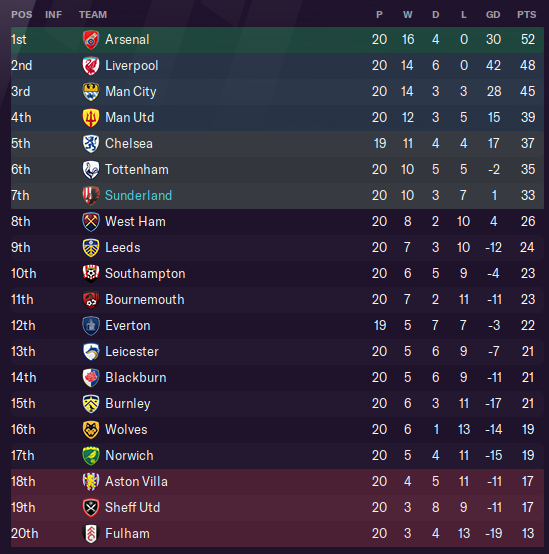 I did my usual deal-making in December, trying to lineup transfers for January.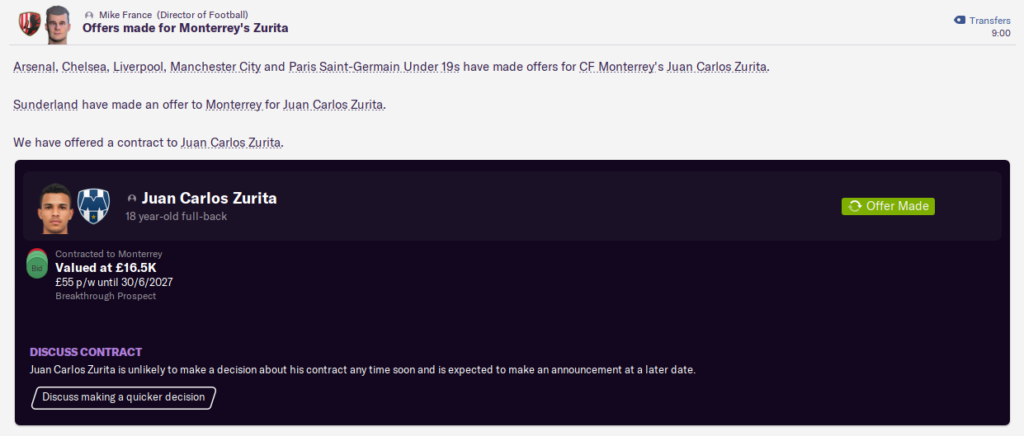 It's a dog-eat black cat world out there. This guy was on no one's radar until we bid, but his agent managed to get Arsenal, Chelsea, Liverpool, Manchester City and PSG to go in for him.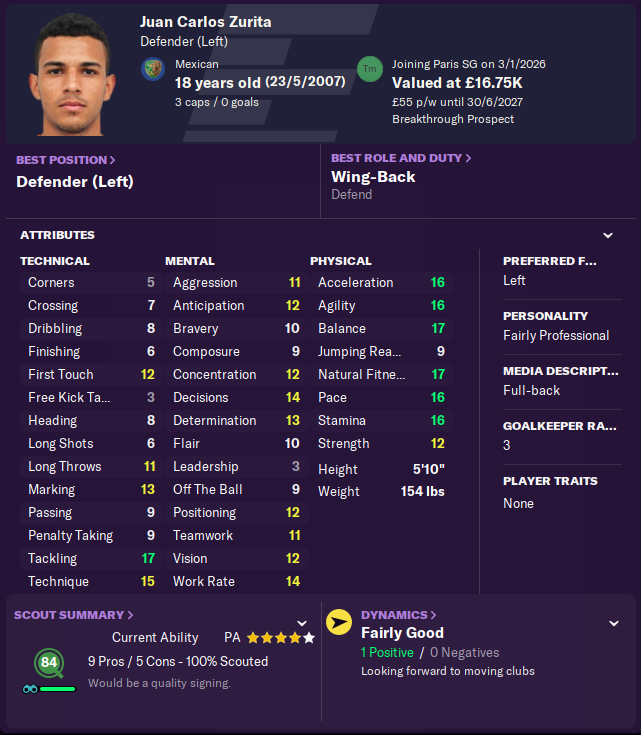 He went to PSG to play in their U19s. You coulda been a hero, kid. And played lots of minutes in the Premier League.
We picked up an extra 1.23 million by way of allowing Brentford to buyout a transfer clause on our former free transfer Isak Solberg. Solberg was our emergency backup keeper that played one match and left for 550k after sitting in our reserves for a season. I included a sell-on clause in that deal, and with Solberg sitting on the Brentford bench and having a 200k value, I decided to cash in. We didn't need the money, but the hunt for value never stops.
Dzenis Burnic, who was attracting 20m offers last winter, departed the club for 7.5m. Chinese club DL Pro were willing to take him off our hands six months before his contract ended, and I was willing to let them do it.
Dan N'Lundulu finally agreed a contract with another club. Again, we were six months from him leaving on a free, so I had to take a 5m deal from West Brom. It was spread over three years, but at least we got paid.
Going into the window, I once again wanted a striker. I had two possible options I could recall from their loans.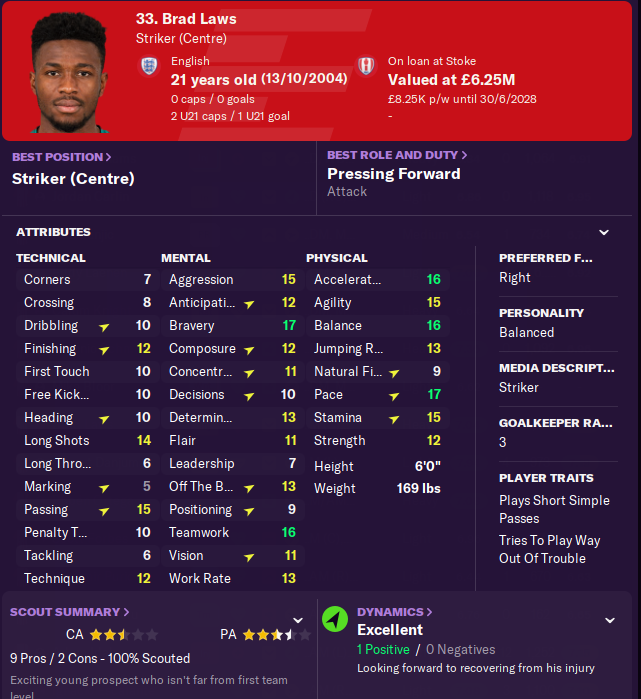 Brad Laws was 3rd on the depth chart, according to Mike Phelan, my AssMan. That may or may not be accurate, but he's physically capable, okay mentally, but a bit lacking technically.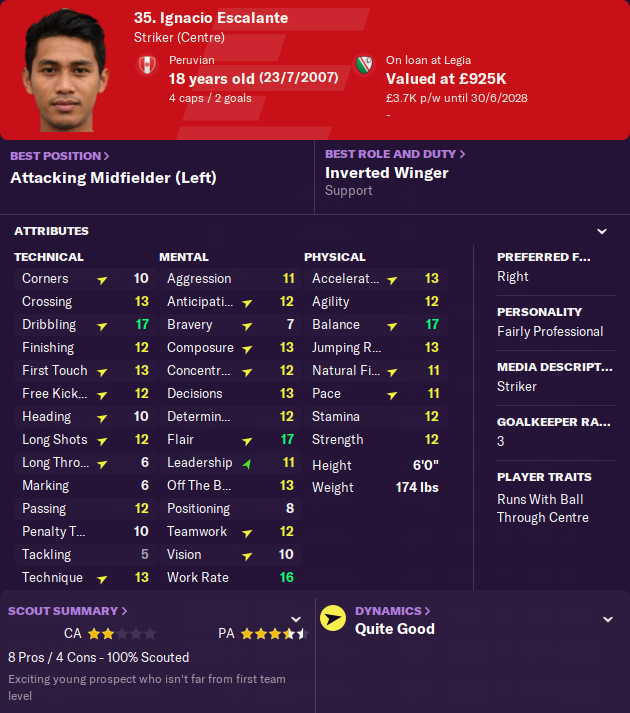 Ignacio doesn't have the same physical tools yet, but he's far better technically. With him growing like he was, I was hesitant to bring him back.
There were a couple other irons in the fire, but they will be part of the next update.
See you next time, footy nerds.