Our lives were upended, along with the rest of the world, in March 2020. A year and a half into our big adventure of leaving Missouri for the UK, our plans of cavorting around London and dashing off to Europe were thwarted. With us all stuck at home, I cooked more than ever. I also learned to bake my own bread. After a few months of being entirely sedentary and eating lots of good food, I had an acute realization that I had to get more exercise. (See my post last summer about a trip to Accident & Emergency (American translation: the ER).)
At first I tried cycling. Carissa and I rode around the borough a bit, including a trip up to Kew to see the new Brentford Community Stadium. I realized, though, that cycling is both time-consuming and expensive. It also isn't that great at helping prepare a body for the only exercise I knew I really enjoyed: playing football (soccer).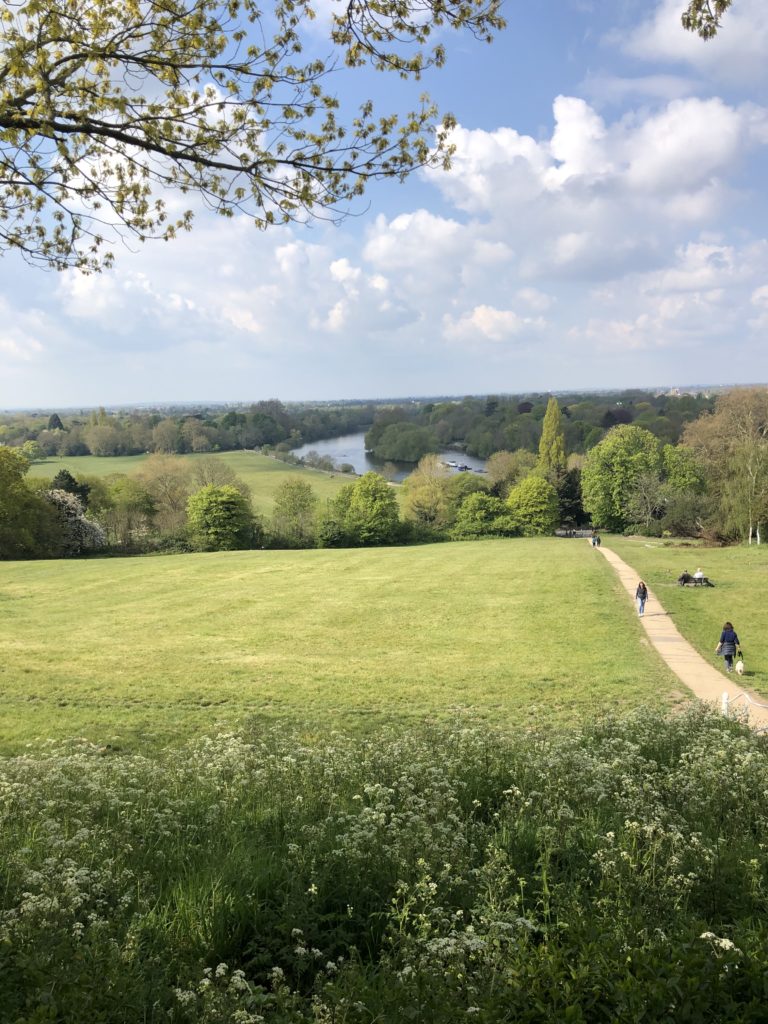 After years of incomprehension about why people would possibly do it, I laced up my shoes and went out for a run. See, my joke had been that I only believed in running if there was a ball, frisbee, or the police involved. The first run was two miles, and I hated it.
I went out again two days later.
Somewhere around run number four or five, it started to suck less. After about three weeks, I was actually enjoying it. I chatted with a friend who was running long road races in the US (hey, Carey!), and he gave me some advice and suggested some books to read. Somewhere in that first month, I saw a signup for the Kew Gardens 10k. Running 10 consecutive kilometers seemed like a stretch, but I enjoy a challenge, and one of my coworkers (hi, Matt!) encouraged me to try it. When I mentioned it to Carissa, she was eager to join me, so we both signed up.
I found a running plan online and set to work. Along the way, I decided to replace my old, battered Adidas running shoes, and after reading "Born to Run," I went for some minimalist shoes. Cue my first running injury. I didn't realize that you need to shift from padded shoes to minimalist shoes gradually, and I especially didn't appreciate what running with a zero drop from heel to toe would do to my achilles tendon. I lost a few weeks to achilles rehabilitation (so many eccentric heel drops!), but I was in good enough shape to run the 10k in September.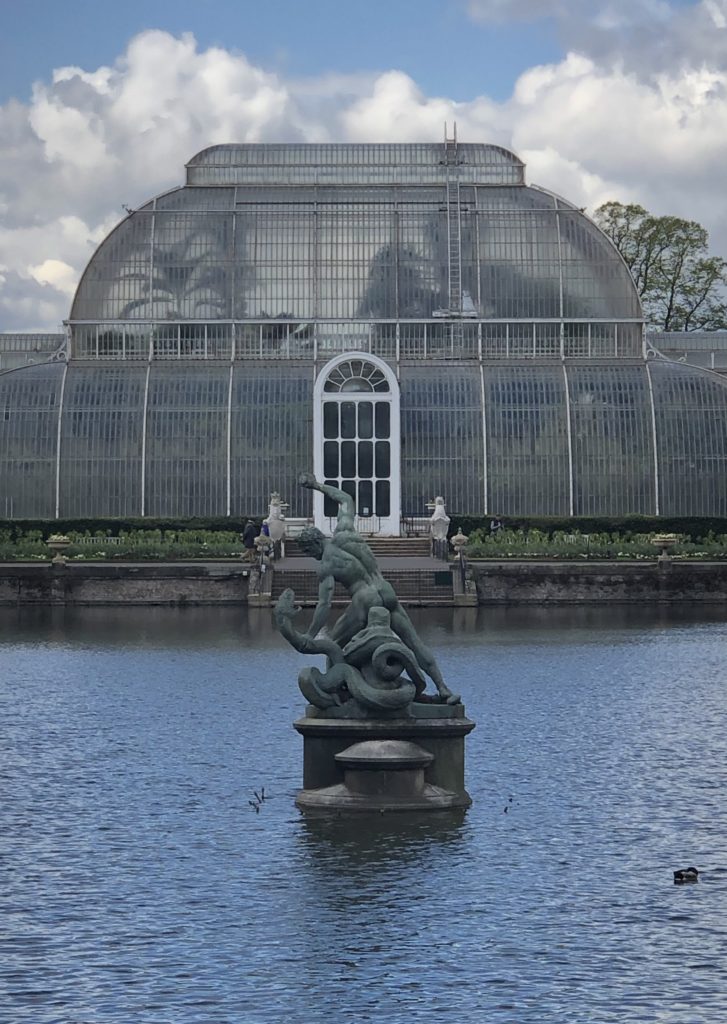 It was a blast. Hard, but fun. I was doing 6 mile runs prior to the race, and on race day I went out and pushed myself harder than I had since I was playing soccer in high school. I finished the race in 55:59, which wasn't exactly fast, but it was faster than Carissa, and that was what really mattered.
After the race, I kept running. English autumns are mild, and I cruised through October and November. I looked at the race calendars for the London area, and I set my sights on a half-marathon at Hampton Court Palace, which is only a few miles from us. I found a new training plan, and set to work.
The training plan lasted about three weeks. In early December my second bit of trouble hit. I started to get pain in my knee. I first noticed it out on a long run where the first four or so miles were fine, and it gradually grew worse until around mile seven. I had to stop and walk home. I rested a few days, everything felt fine in the house, so I went for another run. About a mile into it, I felt mild pain. A half mile later, and it was excruciating. Some internet research made me think I was suffering IT band syndrome, so I was back to rehab. Amy Winehouse would not have approved. (This routine from Strength Running worked really well.)
After about a month of knee and hip work, I was back out on the road in January. English winters are mild, but they're dark. And wet. Working from home was convenient because I could watch for a dry part of the day, block an hour from work, and dash out the door. This kept me going until March when the light started to improve. Unfortunately, with the UK in another covid lockdown, the half-marathon was moved from April to September, which was probably for the best for me. Fortunately, the lockdown was relaxing in stages, so I was able to sign up for another 10k at Kew in May.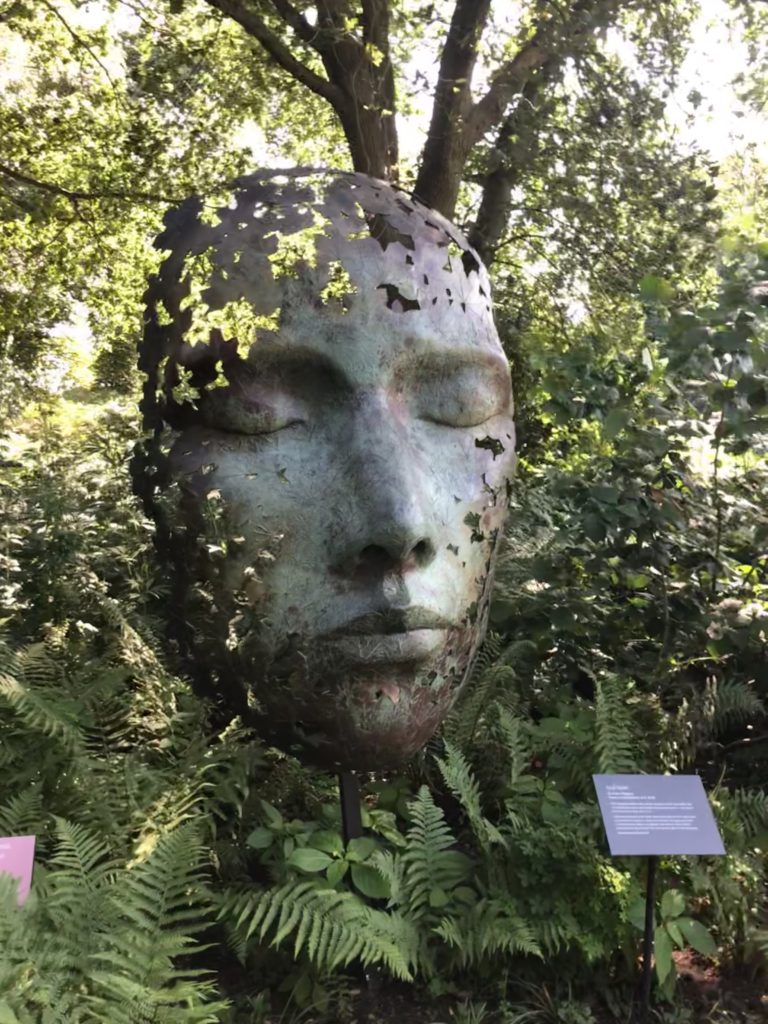 I adjusted my running routine in the spring. I added lunges and leg swings to my pre-run warmup. I kept doing my hip and glute work once a week or so. I made sure to foam roll and stretch after each run.
I went into my second Kew 10k, and I felt good. Carissa ran it with me again, and this time I was ready. My goal was sub-50 minutes. My stretch goal was sub-48, and I thought I had a chance at it after seeing how my interval training went in April. I finished in 47:45. I was over the moon. (Yes, I beat Carissa again; she has long-term knee problems and can't push as hard as I can. Naturally, I taunted her about beating her a second time.)

I set my sights on the Hampton Court Palace half-marathon, but I also signed up for another 10k in August.
In addition to running, I started playing football again. I was fitter and lighter than ever, and I went from being one of the weakest players in the group to one of–I don't want to say better players, but I'll at least say that I didn't feel as if I was embarrassing the entire United States when I stepped on the pitch.
In early June injury struck again. This time it was a recurrence of an old injury from Missouri: busted ribs. Playing indoor soccer in Missouri involved a few untimely collisions with other players and the wall, and one of those cracked a rib on my left side. I missed a month of playing, and it healed, but another hard blow at 7-a-side this past June took me out of commission for a few weeks. Things healed with time, but my half-marathon training plan was destroyed. I kept running, but without as much structure or volume.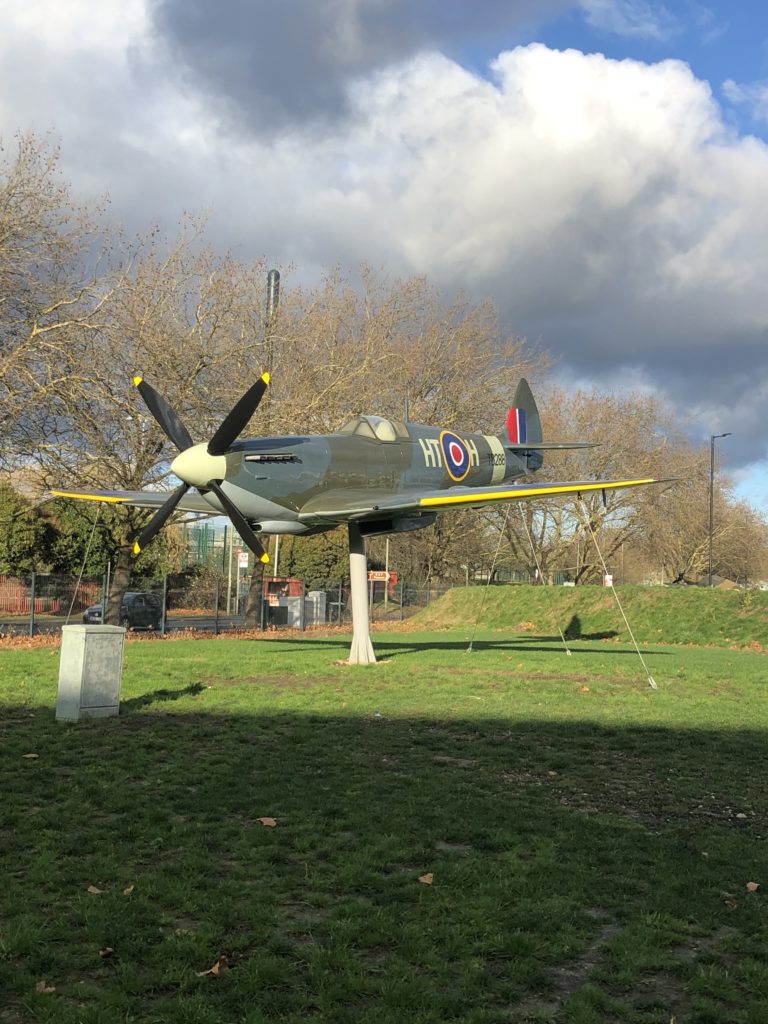 The Spitfire 10k is a fundraiser for the RAF Museum, and I ran it in late August. I finished in 51:31 minutes, right in between my previous two races. I felt tired. And heavy. And slow. The lack of structure to my training didn't feel as obvious on my long, easy runs, but I really felt it on race day.
The first two injuries were my fault. I should have done more research before changing shoes. I also should have been more careful about increasing my volume after the first Kew 10k. The rib injury, though, was more of a freak accident. I could quit playing football, but I enjoy it too much to walk away because I might run a few minutes slower in a race.
I had a two-week gap between races, and I was determined to improve on my Spitfire time. The course at Kew Gardens is a bit more twisty, but it's one I know well.
Carissa and I both ran it in early September. With a cool, cloudy morning and no traffic exhaust filling my lungs, I was ready to run. Going in, my stretch goal was to set a new personal best (beating 47:45), my primary goal was to break 50 minutes, and my tertiary goal was to improve on my Spitfire time of 51:37.
People like Kew Gardens. No, people love Kew Gardens. It's one of the prettiest places in London, and worth a day out even if there's no race. And it was packed. Over 2000 people turned up. The organizers had people in waves, but they were by bib number rather than expected finish time. This meant significant crowding near the start, and with the first few kilometers being so narrow and windy, it was hard to settle into a rhythm. I probably lost 30 seconds to a minute fighting the crowd. Not that it really mattered. My fitness wasn't quite as good as it was in May, and I don't have a great feel for how to pace myself yet. Those were much larger contributors to missing my stretch goal, but I was reasonably pleased to finish in under 50 minutes at 49:21.
Carissa, unfortunately, injured her knee around the eight-kilometer mark. She somehow limped to the finish line, but really struggled after that. We walked–very slowly–out to Kew Green and caught a cab home. The good news is that she felt better the next day and is now working on her own rehab routine.
My final race of the year was the big one. The Hampton Court Palace Half-marathon. Hampton Court Palace is in the southern part of the borough, about four miles from us. I jog through the adjacent park (Bushy Park) periodically, and I was excited to have a race through the park and along the Thames.
Going into the race my goals were to finish under 2:00:00 as the main goal, under 2:15:00 as the B goal, and simply to finish without injury as the C goal. The race calculators said I should be able to finish in under 1:50:00, but I was far from convinced.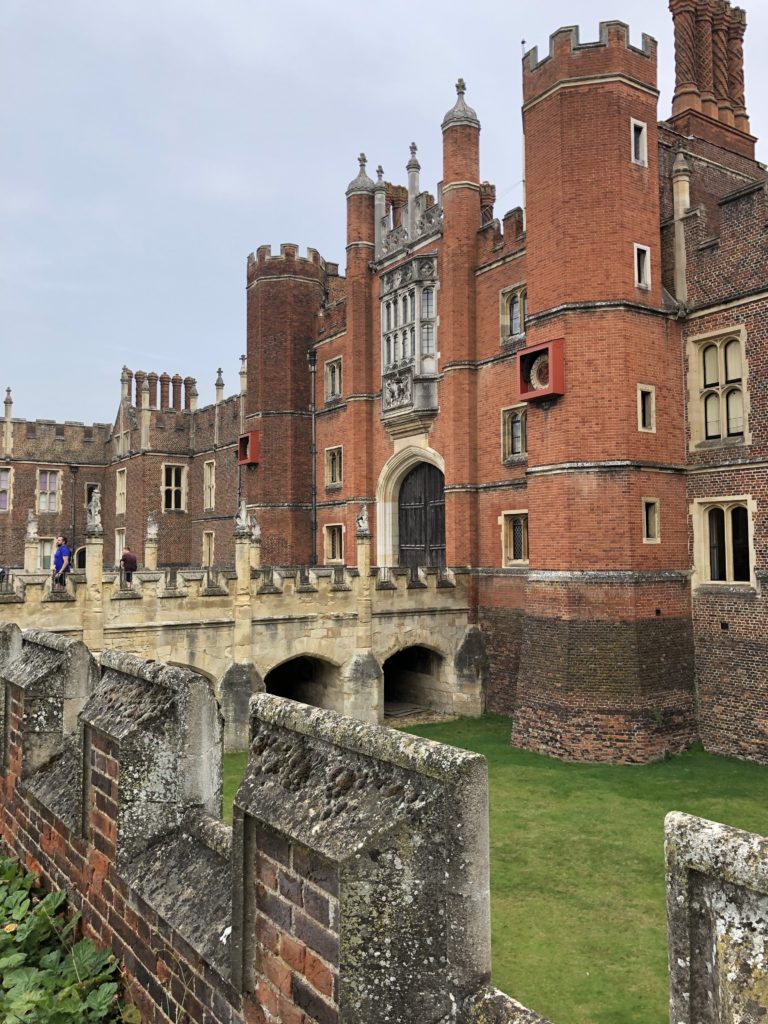 Sunday morning was cloudy and cool, and the crowd was about the same size as the Kew 10k at 2000 people. I felt undertrained, and wasn't sure how things were going to go, but I went out at about an 8:40 pace, and it felt easy. I held close to it throughout the race, with a few dips here and there. Around the 9-mile mark, I was telling myself that I was almost finished, under 1/3 of the race to go. At about the 11-mile mark things started to hurt, and I was once again wondering why sane people would go running if they weren't getting paid to do it. I remembered, though, that your body lies to you. It's lazy. It wants sourdough and wine and Football Manager. I kept going. Maybe not as fast as I did at the start, but at a pace I was sure would get to the finish line under two hours.
Ultimately, I finished in 1:55:07. I stopped jogging for about 30 meters to drink a half bottle of water, and that probably cost me the 8 seconds I needed to break 1:55. You could also say that I could have pushed just a little harder at pretty much any point in the race, and that would have been true, too. It's a good result and one that I'm sure I can beat in the future if I can string together a few months of injury-free training.
Lessons learned over the last year:
Don't ramp up pace or volume too fast; the guidance I've found is to only add 10% volume per week and to only run 20% of your miles near a race pace
Ease yourself into any new shoes
Take the time for preventative maintenance with dynamic stretching before each run and static stretching after
Don't be a slave to the training plan; take breaks when you start to feel worn down
From here, I plan to keep running. I have my sights set on a marathon next year. The Richmond Marathon is organized by the same people who organize the Kew 10k, and it's scheduled for 11 September 2022. It's the flattest marathon in London, run all along the Thames path from Kew Gardens down to Kingston and back. I know the course, and I know I can handle up to 15 miles, and I have plenty of time to prepare.
I don't need to be fast. The only race I'm really trying to win is against congestive heart failure and myocardial infarction. That is the longest race, and I have miles to go before the end is in sight. Many, many miles, hopefully.