This is going to be a long post about running with a family anecdote at the end. Skip to the last section if you're just here for kid stories.
Background
I've been running fairly consistently since mid-2020. I started with some 10ks in the first year and moved on to a half-marathon in the autumn of 2021. Somewhere around mile 11 of 13, I was calling past Brent an idiot for signing up for a 13-mile race, thinking I'd never do that again, and that only utter lunatics would run 13 miles in one go and then do it all over again. I finished the race, had a protein bar, and started thinking about how I'd tackle the next one to run it faster.
My second half in April 2022 was a much better experience, in which I felt like I was fully in control throughout the race and crossed the finish line with enough gas left in the tank (charge left in the battery?) to keep going a few more miles. I finished that race and started thinking about running a full marathon in the autumn.
But why?
I've heard that a lot over the last few months. Why would you run that far? Why would you subject yourself to that?
The marathon is a different beast from running 10ks and half-marathons. The human body normally only stores enough glycogen to get you through 18 to 20 miles of running, so if you're not carb-loading in advance or taking on sugars on race day, you're likely to experience what runners call "hitting the wall," i.e. glycogen depletion and the ensuing muscle cramps that can turn 23 miles of good running into a hellish 3-mile shuffle to the finish. Add to that the usual muscle strains, overheating, and the non-zero chance of cardiac arrest, and the marathon comes with a level of risk that doesn't exist at shorter distances. You can get all the health benefits of regular exercise without running any races, and shorter distances come with the same completion medals and t-shirts.
So, Brent, why?
I'm a middle-class, middle-aged white man with a good job in tech. I have a loving wife, two well-behaved children, a dog, a cat, and a hedgehog. There is minimal pain and suffering in my daily life. There are limited places in my life where I can push myself to my perceived limits. This was a chance to explore those limits in a way that came with big upsides (better overall health, stress reduction from regular exercise) and–if I was smart about it–limited downsides.
Training Lead-up
Maybe there are people who have an uninterrupted training block, but in two years I haven't managed one yet. Going into April's half-marathon I was fighting knee issues from trying to do too much, too soon. I came out of it with a goal of doing nothing but base building for a fall marathon. Lots of easy, long runs with a few strides here and there, but no dedicated speed sessions. Things were going great into late June when The Virus struck.
Three days of fever followed by three more days of major fatigue put a crimp in my plans. I was wary of stressing my heart by returning to training too soon, so I ramped up over the next two weeks. Somewhere shortly after that, my knees were aching something fierce. I knew from prior experience that I had to back off the mileage and increase the rehab exercises or what felt like patellar tendinopathy would turn into full-blown patellar femoral pain syndrome. The last week of June and all of July were basically shot.
I was finally able to run consistently again from early August. I made it through August with a modified training plan that culminated in two final long runs of 17.5 and 20 miles in early September. Those runs each sucked after about 15 miles, but they gave me the confidence that I could finish 26.2, and they also gave me opportunities to test my race day nutrition plan. I averaged something like 35 miles a week over the final six weeks, with a peak of about 40. This was supposed to be more like 50 on average with a peak near 60, but I didn't have time to safely build to that volume.
My taper coincided with a trip to the States for work. I did some light running while I was there, but put in fewer miles than a real training plan would expect.
Pre-race
The girls and I flew from London to Inverness Friday evening, which gave us all of Saturday to wander Inverness and pick up race packets. I grabbed mine while Carissa and the girls signed up to run the 5k with our friends–the Diullos–who were visiting from the States. We admired the castle and went for a stroll along the River Ness and the Ness Islands where the girls would be running (walking) the next day. I went back to our room for a nap. Carissa, the girls, and the Diullos went on an adventure down the loch, including driving up to some castle that was apparently off-limits. They had a good time, I had a good nap, and we met again at the Fig & Thistle restaurant for an excellent pre-race dinner.
I was up early on race morning and off to the bus pickup spot for a 7:30 departure. I expected the ride to the starting line to take about an hour, and my mental model was that we would drive the most direct path to get there, following the course in reverse. Instead, the bus went along the road on the northwest side of the loch, down to Fort Augustus, and back up to the starting line. I was getting worried as we went up and down the hills and through switchback after switchback. It turned out that this was because the road on that side is two lanes, and the road we followed during the race was mostly one lane. My worries were unfounded, thankfully.
The trip to the start line was my first view of the loch. The sun peeked over the hills and shone down golden through scattered clouds. The loch glistened below us, whitecaps racing each other before a fresh southwestern breeze. I didn't expect to see the sailboats moored in the loch, but in retrospect, it makes perfect sense. The loch is a perfect place to spread a full press of sail and glide along for 20+ miles.
We rounded Fort Augustus and climbed up into the hills. The bus motor strained, and I wondered if we'd have to run to our marathon. The road turned into a single-lane track with highland lakes on one side and hills dotted with sheep on the other. I'm not sure where exactly the waterfall was, but at some point we passed some falls that must have been a couple of hundred meters tall with water falling from ledge to ledge and running out to the loch in the distance. I don't have pictures of it all, but that's a deficiency I want to correct in the future. The highlands are stunningly beautiful, and I want to go back when I have more time to spend exploring them.
The race organizers had three groups of portaloos. The biggest batch, near the baggage dropoff trucks, had a horrific queue. If you're running this race in the future, walk a bit further up the hill to the next set of loos with shorter queues. Or do what many of us did and find a quiet pine tree to water off to the side of the starting area.
A special shout out to the young lads and lassies who piped us over the starting line. You were incredible. Video on Insta:
https://www.instagram.com/p/CjN0hk6D9-b/
Race
Things were congested to start, which wasn't a surprise given that there were 2500 people all running down the same single-lane highland road. After getting into the wrong corral for the Richmond Half, I made sure to start in the middle of the 4:00 corral for Loch Ness. The race started with a long downhill, which made for a nice warm-up after a chilly wait. I tried to stay around my target 9:00 pace, but it was even slower in the first mile due to congestion. The first few miles were easy, and I wasn't fooled by my quads complaining or the blister that was sure to derail me and turned out to be absolutely nothing.
I responded to Carissa's messages a few times, took a couple of selfies with the loch, and basically ran a controlled race up to the halfway point. I wasn't seriously racing, which was thoroughly proven when I saw the halfway point and sent my running buddy in New York (sup, Carey) some shitposts on WhatsApp. I was passing people fairly often in the first half of the race, which worried me a little. Everything I had read said that a marathon is a 20-mile warmup and a 6-mile race, and the people doing the passing in the first half are the ones on the side of the road in the second half. I was running at the pace I expected, so I kept at it and hoped for the best.
Going into the race I had 7 SiS gels in my vest, 2 packets of Tailwind split between 500mL flasks, and an extra packet of caffeinated Tailwind in a pocket. The idea was to take gels every half hour, sip the Tailwind between aid stations, drink a little water at the aid stations, and refill a flask with the final pack of caffeinated Tailwind around mile 18 when I started to flag.
I cruised from the halfway point up to mile 18, still regularly passing people, and still felt good. I ended up skipping the flask refill and drank some extra water instead.
My feet were aching, but I felt better after 18 miles of marathon pace than I had on my 17.5 mile training run at an easier pace. My legs were tired but didn't feel even close to cramping. The worst issue up to then was that there were a few times when I started to feel the gels coming back up, but even then it wasn't ever a real danger.
Just past mile 18, the course starts sloping uphill through mile 20. I mostly jogged up the hills, with a few places where I slowed to walk for a few strides to catch my breath before heaving back into rhythm. At the top of the climb, the road sloped into a long, glorious downhill. I checked my watch, did some math in my head, and decided that I hadn't come all that way to miss my sub-4:00 goal by a minute. Baby, I ran. I pelted downhill as fast as my tired legs would carry me. It wasn't–objectively–all that fast, but at the time it felt amazing. I powered on through 22, 23, and 24 miles. I was feeling the effects of the increased pace and repeating my race mantra, "Every run is a gift. Every run is a gift. Every run is a gift." The footbridge across the River Ness approached. I could hear the crowd across the river at the finish line cheering. All I had left was the wobbly bridge and a sprint to the finish.
Then the spectators pointed to the next bridge another half mile down the road.
Honestly, at that exact moment, I was gutted. I slogged my way to the far bridge, across, and back along the river. At the 26-mile marker I forced myself to pick it up again, but I knew I wasn't going to make it across in under four hours. I didn't. Sorry. There's no Disney finish. I crossed at 4:01:14. I had come all that way, only to miss it at the last.
Race Stats
Goals
A: sub-4:00: No
B: Get to the start line healthy: Yes
C: Get to the finish line healthy: Yes
My goals were not aggressive. Based on my half marathon time, I should have been able to run a full marathon in around 4 hours. That was always what I had in mind, but the most important things were getting to the start line healthy and finishing the race healthy.
Splits
(Mile/km splits are too annoying to format on the blog)
Half time: 1:59:32
Full time: 4:01:14
Details are on Strava if you're a runner and want to dig deeper.
I was aiming for sub-4:00, but I am still happy to have gotten close to it. The 4:01 is better than what the 538 marathon predictor thought I'd do, given my training volume and past race finishes.
Post-race
I crossed the line and collected my medal, shirt, and a goodie bag full of tinned soup, porridge, and low-sodium salt. (Seriously. Tinned soup. Thank the race sponsor, I guess.) I also collected a banana, some water, and an alcohol-free beer. The water, banana, and a couple of protein bars went down well. The beer I couldn't manage, and I was fresh out of can openers for the soup. Carissa did pick me up a bratwurst on the way out, which was maybe the best bratwurst I had ever had in my life until I dropped the last 1/3 of it when the bun gave way. I'm more devastated about losing that brat than I am missing my target time.
We didn't have much time between the race ending and our flight from Inverness back to London, but I was able to swing by the Diullos' rental to grab a quick shower and change into warm clothes. They even gave us a lift to the airport. Thanks, Diullos!
It was a good race. I had no idea what to expect given it was my first full marathon and the disruption to my training. In retrospect, I feel like I was in control the whole way. I was never close to hitting the wall. Even the final mile that was rough was only rough because I had run myself into my lactate threshold, and I couldn't hold the pace. Looking back at the splits, even if I had held my pace for that last mile, I would have missed sub-4:00. I needed to be a little smarter at the beginning of the race and paced more consistently on the flats.
All in all, I had a great time, and I am pretty sure I have another 10, 15, maybe 20 minutes of easy noob gains to pick up in the next 6-12 months.
Gear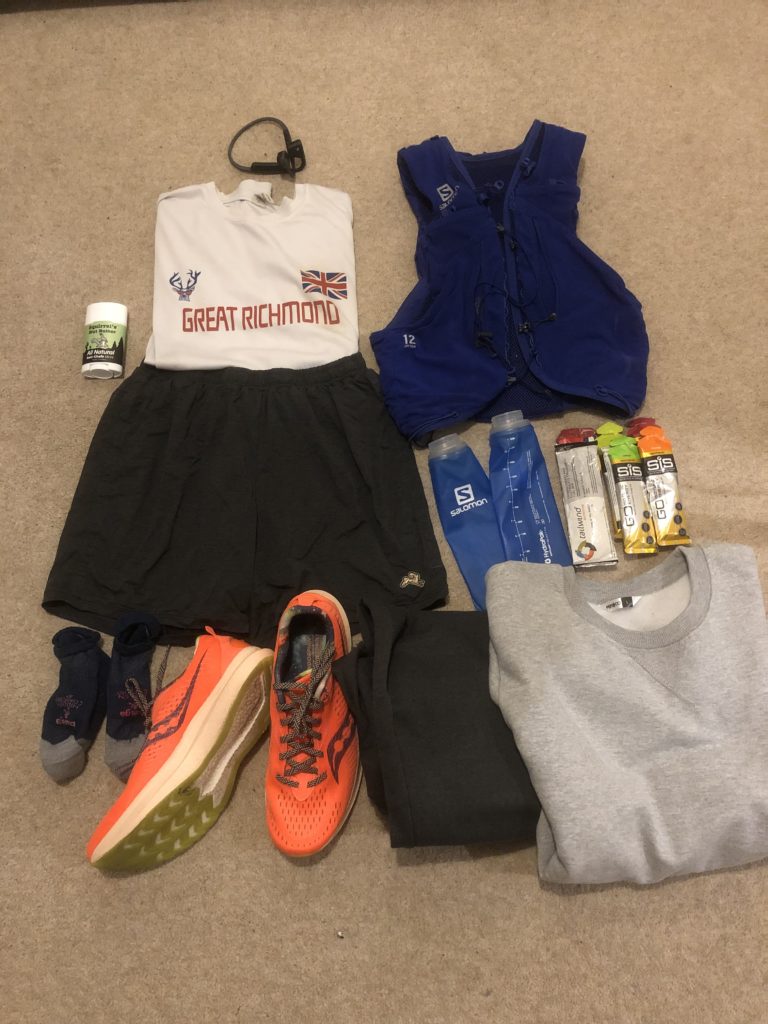 From top to bottom:
Shirt: white race shirt from a Kew 10k. It was soft, well-loved, and I knew it wouldn't cause any problems.
Shorts: Tracksmith 5″ Session shorts. These are my favorite shorts ever. They're soft, comfortable, light, and slightly stretchy. If they had pockets, they'd be the perfect shorts.
Socks: Balega Hidden Comfort. These have been my goto running socks for the last 18 months. I have three pairs, and I snap at anyone in my house who tries to borrow them.
Shoes: Saucony Speed 2s in the Campfire Story colorway. Did you know that bright shoes make you run faster? It's true. (It's not true.) These are blaze orange and have glow-in-the-dark soles. They also have a nylon plate that's supposed to make you run faster. That might actually be true. What I can say is, they were good. My feet ached a bit from about mile 18 onward, but my knees and ankles had zero issues.
Vest: Salomon Advanced Skin 12 with two 500ml flasks. I've been running with this vest all year. I like it for training, but in retrospect, I think I'll find a way to race without it going forward. That will probably mean trading out the Session shorts for some tights that will let me carry my phone and gels. Or maybe get a Flipbelt. We'll see.
Anti-chafing stick: Squirrel's Nut Butter. This was a relatively recent acquisition, but I started getting some chafing on 15+ mile runs, so I picked up a stick before my 17.5 and 20-mile long runs. Liberal application to the groin and nipples eliminated all chafing.
Nutrition: SiS Go Isotonic Energy and Tailwind. The SiS gels don't require extra water, which is nice and supposedly means they're easier on your stomach. I had zero issues with them on training runs or during the race, so I suppose they work. Tailwind is supposed to be the same way, and I took some in my flasks. I felt like I was on a 26-mile snack run, and I never even glimpsed the wall.
Pre-race sweats: Some cheap sweatshirts and sweatpants from Poundland. I looked for cheaper charity shop options but didn't find any in Twickenham. For 11 quid, I can't really complain. They were soft and warm.
Apple Watch Series 6, not pictured: this is the non-data-enabled version. I generally like the watch since it lets me train without carrying a phone or a debit card, and I make use of the WorkOutdoors app to track my runs (and upload from there to Strava), plus Apple Podcasts and Spotify, both offline. The battery held up with no issues, but the heart rate monitor was terrible for basically the whole race. I plan to experiment with a chest strap heart rate monitor for my next training block, so hopefully that solves the issue. In retrospect, given how much I run, I wish I had gotten the watch with mobile data on it; it would have been nice to put my phone into the bag drop and run with nothing but the gels in my pocket.
What's Next
Before the race, I had already signed up for the London Winter 10k in February. I'll spend October recovering from the marathon with mostly short, easy runs, then get back onto a training plan for the Winter 10k. I've also entered the ballot for the London marathon in April and the Berlin marathon next September. Odds are high that I won't get into either of them, but I'd happily run either (or even both) if I get lucky. Assuming I don't get into them, I'll probably aim for a half marathon sometime next spring and another full somewhere interesting next autumn. Maybe I'll finally do that trip back to Germany and run in Munich.
Family Anecdote
While the kids were out exploring while I was napping on Saturday, they went to the loch and took a bunch of photos. They also, apparently, collected some souvenirs. When we went through security at Inverness airport to fly back to London, the eldest child's bag was pulled aside. The security person had her open it and move some things around until she came up with two sizable rocks. I don't mean little arrowhead-sized things. I mean big, honking bricks. Those things probably weighed 8 lbs each. Unfortunately, they were confiscated. When the security worker went to dispose of them, she was caught between heaving two giant rocks into her waste bin (and presumably ripping the bag) or just leaving them on the floor for someone else to deal with. She chose the second option.
We went on into the terminal and found some empty seats. The younger child reached into her jacket pocket, produced a smaller, palm-sized stone, and sat it on the table for her sister to admire. You'll never see a creature smugger than the little sister who got something over on her older sister.