The calendar says that it is nearly winter, but the weather feels as if winter has already arrived. At the same time, it's hard to believe we've been here for five months and that Christmas is only two weeks away. The girls were having a similar conversation last night, and it made me think about what we did in November. 
On November 1, I captured a video of the autumn rain. I didn't record this thinking it would make a good intro to a blog post, but play this thing on loop. It's incredibly relaxing. 
Technically, bonfire night was on the 5th, but London celebrated in style on Saturday the 3rd. The girls and I went to Battersea Park and took in the biggest fireworks show I've personally seen. It was truly a delight. 
The following week took me to Dublin for work. Traveling for work generally means long days and little time to enjoy the place I'm visiting. The museums and cultural attractions are typically closed by the time I leave the client office, but I usually manage to find a decent meal, a drink, and then see whatever I can. In Dublin that meant this guy:
And of course a pint of Guinness. 
I didn't like Guinness in America. I tried it a few times, but it always tasted slightly burnt. When I came to London, I tried it again. It was better! Creamier and that burnt flavor was gone. Then I tried it in Dublin. Reader, a pint of Guinness in a busy pub in Dublin might just be the best pint of beer of in the world. (I am open to suggestions otherwise!) It's like drinking a hug from an angel. Like warm sunshine on a cold day. Like a nice, long piss after… well, you get the idea. It's not remotely the same beer as America. I realize folks have lots of reasons for not consuming, and I respect that. However, if you enjoy a pint now and again, you'll be hard pressed to find a better pint anywhere. 
The following weekend Carissa and I managed to get out of the house for a few hours for a date night. We saw Dessa in concert, and the show was delightful.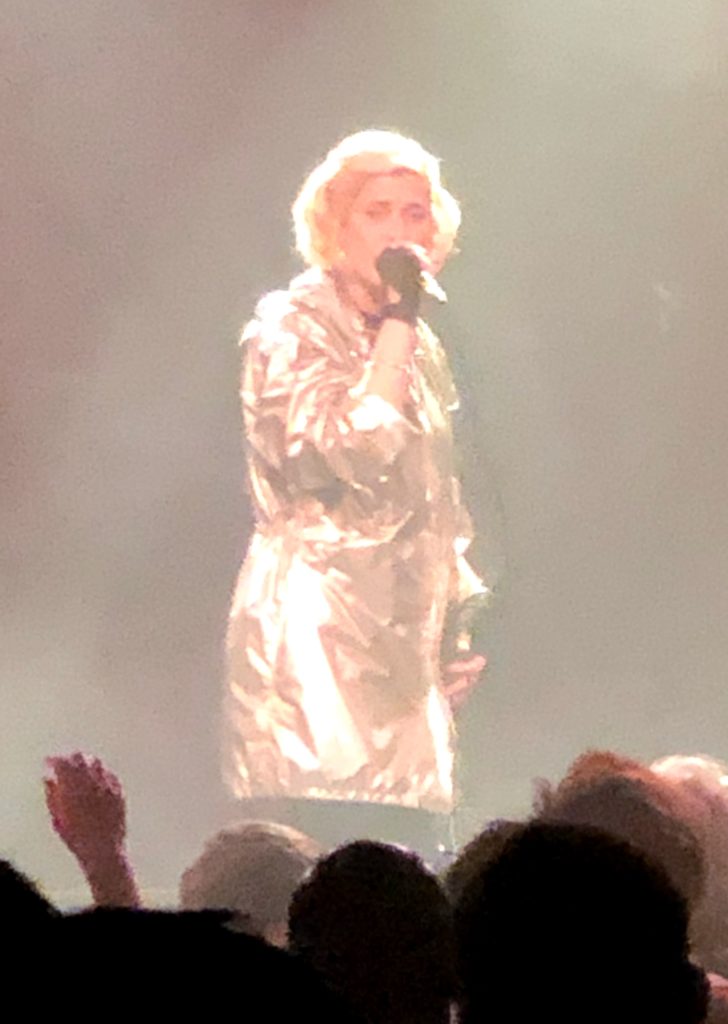 Dessa has her own, distinctive sound that covers ground between indie, hip hop, and pop. I enjoy music as a neophyte. I do not catch the complexities of composition, and I cannot carry a tune in a bucket. What I do especially love are clever lyrics, and Dessa's lyrics are razor sharp. We had a delightful time supporting our fellow Yank.
Toward the end of the month I made my first-ever trip to Portugal. As with any work trip, the pictures are A: photos from airplane windows, or B: inanimate objects. I need to work on this.
Lisbon was great. Warm weather, friendly people, great food. 
My biggest challenge was the language. It turns out that all those years of Spanish have left me in a spot where I can almost sort of understand Spanish if people speak slowly, but completely confused me for handling Portuguese and its pronunciation. 
Enter Scene: Brent walks into a small, family-run cafe.

BRENT: Buenos dias. Una taza de cafe, por favor.

WAITER, in English: Sir, this Portugal. We speak Portuguese. And your Spanish is atrocious.

BRENT: Uh, I'll have a glass of water. Please. 
That story may not have actually happened, but it is true nonetheless. 

The final day of the month saw me back in London, and the girls and I went to Winter Wonderland at Hyde Park. 
Winter Wonderland is lovely
Winter Wonderland is crowded
Winter Wonderland is expensive
We plan to go back next year
The girls went ice skating, and we all went through the magical ice forest. It was cold. It was also magical. There were rides. There was bratwurst. There were CHURROS!
The park is a "Christmas" carnival, which means it is an exercise in capitalism in its purest form. They let you in the gates for free, but everything from there has both a queue and a cost. The place was absolutely jammed with people by the time we left around 9:00 PM, but we still had a lovely time, and the girls want to go back next year. 
If nothing else, for the churros.