Why, hello there. If you're trying to navigate the transition from jeans and a t-shirt to the kinds of clothes you can wear to an interview / onsite with clients / to a job with a dress code, here are some pointers. There are few rules to style, and these shouldn't be taken as such. They're more things I've picked up in the course of my career, but I think they'll help someone that isn't sure where to start.
If you need to wear a suit, you need one that fits. It's possible to spend thousands of dollars on a tailored suit, but unless you're in finance, it's not necessary. If you can get a made-to-measure suit, that's probably your best option. Something like Suit Supply, Thick as Thieves, or Endocino are popular options. If you can visit one of their stores in person, they'll take your measurements and cut a suit for you based on an existing pattern that is close to what you need. This will get you a suit that fits well and is made with reasonably good material. If you aren't close enough to visit, you can often do your measurements at home.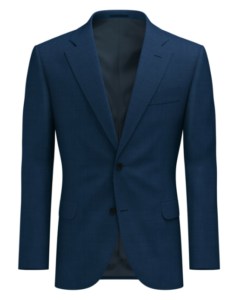 For your first suit, go with navy or charcoal. Can't decide which? Flip a coin; heads navy, tails charcoal. If you're having it made, anyway, get an extra pair of trousers cut from the same roll of cloth. It won't cost much more, and the trousers will be the first piece to wear out. Personally, I'd get a vest a made, too.
A new suit comes with a wealth of choices. Notch lapels or peak? One vent or two? Button cuffs or sewn? What color lining? You can't truly go wrong here, but my observation is that senior folks tend to have peak lapels, two vents cover your ass better than one, and it's cheaper to adjust the cuffs if the button holes are sewn. For the lining, I'd stick to something that's similar to the color of the suit, at least on this first suit. (I did once work with a guy who had shirts that matched the lining of his suits, and it was a nice touch, but that's more advanced than we need here.)
If you have an option to upgrade the buttons to horn, do it. Plastic buttons look cheap because they are cheap. (I wish I had done this. I still might.) If you have an option to pay a little more for pick stitching, consider it. It's not make or break by any means, but it's a nice touch. (Another thing I wish I had done.)
Things to look out for in the fitting:
The shoulder pads should end with your shoulders.
Can you raise your arms to horizontal without the arms binding?
When you button the jacket (always the leave the bottom button unbuttoned), do you see an X across your chest? If you do, it's a sign the jacket is too tight.
Can you walk comfortably without the trousers binding in the crotch? What about climbing a few stairs?
The bottom of the jacket should be halfway between your head and your feet, neatly dividing your body in half. If it's much longer, you look like a kid wearing his dad's suit. If it's much shorter, you look like a kid who has outgrown his only suit. Neither are the end of the world, but if you're getting a jacket made, make sure it fits.
Getting the right fit in the shoulders is the most important part of suit sizing. It's easy to adjust cuffs, and it's easy to adjust sleeves, but if the suit doesn't fit in the shoulders, it's doomed. Next up is the fit in the chest followed by the seat of the trousers.
Can you go to Jos A Bank, Mens Wearhouse, or JC Penny to get your suit? Well, technically, yes. But don't. For not much more, you can get a higher quality material that will fit you better. If getting measured by one of the big made to measure places isn't an option, check out a Nordstrom Rack and find something that fits right in the shoulders and chest, then get the sleeves and legs adjusted. You want wool without a polyester blend.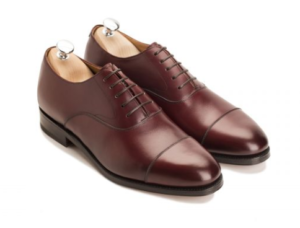 Now that you have a suit, you need shoes. Your options are black, one of a million shades of brown, or burgundy. For your first pair, go with burgundy. One, I love the color. Two, it looks good with navy, charcoal, light gray, and white; basically anything but black or brown. I personally like both split toes and cap toes, though neither are considered as formal as a plain toe. Monk strap vs laces is your call. Both look good. For brands, Allen Edmonds is a good Made in the USA choice. Don't pay full retail. They're routinely on sale for $250 or less. And yes, good dress shoes are probably going to set you back about $250. If you want to look more to Europe, Carmina, Meermin, or Loake are nice shoes at decent prices. While you can get by on an $80 pair of shoes from the mall, if you spend a bit more, you'll have something that will last you ten or more years with proper care.
When you buy your shoes, buy a matching belt. You don't strictly need one if you're wearing a suit that fits properly, but it's nice to have for all the times you're wearing trousers and a dress shirt without the jacket. I don't have much of an opinion on buckles. Something simple and silver would be my choice, but you do you.
What about suspenders? you might ask. Yeah, what about them? I don't own a pair and I don't have much of an opinion on them. I would probably stick to a belt on the first suit and branch out to suspenders once you are able to read this post and think "your style is boring."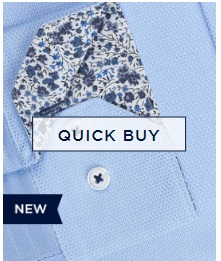 Next up are shirts. To get started, go with Charles Tyrwhitt or TM Lewin. Both regularly run deals that let you get 4 shirts for $150 or so. They are not the best shirts in the world. They are better than what your mom bought you at the mall when you needed a shirt for pictures in high school. (Hi mom! No offense!) For the first four shirts, get a white one with texture, a blue one with texture, a blue one with a pattern, and something with some spunk. Pink or lavender or orange; whatever you like and whatever you think will look good on you. I love my lavender shirts and wear them regularly. If you're in America, get button cuffs. If you're in Europe, get French cuffs and some cuff links.
And finally you'll need a tie. There are ten million options and most of them are bad. So I'm going to make this really, really easy. Start with one tie: a navy blue grenadine silk tie. Grenadine is a type of silk that's woven into lace. It's soft, it's textured, and it matches practically everything. A decent one will run you about $90. Sam Hober and John Henric make quality ties at better prices than the bigger London tailors. You'll pay more than you would at Tyrwhitt or Lewin, but you'll get a better quality, and this tie will last you decades.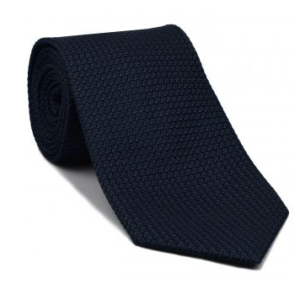 In theory the socks should match the color of the trousers rather than the shoe. In reality, socks are a place to have fun and throw in some wild colors and patterns. Personally, I have some socks that I bought from Uniqlo that are solid colors with some texture, but I'm not terribly adventurous.
Speaking of Uniqlo, I highly recommend the Heatech and Airism undershirts. Also highly recommend the Airism boxers and boxer briefs. Most men I've seen in London have not had undershirts under their dress shirts. I'm not sure why that is. Perhaps they like sweat and deodorant stains on their shirts? Personally, I go with undershirts that either match my shirt color or are neutral.
Hopefully that gets you started. If you have questions or want to gripe at me, you can use the comment system here, but I'm bad at checking it. Try twitter instead: @dbrentbaldwin