Welcome back, footy nerds. If you're just joining, the previous installment is available here, and the first installment in the series is available here.
I've been reviewing some areas of the game I've neglected.
Our scouting has been spotty over the last few seasons. My manual searches have turned up some great youth players from the global intakes, but my scouts haven't been very effective. I've been letting my Chief Scout handle responsibilities throughout the save. That ended in September. We're now scouting the following regions and looking for players with 4 star (superb) potential.
England and Ireland
Central Europe
Eastern Europe
Southern Europe
North Africa, West Africa, South Africa
South America (East)
North America & Central America
Scandinavia
France, Italy, and Spain specifically
Various cup competitions across the world
I've also convinced the board to increase our number of scouts to 11. The expectation is that we should start turning up more mid-career players for consideration, plus we should turn up more prospects that have played well but missed our filters for youth intake.
The autumn started really well. So well that Wolves came knocking to gauge my interest in their managerial vacancy.

The save is called "Sunderland 'til I'm Sacked," not "Sunderland 'til I'm Given a Mediocre Raise." I declined the interview. (Feels good to be wanted, though.)
The game gives you the ability to review analyst data for your squad's stats vs the rest of the league. I wish I had done this in our prior seasons, but I've only learned of it in the last few days, so at least we'll have it going forward.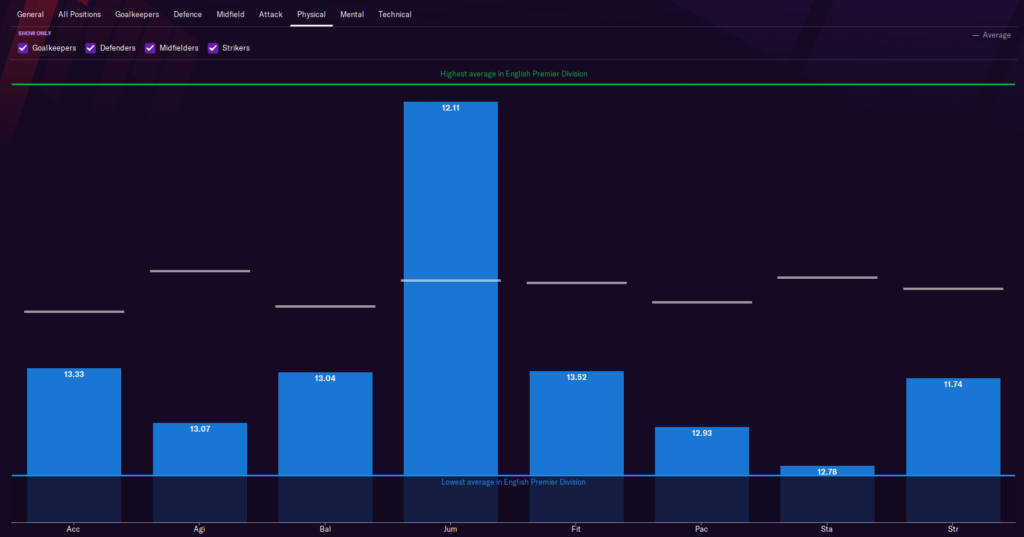 Physically, we're below par. Not the worst in the league, but far from where we want to be if we're going to compete with the upper echelons of the league or in Europe. We are, however, very good in the air. We should be playing for set pieces more than we already do, and I'll adjust the tactics based on this.
The caveat to this, and to the areas below, is that we are a very young squad. Not just the starters and subs, but the fact that I have a number of U23 players in the first-team squad but set to play U23 matches. This allows me to control their training and to put them into mentor groups with the senior players.
It's a similar story mentally, though in this case it's our relative youth. We have a number of nearly-wonderkids with high determination who will very likely improve over the coming seasons and drag this average upward. (Or not, because I may continue filling our U23s with nearly-wonderkids.)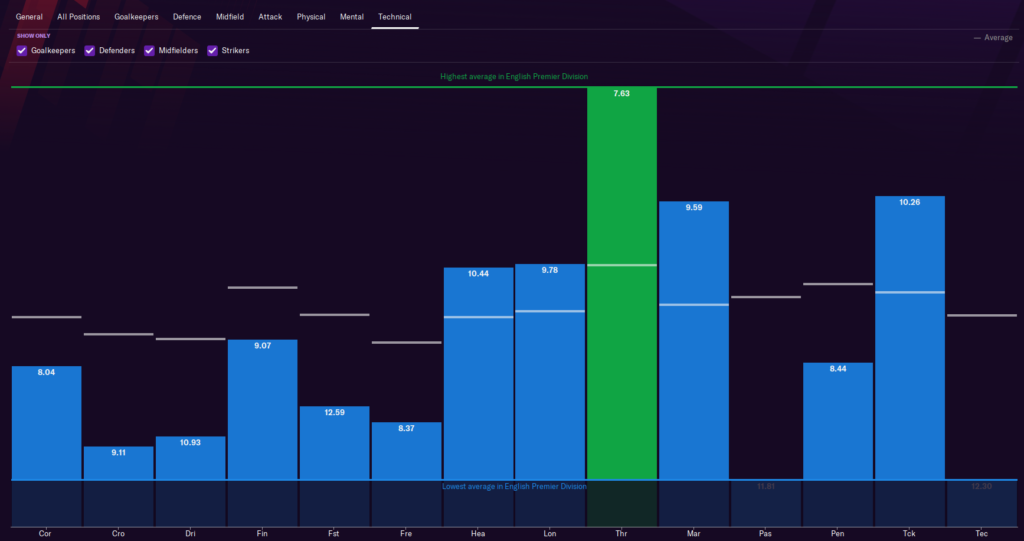 We're in better shape technically than mentally, for sure. Our long throws are the best in the league! (Why? How?) We're above average in a number of defensive statistics and below in attacking.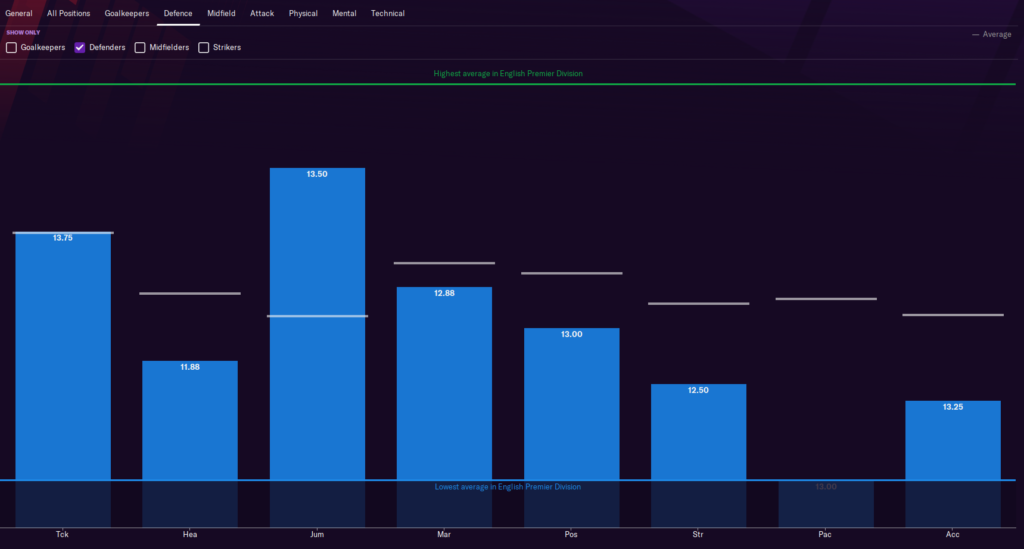 Our squad may be above average defensively, but our actual defenders are below average. How can this be? I have a bunch of cloggers in my midfield, is how.
That actual defensive unit is excellent at jumping and heading, and we score plenty of set-piece goals because of it. We're also the slowest team in the league. Which really reinforces that we should be playing a lower defensive line and that I need to be careful about counterattacks on corners.
One thing this doesn't show, but I've seen time and again in our matches, is that our defenders are outstanding at flinging themselves in front of shots.
Foreshadowing alert: we have not been giving up many shots on target during the autumn portion of the 2024-2025 campaign.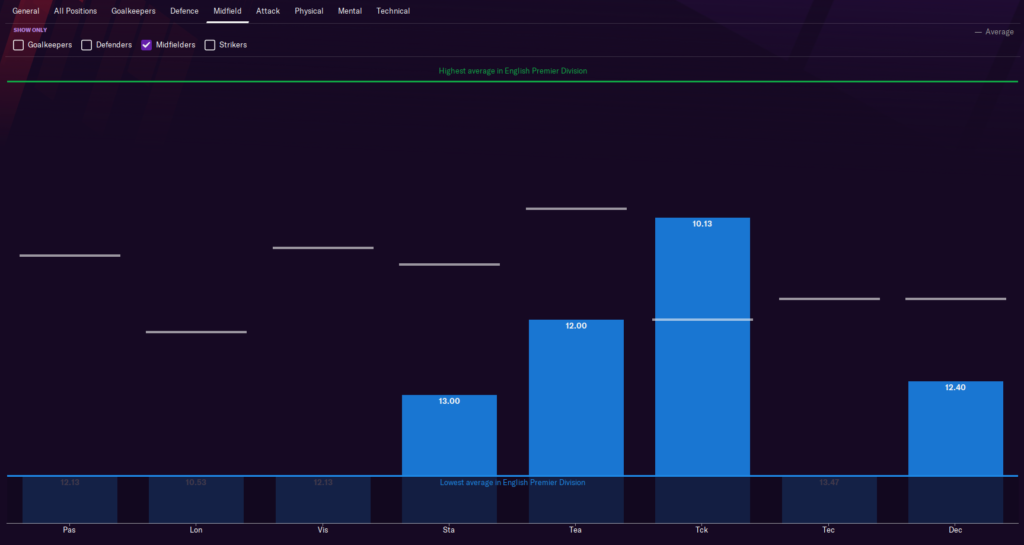 Our midfielders are, if anything, worse than our defenders. The worst average passing, vision, and technique in the league. That's honestly surprising; I didn't think we were that bad. We are good in the tackle, but with poor stamina and decisions. This is a reflection of having so many kids and so many holding midfielders, and it tells me that I could really use a creative ballplayer and some upgraded wingers.
Keeping with the trend, our attackers are great jumpers. I value jumping in my centerbacks and goalkeepers, but this is getting ridiculous. We're above average in heading, which makes sense. Our finishing isn't terrible, but it's not great. Our off-the-ball movement, pace and acceleration are poor. This is straight-up bad. Pace and acceleration are the most effective stats in the game.
I have had a mentoring group for a while, but it was a pretty large group with two senior players and a half-dozen younger guys. Per advice, I've broken that into smaller groups.
I'm hoping that the senior guys can help the current crop of wonderkids improve their personalities and stats. This is a great way to improve determination, but also some of the hidden stats like consistency and professionalism.
Our autumn form can be summed up in this image: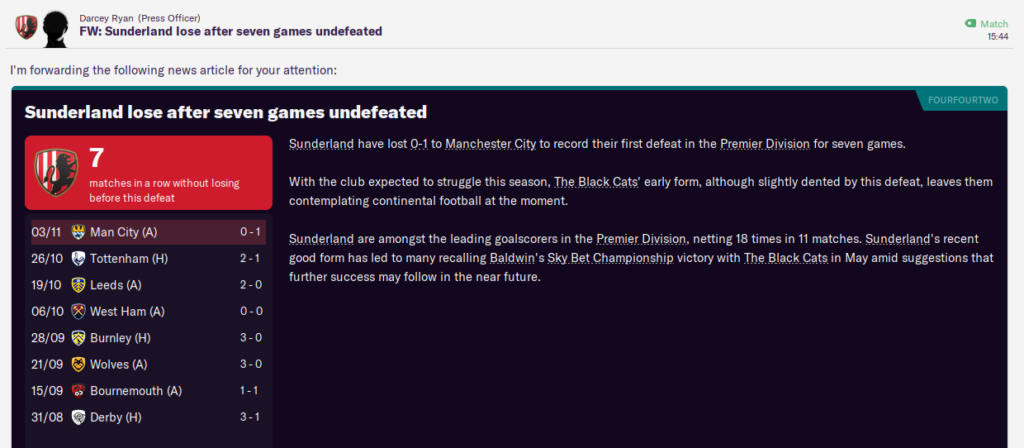 We were brilliant. The loss against City was not exactly unlucky, given their overall shots and xG, but the actual goal was a corner we half-cleared, and that Laporte converted when it was crossed back into the box in transition. It happens.
The only worrying trend for me was that we were generally outscoring our xG. I'm not complaining about the points, but I worry about maintaining that form through the season. On the plus side, our defense was generally very good. Those centerbacks with ridiculous tackling and leaping have been brilliant at cutting out crosses, blocking shots, and heading away the resulting corners.
Our match away at 3rd place Everton is a great example of our overperformance. We scored 4 goals, including 3 from open play and 1 from a corner. We did that on the back of 1.11 xG. Conversely, Everton scored 1 goal–a penalty–from 2.36 xG. Something like .75 of that xG was the penalty, but the rest was largely the accumulation of low-quality chances.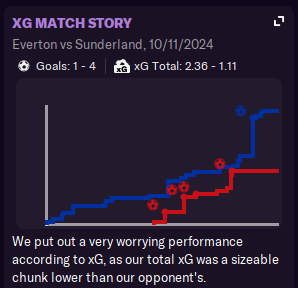 I don't mind the low chances, but when you dig further, it gets more worrying.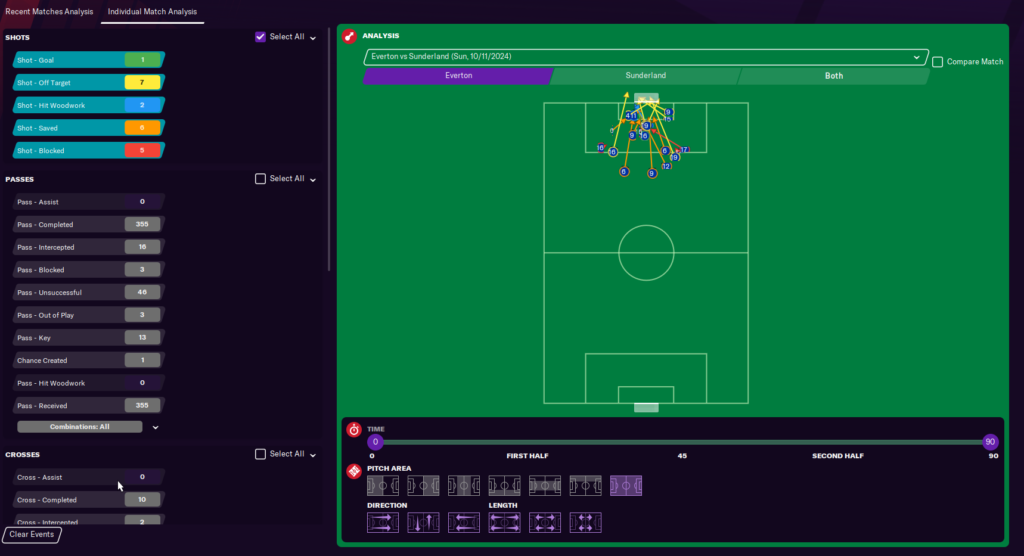 We're blocking a third of their shots and contesting the rest, but to be honest, the fact that two shots hit the woodwork is worrying. We could have easily conceded three here, which would have been in line with the xG.
Nice cross, bro. Wanna try again? And again? And Again?
Now, in the name of science, the game crashed as I was capturing more analysis screenshots, and I had the opportunity to replay this match. The game, however, does not believe in science and injured Obren Cikic for three weeks in the week before kickoff, so I lost my starting right-winger. In the second go 'round, we lined up with our modified 4231 rather than starting with the 4411 like we did the first time.
Abdallah Sima picked up a knock in the first half, so I subbed him to be cautious. Josh Onomah picked a 10-day ankle ligament injury late in the second half after I had used my subs, but it honestly didn't matter.
The result was the same!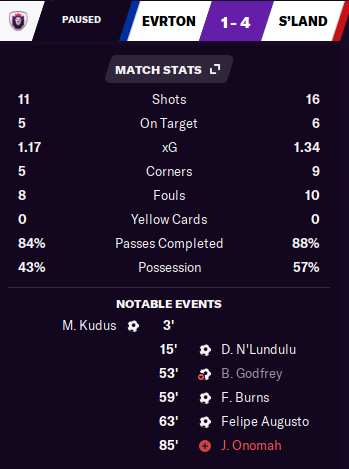 We gave up a poor early goal, but came back well. The Ben Godfrey own goal was one of those where he either risked a touch or our striker had a tap-in. We then scored from two corners.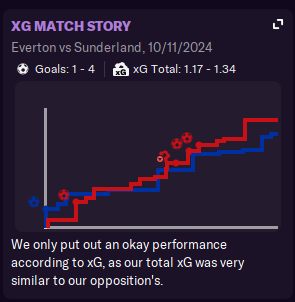 The xG this time was much better. It honestly makes me wonder if the 4411 is even helpful. We used it for part of the match against City earlier, but we were much better with the 4231. With the 4231 I think we have a combination of better players (definitely true) and a tactic tweaked to better suit them (probably true). Going forward, I'll be working from it as my starting point.
In our next match, against Fulham, I was watching for the shots and the xG.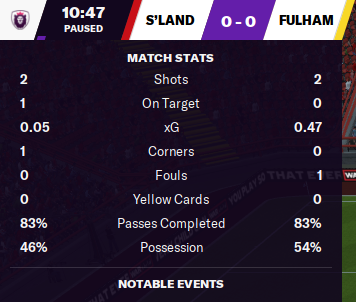 Here we are, 10 minutes into the match, and Fulham have two shots, neither on target, but a total of 0.47 xG. What. The. Hell. Turns out the two shots were in the penalty area, in a central position, just outside the six-yard box. But they were taken with about five of our players between the ball and the goal. We blocked the first shot, it bounced out for a second shot, which we also blocked (we're really good at blocking shots; I wasn't kidding), and we raced down the field on the counter-attack. I think that if Statsbomb were calculating this xG, it would be far lower, given the bodies between the ball and the goal.
Moments later, the story repeated. We headed a corner out to the edge of the penalty area, Fulham took another shot, and we easily blocked it. But it counts as 0.47 xG for some reason. This is something Sports Interactive should review and adjust, in my opinion.
We went on to lose the match 1-2, naturally.
The next image is from a later match against Southampton.
Oh, look. We won the xG battle this time! And lost 1-3. In our defense, 2/3 of our team was either injured or completely knackered.
This is from earlier in the autumn.
It feels like we hit a spell of poor form every November/December, and I think it's the initial autumn rush of matches coupled with international breaks. Guys get tired and get hurt, and we suffer because we don't have enough depth. We coped well initially because people were fit, but the November international break wore out my best surviving players, and the ones coming back weren't match fit.
Even with the injuries afflicting the rest of the club, our healthy kids are getting noticed.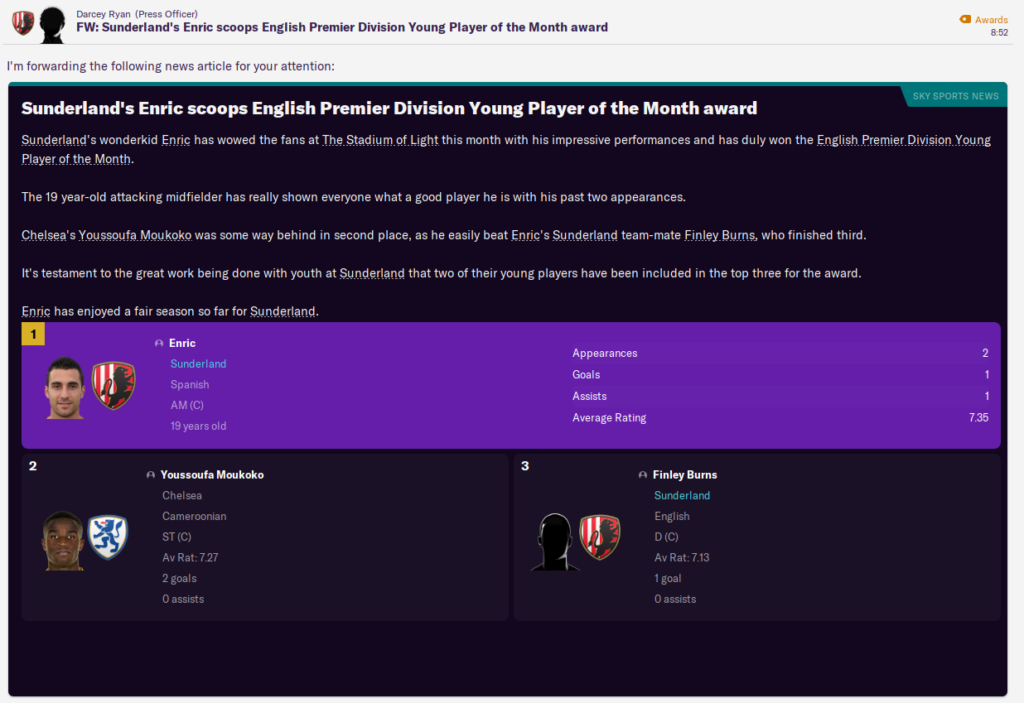 I see things like this, though, and I worry less about a poor run of form. (Our solid position in the table helps my morale as well. Yes, I'm teasing you about where we are. We'll get there.) We have two of the three most exciting young players in the league, and the other is the best young player from the beginning of the save. Our long-term success is not guaranteed, but I am bullish about it.
Hey, one of my individual training plans has paid off. Farrell is going to be even better as our midfield orchestrator.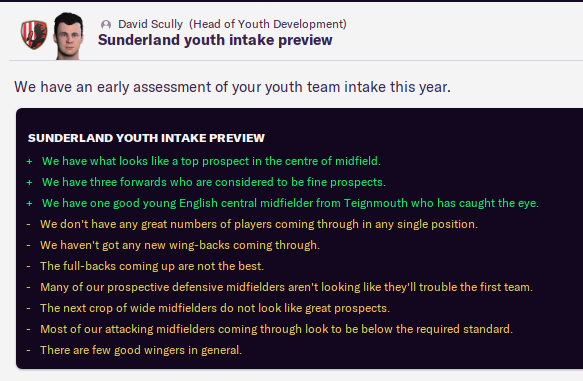 The youth intake preview has come in. This looks promising. We could use a good midfield prospect, and I'm always interested in forwards. We'll see how it looks come March.
As autumn turned to winter, and I was struggling to keep us from falling down the table, Kyril came by my office.

An extra 20m in transfer funds is welcome indeed!
Remember my whining about losing out on Victor Hugo? And remember my prediction about how much he was going to cost if we wanted to buy him in the future?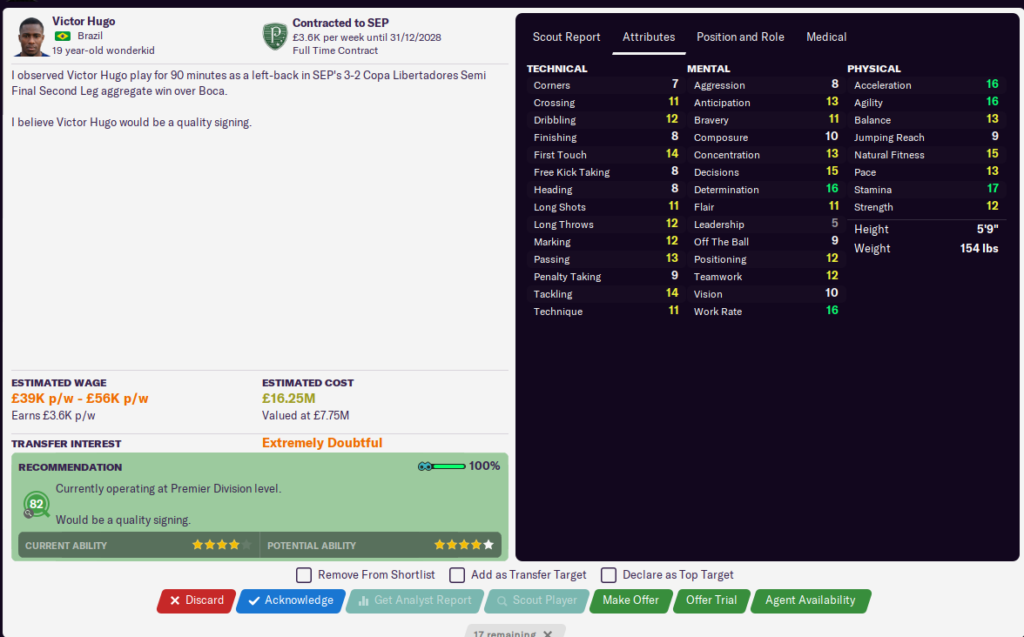 Look who my scouts turned up. (Thanks, guys. You're the best.) The 16.25m isn't too bad, but those wage demands are wayyy higher than we were going to pay last season. He's on the shortlist, though left back is far less a worry than right back. We're using Neco Williams as our starter, and I still can't get Liverpool to sell him for under 60m.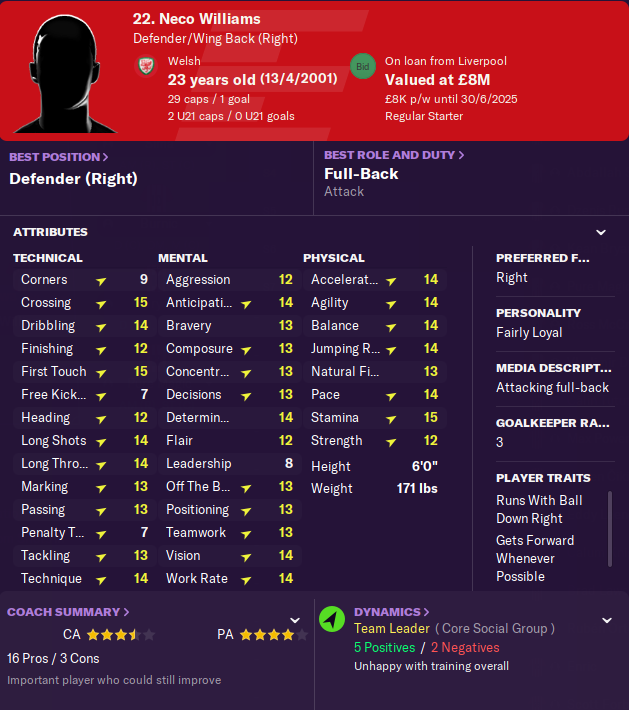 He's good, but he's not 60m quid levels of good.
I'd still really like a top-class (or as near as we can get) midfielder to play alongside Lee Farrell. Or to rotate with him, as needed. I have my eye on a 19-year-old Egyptian goalkeeper, but he wasn't interested in a pre-contract deal yet. I may get him in the summer. I'll have more transfer updates in the next installment that covers January.
We had a brilliant match away in the Carabao Cup.
Which sets us up with a very enticing fixture in January.
We couldn't win it, could we? We've already beaten Everton 4-1 (twice due to the crash) and Spurs 2-1. It's possible, for sure. I can hardly wait to find out. Imagine: we could be playing in Europe next season, regardless of our league finish.
We're to January 1st, and I'm including it here due to the excellent result away at Manchester United.
Our form hasn't been brilliant lately, but we also just came off a run against Arsenal, Chelsea, and Manchester United where we were undefeated. Two of those matches were away. We could have won any of those matches.
We did have a couple bad losses against Southampton and Aston Villa. It's going to happen. I'm not worried about it.
We're just over the halfway point, and that last draw caused us to drop out of the European places. We could easily climb right back in with a run of easier matches on the horizon. We're 1 point behind our points total from 2023.
Folks, I think we're staying up this season.
And on that note, I'll sign off. See you next time, footy nerds.
Update: Season 5, Part 2 is live now