We've been in London for a year-and-a-half, and we've tried enough restaurants that I feel like I can offer an informed opinion. Before going any further, you should understand my biases. My favorite meal is my next meal. I like good food, and I don't care where it comes from or how "authentic" it is. There is no particular style of cuisine I prefer, and there are few things that I dislike. (Mushy peas are one of those things.) I have settled on four different places as my "favorite," all for different reasons.
Dishoom
If you really, truly wanted me to name my absolute favorite place in town, Dishoom might win it. I even bought their cookbook. The food is Bombay-style street food with an Iranian influence. It's basically a little slice of heaven on a dinner plate. My favorite items on the menu are the chili chicken and the cheese naan, but don't sleep on the chicken ruby or the lamb biryani. Dishoom works best if you treat it as a family-style restaurant, order a couple dishes per person, and share around the table. Which is fortunate, because that's my favorite way to enjoy dinner.
There are multiple locations in London, and they almost always have a queue. Definitely do reservations, and if you're making them on short notice and struggling to find a table, check the South Kensington location. It tends to be the easiest to get into, in my experience. The restaurant is a short walk from the South Kensington tube station.
Din Tai Fung
There are plenty of excellent Chinese restaurants in London, and if you know me, you'll know that I avoid chains whenever I can. I've made an exception for Din Tai Fung. It's a chain with limited locations, and their London location is one of their most recent. They've been in Covent Garden since the autumn of 2018. I wandered in with my girls one day when we were out in the city, and we were blown away at the quality of the food, the quality of the service, and the quality of the atmosphere. Typically you get to choose two out of three at a Chinese place in London (and in China, in my experience), but Din Tai Fung delivers across the board. Great food, professional service, and a spacious interior. They are best known for their xiao long bao, and I can confirm that they are excellent. I also enjoyed the shrimp and pork shaomei and the hot and sour noodle soup. This is another place where family-style dining works well, though it can be harder to share the bowls of soup.
Steins
I understand that there are two locations for Steins, but I've only been to the one in Richmond. The food is excellent, the beer is excellent, and the location is superlative. The bratwurst and pretzels are both worth trying, but the weinerschnitzel is my personal favorite. The enormous cutlet would be enough on its own, but it's served atop a mountain of German-style potato salad that is :chefkiss: I've long been a fan of German beer, and there's something to be said about getting a full liter stein the size of your head that's full to the brim with hefeweizen. And then the location. Stein's in Richmond is right on the Thames path, a quarter mile from Richmond bridge. The seating is all outdoors, so if you're there on a warm, dry day (and there are plenty of those, contrary to London cliches), it's one of the best places in the city to sit out and eat and drink until you're stuffed fuller than my cat. It is not family-style, but it is family-friendly.
Wolkite
This is a small, family-run Ethiopian place near the Emirates Stadium in North London. I'm not sure if there's any Ethiopian food in the state of Missouri, but there certainly wasn't any in Springfield when we made the move. Which is a shame, because it's amazing. We've tried a few Ethiopian places in London, and we've settled on Wolkite as our favorite. This is 100% a family-style place, and if you aren't accustomed to Ethiopian food, get ready for a (pleasant) shock. I suggest asking your server about the sampler. It will come with a huge platter of injera (bread) and vegetables on top. Then add some doro wot (chicken), godin tibs (lamb ribs), and whatever else catches your fancy. If you want something wild on the beverage front, try a berele of tej, the Ethiopian honey beer.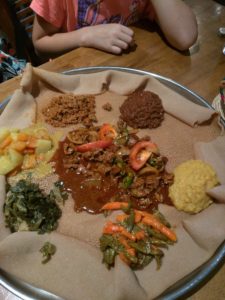 Bonus recommendations
I travel a good bit for work, so I've found some go-to places in various other cities. If you're in Dublin, check out Klaw for amazing seafood (oysters and Jamaican Rundown) and The Pig's Ear for equally amazing farm-to-table food (pork belly). If you're in Lisbon, I'm a fan of Butcher's for phenomenal steak and Da Prata 52 for Portuguese-style tapas. If you're in Leeds, don't miss Iberico for Spanish-style tapas that hold up extremely well to the tapas I've had in Barcelona.