London is a darned good sports town. Not so much for baseball or hoops, but if you're into the sporting vestiges of a colonial empire, I have some good news. London has all kinds of weird sports for you.
Football (soccer)
Rugby (football plus soccer minus pads)
Cricket (baseball if it were as long as a golf tournament)
Netball (basketball without dribbling or backboards)
Tennis (tennis)
As a colonial myself, I grew up playing soccer football. I've tried to blend in with the locals, so I've been to see rugby a few times, and I've done some research on how many unicorns have to be sacrificed to get tickets to Wimbledon.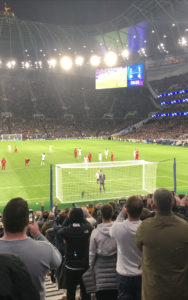 Football
The average Englishperson loves their local football team as fiercely as an American college football fan loves their alma mater's team. The crowds can be large, the fans can be intense, and the tickets can be a challenge to find. There are 20 teams in the top league in England, the Premier League. There are 24 in the second tier, the Championship, and there are "who's really counting, anyway" in the two professional leagues below the Championship. If you're a football tourist, you know who you want to see, and it's probably one of the top six teams in the country.
"Cut to the bloody chase, mate. How do I get football tickets?"

The Premier League
For the Premier League, it can be tricky, expensive, or both. Many clubs require you to be a member to purchase tickets, and there's no guarantee you'll be able to get a ticket for a given match. If you want to avoid dodgy resellers, you have a few options:

Pay a few hundred pounds and get a "hospitality" ticket. This gets you a good seat in a box overlooking the field, a meal, and whatever extras the club includes (drinks, tour, etc). Available from the club website or by calling. In football, money solves most problems.
Join the club as a member and buy a ticket through the club website. Membership is 25 to 35 pounds for the Premier League clubs I've checked, and if you're not trying to go to a local rivalry or a match against a top 6 side, tickets are usually available. They range from 55 to 350, depending on where you sit.
Go to a League Cup or FA Cup match against a lesser opponent. This is variable depending on who the team are playing, but Carissa and I saw a League Cup match at one of the top 6 sides for 10 pounds per ticket with seats on the second row
Can you buy a ticket from a reseller and have a nice time out? Probably! Can you buy one from someone you know or a friend-of-a-friend? Probably! In fact, if this is an option for you, it might be the least expensive, safest way to go, but I recognize that this isn't going to work for the average tourist.
If you don't know what club you want to see, here are the options:
Tottenham Hotspur – a good-but-not-terribly-successful team in a working class neighborhood that also happens to have the best sports stadium in the world. The captain of the English national team is a product of the Spurs youth academy and is the Spurs starting striker
Arsenal – Tottenham's biggest rival. A once proud club fallen on mediocrity that play football in a soulless concrete bowl that's honestly easier to reach than Tottenham Hotspur Stadium, but ride two more tube stops and walk the extra 3/4 of a mile and just go see Tottenham
Chelsea – Another Tottenham rival. Historically the club favored by England's fascists, then purchased by a Russian oligarch who proved that with enough blood money, you can buy trophies. The stadium itself is old, but enjoyable to take in a match, and it's easily reached by tube. The best American player in the world, Christian Pulisic, plays for Chelsea.
West Ham – A mid-size club that plays in the former Olympic stadium in east London. You could watch a football match here, but unless you grew up a supporter, why would you? Easy to reach, at least
Crystal Palace – See above, but in south London and harder to reach
I am not biased, at all.
The Championship
So you couldn't get tickets to the Premier League. Don't panic! You can always go to the next tier down in football and see a team from the Championship. You'll go to a smaller, more intimate ground, the tickets will be less expensive, and the drunk guys in front of you will be even more passionate about the club than the drunk tourists at a Premier League match. Honestly, if you're into football, and you're going to be in London with time to spare, go to both a Premier League and a Championship match.
Tickets for Championship matches are generally available from the club website. They may ask you to register, but they probably won't ask you to pay to join as an official member. Good tickets can be had for 20 to 30 pounds.
Local options are:
Brentford – they are named after me, I've been a few times, and it's a great day out in West London. Do recommend, and if you go before June 2020, you'll be at Griffin Park, notable for having a pub on every corner. I took my family to a match last season, and they had a great time. Good atmosphere, and the family section is truly family friendly
Fulham – Recently relegated from the Premier League, former home of several American players, including Clint Dempsey. Great location on the Thames.
Queen's Park Rangers – West London. I haven't been yet, but intend to go
Millwall – Southeast London. Have a reputation as the roughest fans in football. I'll go at some point, but I probably won't take my family.
Charlton Athletic – I honestly didn't realize this club was in London, and I don't have a single (other) snarky thing to say about them
The easy answer here is "go see Fulham." It's pretty easy to get there, the ground is fairly large, and tickets will very likely be available. I also have to throw in Brentford as a brilliant ground with a new stadium to be finished in the summer of 2020 that will probably also be worth seeing. No offense to the other three clubs, but I haven't personally been yet. (Dear club directors, I will come watch if you send me a ticket)
If you want to go to a lower league match, power to you. Tickets won't be a problem.
Rugby
Rugby is what would (did) happen if the rules of American football diverged, no one ever thought to wear pads, and the players were all basically linebackers, safeties, and running backs that can also kick.
The Southwestern London village of Twickenham hosts both the national rugby stadium and the Twickenham Stoop, home of Harlequins, the local Premiership Rugby club.
If you want to see rugby, probably go see Quins? Tickets are fairly easy to buy from the team website and cheaper than the Premier League. Plus, you can drink your beer at your seat at rugby, which you cannot do at football.
My major complaint about rugby is that it prospers on the destruction of human bodies. A friend explained that those are mostly the bodies of posh boys, so I shouldn't feel too bad about their destruction. I'm not entirely convinced, but that did help.
Tennis
It's literally a lottery. If it's September when you read this, congrats! Enter the lottery. Otherwise, how much do you feel like camping? Because the option for walk-up tickets is to join a queue at 4am early in the tournament or camp for literally a couple days later in the tournament.
I entered the lottery for the first time in 2019, and I should know in the spring if I am able to get tickets. I'm not holding my breath.
Everything Else
Beats me, but probably less of a pain than getting tickets to the Premier League or Wimbledon. I plan to see a cricket match in 2020, so I'll have a better idea then.