Welcome back, footy nerds. If you're just joining, the previous installment is available here, and the first installment in the series is available here.
I said at the very beginning of this long, wonderful trip that Football Manager is a youth exploitation roleplaying game with a layer of football tactics on top. This save has reminded me of just how true that it is, especially if you are starting as a lower league club.
We were fortunate to get out of League One on the first attempt and unbelievably lucky to get out of the Championship on the first attempt. We did this with a handful of signings and some key loans. We didn't start making expensive signings until we reached the Premier League.
Even though we were relegated, the Premier League money, the global scouting range, and the bump in the club's reputation meant that we could attract players that would never consider a League One side. It also meant we could afford to pay their transfer fees (or compensation) and wages. Our success snowballed (along with the backroom staff's grasp of Spanish and Portuguese). After a few seasons of midtable mediocrity, we leaped up to 2nd, and then won the league the following season.
My transfer business was generally good. I brought in a number of players that didn't quite work out, but only a few of them were sold at a loss. There are a handful of deals I regret.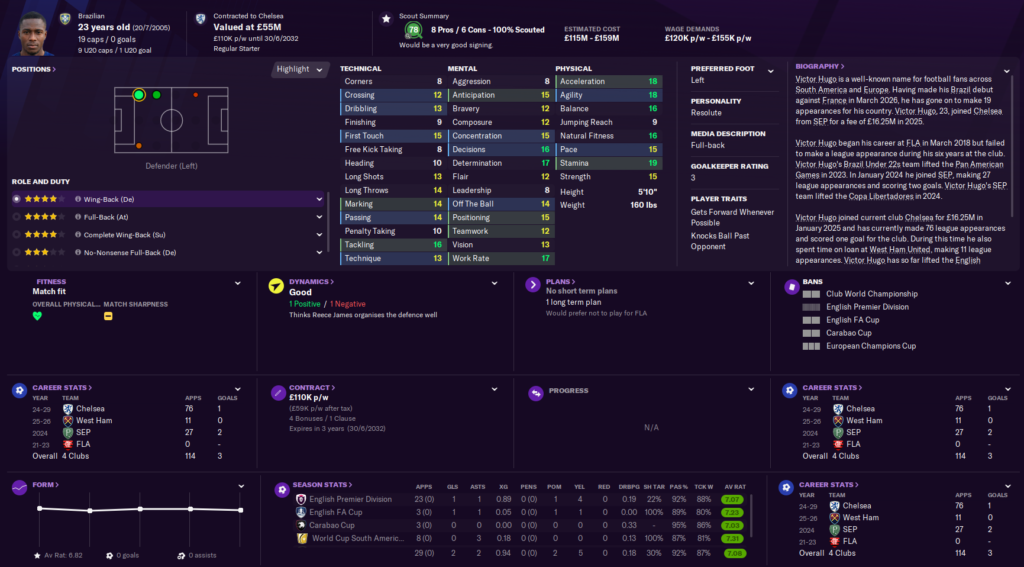 In our first season in the Premier League I went a little overboard on signing young, foreign players. In prior versions of FM (pre-Brexit; thanks, Boris) you could collect wonderkids by the bushel. In FM21, with the Brexit rules, you must be more careful. We signed Victor Hugo on a free, but due to his age, he didn't arrive until January. By the time he reached England, I had already signed 6 (technically 7) other foreign youngsters. Victor's transfer was canceled, and he signed for another Brazilian club within days. That was all on me, and definitely a moment I learned from for future seasons.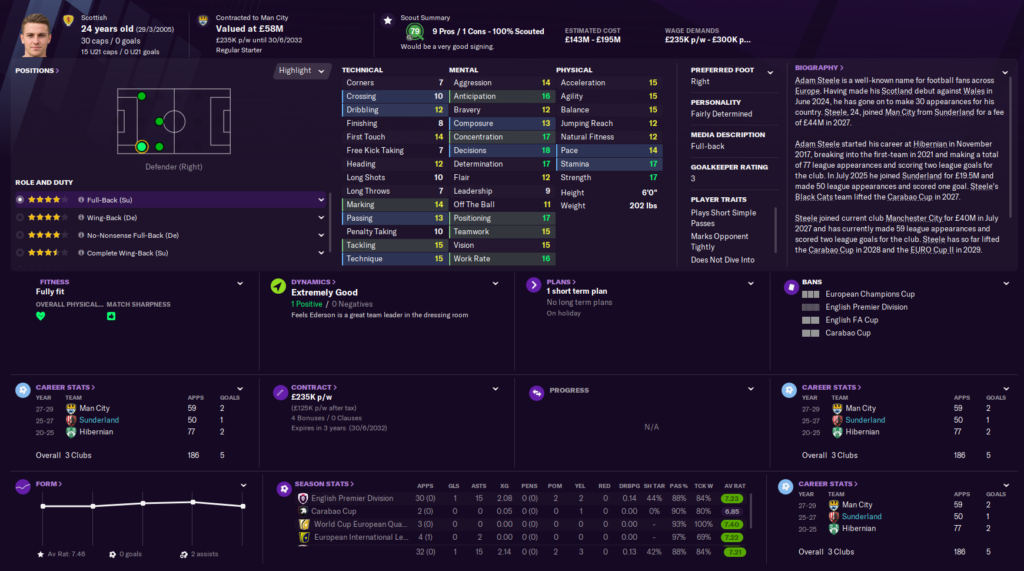 Selling Adam Steele might have gone down as a regret given how good he's been, but he really wanted to leave for a bigger club, and I couldn't risk letting him leave on a free. Would we be better with Steele on the right and Victor Hugo on the left? A little, but mostly because Hugo developed so well. It's probably a push, to be honest.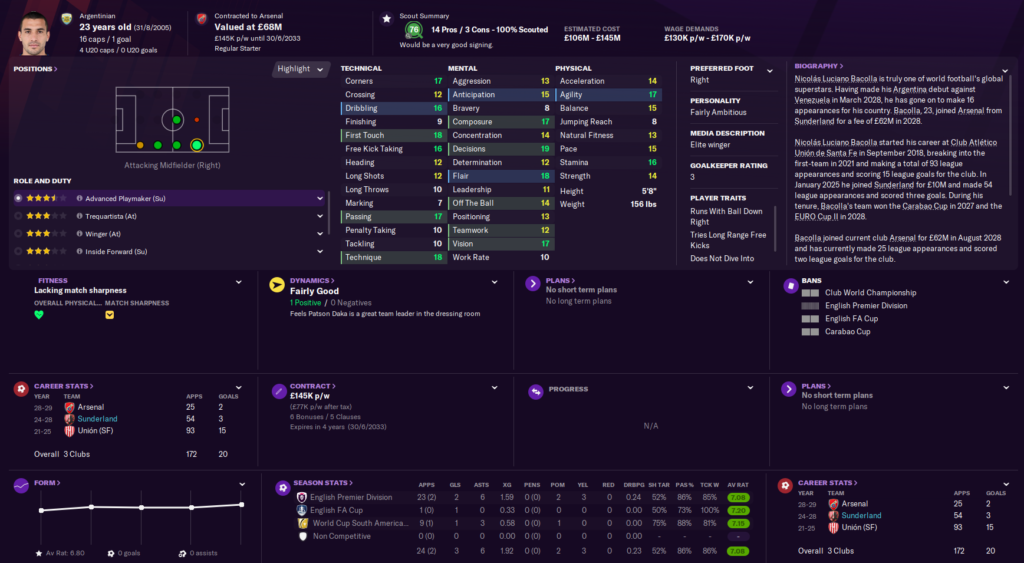 Nicolas Bacolla I should have kept. Our set piece goals really diminished in our title-winning season. I think a big part of that was the poor delivery from corners and free kicks. When you have a 6'6″ striker, it pays to have someone that can put the ball on his forehead. Bacolla could have sat in midfield alongside Pardo and given us good passing and set piece delivery. With Lee Farrell and John Ramirez, we're actually good for passing, but our corner and free kick takers are a step down.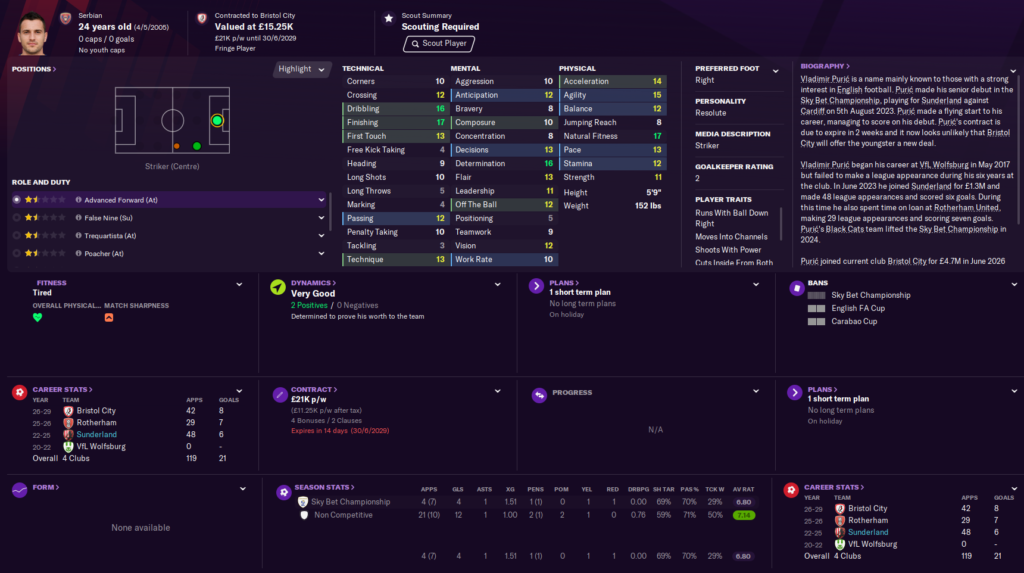 Vladimir Puric aka Pure Magic wasn't quite a regret. He truly looked like he'd be great and the scouts said he'd be great. He was just an object lesson in the fact that FM these days has some built-in uncertainty. My process was good, but the outcome was just something I couldn't predict.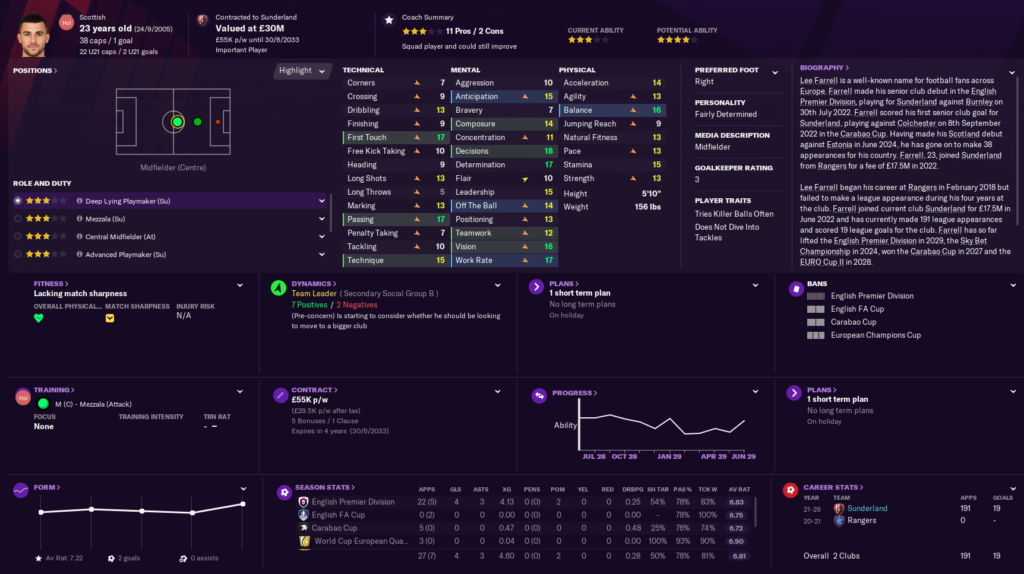 We've had a long-running joke about Lee "the Scottish Mistake" Farrell. The fact that he was the captain of our title-winning team (technically vice-captain, but McCrorie spent much of the season on the bench after being overshadowed by Pardo) and scored two goals in the match that sealed the title really speaks for itself. He might not ever be the best player in the world, but he's the kind of player you need in a squad; not everyone can be a superstar.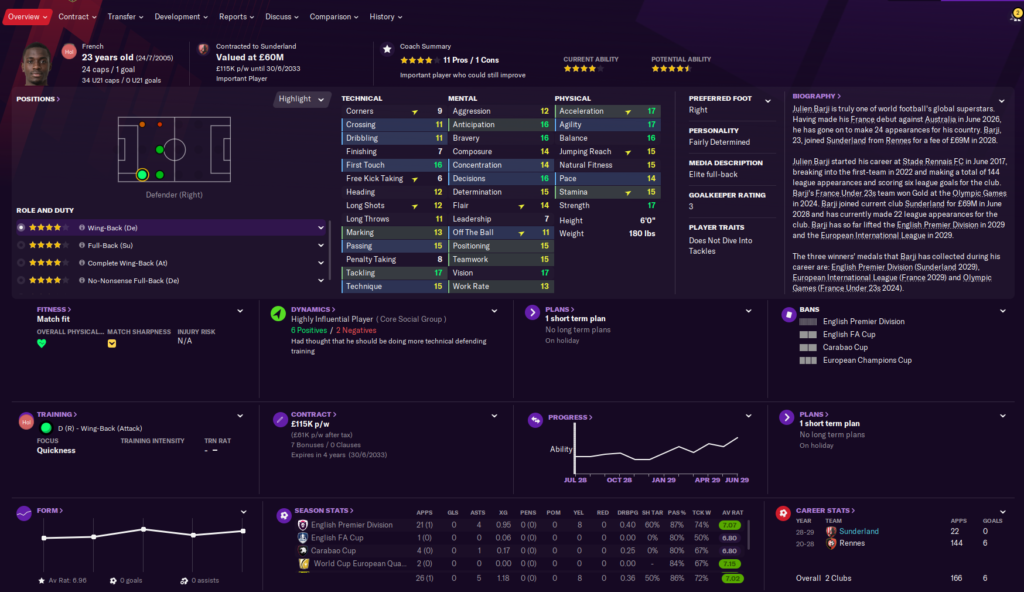 I probably paid too much for Barji. He's good, but I could have picked up Fabio Cesar for about 1/4 the price and he would have been comparable. On the plus side, he's been progressing well since he joined the club.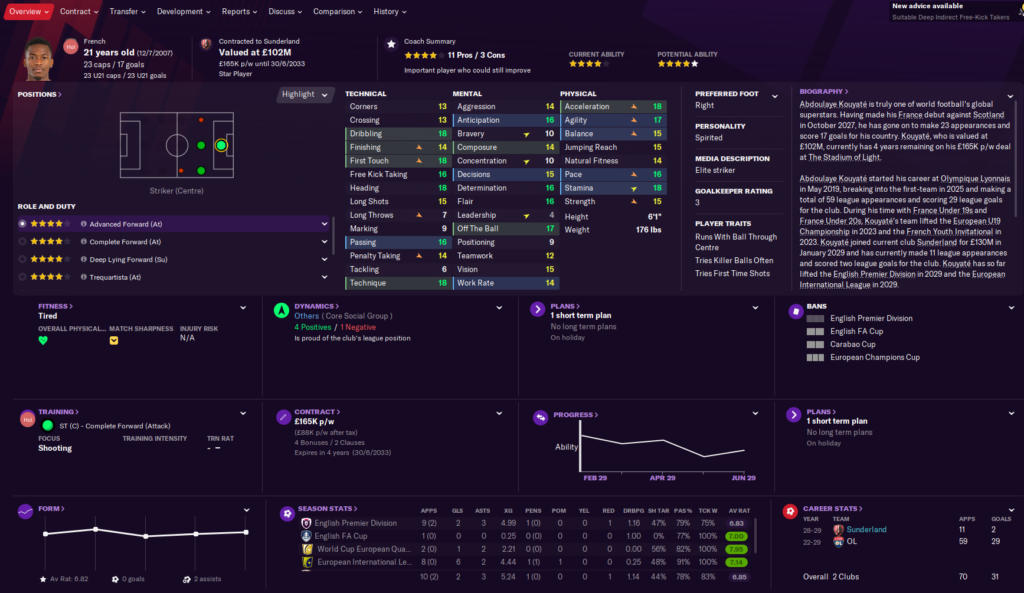 I paid way too much for Kouyate. Again, he's good, but he didn't even start the final match. Cordero, Martin, and Baez are slightly better suited. If Kouyate had been 30m, he would have been a bargain. At 70m I would feel like I had paid a fair price. 145m was simply too much.
But you know what? We won the league. Barji played a ton of minutes across the season. Kouyate is young and already worldclass. They'll both be fine. I might regret how much I paid, but their next manager won't regret having either of them available next season.
I found that there are tiers of wonderkids. Well, tiers of pricing for wonderkids.
South America is a gold mine. Brazil is the obvious place, and you're looking at about 10-15m for a burgeoning Brazilian star. Next up is probably Argentina, where you'll pay a bit less. Around 7-13m. After that is probably Uruguay, where you're looking 4-9m. Colombia is amazing, and you can find excellent talent that might cost you 1-4m. You'll find fewer wonderkids in Chile, Peru, Venezuela, and Bolivia, but you'll still find some. You can often pay under 1m in those countries.
Eastern Europe is also excellent. Serbia in particular, but Croatia and Romania are also great places to look. You'll be paying Argentina rates in those places, sometimes up to Brazilian rates or even higher, depending on the player's age.
Before Brexit, it was worth scouring any country in the EU since you didn't need a work permit, but with the new points system Serbia is the same level of difficulty as Brazil. Find a player, get them some youth caps, and off you go.
I had good luck in Denmark and Belgium, but prices are much higher there at 20-40m for actual talent, though I did find some decent Championship quality players on frees.
Here's our full transfer history.









Now, I said I was retiring. And I did. But… I got an itch. There's one more installment coming.
So, for the final time (and I really mean it), see you next time, footy nerds.