Welcome back, footy nerds. If you're just joining, the previous installment is available here, and the first installment in the series is available here.
After the Kouyate signing, I was a little shell-shocked. That was A LOT of money to spend in one place. It might not even be worth it compared to Ramirez, Cordero, and Villafane.
I did move a couple fringe players.
Holub was never going to hit the level we need for him to compete with our big guns. I let him go to Southampton in a deal that ought to reach 11.25m. I might have kept him longer in the hope that I could further increase his value, but he complained about me not selling him for 7.25m, so I let him go.
Ignacio Escalante is a similar story.
He once would have been a good player for us, but his ceiling is lower than what we have in the squad today, never mind where we'll be when those guys get to their mid-20s. He cost us 950k, and we should make 11m on his transfer.
Gaston Araujo is the third note in this refrain. He was a bit of a problem child after I broke a promise to sign a player that would help him settle in England, and I missed multiple opportunities to sell him for a lot more than the 8.25m Crystal Palace paid us. Sigh.
He's a Premier League quality player, but he's not a Champion's League quality player. We ended up making a small profit . Maybe I could have kept him around and increased his value, but I'd rather sell him, make a little money, and use his registration slot and minutes to develop a better player.
I signed this gem from Romania. He's good at a ton of things already, and I'll train up his technical abilities over a couple seasons. He'll be a great addition to our midfield in another season.
He cost us 6.75m, and he's set to arrive in the summer. He didn't get a work permit, but we've been down that road before. He'll be off to a loan the day after he arrives at the club, and he should have his permit by Christmas. That should give him time to get even better.
Former Black Cat Michal Bednar just earned us 1.9m in a move from Spain back to England. We sold him for 9.75, and Bournemouth brought him back for 5.5m, plus apparently some incentives. I hope that worked out for Almeria.
Our January results were okay.
I'm not at all happy about dropping four points at West Ham and Burnley, and the win over Leicester was much too close for comfort.
Buyer's remorse, the 145m pound edition.
A straight red card for a two-footed tackle. February did not get off to an auspicious start, not least because Liverpool, at the time, were in 17th place on 26 points. (Six above relegation, but still.) They lost to every top 6 side, then had a horrific run in January. Look at this bloodbath:
That was our form when we were relegated, not what you'd expect from a club that's won the league 7 out of the last 9 seasons. We picked the wrong day for a red card. Damn. They have a great squad, too. Haaland, Lautaro Martinez, Jude Bellingham, Junior Wagenaar (a regen midfielder I've mentioned before and would love to steal).
After the Liverpool match we hosted Sheffield United, and I had an object lesson in just how crazy our attacking depth is. Club record signing Kouyate was suspended. Martin Ramirez was out with the flu. Fede Cordero started, but picked up a knock in the second half, but I was able to bring on World U21 Player of the Year / European Golden Boy Ricardo Villafane to lead the line. He duly scored to seal a 3-1 victory.
We drew with Manchester United after Sheffield United. United have such a strong team, and I couldn't really complain about taking the point.
Last season, in the Conference League, we played some reasonably big matches. This season, in the Champion's League group stage, we played some legitimately big matches. I'm not sure any match Sunderland have played during my tenure has been bigger than our first away trip to AC Milan in the Champion's League knockout round.
We went down on 10 minutes on a direct header from a corner. It's been ages since I've seen one of those go in. We went down 0-2 a mere 2 minutes later to a wonderstrike from Milan's AML. They scored AGAIN on 17 minutes with ANOTHER 23 yard rocket. Five shots, 3 on target, xG of 0.4, 3 goals. It was unbelievable.
We went into halftime down 0-3 with Milan at 0.49 xG and us at 0.78. Both sides had 7 shots with 3 on target. All theirs went in. I pulled Adam Idah, moved Freddy Baez to the left, and put Kouyate in on the right with Martin Ramirez still up top.
We were the definition of mediocrity in the second half until 87 minutes, when Ricardo Villafane picked up a loose ball on a corner, drove 70 yards upfield, and scored the most magnificent solo goal you'll ever see. Martin Ramirez had a glorious chance 2 minutes later, but smashed his shot into the keeper.
Not a great result, though I honestly think the process was fine. We generated chances, but couldn't finish them. We need two goals at home, and that should be doable.
Our next big match was not the second leg against Milan. It was the Carabao Cup final against Everton. We went down early again, this time to an Ian Hunt (regen I tried to sign a couple seasons ago) chip over Adan Tirado on 14 minutes. Claudio Pardo brought things level on 36 minutes after a neat interchange of passes with Freddy Baez at the top of Everton's box. He slammed a shot home into the top left corner, not giving the keeper even the remotest chance. Things held steady until 90 minutes when Everton's keeper cleared a ball high and long. It dropped to their forward, who skipped around Puric, and slotted home. Everton 2-1 Sunderland, with the assist to the keeper. I thought we were done. Cooked. Kaput. But I had to try throwing everyone forward, so I set us to Very Attacking mentality and put everyone but the keeper and center backs onto attack. That beautiful 4th string striker Ricardo Villafane scored us a goal at 90+3!
Everton somehow got one back at 90+5 after I moved everyone back to their normal mentalities. Unfuckingbelievable. Everton 3 – 2 Sunderland at full time.
I was shook for days.
We had a match at home vs Spurs. I wouldn't call it a big match. We were favorites. We won. (It hurts to be so flippant about Spurs.) I was still punching walls about that last Everton goal.
The next Big Match was our home leg vs Milan. I had to put Everton behind me and come up with a plan to recover our two-goal deficit. I rolled with the 4231, and I tried something new to fit as many of my best attackers. Yes, the plan was to stuff even more forwards onto the pitch.
Martin Ramirez is too good to not be at the tip of the attack, and he's proven how effective he is there, so he got the nod over Kouyate.
Look at that jumping! Dude is 6 foot 7! He's a monster in the air, he's damn good on the ground, and he's going to get even better.
I dropped Kouyate behind him as a shadow striker. Freddy Baez went out wide into his normal role as a right winger. The new wrinkle was putting Fede Cordero on the left as an inside forward. He's not actually trained in that role, but he has all the attributes for it.
He's reasonably fast, has a wonderful first touch, good dribbling, and good finishing. He even has good passing and vision.
I made Lee "the Scottish Mistake" Farrell a deep-lying playmaker. He's been okay this season, and I thought it would be better to have him a bit deeper in midfield where he will have more space to use his ridiculous passing and vision.
Also, for a Scottish Mistake, he's turned out pretty damn well. Maybe I shouldn't have spent the money on him at the time, but he's been a solid player for us. He's also our vice captain, which means he's frequently the captain on the pitch with McCrorie so often on the bench or not in the match day squad.
Once the match started, we poured gas on a bonfire. A corner kick on 9 minutes saw a loose ball in the box fall to Claudio Pardo, who smashed it into the net. Two minutes later Martin Ramirez brought us level on aggregate and ahead on away goals.
We took a 2-0 lead into halftime and looked GOOD for it, too. I told the lads how proud I was of them and to keep up the good work, and I actually meant it this time.
At 66 minutes Kouyate was on a yellow card and had a 6.5 rating, so I pulled him for Enric. I'm not saying I'm worried about my 130m signing being underwhelming, but I'd sure like it a lot more if he were overwhelming. Or just whelming. Is that a word? (Merriam-Webster says "yes.") Fede Cordero's condition dropped into the red around 80 minutes, so he came off for Jhonny Palacios, who has developed really well.
Everything was going well and looking good. And then…
Milan hit the post off a corner. I lost a year of my life. Moments later, we raced upfield, Donnarumma made a good stop on a Jhonny Palacios shot, and the ball landed at Freddy Baez's golden feet. He slid a shot inside the near post as cool as kiss your hand, and we were up 4-3 on aggregate.
I pulled a knackered Scottish Mistake for John Ramirez and dialed time-wasting to 11. We calmly saw out the rest of the match for a 3-0 win, and we advanced 4-3 on aggregate.
Really solid performances pretty much across the board. I'm not actually worried about Kouyate. He joined the team two months ago, and most of these players have played together for years. He'll adapt and be a star.
I promised glory nights in the Champion's League. I. Have. Delivered. The weather did, too. It was spitting rain and howling wind for all 90 minutes.
We drew Manchester United for the next round. A tough draw, but I think we can get through. If we do, it will be Arsenal or PSG awaiting in the semi-final.
Our youth take arrived. I'm not blown away by any of them, but Niall Hyland is a Fairly Professional young striker who is starting with 14 finishing.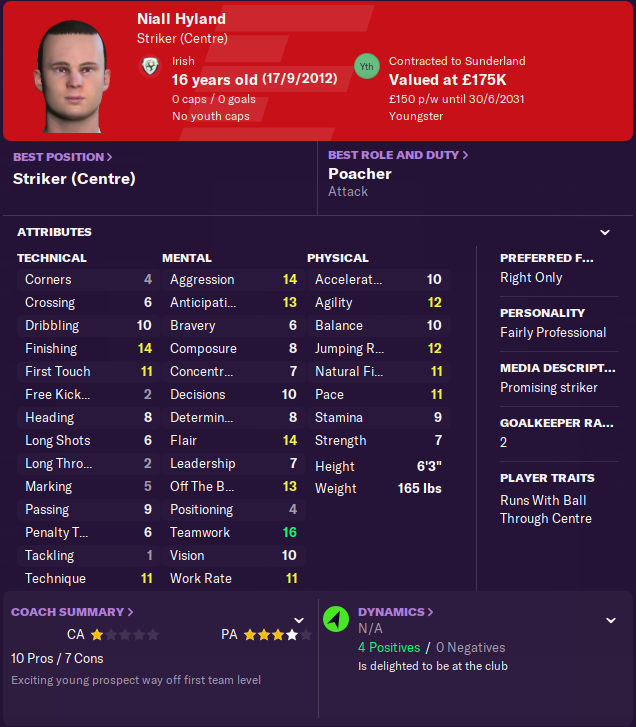 Supposedly he could be as good as Villafane. Which would be great, given all the awards Villafane just won.
We followed Milan with a poor loss at Spurs in the FA Cup quarter-final. I wasn't terribly fussed about it given that I'd far rather focus on the league and the Champion's League. But then Miguel Benavidez came into my office complaining about a broken promise to win silverware.
Maybe give me another two months, my dude. A lot can change between now and then. He's a good player, and I'm not terribly worried. If we can win the league, he'll probably withdraw his transfer request. (The promises system is rubbish and needs review. Seriously.)
Signing an injury-prone player is not bad in isolation. Fede Cordero is injury-prone, and he's been amazing. Victor, on the other hand, has spent more time in the physio room than on the practice pitches.
Three major injuries in a row. I'll try to sell him as soon as I can. That leaves me Barji and Neco at right back. Probably enough, but I've had my eye on this lad for a while.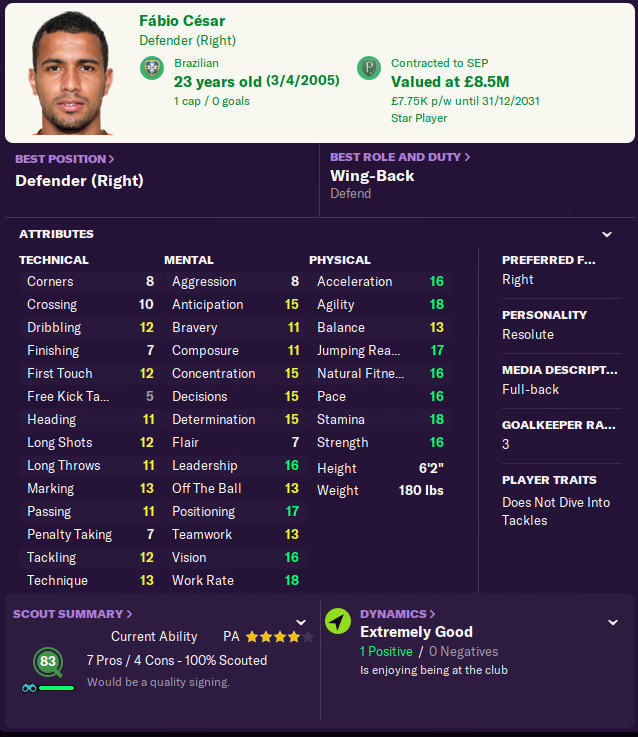 He has a 15m release clause, but the bad news is that he's also injury-prone.
It's a hard call, but he is generally better than Fernandez.
I'll figure it out in the summer. I'd still rather have a top-tier holding midfielder to rotate with Pardo, but it's hard to pass up a physical monster like Cesar.
More bad news arrived after the Spurs loss.
Puric is probably our best overall defender. We still have good depth there, but I hate to lose him for so long. That's the end of his season.
ANOTHER award for our strikeforce.
After going up 2-0 at Bournemouth, we did something I haven't seen in ages. We gave up 3 unanswered goals, ultimately losing 2-3. It left us in second place in the table, but with two games in hand.
Our first leg against Manchester United was at the Stadium of Light. It wasn't great. Mason Greenwood scored a stupendous solo goal on a corner counterattack (which reiterates that I need be double-checking to ensure I have a holding midfielder (Pardo) outside the box and not Freddy Baez, who has the defensive nous of my cat). Greenwood bagged his second late in the second half, and I thought were going to go into the second leg down two, but Jhonny Palacios did a fine job cleaning up a loose ball in the United penalty box, and brought us back to 1-2.
We need to score at least two when we're away in Manchester, but we've done that once already this season.
The run-in isn't terrible. We need some away wins vs United and Chelsea, and we really need a home win (or draw) against City, but things could be worse.
We scraped a 1-0 over Derby. We needed 3 points, we got 3 points.
Then came United. I checked and double-checked our set piece routines. I also set us up in the 343, thinking we'd stay tighter at the back and see if we could nick a goal on a set piece. The plan mostly worked, in that we kept things reasonably tight at the back, but we generated nothing going forward. With us needing two goals, I switched back to the 4231 at halftime and made a double change, pulling Enric (already tiring) and Felipe Augusto, and bringing on Fede Cordero and Freddy Baez. A pretty significant offensive upgrade at the cost of some defensive stability. I also checked all the set pieces AGAIN.
We played much better, and Nathan D'Haene pulled a goal back for us from a corner on 56 minutes. We were looking good, and at 65 minutes I switched Lee Farrell from DLP to CM-A to try to get a little more going forward. With the score 2-2 on aggregate, we were still down on away goals. At 75 minutes we went to Very Attacking mentality. Barji, at right back, was shifted from wingback attack to complete wingback attack. At 78 minutes, we cleared a corner, it was fed back into the box to a lurking Harry Kane, who passed to the open man, who finished without fuss. MUFC 1 – 1 Sunderland. We threw everything at United, including Pardo smashing a shot off the post. We couldn't break the deadlock, and our first Champion's League foray ended with a 1-1 draw and a 3-2 loss on aggregate.
I'm a little disappointed, but I can't really complain, either. We played them about as close to even as possible. I could have done a little better with my set pieces in the first leg. Had I kept Pardo outside the area instead of Freddy Baez, I don't think Mason Greenwood would have scored the counterattack goal that he scored. That said, my fullbacks should have stopped him, but I keep them around more for their attacking capability than their defensive capability.
The good news is that we still have the league in our sights.
We're even on points at 69, but we have two games in hand.
We went away to Villa, and we should have thumped them. We were the better team, by far. They scored early when Jhonny Palacios missed a header and Neco Williams, standing on our goal line, somehow let the whole ball cross the whole line before heading it away. John Ramirez (midfielder not striker) leveled things just after halftime with a 25-yard screamer. Just when I thought we were going to scrape a draw, Freddy Baez broke up field, beat three guys, and slotted home. It felt like a smash and grab, but I'll take the 3 points.
Top again, and we still have two games in hand.
Our next match was against Chelsea, and I put us back to the 343. The same principles of keeping it tight at the back and looking to counter or score on set pieces applied. Naturally, we went down after 11 minutes to a goal scored from open play. Like, wtf, my guys? Eleven minutes later, the same story repeated itself. I went nuclear and yanked D'Haene (who was the least fit of my 3 centerbacks and culpable for Chelsea's first goal) for Freddy Baez and switched to the 4231. It kind of worked, in that we did stop the bleeding and scored a goal late in the match, but we also conceded from another corner and lost 3-1.
My honest opinion is that Chelsea have a better squad. We have some great, young players, but they have great, peak players. Give us a couple more seasons, and we'll probably be superior.
The loss took us back to second place, but still with a game in hand.
I have a feeling our season is going to be decided on May 6th.
I rotated us a bit for Southampton at home. Fede was injured, Kouyate, Farrell, Pardo, and Martin Ramirez were knackered. We started in the 4231 with Villafane up top, Palacios on the left, and Baez on the right. So'ton were a bit livelier than I wanted to see, and on 15 minutes Neco Williams put in a wretched piece of defending and let his man skin him and finish inside Tirano's near post. At this point, Neco is a liability. I hate that. He was good for us for years, but he's gotten older and we've gotten better. The problem is that he's Welsh, which means he doesn't count as foreign, and I'm running into registration problems as my foreign legion ages.
We went into halftime down 0-1. I gave the lads the hairdryer, and we went back out to the pitch where Neco managed to get skinned again, but this time Tirano made the save. I had to throw on Farrell and Martin Ramirez to try to salvage something. Before they could enter the pitch, Neco failed to cover a defensive breakdown between D'Haene and Benavidez, and So'ton were up 2-0. We pulled one back, and I went full gegenpress to try to salvage something. We generated chance after chance but couldn't get a second goal or a draw.
We're really gonna bottle this, aren't we.
We utterly destroyed Wolves 6-1, and somehow want-away center back Miguel Benavidez scored a hat trick (two headers and a penalty). We went back to second, even on points and 5 back on goal differential. We legit need to run up the score against bad teams now.
After the Wolves demolition, Mike France–our Director of Football–stopped by my office with a bit of news. On the one hand, I don't begrudge the player his money.
On the other hand, what the hell did I let slip into his contract? (I swear it was 300k at 10 assists and 350k at 20 assists, but apparently not.)
We went to 9th place Everton in desperate need of a win to keep our title hopes alive. Kouyate earned some more credit by heading down a wicked, bending Palacios cross into the path of Felipe Augusto, who finished from 5 yards. Martin Ramirez was rested for an hour, but with a 1-0 lead, I brought him in and he scored on 65 minutes to put us up 2-0. The two goals were all we needed. We might struggle with Everton in a cup final, but not in the league, not today. Three more points, and what could be the title decider at home against Manchester City next weekend.
The pressure is back on them.
They won on Sunday because of course they did.
And West Ham let them run up the goals.
Tell them they aren't expected to win? Are you kidding me? I'm not opposed to lying to the players, but not that, not now.
Manchester City at home. The title on the line. They are a very good team, they have the best striker in the world, but we've beaten them before. We will do it again.
Lee Farrell got our first shot of the match, wide open from 15 yards, but he blazed it over the bar. The match engine said it was 0.2 xG, and I can believe it. That should have been 1-0. Five minutes later our Brazilian left back Gabriel came marauding across the box, picked up a Freddy Baez cross, and rifled home. Sunderland 1 – 0 City. Game. On. Not two minutes passed before a poor City goal kick fell to Enric, who passed forward to Baez, who laid the ball into the path of a wide open Martin Ramirez. 2-0. Four minutes later Fede Cordero received the ball on a throw-in from the left, spun across the box, and buried a shot into the far corner. 3-0 after 12 minutes. We're going to win the league. Sing it with me. We're gonna win the league! We're gonna win the league!
Is 15 minutes into the match too early to start time wasting?
We played excellently through the first half, but we did give up a goal on 40 minutes, only for Fede Cordero to score our 4th late in added time. At halftime it was Sunderland 4 – 1 City.
At 80 minutes I went to a Balanced mentality (we were Attacking before; we're always Attacking by default) and set time wasting to 11. Delgado managed to get himself a goal in the 4th minute of 2 minutes of added time, but it didn't matter. Sunderland 4 – 2 City.
The team have a lot to be proud of in that image. Yes, I absolutely, positively did a manual save after that win, just in case. I'm not save-scumming, but I'm sure as HELL not letting a win like that get lost due to a crash.
We need 1 point away at Fulham to win the league, and we have a week for our starters to rest before kickoff.
I changed nothing for Fulham. Martin Ramirez scored on 8 minutes. Freddy Baez worked the ball down the right and fed it back across the middle for an onrushing Lee Farrell, who smashed home from the middle of the penalty box. After completely dominating, Fulham pulled one back through Timothy Weah, who hit a preposterous curler over Tirado and into the corner. We went into halftime with the scoreline reading Fulham 1 – 2 Sunderland, and the xG at 0.09 to 1.37.
I took us out in the second half and asked the team to lower the tempo a bit. We usually are at high tempo to work the ball upfield more quickly, but A: I wanted to hold onto our lead, and B: we are technically much better than we used to be, and a more methodical approach should be fruitful. Fulham did scrounge another shot on target, but at 61 minutes Lee Farrell picked up the ball on the edge of the penalty area, took two touches, and fired home his second of the day. Which should have wrapped up things and taken all the suspense out, but 2 minutes later Gabriel scythed down a Fulham player in the box, and they converted the penalty. Fulham 2 – 3 Sunderland. Meanwhile City were up 4 – 0 over Leicester. I dropped our mentality to Balanced and pushed our time wasting to 11. Adan Tirado, in an effort to make even more of my hair turn gray, played a freekick from a Fulham offside past Benavidez and directly to Tim Weah, but Tirado redeemed himself and saved the resulting shot. I worked through my subs in the final minutes, wasting as much time as I could.
The whistle blew at 95:10 after what was supposed to be 4 minutes of added time. Fulham 2 – 3 Sunderland.
We did it.
We've won the league.
Read that again. We've won the league.
In 9 seasons, we've gone from League 1 to Premier League champions. The path has not always been smooth, but we've established ourselves as the best club in England.
Freddy Baez won the English Players' Young Player of the Year. He had 7 goals and 11 assists. He deserved it. I won English Premier Division Manager of the Year. I also deserved it.
Multiple players made the team of the year. Including our former player Adam Steele.
We won the league, though if you put a few pints me and ask if we're best the squad in the country, I couldn't honestly say yes. Our best 11 can compete with and even beat any 11 in England, but we lack the depth of City, Chelsea, and United. We're also much younger than they are, which can lead to matches like at Chelsea where we go behind and look utterly lost. Our young players will get better, though. We might not win the league or the Champion's League next season, but we'll be in the running for both.
At the beginning of the season I laid out what I would do if we won the league or the Champion's League. I meant it. This has been a long, exciting save, but it's been tiring, too.
I'll write a retrospective and lessons-learned post sometime soon and put it up next week.
I am glad you are here with me. Here at the end of all things, Fam.