Welcome back, footy nerds. You can read about the end of the 2020/2021 season here. This post will cover the transfers and training in the 2021/2022 transfer window.
Last season ended and work started the following morning, still hungover. We had too many players that weren't the level needed to survive in the Championship. There was a culling.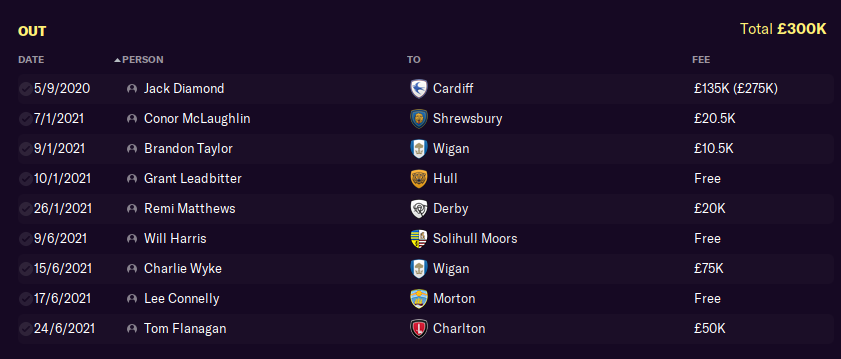 Some of these guys left earlier in 2020/2021, but I moved on Wyke and Flanagan as quickly as I could when the 2021 summer transfer window opened.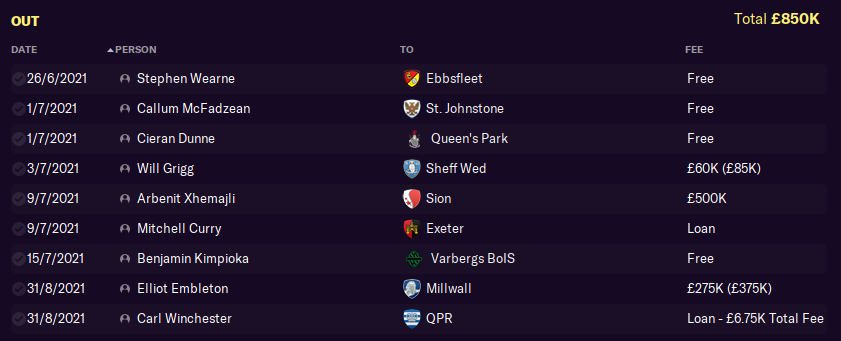 More people left as the game ticked over to the new season. The guys leaving on a free were mostly youth prospects that weren't going to make the first team or be good enough to have much value in the future. A few weeks later I noticed that the board is upset about letting those guys leave on a free, which is annoying. Their contracts were about to expire. Maybe I could have included a sell on clause, but that was too much effort for what might have totaled 100k in two or three years. The biggest loss was probably Xhemajli, but I somehow managed to get 500k out of him, and he was realistically going to be 5th choice.
By extending Neco Williams loan at the end of the 2020/2021 season, we looked like this as a core going into the transfer window:
My goal was to replace a few of the starters with upgrades. The current squad was okay, but I didn't expect to have many of them on the books in two seasons, so I wanted to make them rotation options this season and either release them on frees or sell them in twelve months' time. The most critical need was depth at left back. Carl Winchester is not the level I want in midfield and certainly not the level I want at left back.
I've resigned Burge just as his contract was about to end. He's… fine. Good enough for now, and on low enough wages that I can sell him easily in January if I find someone else better. (Which feels mercenary as hell to say, but we've got a team to run here.)
My top centerbacks last season were Wright and Willis, so I've extended Willis to 2024 to keep him from leaving on a free. I expect he'll be a good rotation option if I can find an upgrade.
Further forward, I think MAX POWER and Jamie Allen are okay. They can do a job at CM. O'Nien is versatile enough to play both DR and DM. Two or three versatile players are the key to squad management, so I'm happy to keep him around. George Dobson was on loan last season, and he's back and looking like he can play the DLP role tolerably well.
He's not as technically good as I'd like, but his mentals are solid, and he will be a good rotation option.
It was the attacking band really that really worried me. Aiden O'Brien did well last season, but I think we can surely find an upgrade. Gooch, though a fellow Yank, is similar. Probably good enough, but I'd take an upgrade if I can find one.
Ross Stewart, at striker, had better numbers than his character sheet would suggest. You can't argue with 30 goals, but you can absolutely argue with 11 Acceleration, 12 Pace, 10 Anticipation, and 13 Finishing.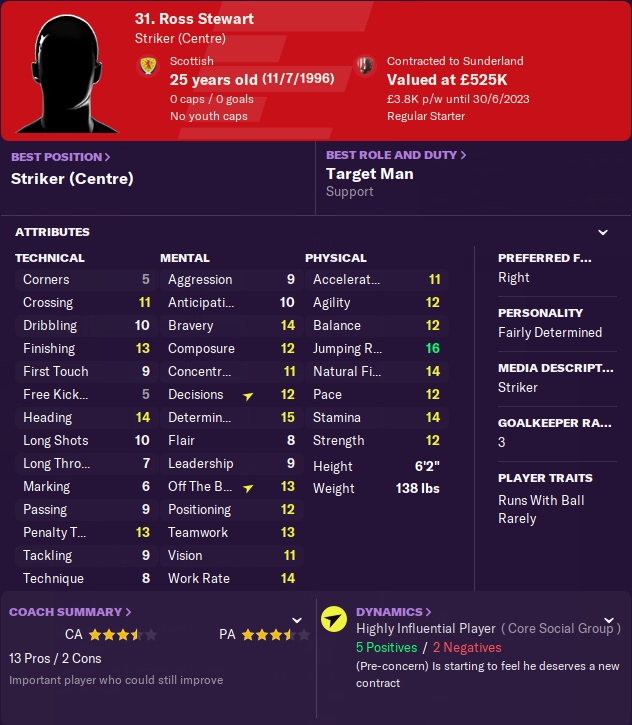 My first port of call was free transfers. Guys who would be upgrades on my current players while having resale value in a season or two.
Kean Bryan has come in on a free and immediately is valued at 2.4m.
He's a pretty good allrounder who can start at CD-L or DL. Importantly, he has a bit of acceleration to enable him to play our high defensive line, and enough passing that he won't be a liability in playing out of the back. I'd prefer a bit more jumping reach and bit better defensive stats, but he was free.
Jimmy Dunne brings more defensive solidity to center back and will be fighting with Wright and Willis for a starting position. His valuation seems low, and I hope to sell him for for more at the end of the season.
Jakub Moder came in on loan from Brighton and immediately slotted into the DLP position as the starter ahead of George Dobson. I expect Dobson to get plenty of minutes, but Moder was a clear upgrade.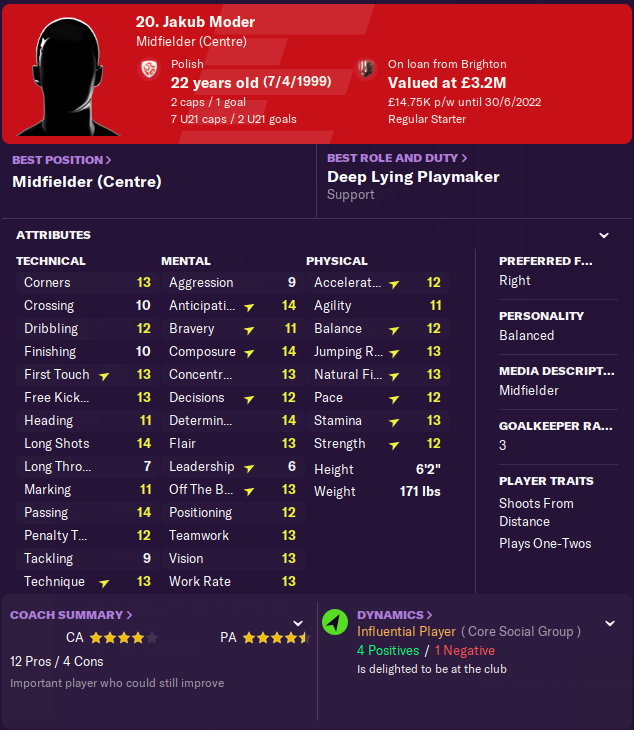 Alex Pritchard was another free, and he'll slot into our AMC slot vacated by Ben Woodburn. He's another good allrounder with nothing special that jumps out and not much room for improvement, but if he can hold down the center of the pitch and keep the ball moving, I'll be happy.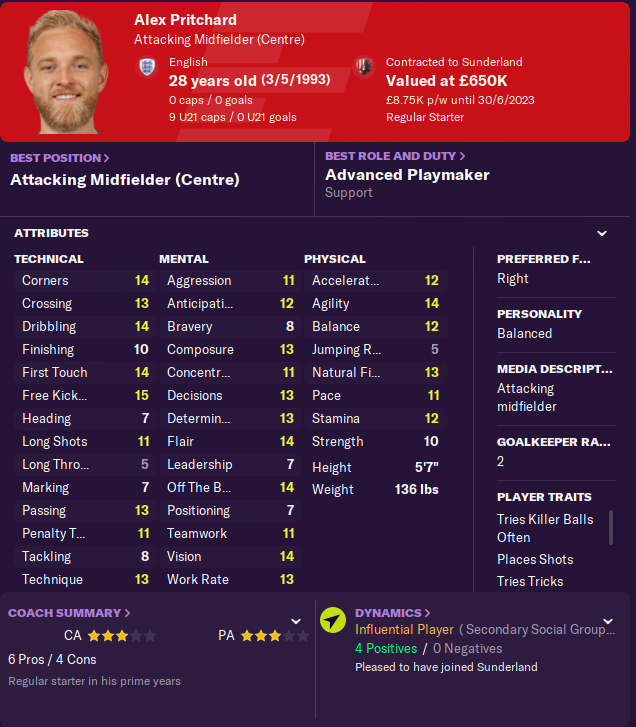 Josh Onomah is a favorite pickup of mine. He starts as a quality Championship player and he can grow into a decent Premier League player. He was my big purchase of the window, costing me 1.9m from Fulham. He's another pretty good allrounder, and he can play effectively across the attacking band or in central midfield.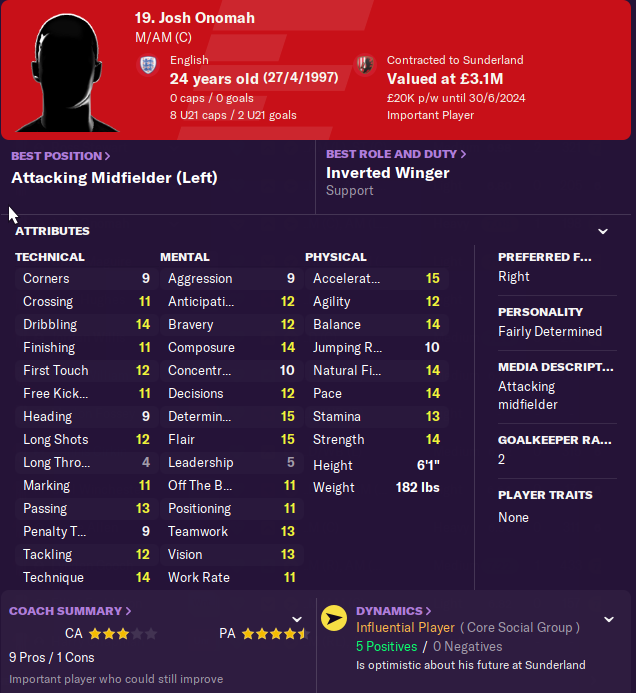 All the way in the front, I picked up two loan strikers.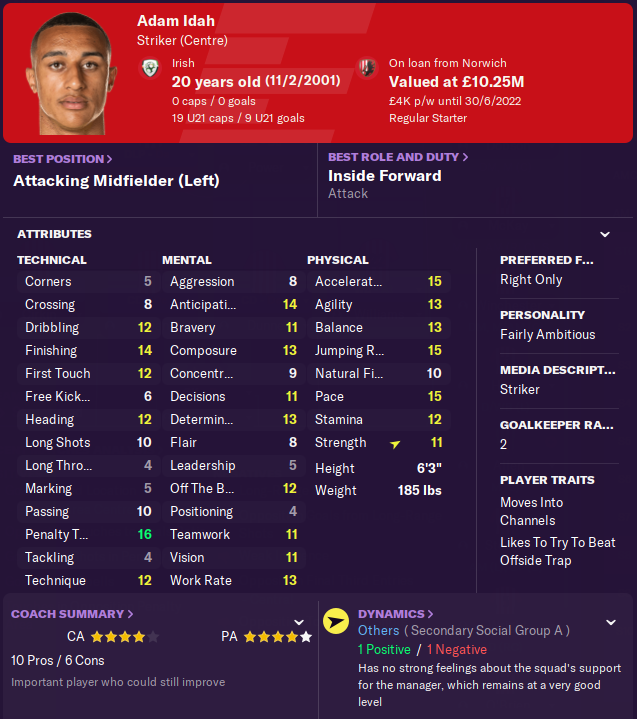 Idah brings solid pace and acceleration, along with the ability to play on the left and cut inside. His anticipation and finishing are both good, and I'm hoping he can combine well with his Spurs teammate on the overlap and his other Spurs teammate further forward.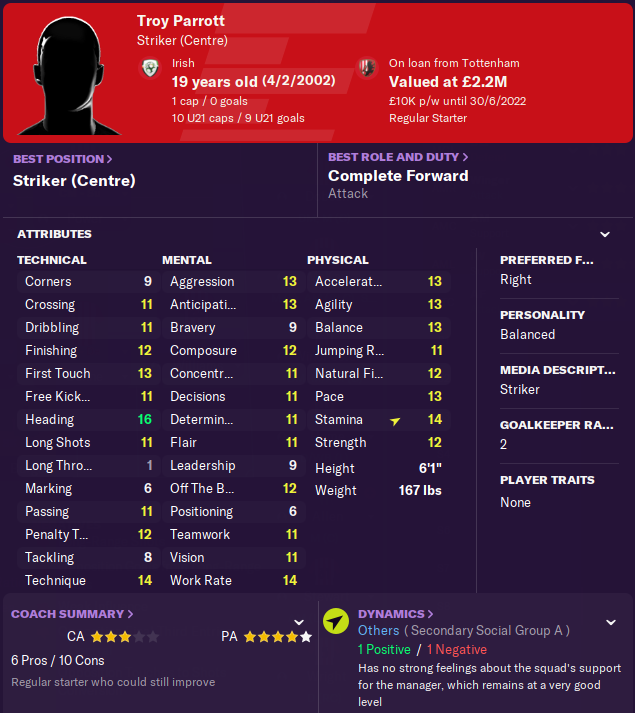 Many a Spurs supporter is looking in real life toward Troy Parrot with the hope that he'll be the next Harry Kane. He is well on his way in FM. Solid all around with excellent heading. Would I have preferred the real Harry Kane? Will I take discount Harry Kane to help me stay in the Championship? Also, yes. Spoiler alert: I've played to the end of the transfer window already, and Spurs supporters in my alternate universe will have nothing to complain about. To wit: his valuation at the end of August had gone from the 2.2m above to 7.5m.
At the end of August, my starting 11 and my tactic going into the season looks pretty solid.
I've tweaked things tactically a little. Idah is now playing as inside forward to take advantage of his better finishing and worse crossing. Cirkin is playing as a fullback rather than a wingback on the theory that we could use a little more defensive solidity.
Here's another look at early season training. We're going for primarily physical and tactical training in the opening weeks and adding in plenty of winnable friendlies to help build morale.
The league campaign starts on 31 July, so August will see a blend of tactical and technical training, and September onward will be largely technical.
It's currently the end of August in the save, so I'll pause the writeup here, play forward over the coming days, and see where we get by January.
Update: Season 2, Part 2 is available here.