Welcome back, footy nerds. If you're just joining, the previous installment is available here, and the first installment in the series is available here.
With the season starting in July, we had already played a month at the end of the last update. I've kept going from there, and at the end of September things were looking very good, indeed.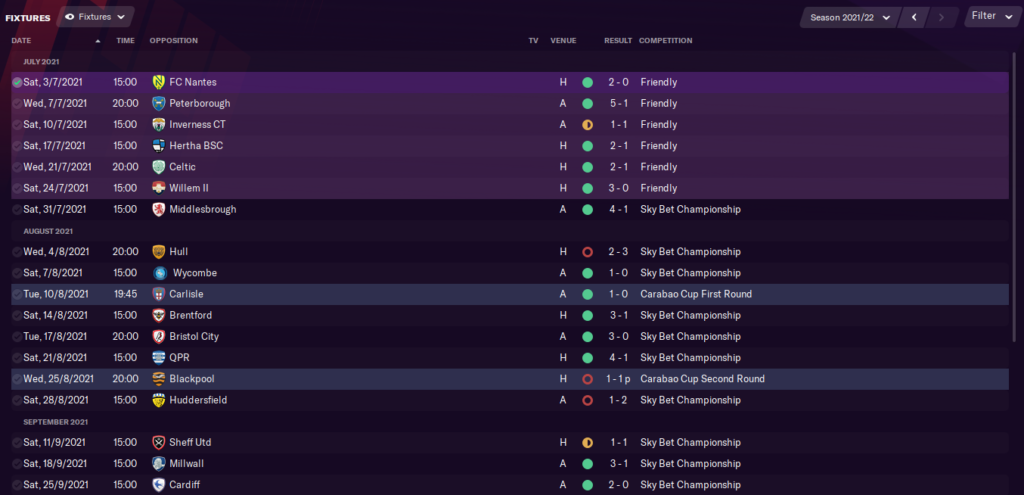 So good, in fact, that the club offered me a four year contract extension. Given that this is "Sunderland 'til I'm Sacked," I felt compelled to accept it.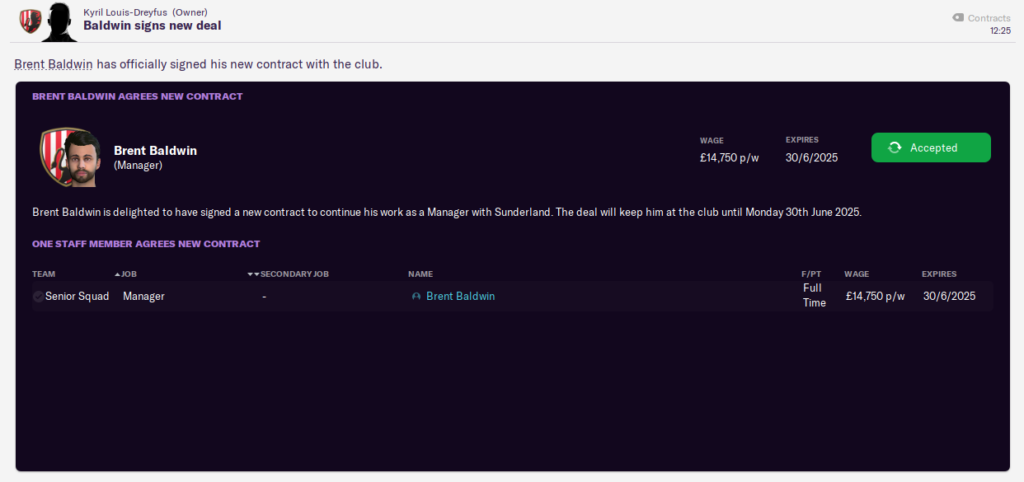 The only real negative in the opening two months was the Carabao cup penalty loss to lowly Blackpool. I'm not exactly devastated that we went out. The extra focus on the league will be nice, and if we can make a run in the FA Cup, I'll call it a wash. We aren't winning either cup, and my focus is truly on the league.
The opening two months have given me a better idea of who is and is not in my plans for the January transfer window. As the cliche goes, if you're standing still you're falling behind. We need to improve a position or two if we want to challenge for back to back promotions. You can see the ratings for the last 5 games and the overall ratings for the season so far. It's unusual to have so many players with 7+, but given our win record, not too surprising. The concern for me is the players that are subpar even when we're doing so well overall.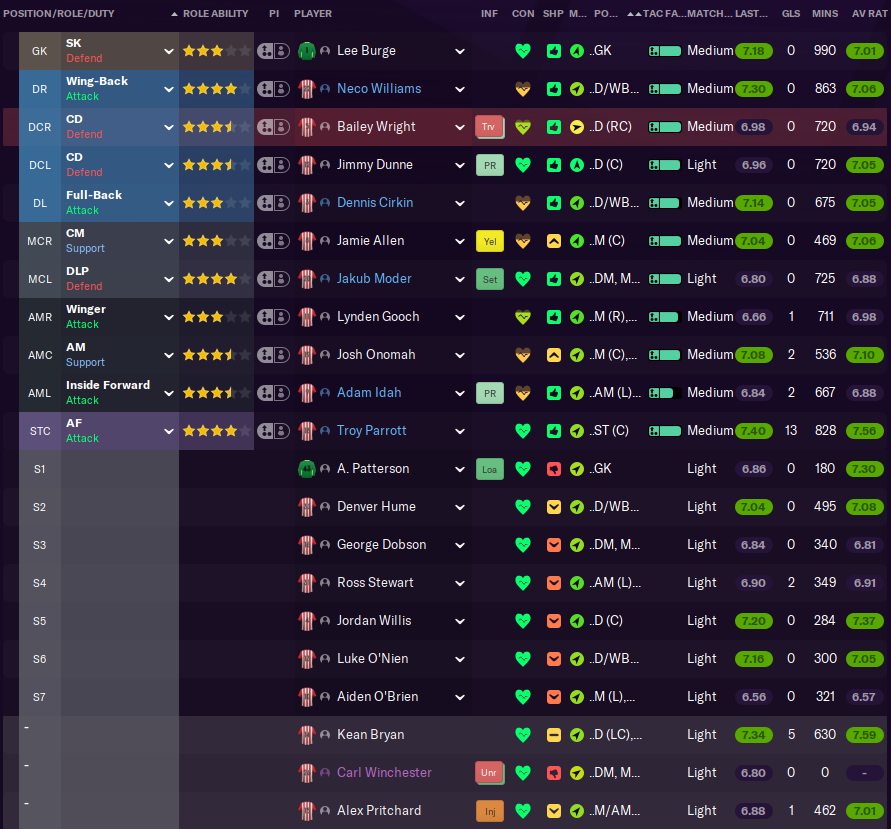 Gooch has been underwhelming, and he's my best right winger. I need to find an upgrade stat. His contract expires in the summer, so I'll try to move him for some kind of fee. O'Brien is similar. Nowhere near good enough compared to the rest of the squad and has an expiring contract. I'd prefer to get paid for him to leave, but the worst case is we let him go on a free in the summer. Ross Stewart hasn't been terrible, but he's going to score 30 goals in the Championship like he did in League One.
The problem is going to be replacements. I'm still in bargain shopping mode, and unless I add a sixth loan, I don't see how I'm going to find a good replacement. We have 2 million quid in the transfer kitty and 15 million in the bank, but we're losing over a million a month.
We hummed along in October and November, dropping points here and there, but continuing to stay at or near the top of the league. Wright and Willis both came to me complaining about playing time, and I agreed to give them starts. Wright came back to tell me he was happy with his playing time, and then a couple weeks later this happened:

Which I honestly didn't see coming. His value was listed as 1.7m, so I offered him around for 2.5m, which was clearly not enough because LAFC (from MLS) instantly offered 2.5m with no room for negotiation.

I feel as if I am real life Brentford, i.e. taking decent players, helping them succeed, and selling them for inflated prices by being near the top of the division. If I can move some more of my dead weight in January, I'll be a happy manager. If nothing else, I'll feel good about spending a couple million on an upgraded winger.
November saw our first long-term injury with Neco Williams going down for 6-7 weeks with a knee injury.
I have O'Nien to cover for him, and Wright–while he's still here–can help as well. We'll be fine. I hope.
Our second long-term injury landed a week later.
This one is less of a concern. O'Brien was a good rotation option last season, but he's only played 367 minutes so far this season, and nearly all of those were from the bench. Again, we'll be fine. (An aside: when playing FM, the players don't feel real. They honestly don't feel real when watching football on the television, either. Somewhere out there is a real Aiden O'Brien, and maybe he has a Google alert on his name and sees this. Mental health is a real thing, and I feel bad treating players–even virtual players–as if they are purely commodities. Aiden, if you're reading, it's not you that's subpar. It's the footy nerds rating your abilities. You've been a good player for us, and I hope you don't take it personally when we can't re-sign you this summer.)
And then the hammer fell. Parrott went down for two months. To be honest, his form had faltered badly, so it wasn't like we were bereft, but the loss of all three players stung.
You can see it in our results, too.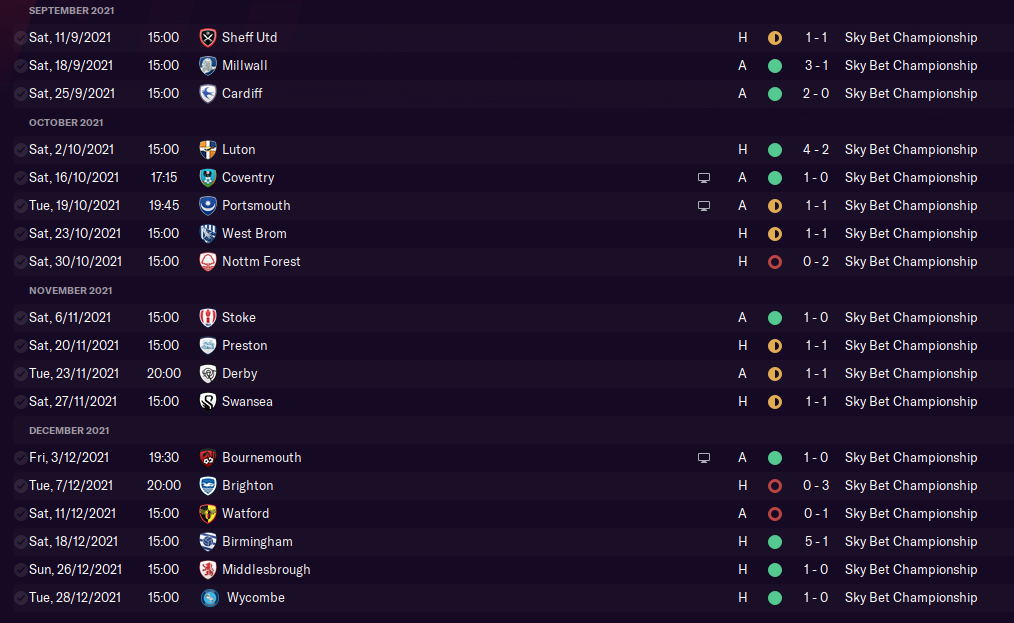 Point after dropped point, and those draws were not matches we dominated. They were largely matches where we scraped a goal near the end to claw back a point. The only really bad loss was the one to Brighton, but if you look at the quality across Brighton's 11 and ours, the scoreline isn't unfair. (Even with a fully healthy squad.)
The Championship season is a long, brutal slog. Forty-six games with two cup competitions thrown in. We may have limped for a while, but we did finally break out of our funk with a 5-1 thrashing of Birmingham, and we finished the month of December in a very credible position.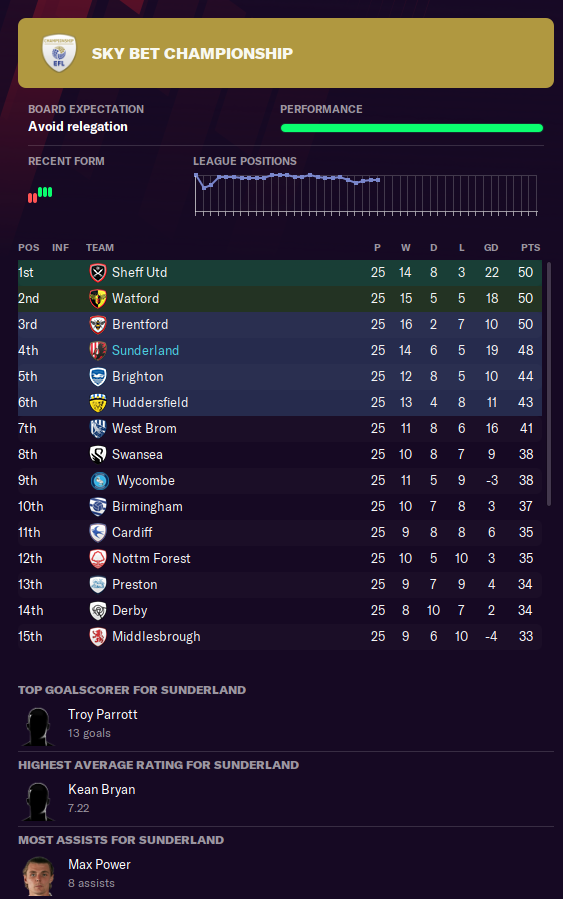 The board are delighted, of course. I would be, too, if we hadn't spent a while in first place. With everyone fit and Parrott with a modicum of form, we could finish in the automatic promotion places. As it is, I'm expecting us to end up in the playoffs.
Finances aren't great, but we have 2.6m coming from Wright (2.5m) and McKay (150k) leaving for LAFC.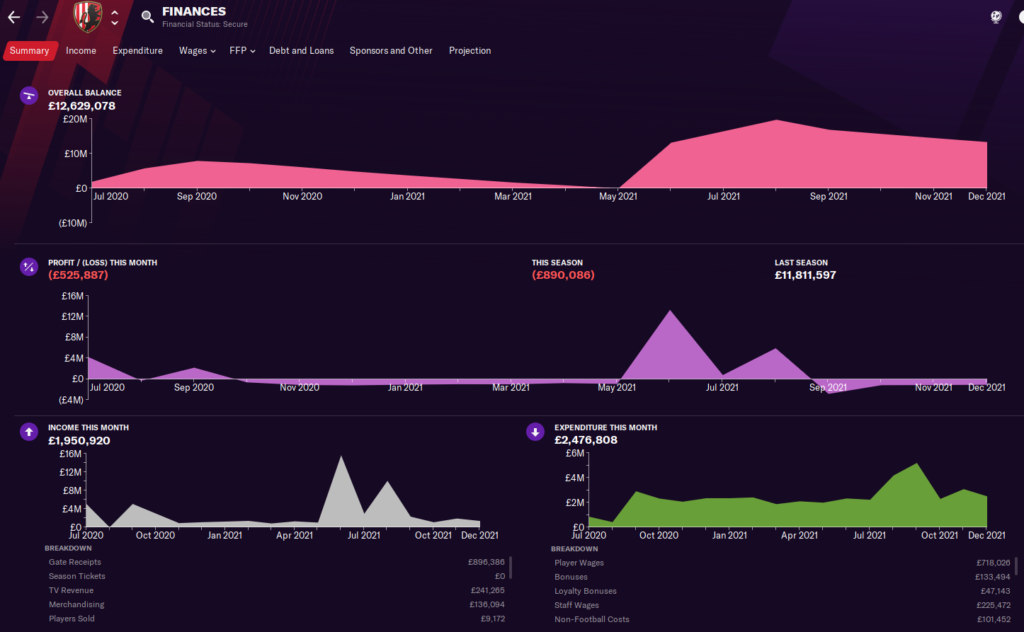 I'll spend it if I find the right players, but pickings look slim. I'd like to find guys that are good enough to play right now and still have room to improve, and that's hard when you're already near the top of the Championship.
And no sooner do I type the words, than this happens.
LAFC, you bastards! You absolute shitgibbons. We had a contract! Your lack of Designated Player spots is your own problem. Give me my money. Naturally, no one else was interested in him either, and now he's gone and withdrawn his transfer request.
We will deal with the transfer window in the next update, but know this: I. Am. Fuming.