Welcome back, footy nerds. If you're just joining, the previous installment is available here, and the first installment in the series is available here.
Reinforcements have arrived.
Pretty decent player who will slot into my midfield immediately.
Confusingly, the guy with the goalkeeper name is a midfielder, and the guy with a midfielder name is a goalkeeper. As mentioned in the last update, Meggie has pretty good stats, and the money I saved on his transfer (he was free) I can use for another striker and maybe even a winger.
I went striker hunting, hoping to find someone in his mid-20s who could play immediately while giving me a hope of resale value in two or three seasons when (I hope (there's a lot of hope in Football Manager)) the club outgrows him. I found this guy with a 1.3m release clause, and he's just a hair below N'Lundulu, according to my scouts. Oh, and he's only 17* with tons of potential? It's like catnip. How can I not? I am a genius!
*don't be fooled by the grown-man face
Oh, wait. One problem. It goes through in June. Damn it! I'm an idiot! (Seriously, though, he looks like he's going to be pure magic. Puric, as it were.)
Early in January Aston Villa came to the Stadium of Light. We went up early, held on until late, and let Grealish score an equalizer. And then–somehow, some way–Ross Stewart scored his first-ever Premier League goal. Three more points on the board, baby! The win lifted us out of the relegation zone for the first time two months.
Leeds followed Villa, this time in a must-win relegation 6-pointer. We scored a penalty early in the second half only to give up a goal on a corner moments later. We played tolerably well, but we couldn't get the ball on target. We claimed another precious point, but it feels as if we let two more slip through our fingers.
After watching Grady Diangana put up an average rating of 6.5 across half a season, I gave up and transfer listed him. I also switched us to a three-at-the-back formation with no wingers.
Grady was pissed about the transfer listing. Does selling a guy after only six months make me Jose Mourinho? If you wanted to level the accusation, I don't know that I could effectively argue against it. Grady's not our sole problem, but he's also been shockingly poor in a position where we desperately needed the help.
The first test of the new formation was away at West Ham, where we fell 1-2 in a match West Ham dominated. The second test was at home against Burnley, and while we played well, we lost 1-2 again. This stung a little, since I figured we needed to win it, but I couldn't keep on with the same tactic and our rubbish wingers. Wolves away was another must-win. It ended in the same 1-2 as the others, and we didn't play well. My sense of unease increased to "the killer is in the house" levels.
Amongst this poor run our old friend Patrick Jackman has been attracting significant interest from other clubs, and he complained about me not letting him leave. He's off to Brentford for 450k and a 50% sell-on clause.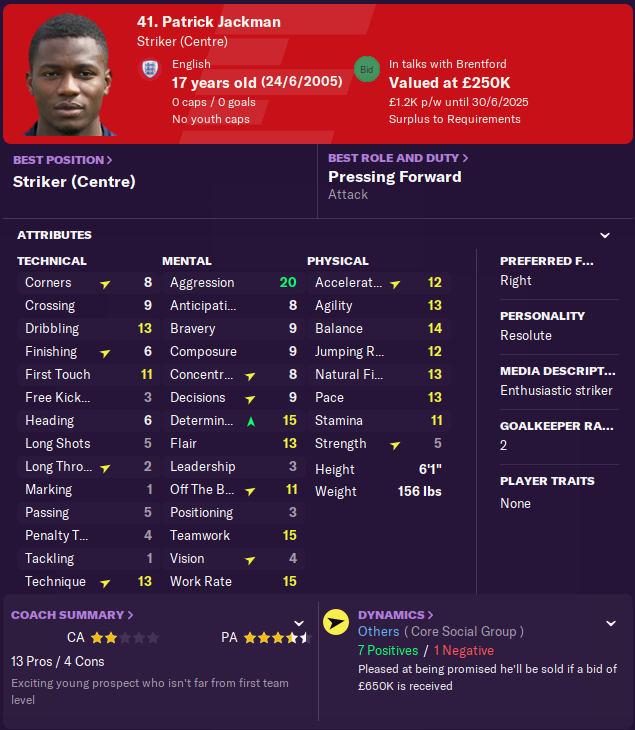 With 6 finishing and not great mental abilities, I figure he'll be lucky to reach his potential. If he does, and Brentford sell him, we'll reap the reward. Also, I couldn't find a loan for him and he was nowhere near the level I need to be getting minutes as we fight against relegation. Safe travels, my dude. (Nice glow-up, by the way.)
My hunt for better wingers and forwards continued through the month, but there was no one that was the level we needed and a price we could afford.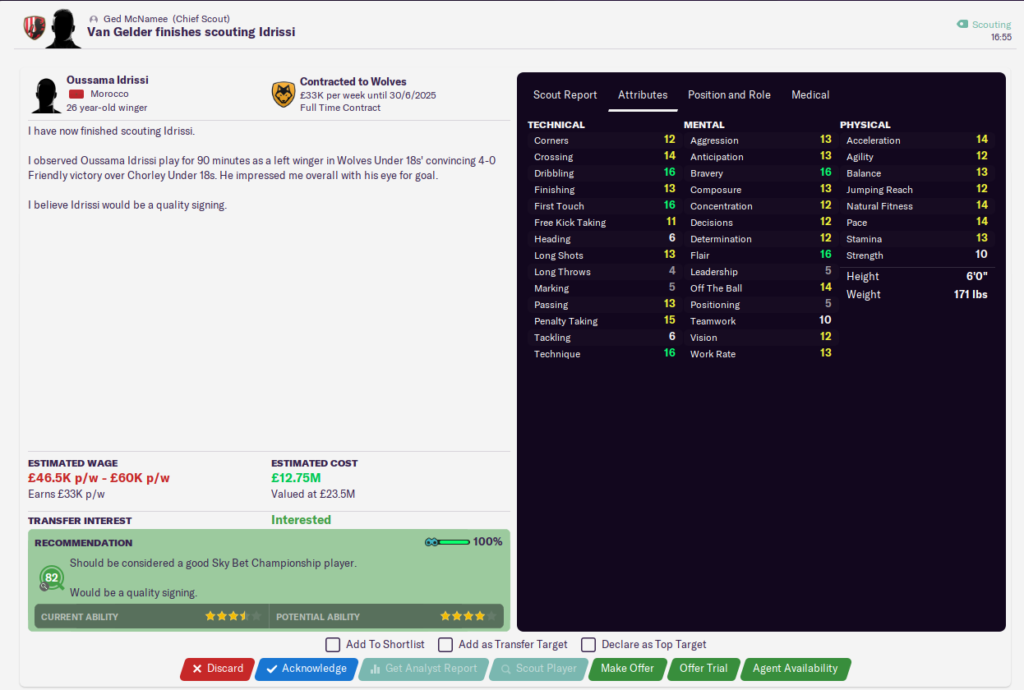 Oussama Idrissi is a good example. He's Championship quality, pretty good stats across the board, a little room to grow, and Wolves want 12.75m for him. My budget is 5m.
We did pick up a few bob from an old sell-on clause.
I'll go buy the squad some coffee and pastys with the proceeds. I hope West Ham works out better for him than Man United did.
Our second FA Cup match was away at Crystal Palace. I could not have possibly cared less about the FA Cup at that point in the season, so I threw in the backups and a few youth players. We lost 2-5. It was entertaining, but we were even more terrible than I expected. Ah well. Now we can focus on the league.
My efforts to flog the utterly lackluster Grady Diangana succeeded.

He came in for 6.5m and left after six months for 9.5m. I'd call it good business, except I really would have rather he worked out as a winger.
This money was immediately turned into a replacement who is capable of playing AMR in our older tactics or ST in our new 352. Abdallah Sima is yet another player I've picked up from Prague, though he's from Slavia Prague rather than Sparta Prague like my coming youth players. He cost 3.3m rising to 4.8 after 50 appearances, which he may or may not ever reach. I have him coming on relatively high wages of 39.5k p/w, but if we go down they'll see a reduction.
He's a pretty good winger/striker, with reasonable pace and acceleration and very good jumping, heading, finishing, and decisions. He should be able to get on the end of Neco's crosses.
Our next big must-win was at Sheffield United, who we already beat at home early in the season. I've tweaked the 352 a little to get the midfielders forward more. An early goal from Dan N'Lundulu got us off to a great start, but we conceded two in the second half to fall 1-2 AGAIN. The shots against and xG numbers were good, at least.
I made some more tweaks to the 352 before Fulham came to visit. Again, we scored early, this time via some wonderful forward interplay. We started to look shaky going into halftime, so entering the second half I had us switch to a defensive mentality. We actually held on this time and took the vital three points with a scrappy 1-0 victory.
The win pulled us clear of the drop zone, but the teams behind us have games in hand, so we're far from safe. So far it's 19 points from 22 matches or 0.86 per match, well below the target. In theory the January run was going to help us build some buffer, but in reality we didn't even hold serve. The season is far from finished, but my level of concern has ticked up a notch.
We went to Anfield in February. I wish we hadn't.
Spurs came to the Stadium of Light a few days later. We had more shots, more shots on target, and a better xG. Spurs mustered only three shots on target. They all went in. We lost 1-3.
I can see things working in the tactic. We're getting good interplay between the forwards, and if they're isolated 2 v 2 against the opposition centerbacks, they can get the ball into the box and get a good shot away. The problem is that even with 5 defensive players and a holding midfielder we're still giving up too many quality shots.
We had another must-win away at Newcastle. We got battered 0-4, but the game (and I will swear under oath this is true) crashed two days after the match. When I reloaded it, we had to re-play Newcastle. We went down early to a poor piece of defending capped by a well-taken Allen Saint-Maximin curler. Then we scraped and clawed and kicked our way to four yellow cards, two goals, and a famous, shithouse victory, including being saved by a late offsides call against Newcastle.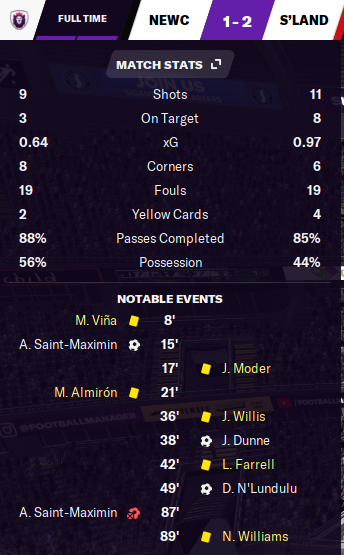 People, we were DEAD after the original match. Our season was in tatters with us rock bottom and 9 goals behind on goal differential. This victory didn't lift us out of the relegation places, but it gave us hope that we might yet escape.
Also, yes, I saved the game as soon as I was back to the main screen. Just in case.🙂
Our next run of matches was vs 2nd place Man United (eek), at Southampton (winnable), vs Leicester (should be at least drawable), vs Watford (winnable), and at Norwich (winnable). I would love to come out of that run with six points. Anything less and we would be in the mire for real and hoping the sides above us falter.
United came into the match with a better squad, far more points, and the odds in their favor. My expectations were low, and the outcome justified them.
We should have taken something from the Southampton match. We didn't. Three unanswered goals and hardly a fight in response. I gave the lads the hairdryer.
It's not all doom and gloom in Sunderland. Well, the northeastern English weather may all be gloom in March, but our very obliging guests from Leicester came to visit and swept the doom away by allowing us three goals and three points. Thanks, Foxes!
Don't worry, the doom didn't stay away long. Calum Knight, a promising Scottish youth midfielder, broke his leg, and he's due to miss six months. That will seriously impede his development. (No, not the same guy I spent 17.5m on; that's Lee Farrell.)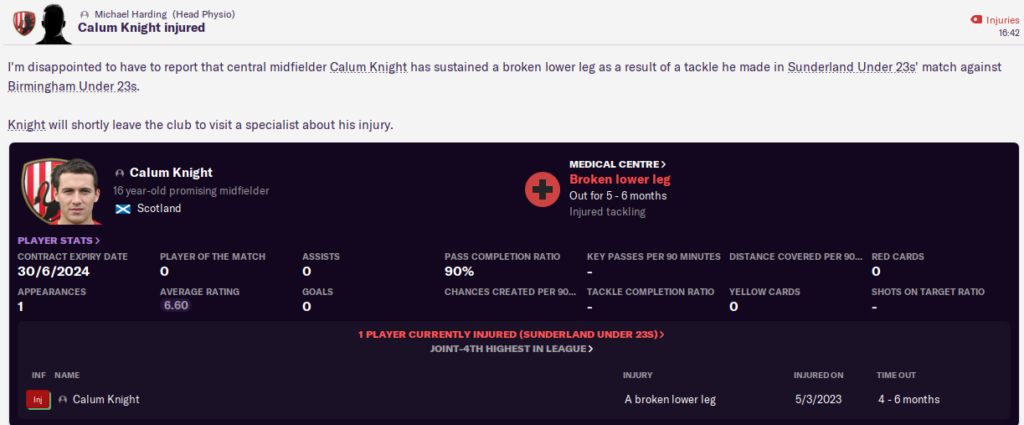 I only thought the Foxes were obliging guests. The Hornets came to town and gifted us FOUR goals and three more points. Jakub Moder hit a double with low probability shots. I'll take 'em. That took us to 28 points and lifted us out of the relegation places!
After two wonderful matches at home, we ventured down the coast to Norwich.
The Canaries started the match two places ahead of us in the table, and an early Sima header forced another reshuffle. We climbed, temporarily at least, to 14th, only to concede 9 minutes later. I told the lads to stay cautious through the first half, and as the Canaries flagged in the second half I sent on Dan N'Lundulu and opened us up to to be more aggressive. We generated some shots, but couldn't get closer than rippling the side netting on a set piece. At about 80 minutes we reverted to being defensive and wasting time and saw out a cagey 1-1 draw.
I wanted six points from those five matches. We got seven. I can't complain.
Our April matches are at Chelsea (lol), vs 3rd place Everton (eek), at Arsenal (ffs), vs West Ham (winnable, hopefully), and vs Man City (lolsob). We will be lucky to take 1 point from that shitshow. If we can steal a victory anywhere, I'll be over the moon.
Our youth intake arrived. It's… not great. Our standout centerback is four stars and a Casual personality. That's not the absolute worst, but it's bad. The two kids with "good" personalities are only Fairly Professional, and they're 2 and 3 star potential. On the plus side, I have a crop of mercenary wonderkids arriving in the summer, so this won't matter much long-term.
This kid isn't one of ours, but the scouts turned him up as a prospect. I did a double-take on his name.
Fun fact: you can give any player a nickname and it will replace their display name while keeping their real name on their profile page. (I'm not signing him, but he's actually pretty good and it's not impossible that we go in for him in a year or two.)
Remember a year ago when I complained about Chelsea signing Moukoko and how he's amazing and they don't need the help? We went to Stamford Bridge, gave up an early goal (to Marcel Sabitzer, another player Chelsea did NOT need) but managed to score one of our own on 21 minutes. We then shithoused our way to a 1-1 draw, utterly nullifying Moukoko along the way. We already have our one point from this hell month. The rest is gravy.
Dominic Calvert-Lewin smashed us for three goals the last time we saw him. On Everton's trip to the Stadium of Light he bagged one early. Dude just gets a half-yard of space and puts his forehead on the end of crosses. It's incredible. Everton may have DCL, but we have Joshy. A few minutes after DCL's headed goal, Josh Onomah blasted a wonder strike into the top corner from about 30 yards. The rafters shook. Everton were better, but it didn't matter. We played cautiously for much of the match, then shut up shop for the last 10 minutes to keep the score level at one apiece and earn another vital point.
Unfortunately for us, Neco Williams took a spill in training and fractured his arm. With him facing 4 to 7 weeks on the sidelines (c'mon, doc, you can't be any more precise than that?), we will be expecting Sofiane Alakouch to earn his megabucks.
No sooner does that news land than we're in the press being held up as a model club.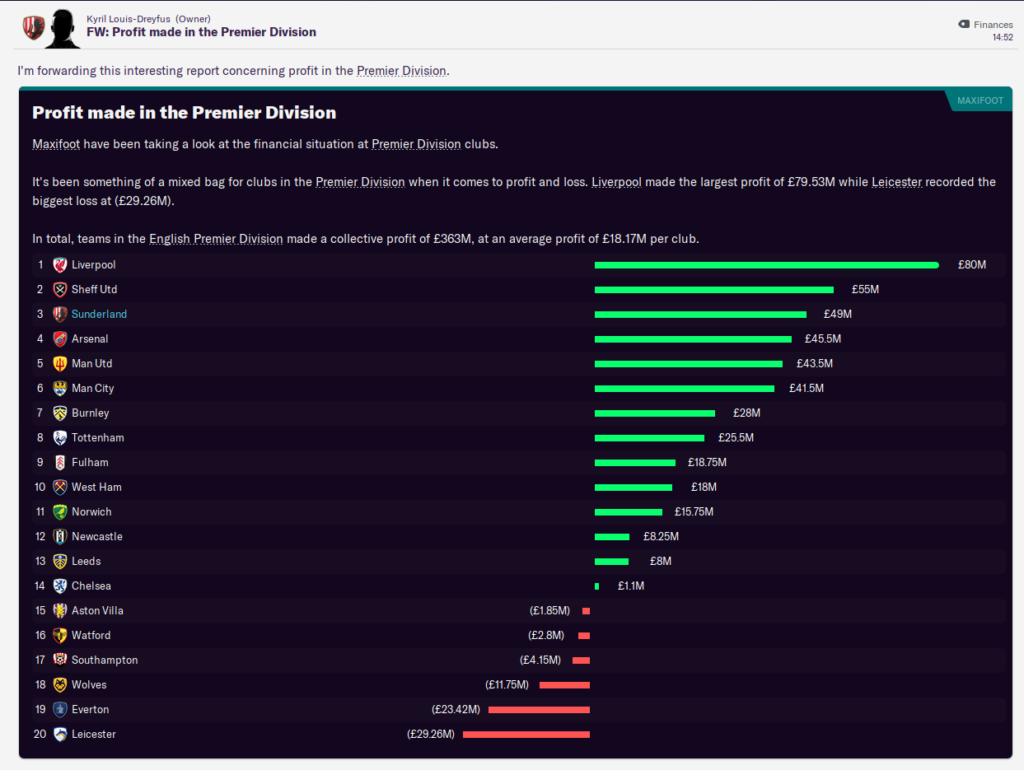 Yay for sustainable football, but I would have happily spent that money if the board would have let me!
The Hell Month of April continued with a trip to London to visit Arsenal at the Emirates. We lost 3-1 and could have no complaints about it. To add injury to insult, we lost Abdullah Sima for three weeks to a groin strain. He's only averaged a 6.74 rating in his time with us, but that's one of the better ratings in the side. His 3 goals and 3 assist have been vital.
Going into the month, I thought West Ham at home would be our best chance of taking any points. In retrospect, that was wrong. They're solidly in 7th with a wide margin between them an Burnley in 8th. Chelsea, it turns out, are in 9th and on only 40 points after 32 matches. How can they be so bad with so many good players?
Amusingly, the media are talking about the relegation battle, and we aren't even in the conversation.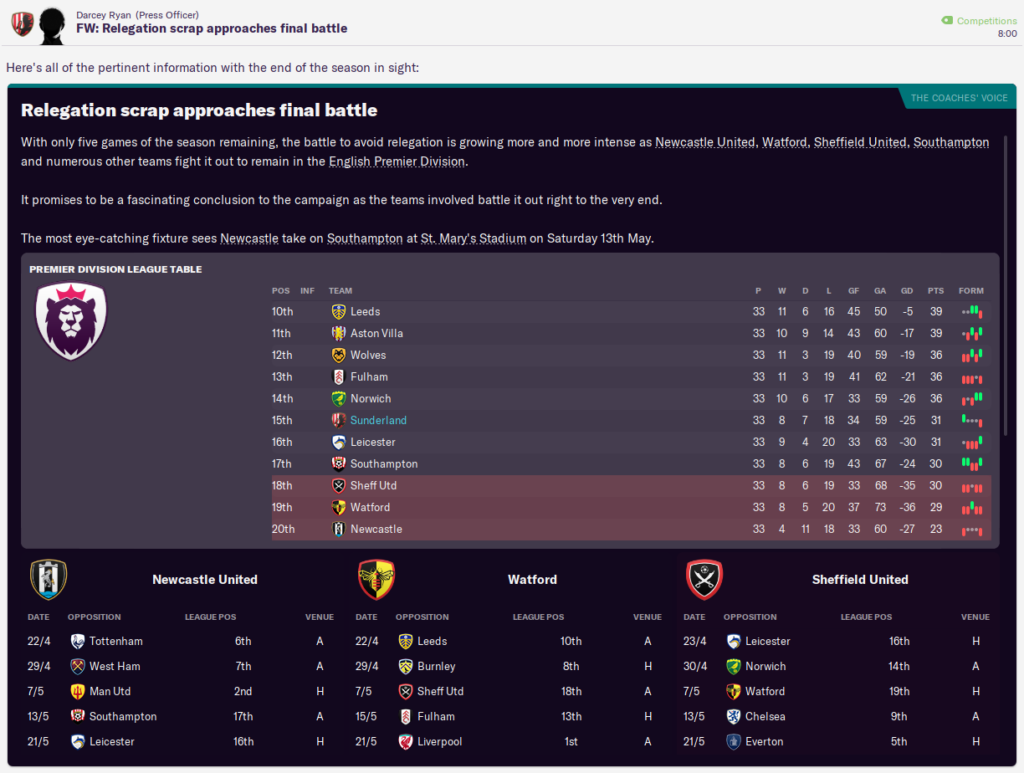 Look at that table, though. We're two points above 19th place and very much still in peril.
Imagine facing West Ham, a team you think you can beat, and forgetting that your mentality is set to Defensive for an hour of the match. Imagine changing it to Attacking, only to be undone 10 minutes later by the softest of soft penalty calls for a push in the box. We lost 0-1. Big sigh.
Manchester City came into the match in 4th place. They did not dominate us as much as you might expect given their history, their current position in the league table, and our form. But they still dominated us. Raheem Sterling scored a superlative goal on a counter-attack from one of our corners. Foden earned a penalty well into the second half on another long, mazy solo run into our box. We never even looked close to scoring.
At the beginning of Hell Month I wanted one point. We delivered two. I can have no complaints.
The table is ugly, but survival is still within our grasp.
The run-in is at Villa, vs Wolves, and at Leeds. We could win any of these matches. We could lose any of these matches. Our target of 40 would make us safe, but we won't win all three. We need four points, I think, and we'll be safe. Our season hinges on getting them.
First up: Aston Villa. We came out with a positive mentality, trying to get something going offensively without over-stretching ourselves. Even so, we managed zero shots for the first half until stoppage time when N'Lundulu, with only the keeper to beat, smashed a shot into the bottom of the upright. It did not go in. On the plus side, we didn't concede–or even look terribly in danger–until the second half when Xerdan Shaqiri hit a thunderbastard into the top corner from absolutely nowhere. A second yellow card for Jakub Moder pretty much killed any chance we had of scraping a draw. Villa 1 – 0 Black Cats.
We put up a good fight against Wolves, but not good enough. We needed a win, but even a draw would have helped. We went up early via an own goal, but Wolves grabbed one back on a corner in first half stoppage time. I thought we were good late in the second half and went fully defensive with time wasting to 11 to see out the draw. They scored at 90+2. Sunderland 1 – 2 Wolves.
We have Leeds left. We're in 18th place with 31 points. Leicester and Sheffield are ahead of us, both with 34. We MUST win.
I've gone through every set piece and tuned it to target Finley Burns, our tallest player and best leaper. I've reviewed every position and tweaked the roles to maximize our players' abilities. I don't know what else can be done at this point.
We came out in our 352 and Leeds were all over us for the first half hour, eventually scoring on 37 minutes. At halftime, I had enough. We had to do something. Our season was on the line. I switched us to the 4231 and pulled Dunne (centerback) for Gooch (winger). Gooch took a knock on a tackle moments after entering the match, but he then made his greatest contribution to Sunderland Football Club. On one leg he fired a banger into the far corner from what was pretty much two counties over. Tie game. 1-1.
I moved us to a Very Attacking mentality and increased the tempo. We had to get forward. We had to score.
Cue a corner on 85 minutes. Finley Burns attacks the near post. MAX POWER lasers a ball toward his forward. Some foolish, wonderful, beautiful Leeds player shoves my lovely Finley in the back. It's a stone cold penalty.
MAX POWER steps up.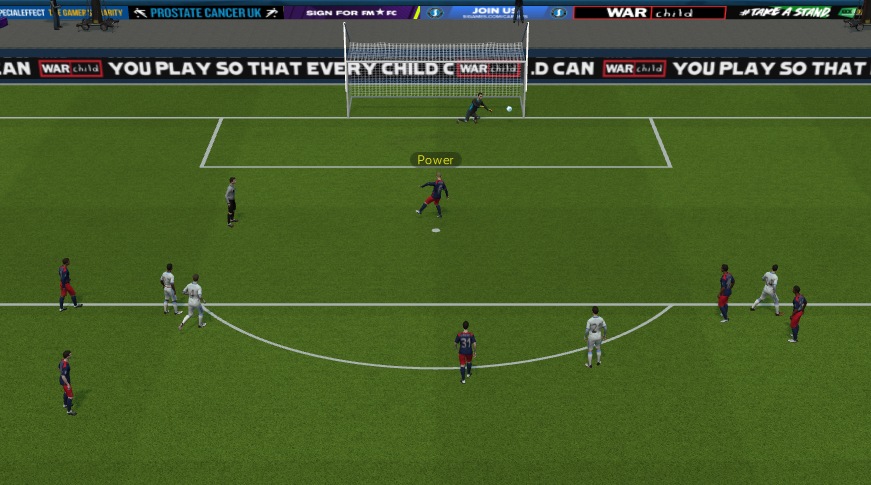 GOOOOOOOOOOOOOAAAAAAALLLLLLLLLL.
Leeds 1-2 Sunderland. We went into full shithouse mode immediately. Defensive mentality, time wasting at every opportunity, playing for set pieces. Everything. Max, on a yellow card, came off and Emi Martinez came on to shield the defense.
Four minutes of added time signaled. I learned that I could, in virtual fact, hold my breath for four minutes. Whistle. Victory!

It wasn't enough.
Wait, what? you're asking. How can this be?
Leicester drew with Newcastle. Sheffield scraped a 1-0 over Everton. We had to win, but we needed a little help, too. We didn't get it. We're going back to the Championship. Safety was 35 points this season; we only mustered 34.
I. Am. Gutted.
The board, however, are fine.

This is Sunderland 'til I'm Sacked, and I'm not sacked yet.
I gotta step away from the computer now. I need to process this. This is, I think, the true Sunderland experience.
See you next time, footy nerds.
Update: I have posted an interlude in which I decompress and ruminate on the lessons learned from the last campaign. You can find it here.