Welcome back, footy nerds. If you're just joining, the previous installment is available here, and the first installment in the series is available here.
It's six matches into our first season in the Premier League, and the sack has never been so near. After picking up 6 out of 18 points, this happened on the eve of facing Manchester United: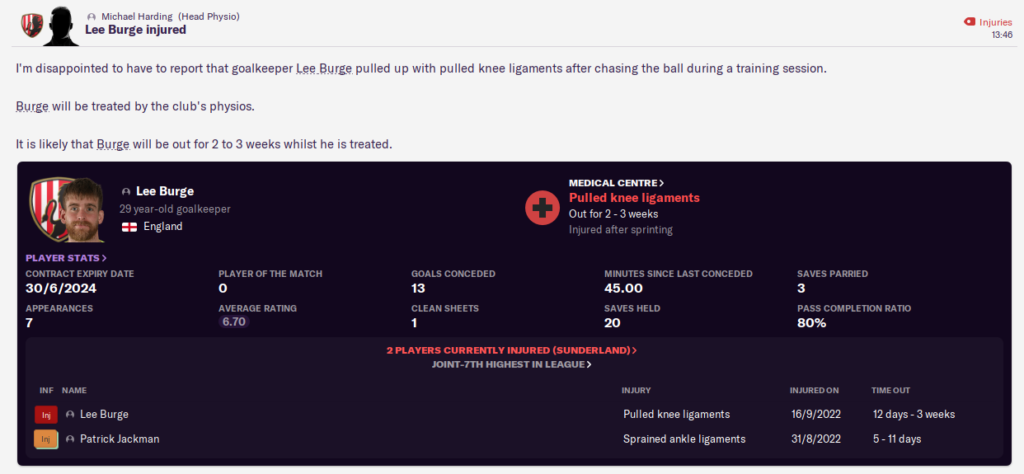 I had a few opportunities to sign an upgrade on Burge, including a Uruguayan that would have cost 800k. Instead, I spent my money on a 16 year old Scottish kid. I am definitely good at this game, okay. A 16 year old wonderkid is definitely going to put the club on better long-term footing than a second season in the Premier League.
I am so dumb.
In my defense, both my fullbacks managed to get sent off against Manchester United, so losing away and "only" shipping two goals is a moral victory, right?
So look. We need to have a serious conversation about how we're going to remain in the Premier League. My flippant hopes about coming into the league and making waves by being Barcelona of the North have crashed on the hard shoals of reality. We are definitely having the Blackpool 2010 experience, not the Leeds 2020 experience, and if we don't turn this around, we're going to be a proper Fulham. (Apologies to all my non-footy nerd readers who have absolutely no idea what any of that just meant.)
We needs points. Historically the magic number is 40 to ensure safety. In the last two seasons, we could have stayed up with 35 and 32, respectively, so 40 should be more than enough.
The usual formula for getting there is 11 wins for 33 points and 7 draws for 7 more = 40. With a 38 match season, that's 1.05 points per match. So far this season we have played 8 matches and collected 7 points, or 0.875 per match.

We are currently off the pace, hence us having this painful conversation. Where to find 11 wins? We have two already, against Sheffield United and Newcastle.
Looking at the table, that's excellent news because we need every point off our fellow relegation candidates.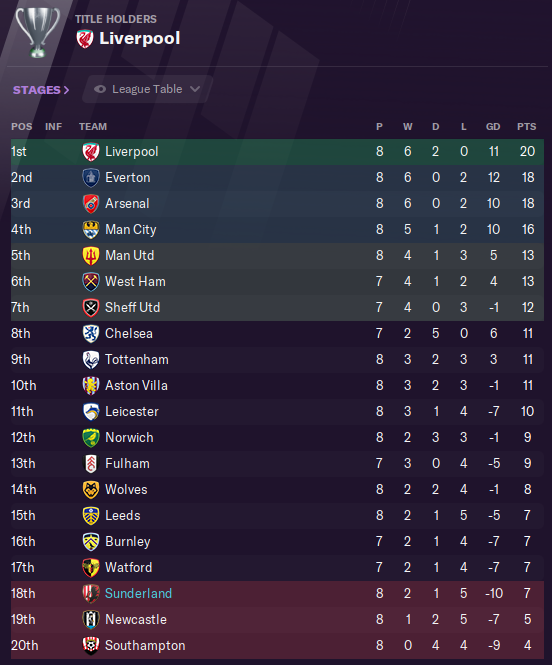 When I look at our schedule and try to find 9 more winnable matches, I see the following:
28 September: vs Norwich
15 October: at Watford
7 January: vs Leeds (Bielsa is at Tottenham, and Leeds in FM are not as effective as Leeds in reality)
14 January: vs Burnley
24 January: at Sheffield United
28 January: vs Fulham
11 February: at Newcastle
25 February: at Southampton
11 March: vs Watford
13 May: vs Wolves
21 May: at Leeds
We're obviously not going to win all those, but we need to win most, draw some more, and steal a few draws against the top half of the table.
Do I honestly think we can do it? No! But we'll do our damndest, and even if we fail, we've have a glorious crop of wonderkids coming to make our next tilt at the windmill go more smoothly.
Current tactics are the old standby 4231.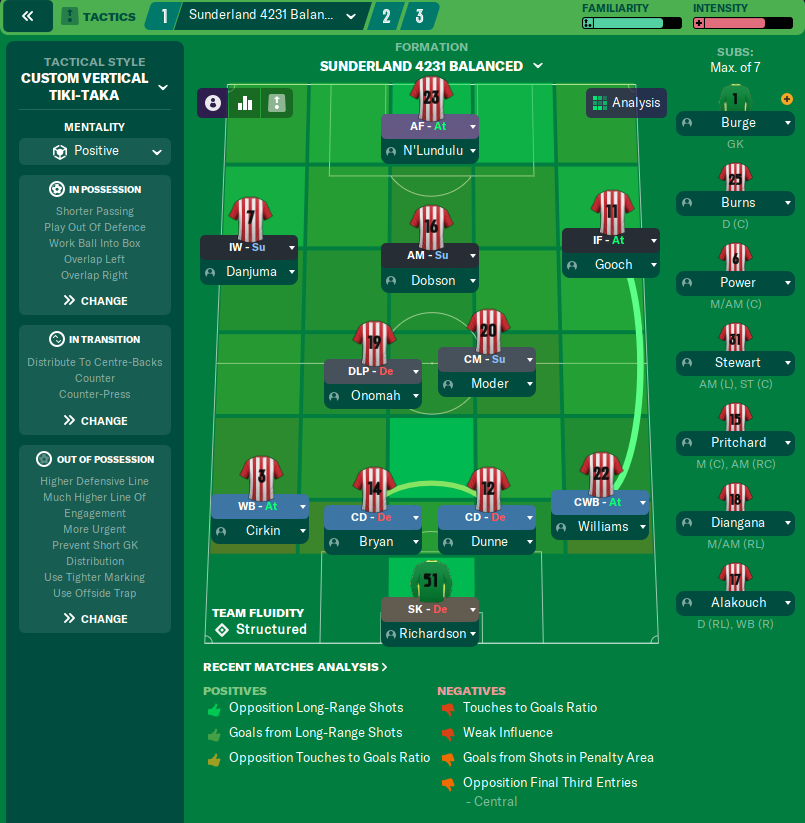 A Mourinho-esque 433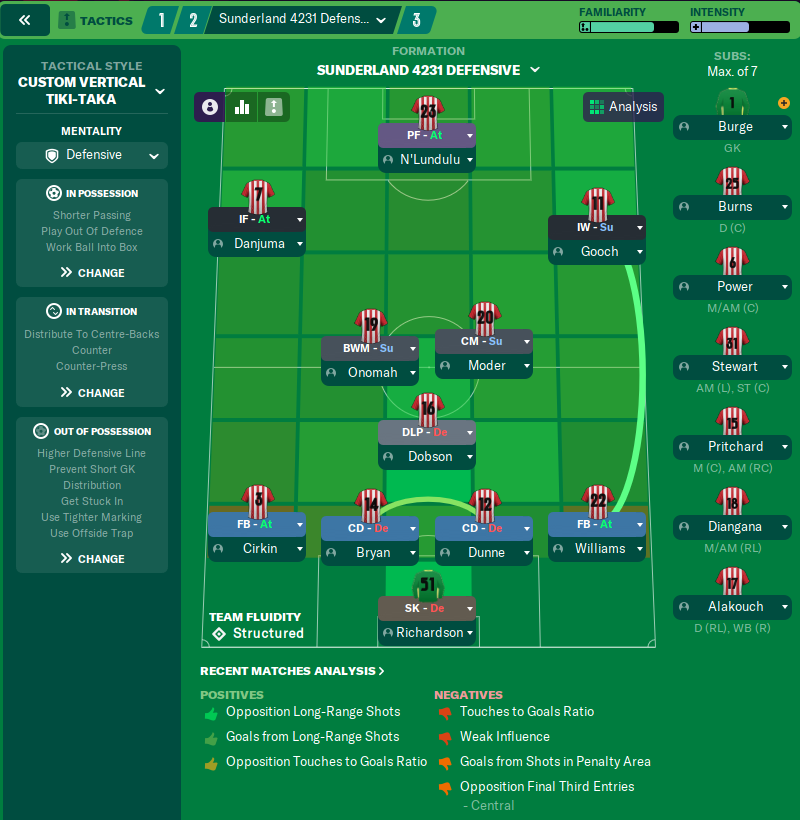 And an attacking 433 gegenpress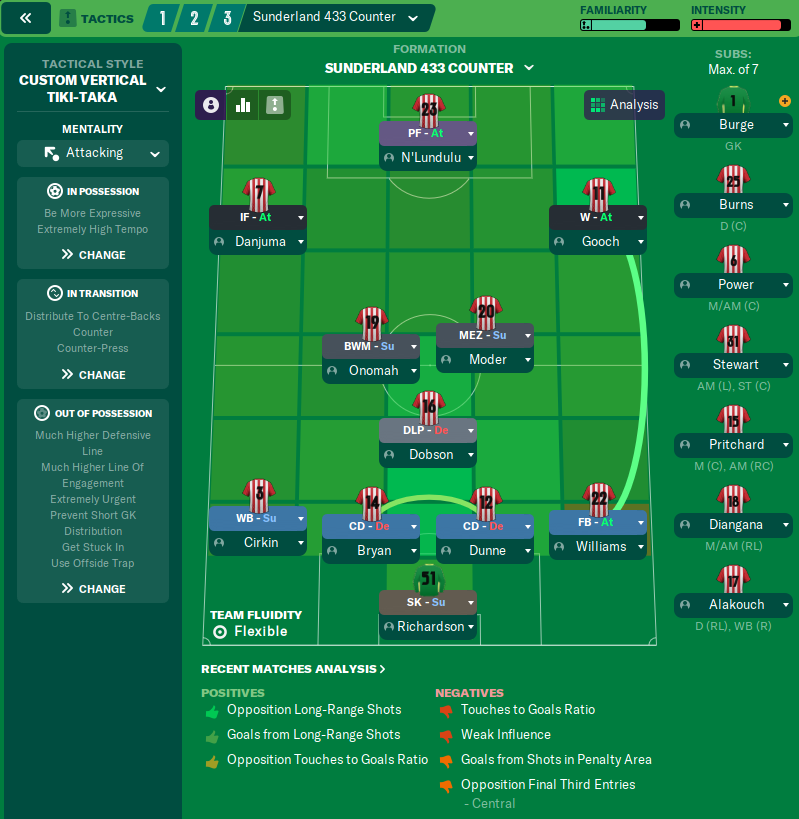 The first of our must-win matches was Norwich at home. I used the 433 with an attacking gegenpress and rotated Gooch back into the starting lineup since Diangana has been poor. I also reviewed my corner routine and tweaked it to ensure we kept 3 men back and had our tallest players in the box. We outplayed Norwich for the entire match and only took a point from a scoreless draw. Our wingers are rubbish.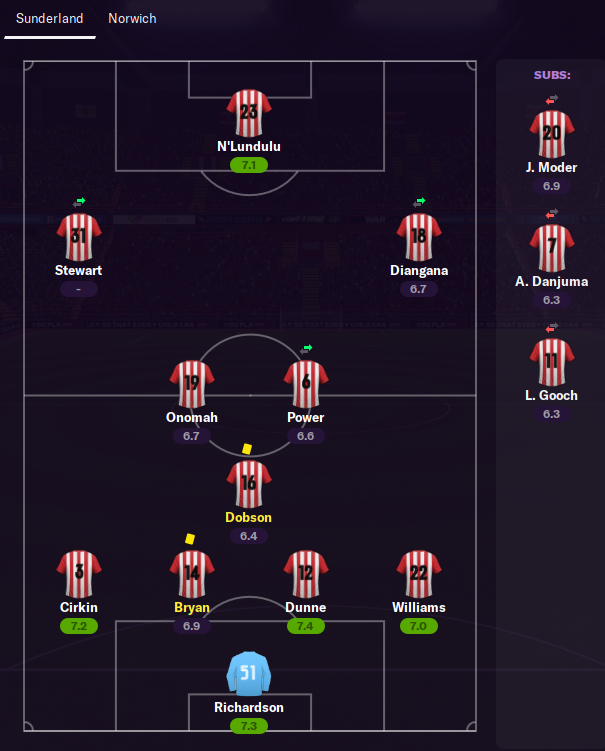 Our wingers are so rubbish that I'm wondering if I shouldn't change to a midfield diamond or a 352 and just… not have wingers. The problem is that my second striker is still Ross Stewart, and he's barely Championship calibre. I'll give it a few more matches and see how things go.
On the plus side, we spent 45m pounds over the summer, and we are still flush with cash.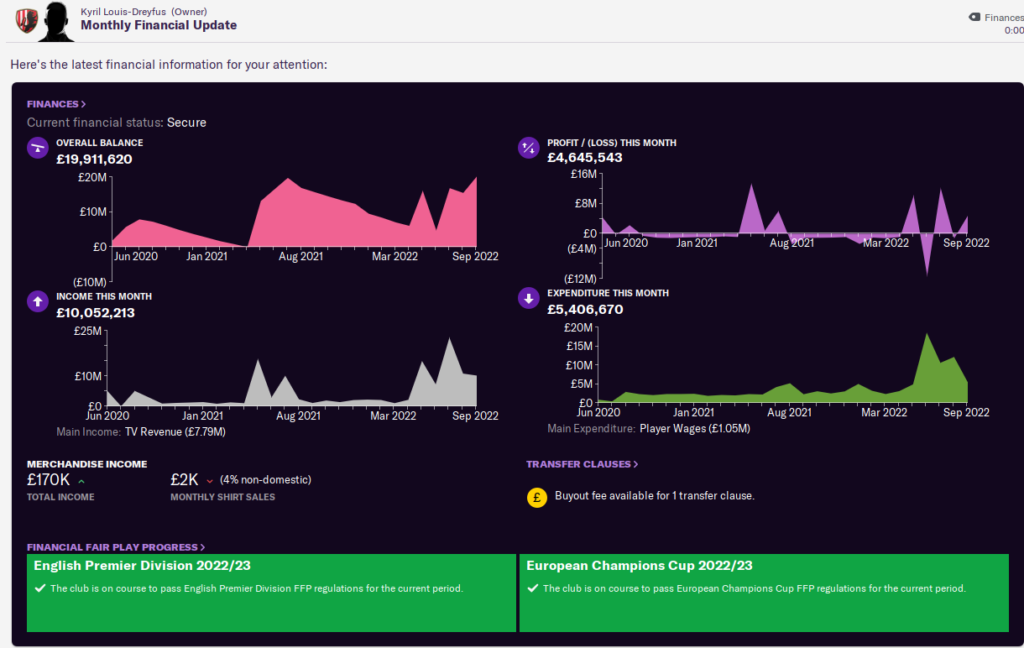 That 4.6m in profit will keep accruing over the coming months, so even if we go back down, we should be in excellent shape for a few seasons to come.
Fun fact: if a player has a poor performance–rated 6.4 or lower–you can discipline them for it. That includes issuing a warning up to fining multiple weeks of wages. If you do choose to warn them, they will usually accept it, and they may accept it and promise to do better in the future. That promise translates to a straight stat increase of either work rate or determination.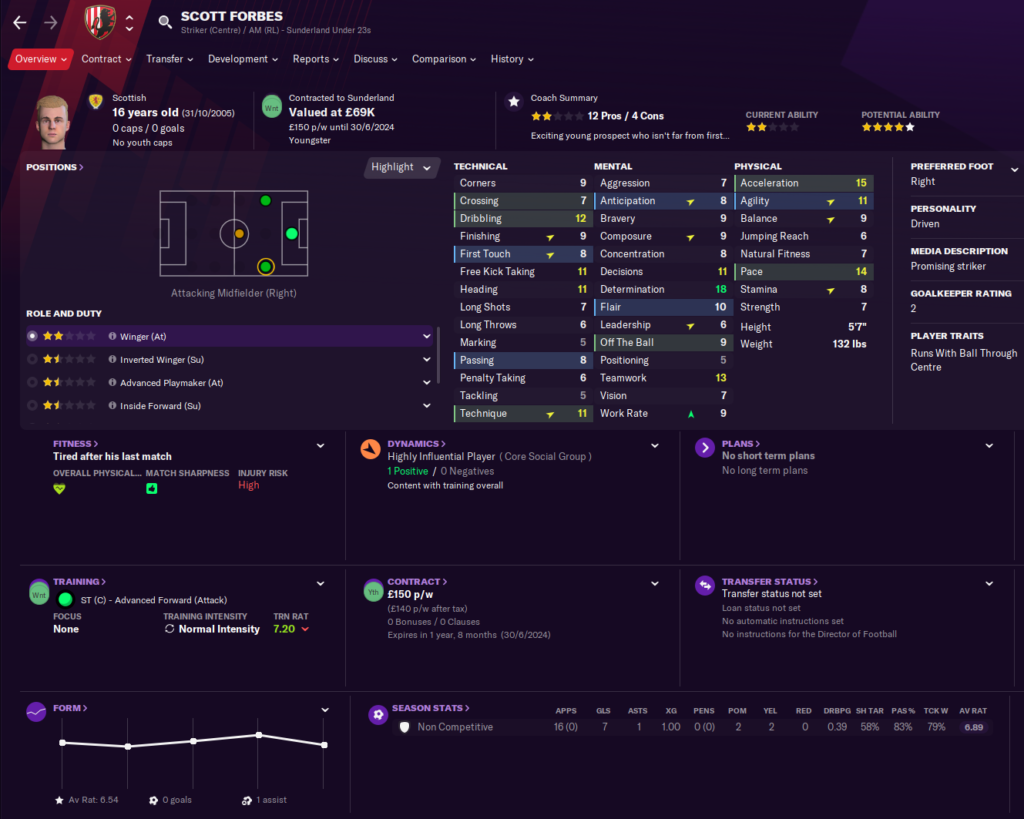 Our lad Scott Forbes is a promising young academy striker. After turning in a 6.0 performance against Manchester City U18s, I issued him a warning for poor performance. This immediately took his work rate from 8 to 9. Not bad! I actually have high hopes for this kid; look at that pace, acceleration and dribbling. If he didn't already play for me, I would had tried to poach him. (Maybe not, with the mediocre mentals, but the kid could very well develop into an excellent Premier League player, and I already have bigger clubs trying to buy him.)
His competition in our academy is Brad Laws, on loan at Stockport, and the previously mentioned Patrick "kick the old man in the shins" Jackman.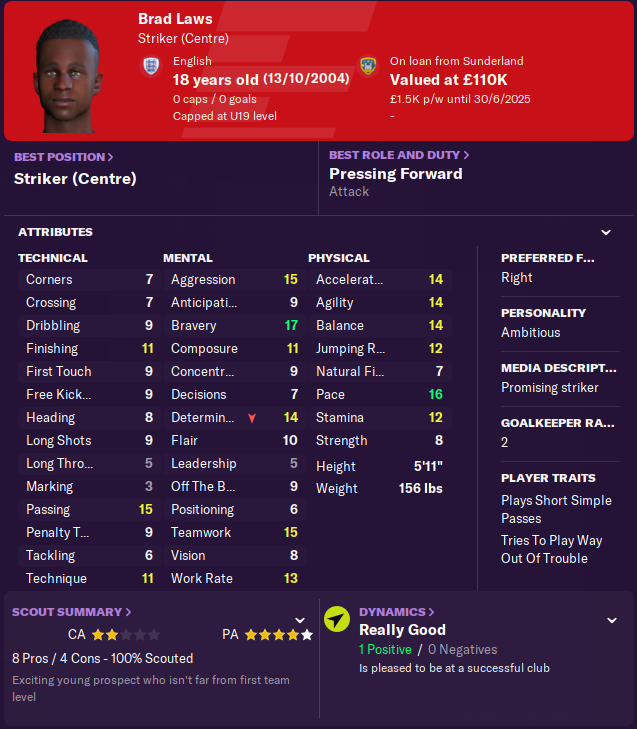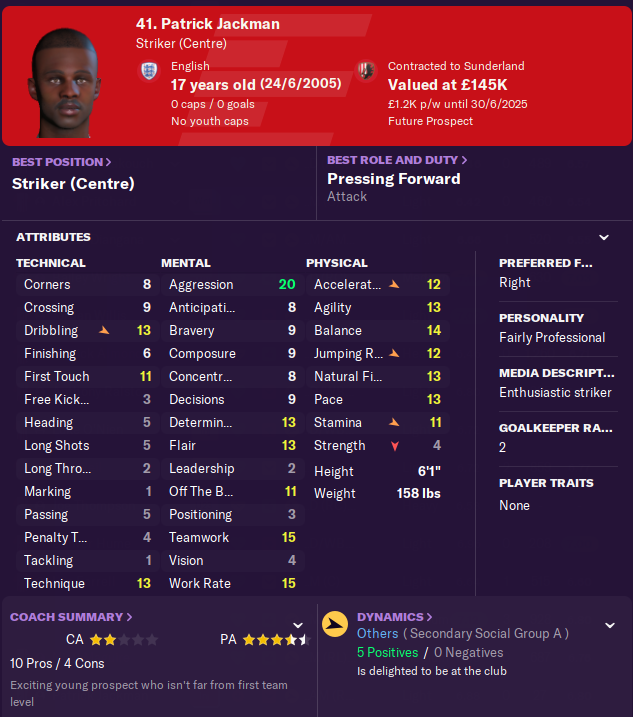 Laws could come along and be useful, but I worry about Jackman. I'll give them both some more loans, but I don't see either of them cracking the first team in the next two seasons.
We went to Leicester. It went poorly. Whatever.
I've been adjusting my corner routine on a per-match basis to prevent counter-attacks against us and to give us counter-attack options when we're defending. It hasn't made any obvious difference, but we haven't had any successful counter-attacks against us, either.
We went to Watford, our second "must-win" match from the list above. Guess what, Black Cats? We were great! Arnaut Danjuma scored a brace from the left wing, Neco Williams added a scrappy rebound, and we strolled to a 3-0 victory. (I ran the vertical tiki taka 4231 and we dominated possession throughout, too.) That's 11 points from 11 played, which nearly puts us back on track for our points target for the season. It also lifts us clear of the relegation zone for the time being.
Only by 3 points, but I'm happy to have a modicum of breathing space.
The next four were vs Chelsea, vs Arsenal, at Everton, and at Man City.
We played well against Chelsea, holding them for 62 minutes until… they got a red card. Then we held them the rest of the match to take a point from a scoreless draw. Obviously, I would have preferred to win, and I did switch our mentality from defensive to balanced, but we couldn't break them down in the 30 minutes remaining.
And then we had a blessing: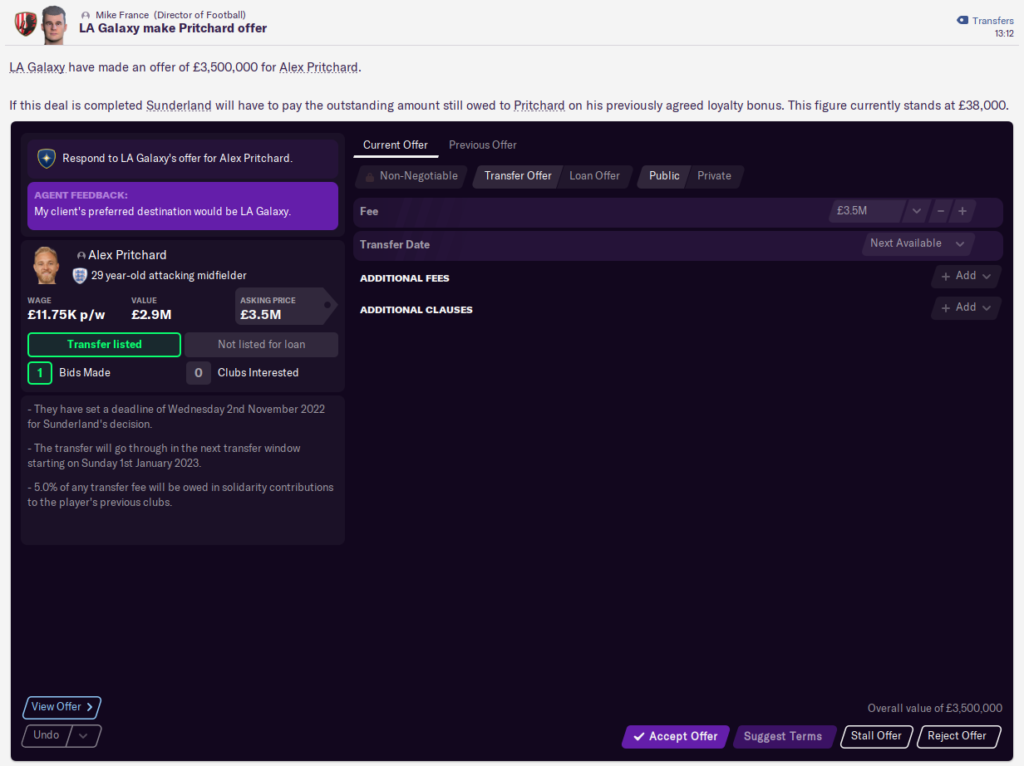 And a curse: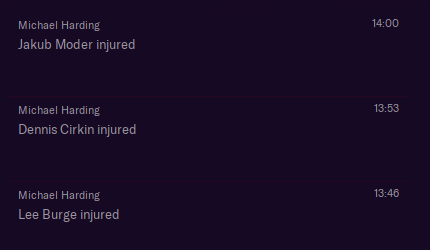 Three starters injured, including our keeper. Our backup keeper is also injured, and our best third option is this lad from the academy: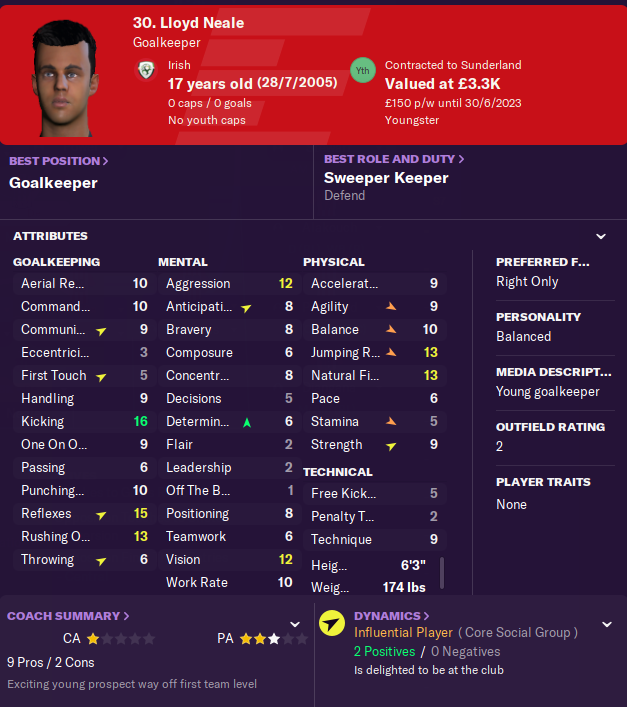 Does anyone have Joe Hart's number? (Spurs supporters just cringed.)
The best options I could find on zero notice were these two lads: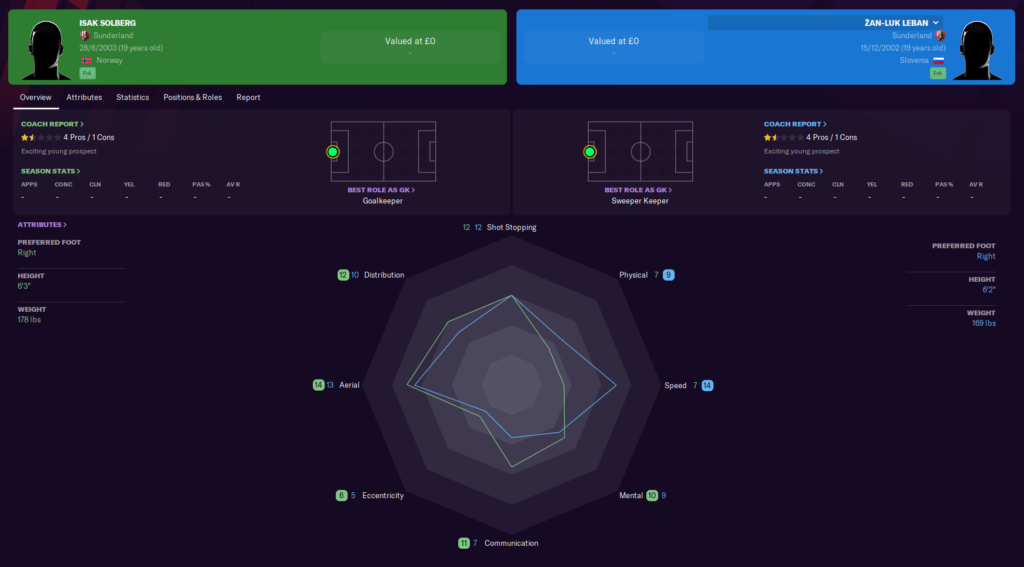 They both have huge holes in their games. Solberg has decent aerial reach and command of his area, but he's so slow. Leban has good pace, bravery, and concentration, but terrible command of his area.
Given that we're about to be under siege by multiple sides far superior to us, I don't think we will be needing much sweeper keeping, so I've gone with Solberg. He's here on a two year deal making 900 quid a week.
Unfortunately, Solberg hadn't committed to his contract by the time the Arsenal match kicked off, so we had poor Lloyd Neale between the uprights. He was kind of terrible, and there was no repeat of our defensive solidity against Chelsea. I feel bad, but I chewed his ass for it, and he picked up an extra point of work rate. I also chewed on Dunne (no effect), Alakouch (+1 determination), and Danjuma (+1 work rate). A small silver lining, I guess.
The worse news is that both N'Lundulu and Williams were injured during the match. Dan's was minor, but Neco's was for 4 to 7 weeks.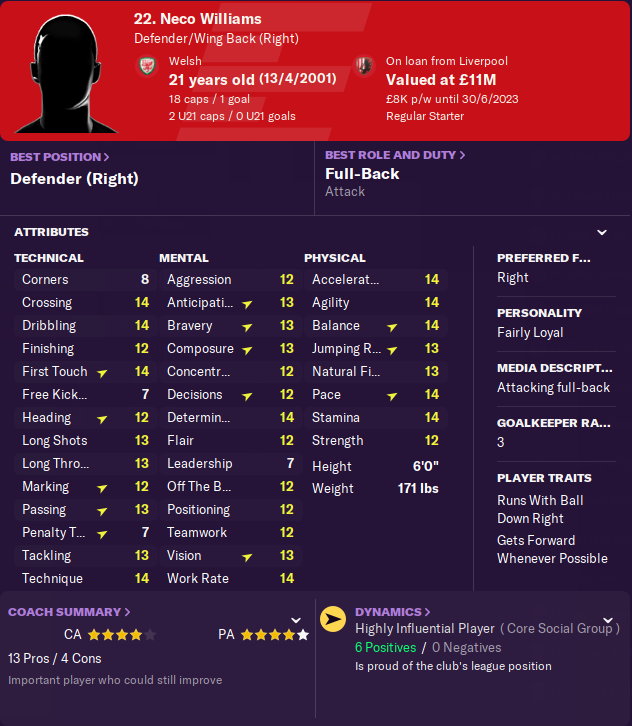 Neco is so good. Unfortunately, his Liverpool contract runs until 2025, and I'm not sure how to pry him away from them. I can try to keep loaning him for a while. It's not like he's going to be starting ahead of Trent Alexander-Arnold.
Oh, and fun fact. Our next two matches vs Everton and Man City? There's an entire World Cup between them. I could have just suffered with my youth keeper against Everton and had Burge back by the end of the break. I am bad at this game. (If Solberg develops into a world beater, I will consider myself a genius, this unfortunate series of events be damned.)
Solberg's first match was against Everton away. We went down on 31 minutes to a Calvert-Lewin header. Richarlison doubled the lead on 75 minutes as I was moving us from the defensive 433 to the attacking 4231. My change had no effect, and Calvert-Lewin scored again from a corner on 88 minutes. We lost again, and I couldn't even be angry about it. We were outclassed.
Going into the long World Cup break we are on 12 points and in the relegation zone. We also had the second-worst goal differential in the league (-16), better only than Watford at -18. I was worried, but not panicked. We only needed a few results from our four "easy" matches in January to shoot us right up the table.
Cue elevator music while the World Cup runs. Denver Hume, our old League One right back, came by my office to complain about his lack of playing time. I offered to sell him and he backed slowly out the door. Moments later Anthony Ralston came in and made the same complaint to the same result. I'm sorry dudes, you have to be better than Neco Williams if you want to start matches in the Premier League.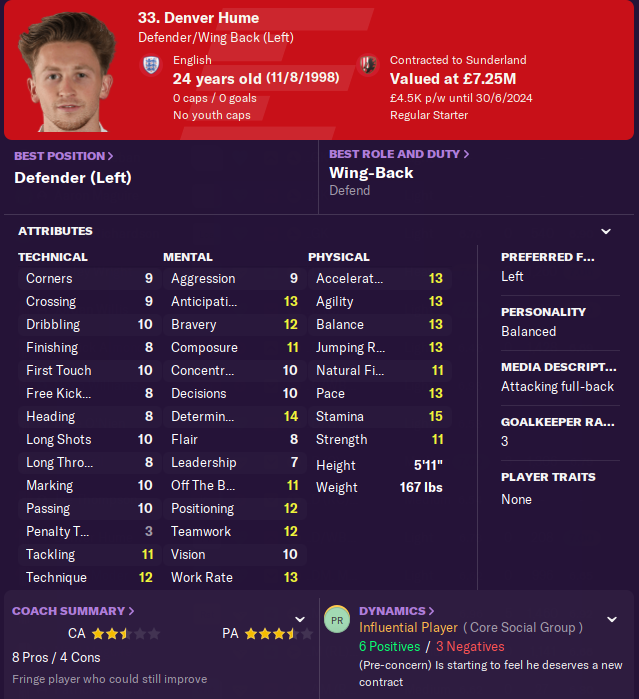 I appreciate how Hume helped us to back to back promotions, but the club's ambitions have outgrown his talent. He'll be leaving in January if I can find a buyer. Ralston can stay until summer.
Hume and Ralston came back after the above conversations to talk about how they don't think they're good enough to play for us. Hume backed down when I suggested I sell him, but Ralston actually asked to leave. I transfer listed him and asked for 6m and immediately had an offer from LA Galaxy for 3.4m.
Hmm, LA Galaxy, you're thinking. That sounds familiar.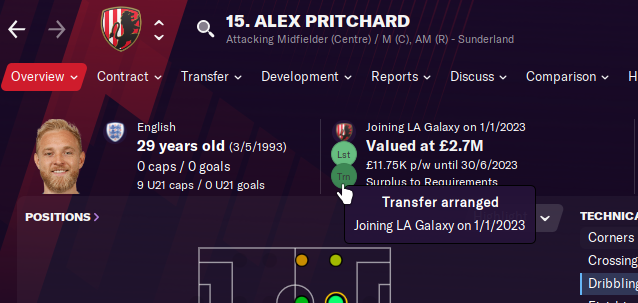 Yes, the same club that has agreed to buy Alex Pritchard for 3.5m. And look, they have two existing players under contract that are surely on Designated Player wages.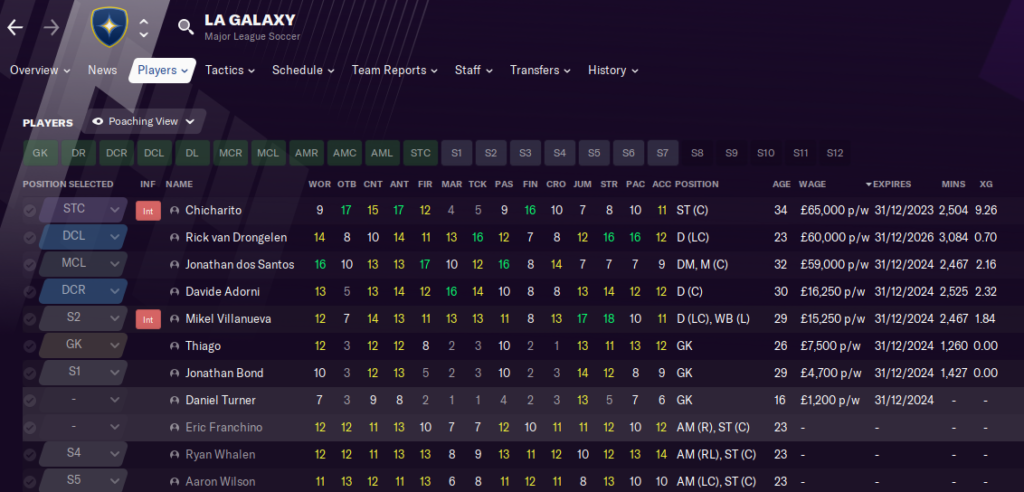 We'll just wait a bit on this one, I think. I'd rather sell Pritchard and his expiring contract first. MLS burned me once last season; they won't burn me twice.
I waited like 5 minutes.
I stalled them, and when they came back I took a gamble to see if they'd pay me 5m for him. They agreed. So my free transfer came in for six months, played a total of 316 minutes at a 6.74 rating and should, hopefully, make me 5 million quid. I am a genius again!
While waiting on the World Cup to finish, I decided to play with the NewGAN face generation tool. It uses a generative adversarial network to create human-like faces. The steps above explain how to use it, and I've followed them to generate faces for all the regen players in my save.
You remember Lee Farrell? Here's the before:

And here's how he looks after going to a proper stylist.

Guy is still only 17, and that pic makes him look like he's 25 (or related to Cristian Pulisic), but it's quite an upgrade, eh? I'll go through all our other youth players after the season to look at their progress and compare the before and after photos of their glow-ups. The tool does a pretty decent job of matching the players' birth locations to faces that could be from the same region, though apparently it struggles with South America.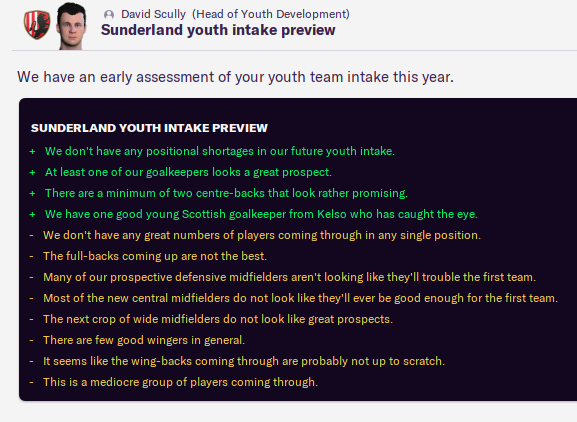 We're about to find out if my investment in David Scully, our early summer hire as Head of Youth Development, has paid off. It's not looking great so far, but if we have a Model Professional keeper or centerback prospect, I'll be pleased.
Because apparently it's not enough to sign one goalkeeper in December, I've signed another.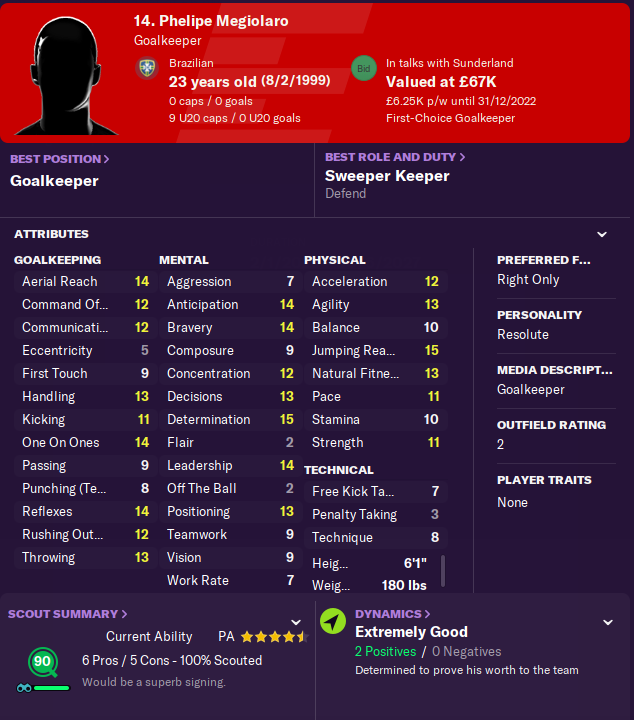 Phelipe is pretty okay. Better than Burge, not as good as the guys I could have paid to bring in, but I didn't pay anything for him, so. I'm planning for him to take a fair chunk of Burge's minutes, develop a bit further, and probably get sold on in 12-18 months at a massive profit. (I'm still riding the high of selling Ralston for 5m, in case you were wondering.)
We went to Manchester for our date with Pep Guardiola. We played tragic, despicable, negative football. We held on for 51 minutes, then collapsed like my willpower in the presence of cinnamon rolls. We only shipped two goals out of 21 shots, so that's good, right? That's three losses in a row, but we did steal that point from Chelsea back in late October, so we actually over-achieved my expectations for that run of games.
Our last match before the close of the year was supposed to be away at Man City, but the FA Cup slipped one more in against Carlisle. I rotated everyone except Dobson in midfield and Burge in goal and put us into the 4321 formation. Carlisle managed to get a red card on 26 minutes. You might think our Premier League side, even heavily rotated, could manhandle a pack of League Two cloggers, especially when they only have ten players on the pitch. Wouldn't that be nice. Instead, they ran us ragged for 120 agonizing, futile minutes. Did I want to win this and deal with an even-more-congested second half of the season? Not precisely. I wanted to win it to get a little morale boost before a run of winnable Premier League games. After six penalties, George Dobson fired home to seal the shootout. We escaped. Carlisle 0-0p Sunderland.
Also, guess who actually came through for us?

I know which LA club I'll be cheering for from now on. Also, look at the fan reaction. I got 8.5m out of two players that barely left the bench and cost us nothing to sign. I'm a genius, you idiots!
The club are only allowing me 70% of sales back into the transfer budget, which is odd given we have 39m in the bank, but that's enough for me to get a reinforcement or two. You'll have to wait until the next update for those.
Until next time, footy nerds.
Update: the next part is available here.