Welcome back, footy nerds. If you're just joining, the previous installment is available here, and the first installment in the series is available here.
Thank you to Iain Macintosh for the shoutout on The Football Manager Show. I've outpaced the challenge, but I hope the spirit of it remains even as the updates come more quickly for now.
At the very end of the Premier League season, the board set out expectations for how the club will be run. This year it included playing defensively solid football, playing high-tempo pressing football, playing possession football, and signing high reputation players.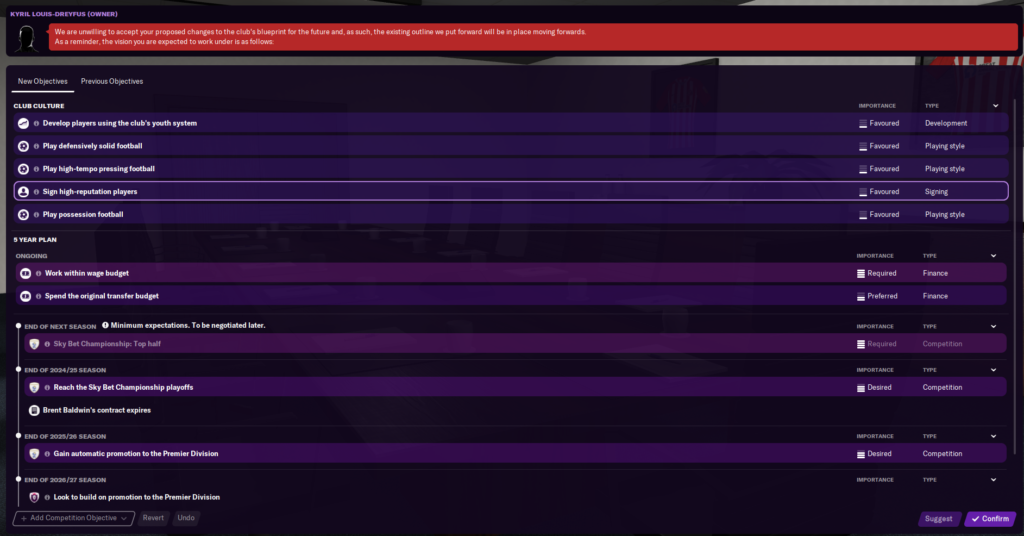 Wait one damn minute. I can probably handle the tactical stuff, but you want me–the manager of recently-relegated Sunderland–to sign high reputation players? Do you not know my Football Manager philosophy? It was in the first post.
I will continue signing the players I think will make the club succeed, and Kyril can sack me if he doesn't like it.
While I complained about Kyril to the backroom staff, he turned up with this little gem of news:

You can buy a lotta pints and packets of crisps with that kind of money. I reckon someone with 76m in transfer funds could build a Premier League calibre team. Maybe even survive for more than one season.
WHERE WAS MY MONEY LAST SUMMER, KYRIL?
At the moment, we have just short of £100m in the bank. Over the course of our Premier League season we spent about 96m pounds. That was roughly 5.5m a month in operating costs plus 29m net transfer spend. Of the 66m in operating costs, only 16m was player salaries. We haven't paid for June yet, so that will go up a little more. The game says we currently have 400k a week of committed salaries, or about 20m over the season. It's hard for me to estimate our expenses next season since I didn't screenshot our last Championship campaign. Add in the flux from player sales and new signings, and MBAs everywhere are sweating over their business plans. Bottom line is: we should be fine this season if we don't blow 70m quid on Scottish wonderkids, but we might end up in the red if we do.
I can work with that.
I was sitting at the desk, trying to crunch the numbers and work out our budget, and Kyril popped by again.

Yes, that's a real thing. You get relegated and they just hand you 41m the next season. There's a reason the Championship playoff final is called "the most lucrative game in sport." We were probably fine with our 100m and some half-decent stewardship of it. Throw another 40m on top, and we can buy even MORE Scottish wonderkids.
In case anyone else wants to plan their promotion season, here's what we spent in the Premier League: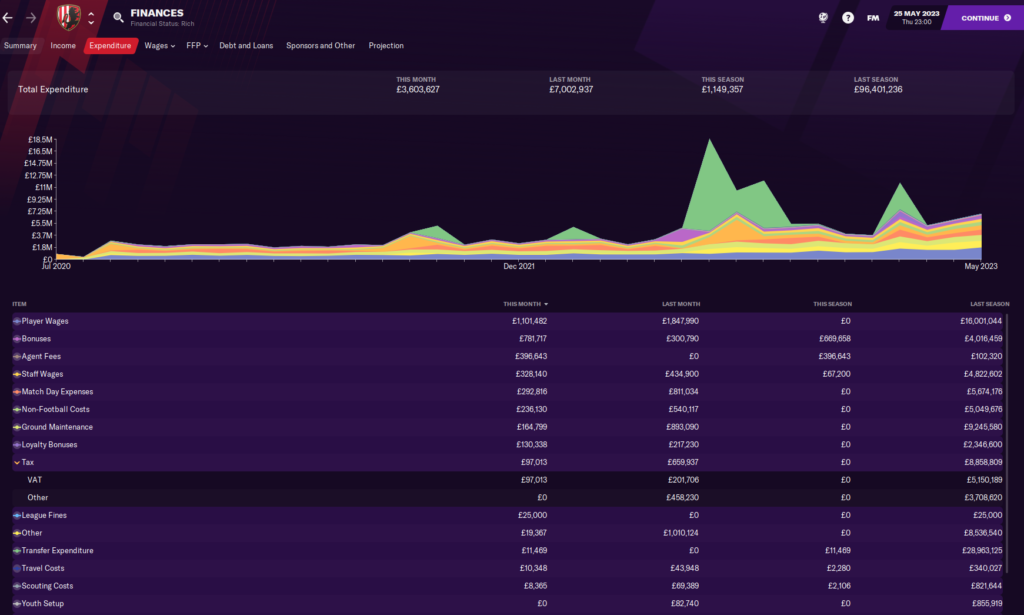 Even though I have way more money to spend, I don't want to repeat last summer's trolley dash. We were really disjointed at the beginning of the season, and a big part of that was all the new faces. I'd like to bring a few players to fill gaps and give us the best chance of immediate promotion. Smart, sensible additions that will improve us both on and off the pitch.
Unfortunately, have a number of relegation release clauses that have just come active, so we may lose a few of our better, more expensive players, which makes my planning harder.

All of these represent significant profit on purchases, but these are all good players and I'd like to keep them. I quickly signed Finley Burns and Lee Farrell to new contracts to get rid of their release clauses. The wages were a small increase on their prior contracts.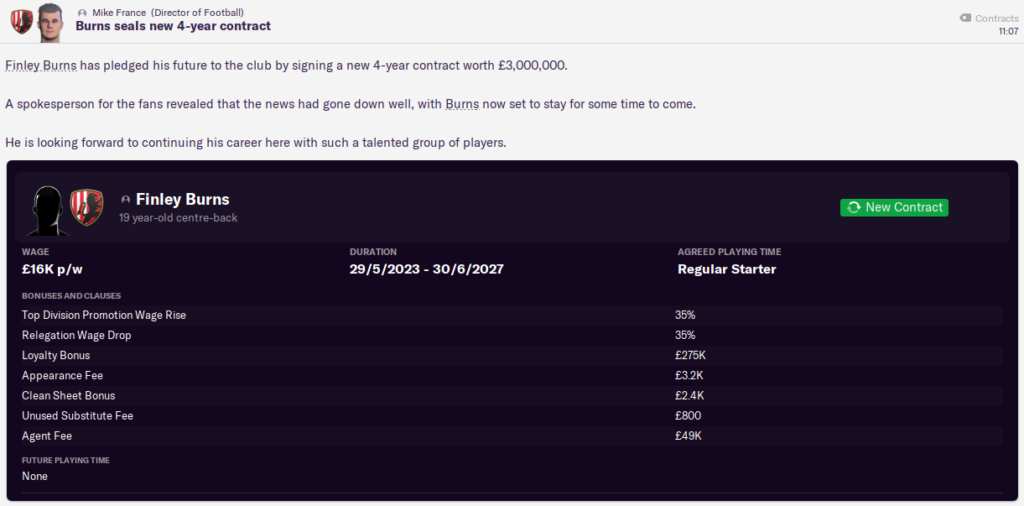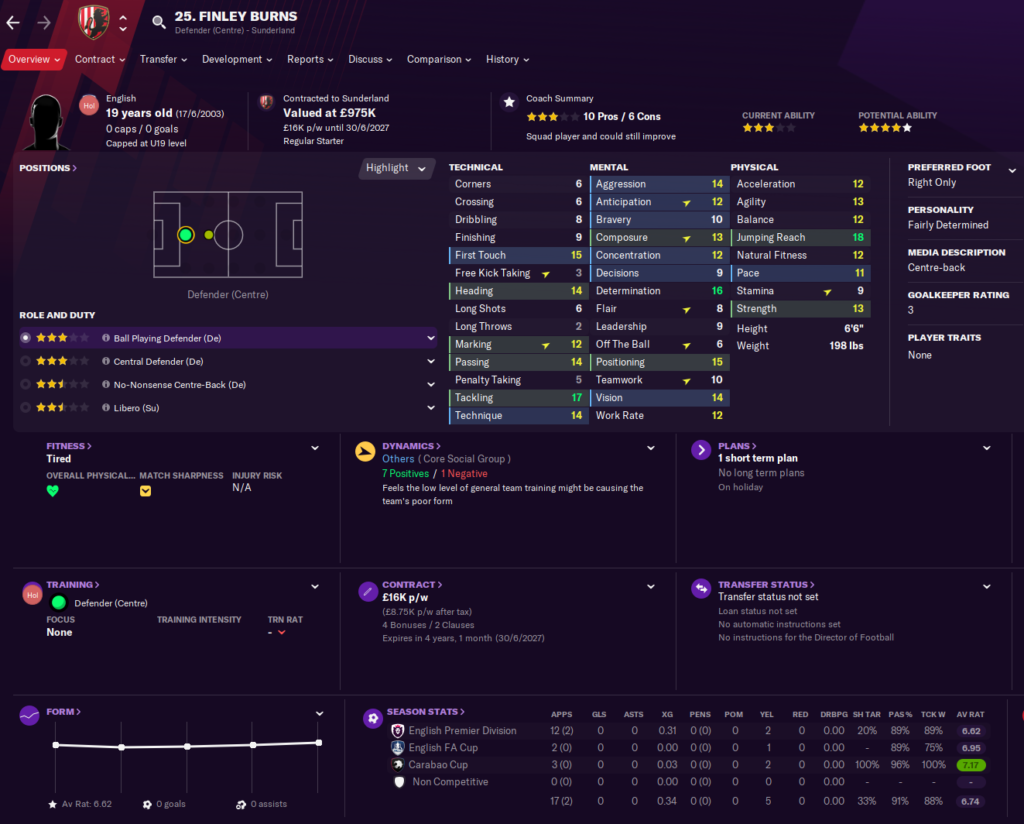 He'll get plenty of minutes in the Championship.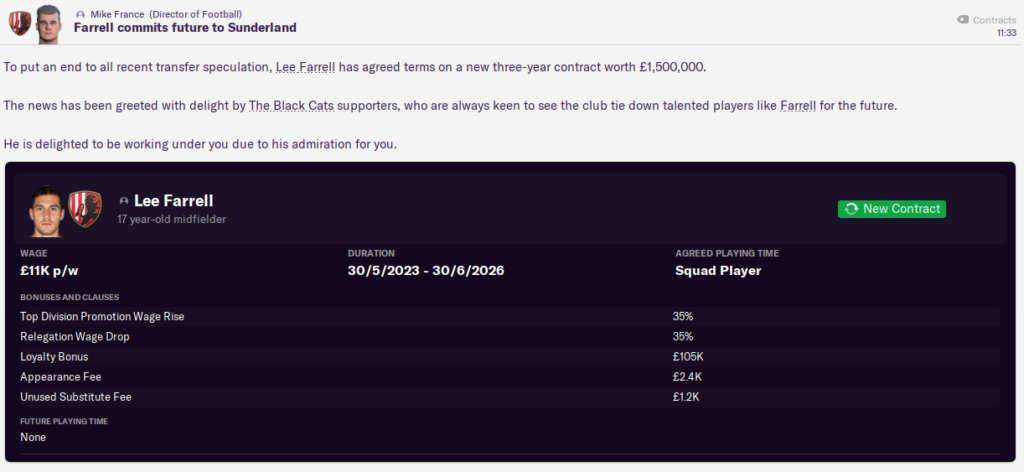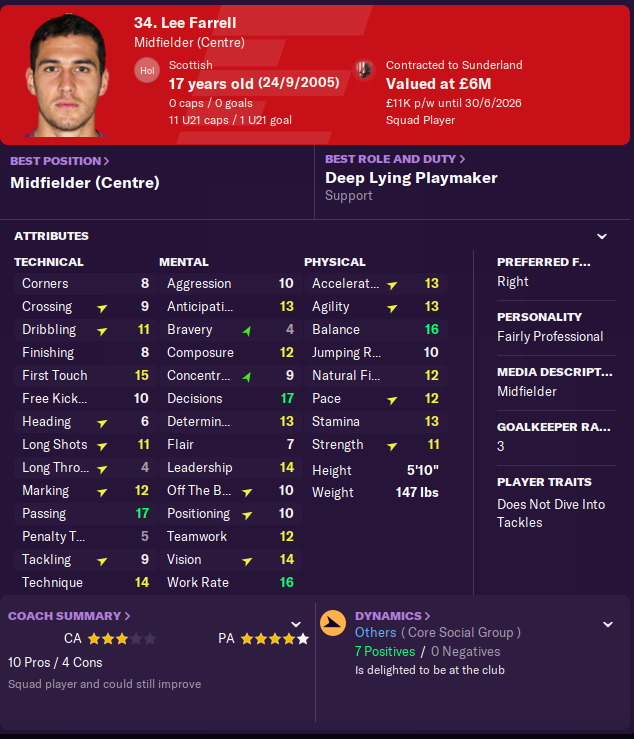 Lee "the Scottish Regret" Ferrell is on a similar deal with a promotion escalator and a relegation reduction, and now–notably–NO release clause. He's gonna be a star for us, and when he's captaining us in the Champion's League in four seasons, I'll be a genius again.
I'm gambling on the others. Maybe they'll stay, maybe they'll go. When I look at only this season, I want to keep everyone, but if I look a little longer term, I can take the departures as an opportunity to upgrade.
Before I purchase anyone, I need to review who we have at the club, on loan, or already coming in who can help us. Here's a pretty decent view of what a match day squad would look like. I won't go through these guys one by one since you already know them.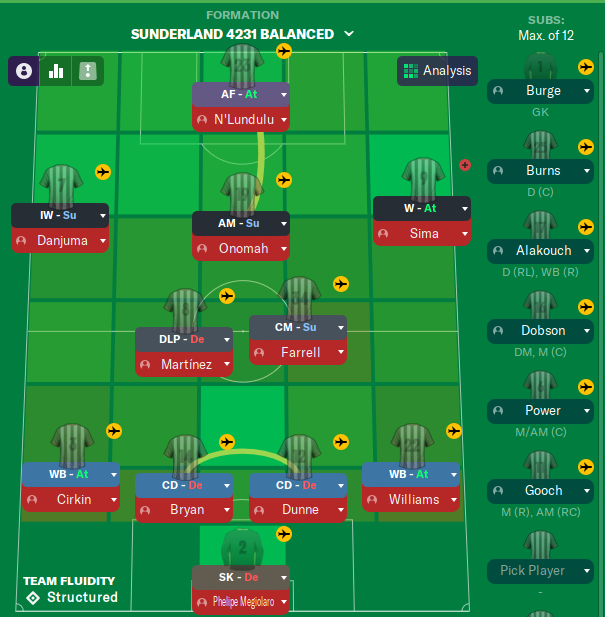 I've already extended Cirkin and Neco Williams' loans, so they're staying for their third seasons with the club. I looked into signing them permanently, but Spurs want 110m for Cirkin, and Jurgen Klopp won't even return my WhatsApp messages for Neco.
This is, to my eye, a stronger 11 with better subs than we had in our last tilt at the Championship. DL and AMC could use stronger players, and ST and both wingers could use depth, but we're talking incremental improvements, not wholesale overhaul.
The first place to look is internally to see if we have anyone ready for first-team football. Our loan and youth players have potential, but I'm not sure any of them are going to be able to contribute.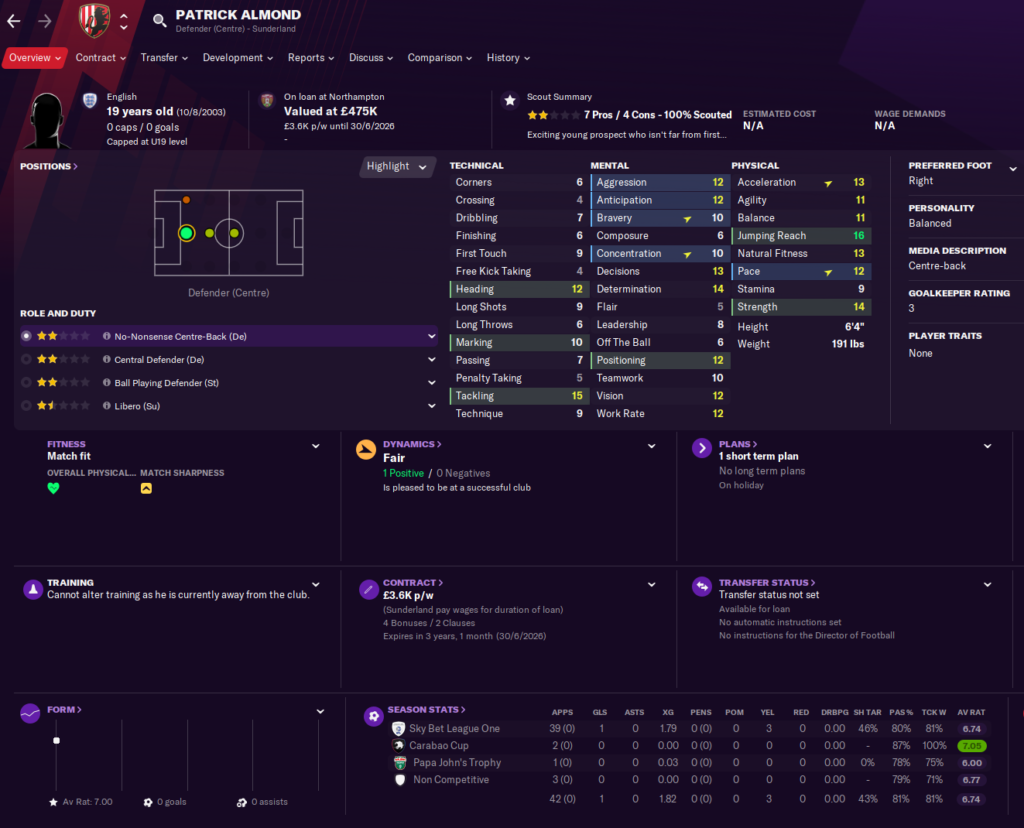 Patrick Almond is probably the most-developed of our youth players. He has done reasonably well in League One with 6.74 rating across 39 appearances, but he's far from Premier League quality. I'll keep him as a fourth centerback unless one of my incoming international players is better suited.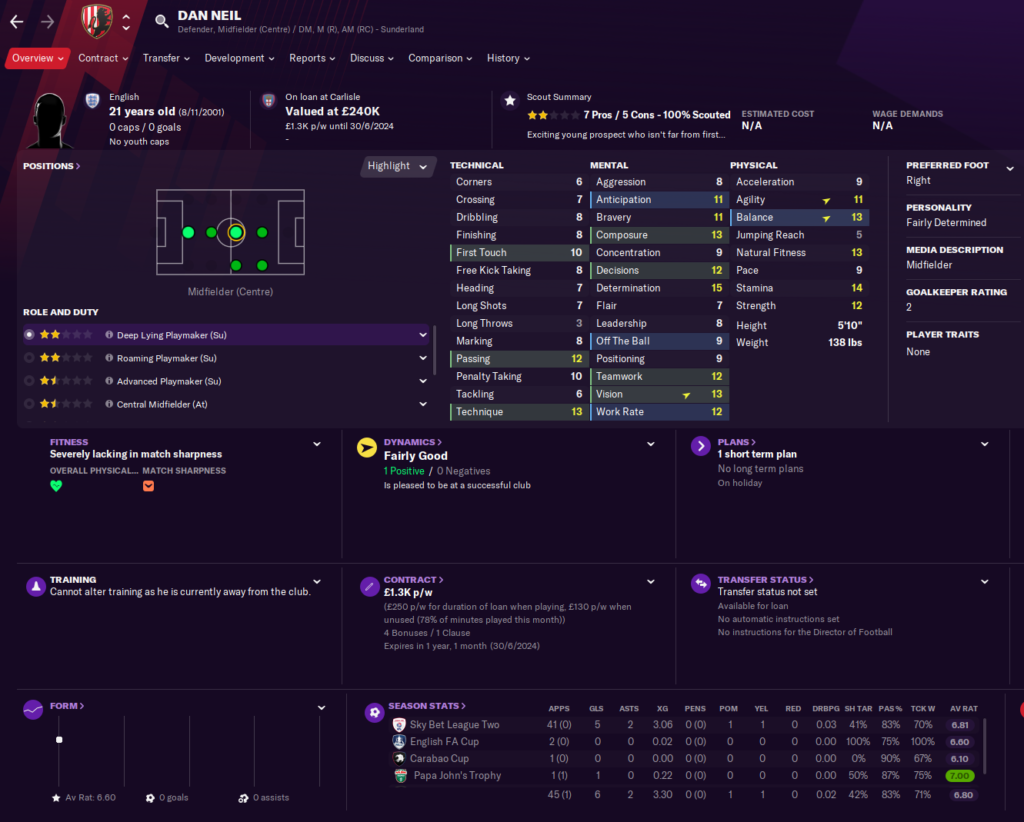 Dan Neil has done well enough in League Two, but he's also 21 and doesn't look like he's anywhere near the level of my first team. I appreciate his versatility, but you have to actually be decent in any one position for the versatility to matter. I think I'll sell him, to be honest.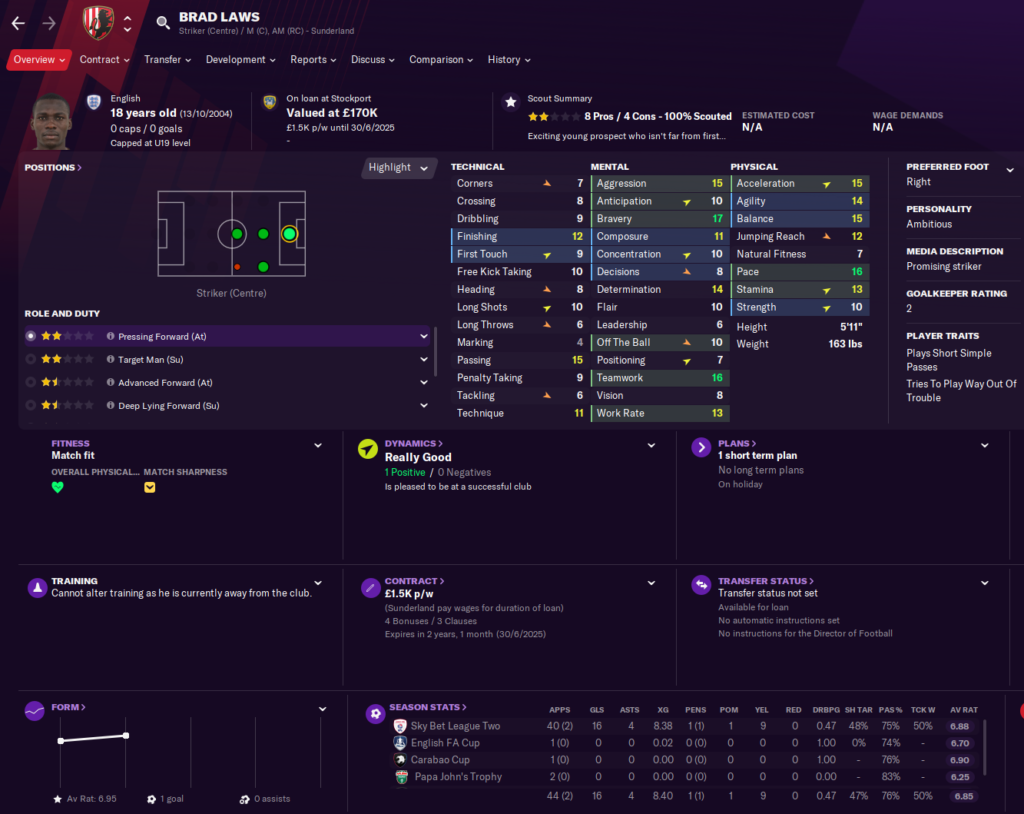 Brad Laws has done well in League Two, scoring 16 goals in 42 appearances. He has plenty of room to develop further, too. I wouldn't want him to play 2000 minutes, but he could play with the U23s and get a few matches with the senior squad.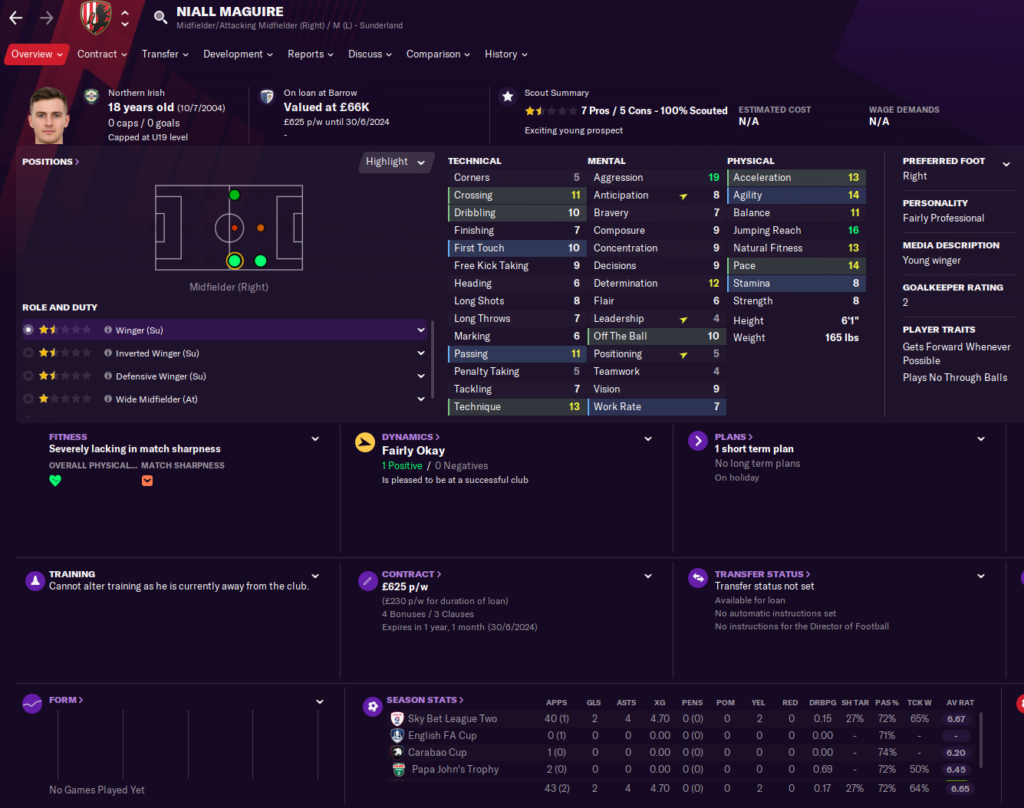 Niall Maguire has not been great in League Two, and my coaches think he'll top out as a League One player. His contract expires next summer, so he'll be off to anyone that wants to pay for him.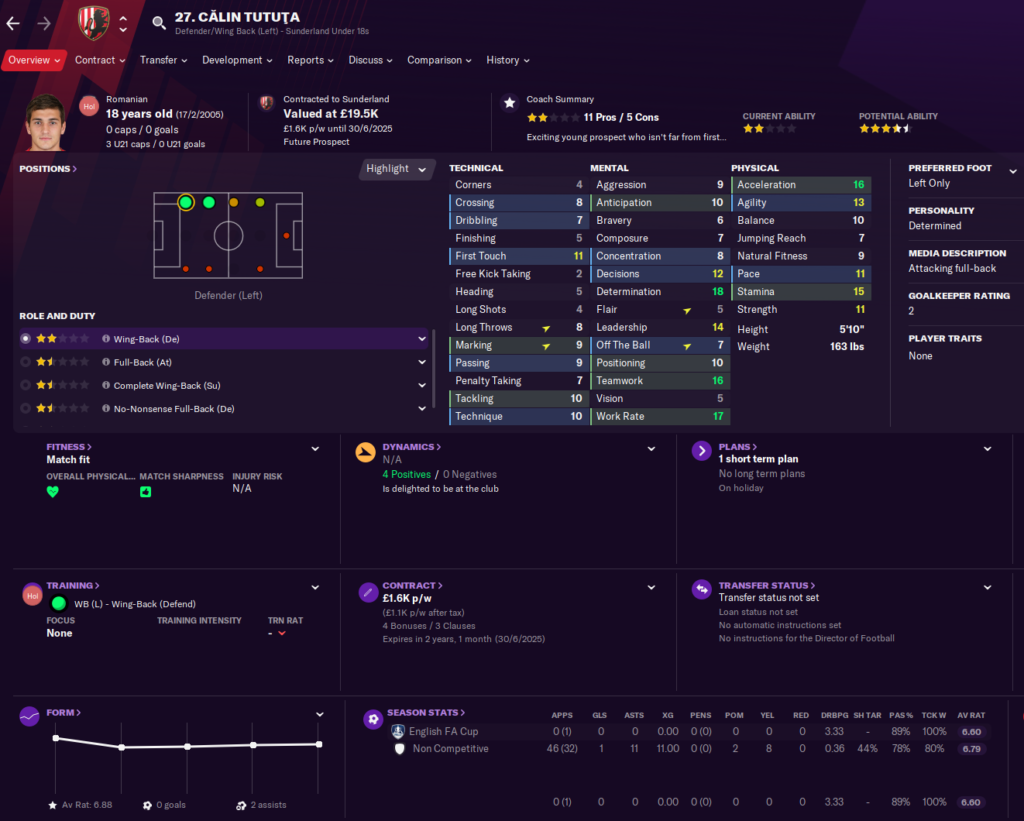 Calin Tututa has been in our youth setup all season. He has great acceleration, high determination, and a fantastic work rate (due to me yelling at him so much), but he's dire in most other areas. His potential is good, and he's under contract for two more seasons, so I'll loan him somewhere in League Two.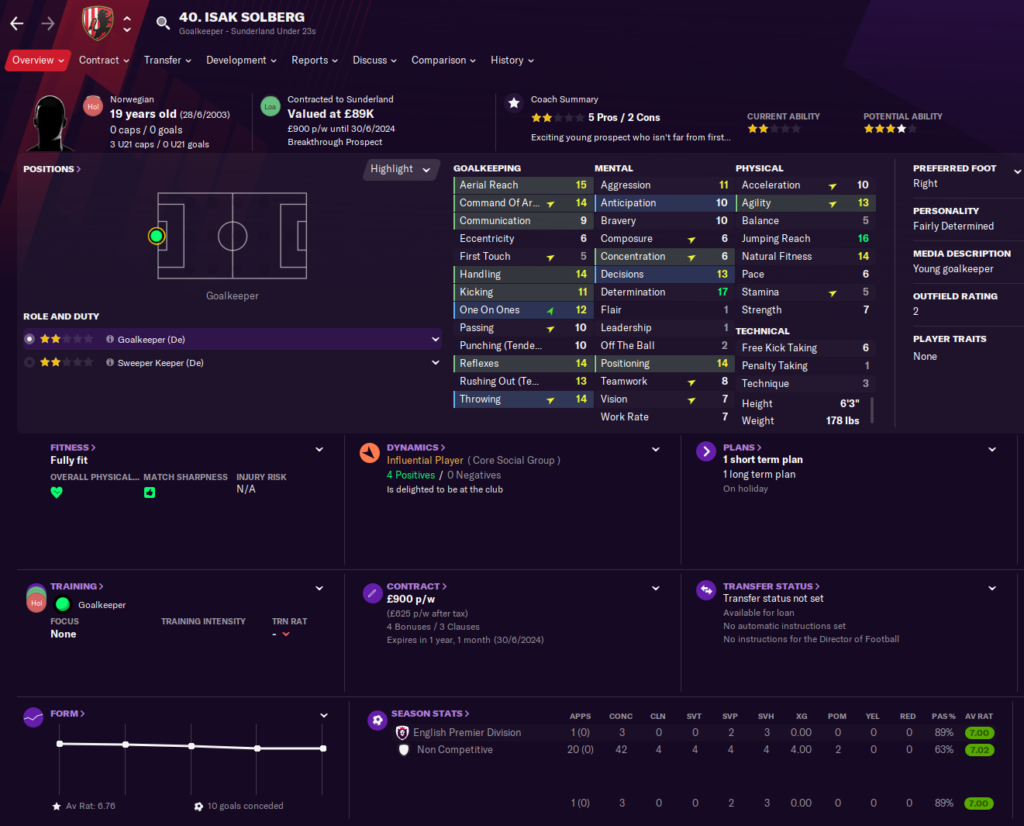 Isak Solberg was my "break glass in case of emergency" keeper from last December. He's not ready for the first team unless there's a dire emergency. I'll keep Burge as the backup and Richardson in the U23s.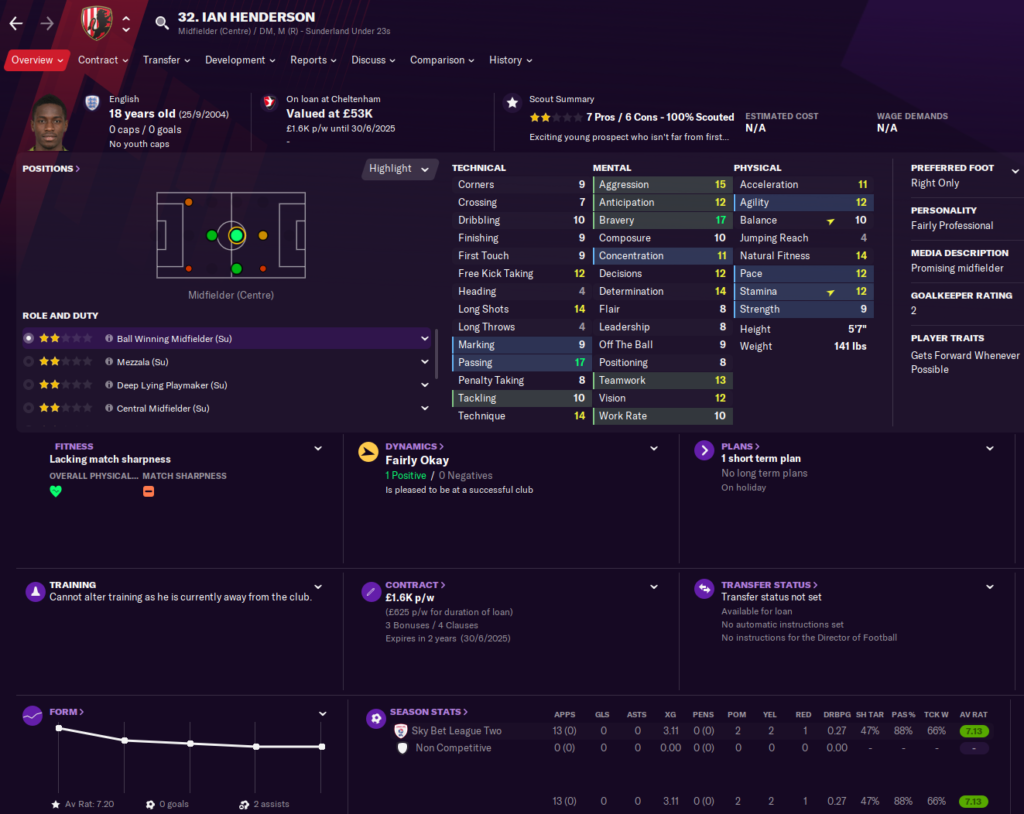 Ian Henderson isn't ready for the first team, but he's reasonably close. If he grows on another loan, he might be useful next season.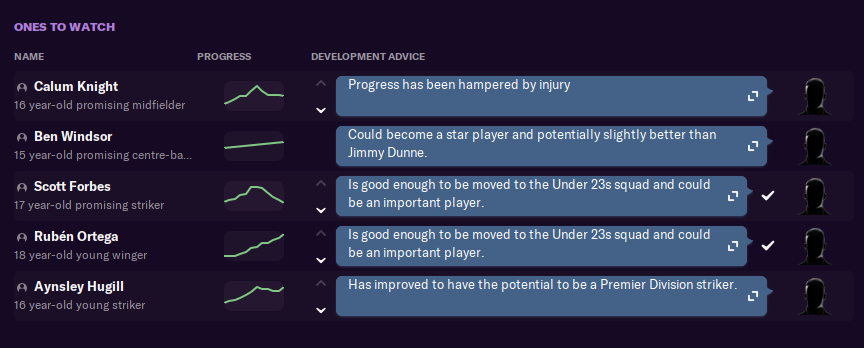 We have a few more youth players who have good potential, but aren't remotely close to the first team.
Ruben Ortega is the oldest of that group. I'll probably loan him somewhere in League Two. He seems promising and might actually be a useful play for us someday.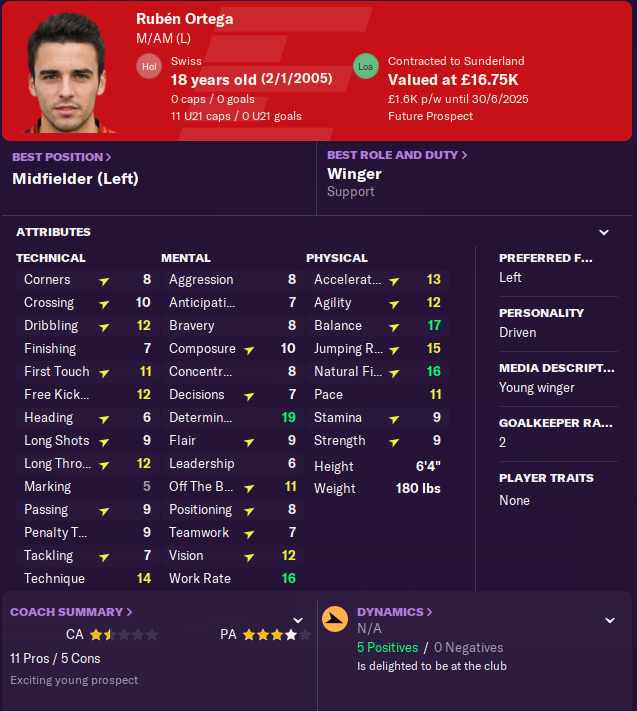 The incoming international players are a more interesting lot.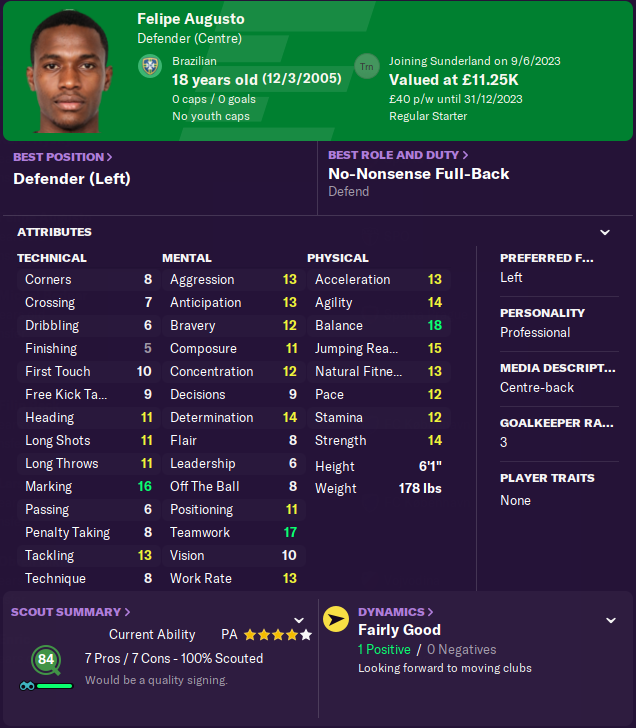 Felipe Augosto is going to relegate Dan Almond to the youth setup or another loan. He's good enough to play meaningful minutes in the first team right now. Sorry, Dan.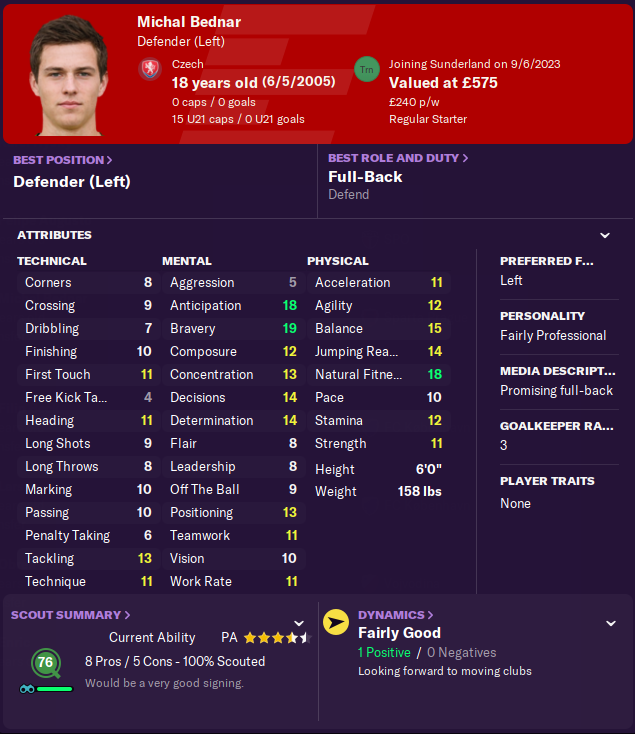 Michal Bednar is not quite as ready. He's too slow for the wingback role I need, but he has potential, and I'll see how he develops with playing time in a lower league.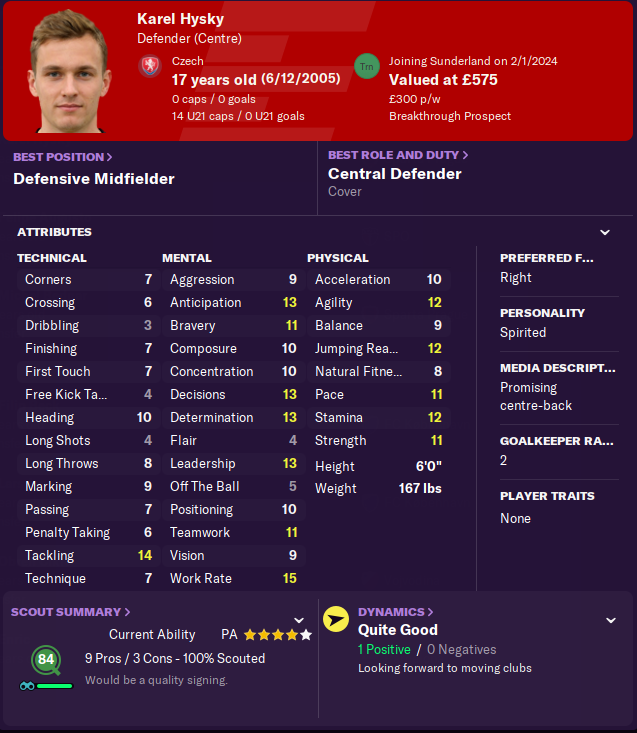 Karel Hysky joins in January, and I have regrets. He has not improved much, and while his tackling is decent for his age, I don't think he's going to hit his ceiling. I'll try to loan him somewhere and hope for the best. He cost 46k, so it's not a huge loss.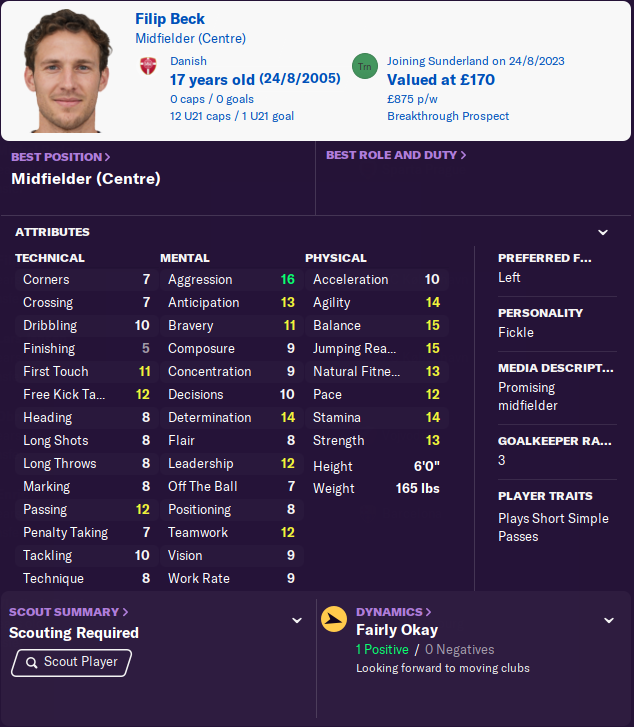 The first of my former FC Copenhagen players. Good physical ability, okay mental. Not good enough to contribute to the first team this season, unfortunately. I wish I hadn't signed him.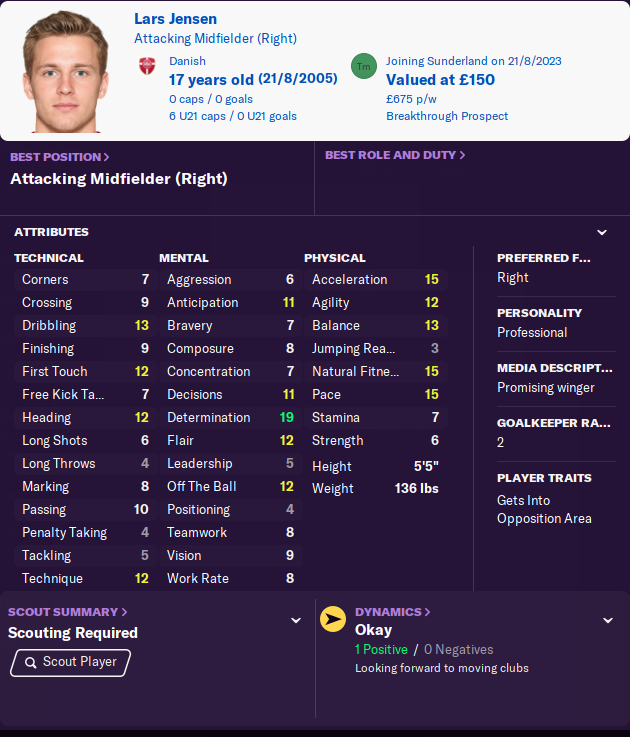 Lars' is not quite what I want in my first-team squad, but he's also not far from it. I can see keeping him at the club in the U23s and playing cup minutes to see how he develops.
Actually, Lars, never mind. Cikic is getting all those right winger cup minutes. He's slower, but better in every other area.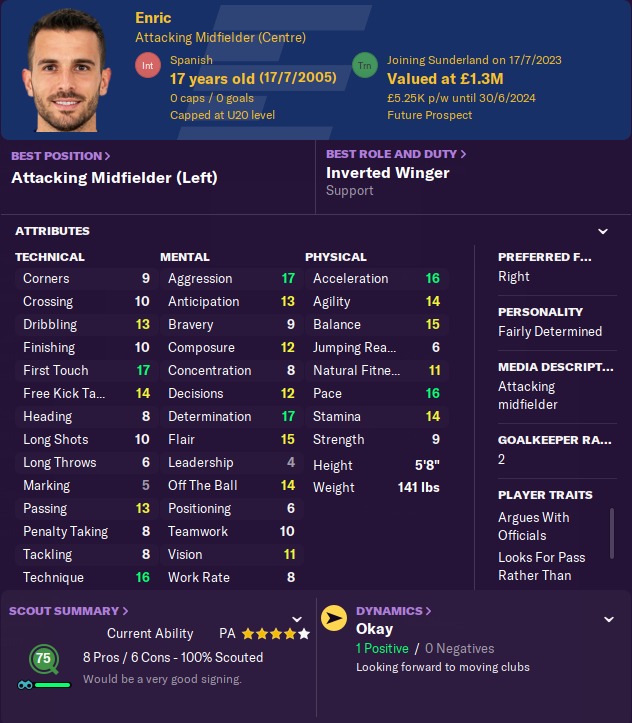 I was thinking of an AMC to take some of Onomah's minutes. Enric will do fine. I'd say he saved me some money, but he cost 5.25m from Barcelona. He can play on either wing, so that's good cover for Danjuma and Sima, too.
You all haven't forgotten Pure Magic, have you?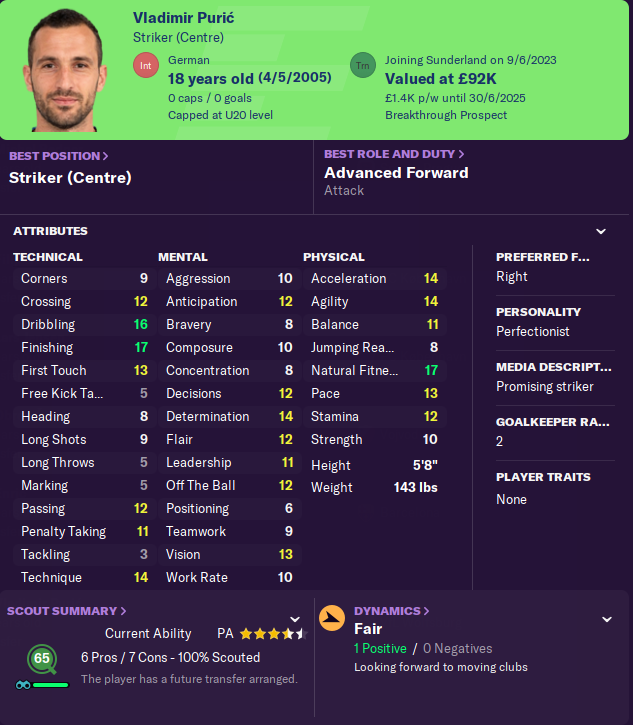 Wait a tick…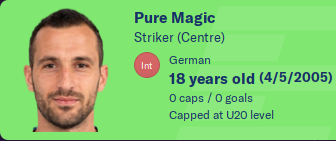 That's better!
He was the bloke I thought I was signing in January, but Brexit screwed us and we had to wait until he turned 18. He can play on the right wing or at striker.
So the original needs were DL, AMC, ST, and the wings. We have a gap at DL, but we have Enric at AMC, Pure Magic at ST, Cikic at AMR, and a combo of all three to cover AML.
I now need a decent left back, and I think I'm set. The scouts are out scouring the world.
My coaching course finished. Yes, I minmaxed my character.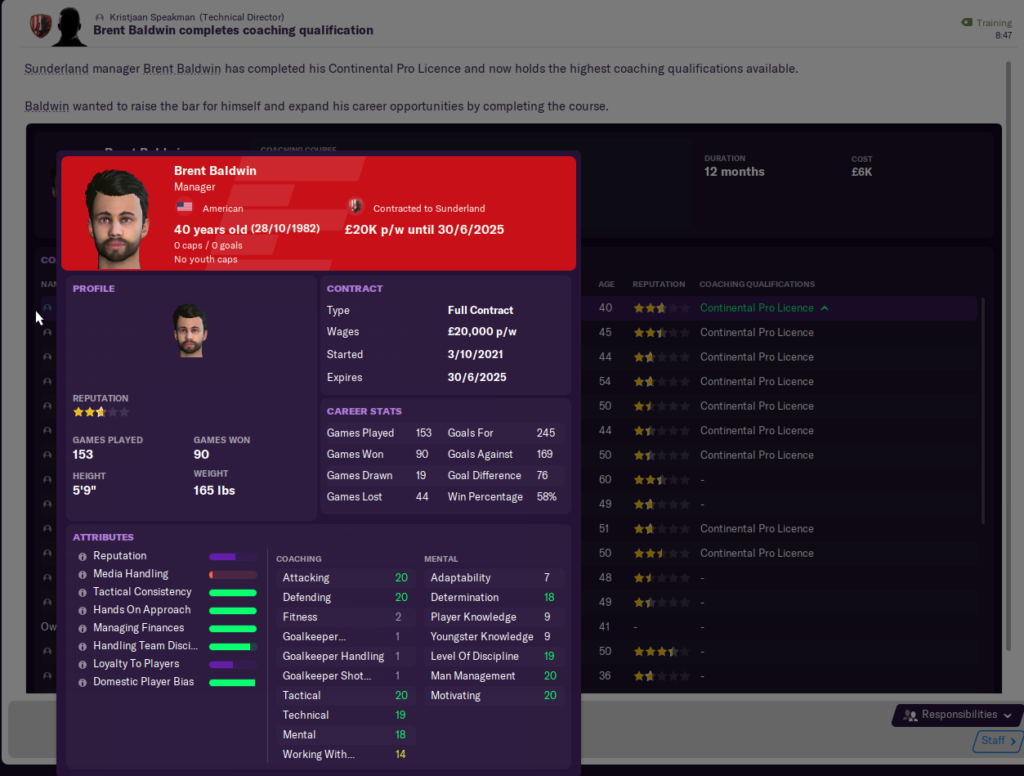 Check out my media handling. It's called "this is a stupid chore and there's little penalty to sending my assistant."
Also notice the "loyalty to players." It's middling, which is fair. On the one hand, I want to be loyal. I do. Look at Lee Farrell and Finley Burns. On the other hand, I have guys on the roster that probably need to move.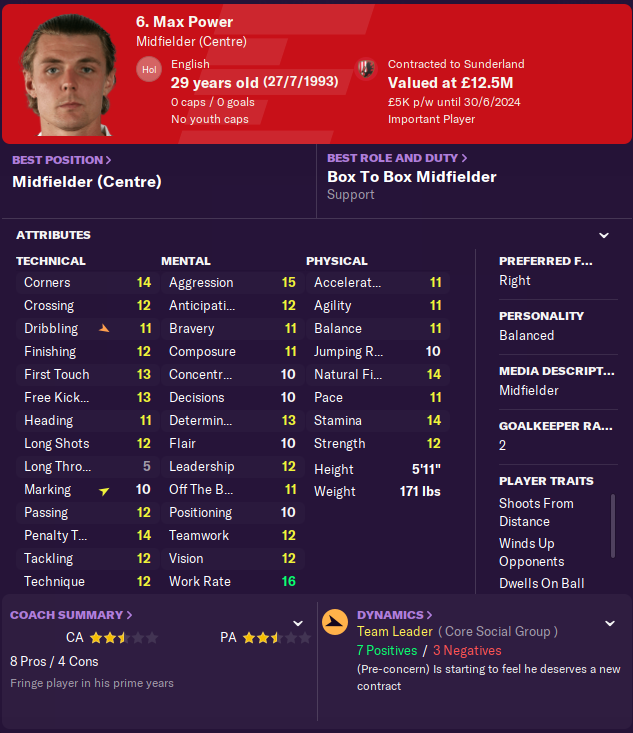 This is not a Premier League player. I'm planning to let him run down his contract because he's my captain and has been important for us. If he were anyone else, he'd be out the door.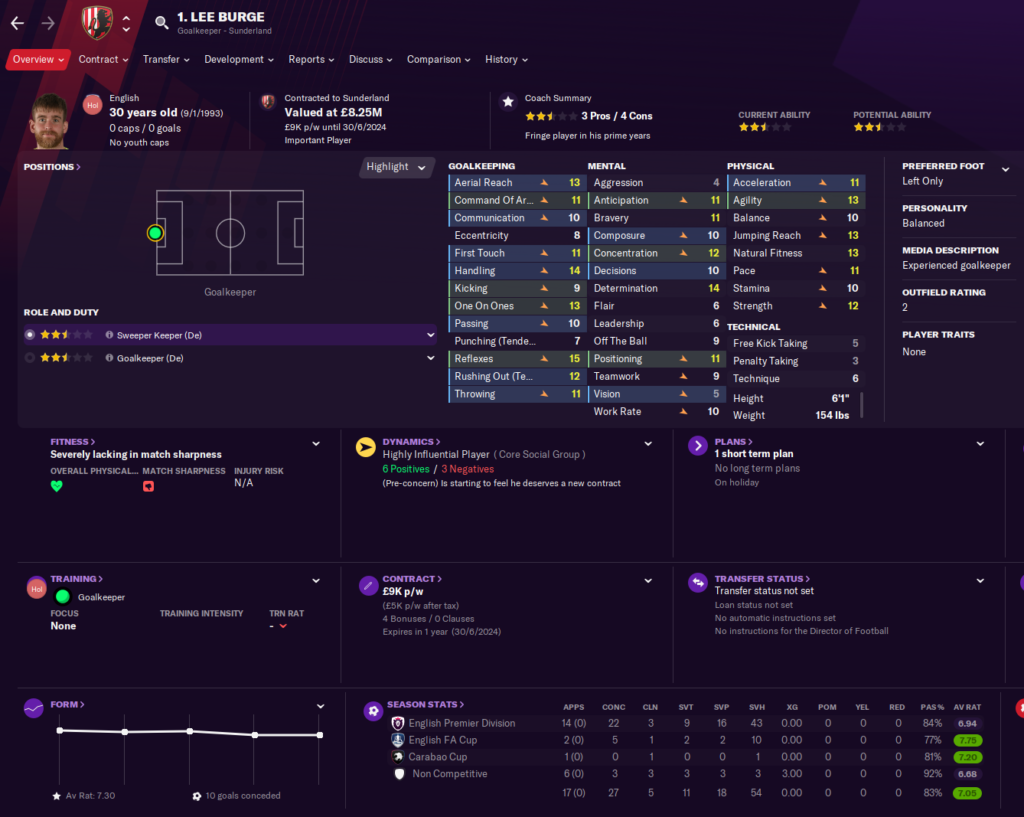 Burge is similar. Not terrible, but declining rapidly as he hasn't had as many minutes. I'm happy to keep him on the books one more season as the backup.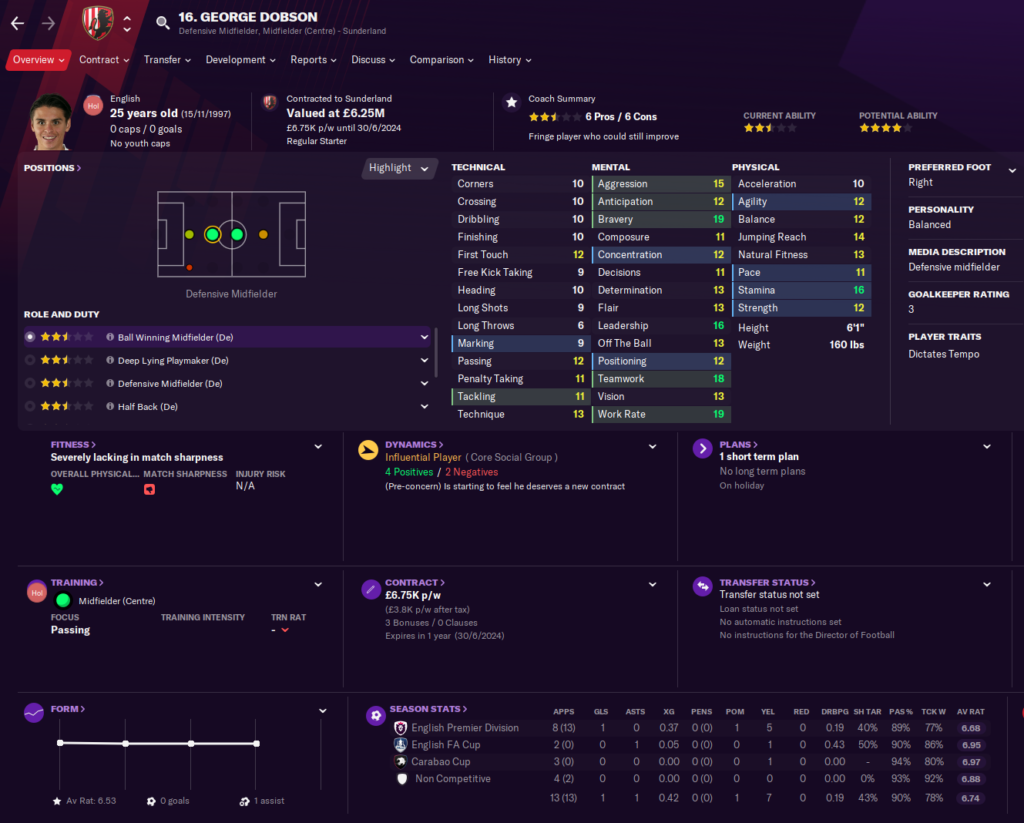 Dobson is worse. He needs to go, if I'm being brutally honest.
The first of the release clause dominoes fell. Emi Martinez, signed on a free in January, has left for Bournemouth.

Maybe I should have tried to get a higher relegation release clause, but I thought we'd stay up and it would be moot. I also thought, "well, if we go down, 12.5m for a player signed for free is pretty good…" And here we are. Good luck, dude. You were kinda rubbish for us. Now I gotta replace him.
Thinking about my midfield situation, I've decided to let Moder leave. He was great for us in the Championship and okay in the Premier League, but he's a loan player, and I'd rather develop my own players than someone else's. I considered keeping him, and Brighton only wanted 12m to make the move permanent, but when I looked around, I found other, better options to play as my deep-lying playmaker and box-to-box midfielder.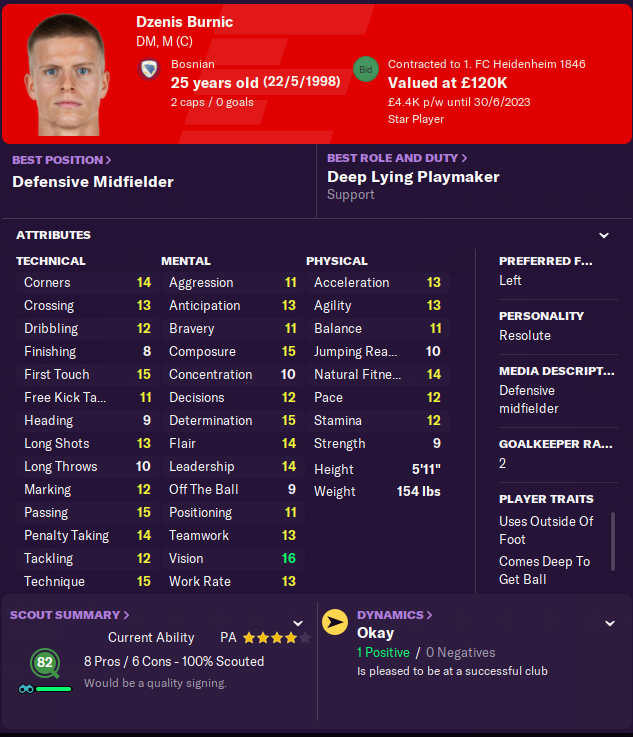 Dzenis Burnic fits the bill reasonably well. His personality is "resolute," which is helpful for a team that seems a bit Spursy. I need more professional, perfectionist, and resolute players to help my wonderkids grow. Dzenis looks to be a downgrade on Emi Martinez physically, but when you look at the actual stats, it's not so bad.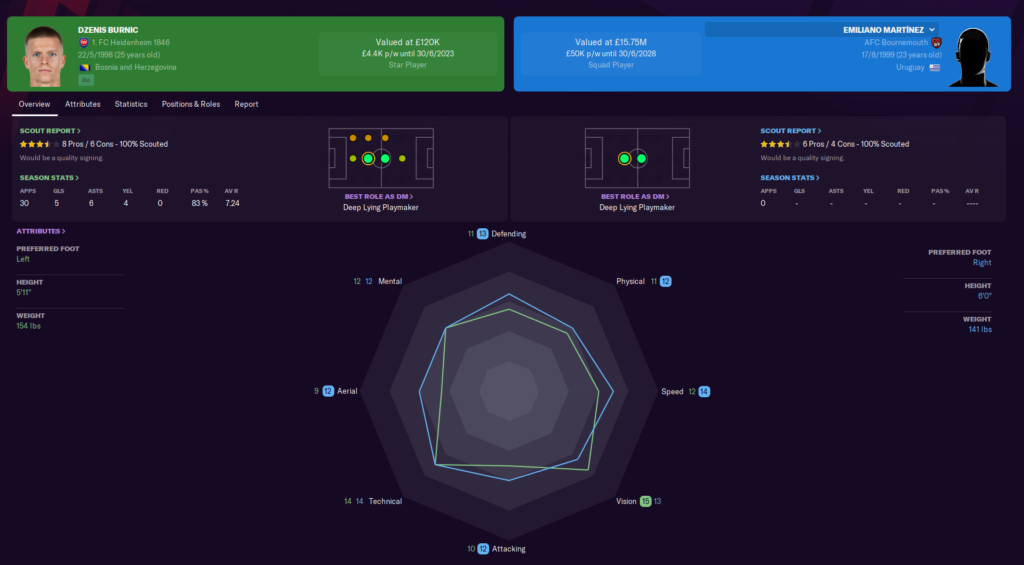 His higher aggression will help in the midfield, and he's a better passer. His concentration and decisions could be better, but he has high determination, which will help him mentor my wonderkids. He'll do fine as my deep lying playmaker. Oh, and he's free. I could spend money on a midfielder, and I probably will, but he looked good. I love a bargain.
Long-serving utility man Luke O'Nien left for League One QPR for 550k. I could have gotten more had we stayed in the Premier League. Alas.

I'm not going to directly replace him, though I do still need a second incoming midfielder.

The second relegation release clause domino fell. This sucked. I had just signed Jimmy to a new contract, and I was AN IDIOT and included a 10.75m relegation release clause. He even got 10% of the transfer fee, so he picked up a cool 1.1m bonus for the move.
Rather than let all my starters leave, I decided to be a bit more proactive.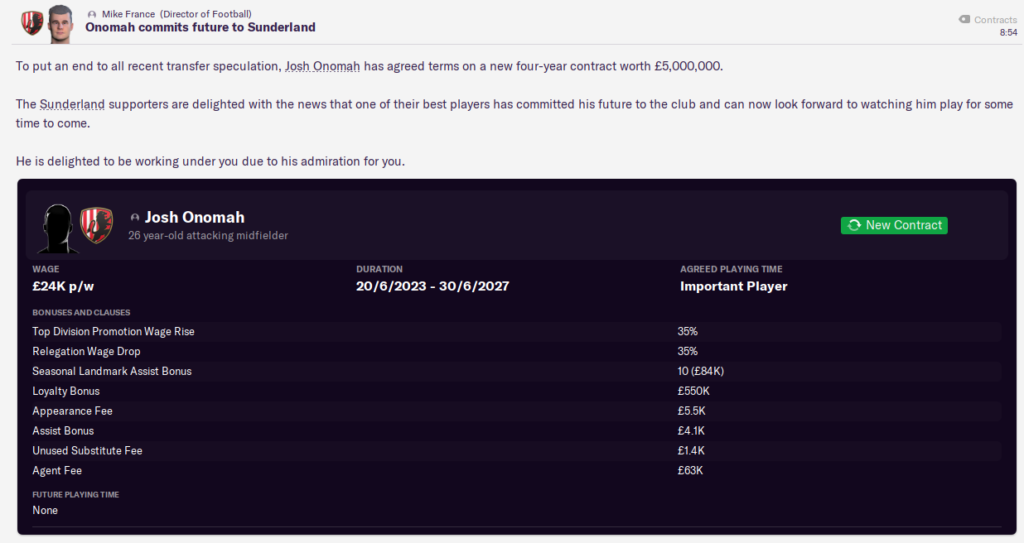 Is Joshy a brilliant player? No, not really. Is he a versatile player who has played a ton of minutes for us over the last two seasons? Yes, 100%. This keeps him on the books until he's 30, which hopefully means I sell him before then after our first season back in the Premier League. It also means we got rid of his 5m release clause, which was much too low for how important he has been to us.
Hey, you remember how I keep kicking myself about spending a bunch of money on a Scottish wonderkid? I've done it again, but this time for a Serbian wonderkid!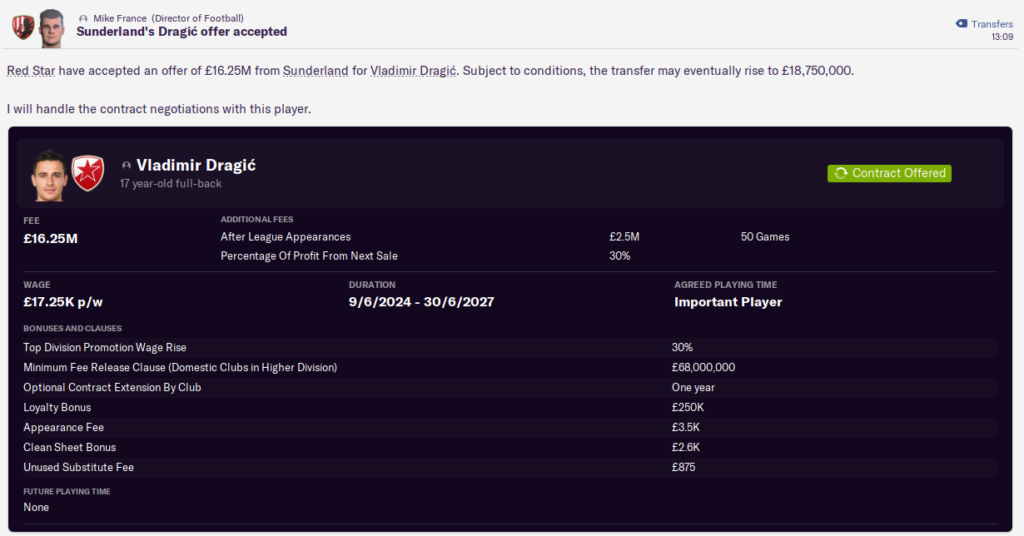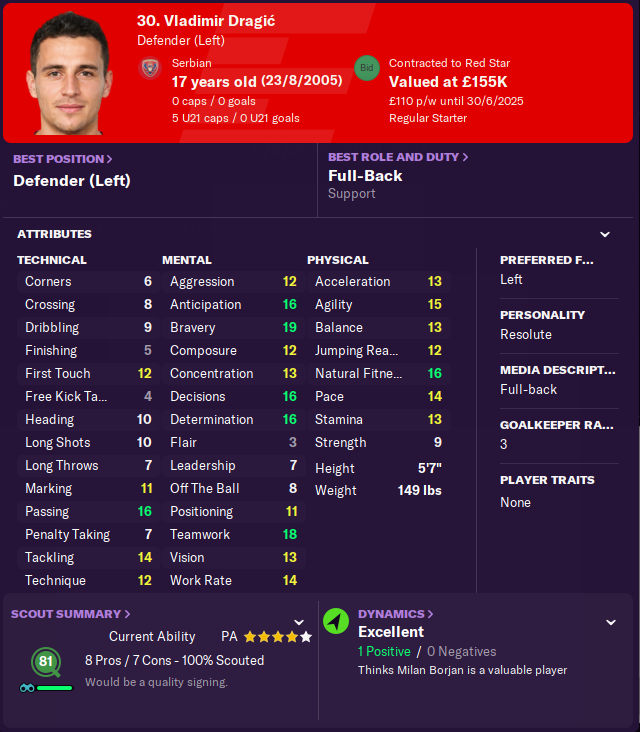 Dragic is set to join us next summer (because I have too many incoming youth players this summer… eek). He will be my Dennis Cirkin replacement. His mental abilities are amazing at only 17 years old, and his personality is Resolute, so he'll likely reach or get near his potential. His physical stats are good and will improve. His passing is incredible. His defensive stats are good. His crossing and dribbling suck, but they'll get better, and I'm willing to make him more of a fullback than a wingback. The negatives are the 16.25m transfer fee and the 68m release clause, but I am actually cash-rich this summer, and this represents 18% of my budget rather than the 50% Lee Farrell did. That release clause will be moot if we're promoted, too, so it's much less of a worry than a lower relegation release clause would have been.
Also, we just had three players leave for a combined 24m, so I have money to spare without putting a dent in the overall bank balance. (Yes, I'm trying to justify this to myself, but I truly think this is a good deal for the club.)
I picked up another South American wonderkid. (I need to run the NewGAN tool again to update all the regen faces.)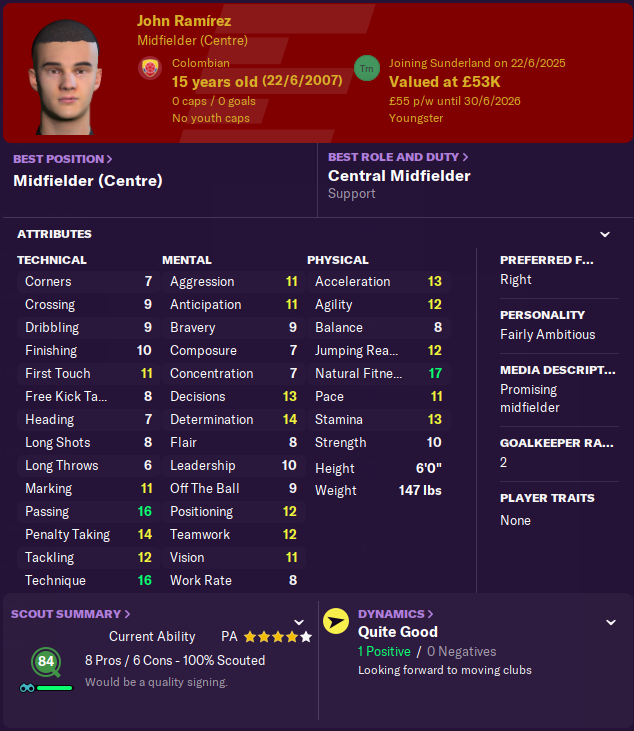 John Ramirez is only 15, and he cost a bit under 1m. He's set to join in two years, so he won't impact my immediate limit of six under-21 foreign transfers per season. For the price, I thought he looked like a good gamble given his age. He could be incredible by the time he reaches us. He could also be a decent squad player that gets sold after 6-12 months. I don't think I'll regret the money, at least.
Haha, check this out. In looking for another midfielder to replace Moder, one of my scouts even suggested this:

I rate the lad, but not quite that much. He won't even be here for two years!
With Moder leaving, I decided we needed a little more veteran depth in midfield to provide cover for the defenders. I love wonderkids, but they're part of a balanced diet, not an end unto themselves. Also I can't sign any more this window.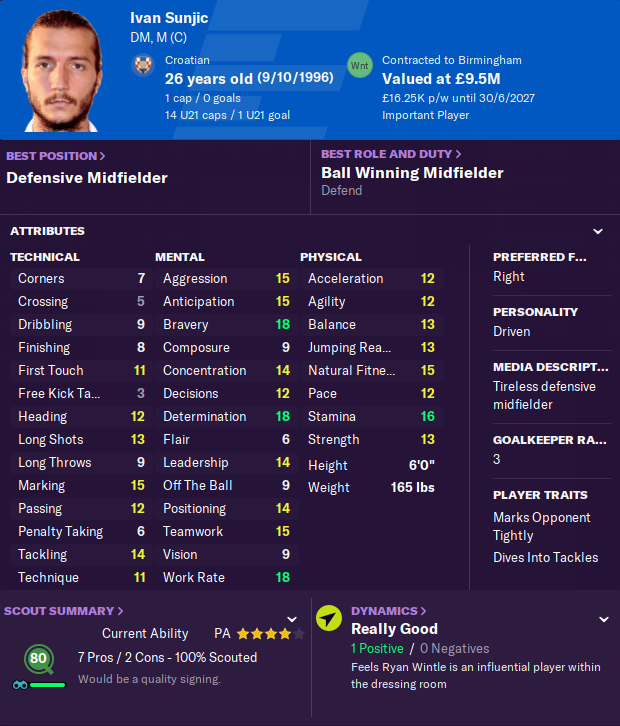 He's a pretty solid midfield destroyer. Good marking, good tackling, high bravery, high work rate. He'll run his socks off and give us a solid spine. For 6.5m with a 1.9m addon if he plays 50 games, I figure it's good value.
Burnic can play DLP, Sunjic can play CM in support or cover the more defensive duties, and Farrell is already looking like a great progressive passer. MAX POWER can pick up minutes to cover for fatigue and injury. I'm liking this midfield more and more.

Not a surprise, but still sad. Fans of the Premier League, we shall return!
Kyril popped by my office with his expectations for the season.

We can and should do better in the league, and I couldn't care less about the cups. If we're near the top of the table, Kyril won't care, either.
Preseason training kicked off in late June, and a bid came in for Denver Hume. I was inclined to keep him as cover, but he's frankly not good.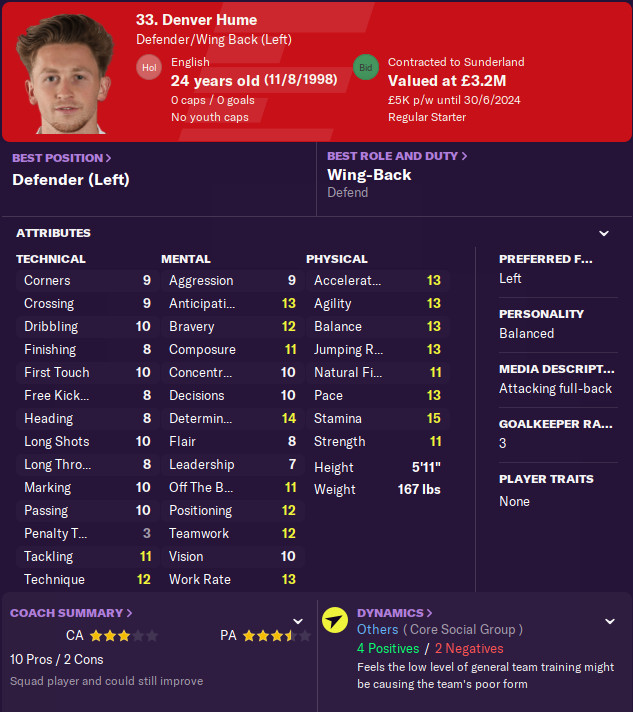 Safe travels, friend. You have been helpful.
That leaves us with minimal cover at left back, so I went scouring the world again and turned up another solid-looking player with an expiring contract. Victor Hugo is set to arrive in January. I'm a little worried about yet another foreign youngster, but maybe the rules are per calendar year? Right? I hope!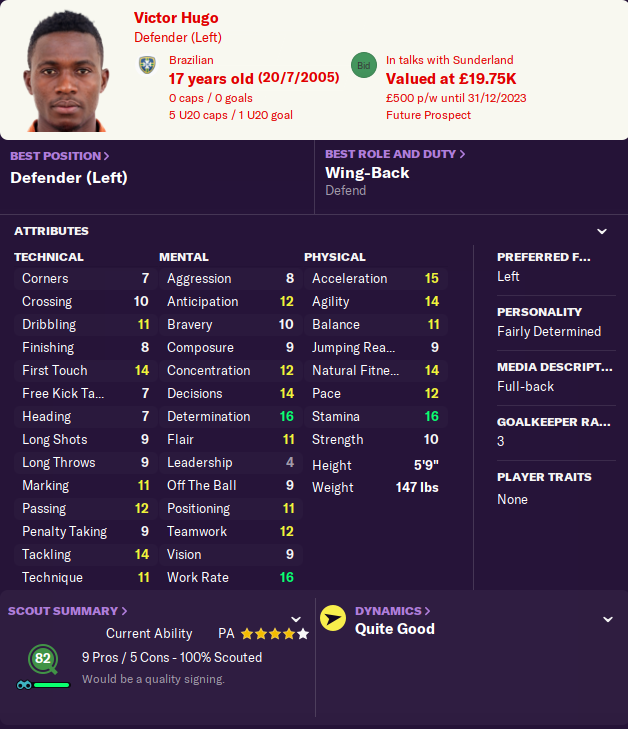 I'm signing every famous writer I can find as a matter of principle. Hugo is joining us on a free, which feels fitting for a writer. He types, grimacing.
In outgoing news, a few fringe players departed.
George Dobson went to Nottingham Forest for 1.5m. He fetched more than I would have expected 24 months ago and far less than I had hoped six weeks ago.
Jordan Willis was supposed to go Wycombe for 350k, but he rejected their contract. Remember that Bailey Wright deal for 2m to LAFC that fell through? What is it about these League One centerbacks getting my hopes up and then dashing them. I finally got rid of him just as the window closed.
Isak Solberg, mentioned above as the "break glass in case of emergency" keeper, went to Brentford for 525k plus 200k addons and 50% of the profit from the next sale. He may develop into a good keeper, but he wasn't in my plans. I'm happy to make the money on a free signing, though.
It feels a bit ignominious, but Ross Stewart has left the club on a free. The man scored 30 goals for us and powered us from League One to the Championship. I've sent a case of whiskey and a handwritten note thanking him for his service. He did land safely at Sheffield Wednesday, back in League One. I hope he fires them straight to the Championship like he did for us.
Bailey Wright has finally departed the club. He signed on a Bosman (free) transfer with New England Revolution back in the early early spring. Farewell, Bailey. You were a good player for us in League One.
Another higher-profile departure made my feed.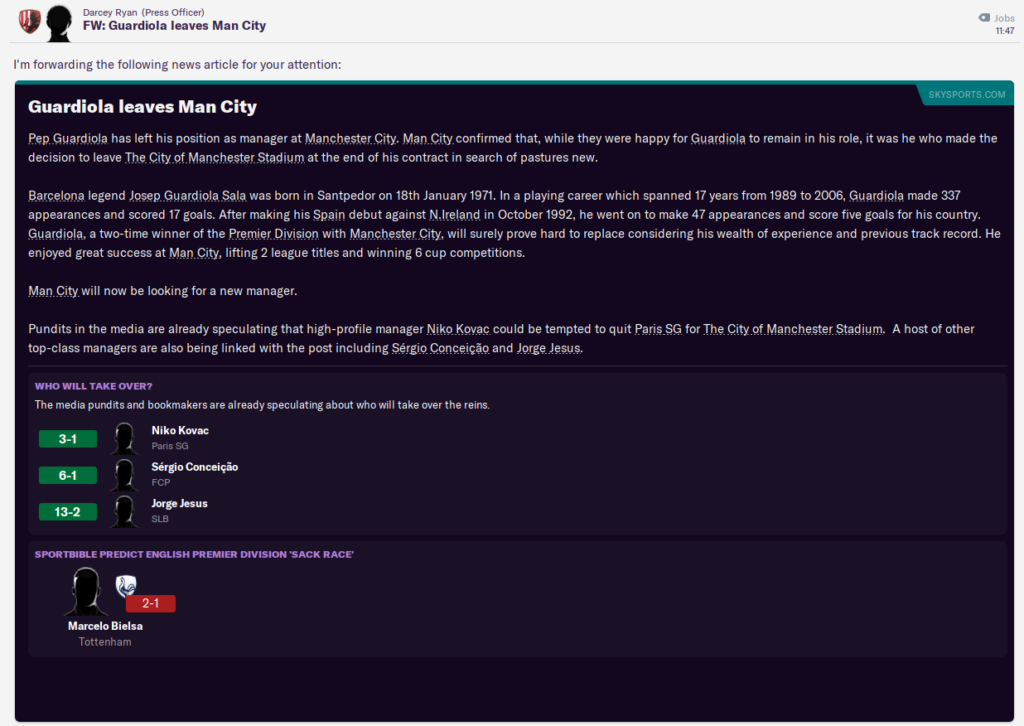 Whoah. Pep is gone. Txiki did not call me about the open position. Must have misplaced my number.
As our first match approached, I was bullish. We got pummeled last season, but we've learned from that and came back better prepared. I will be disappointed if we aren't in the playoffs. The revamped squad is better than the old one, and the players that were here before have improved. I think automatic promotion is within reach. I'd call it something like 25% win the league, 25% automatic promotion, 45% playoffs, 5% miss the playoffs.
After destroying all competition in the preseason, we started the Championship in early August with high morale and excellent cohesion. My first-choice tactic is the old 4231 that we used previously.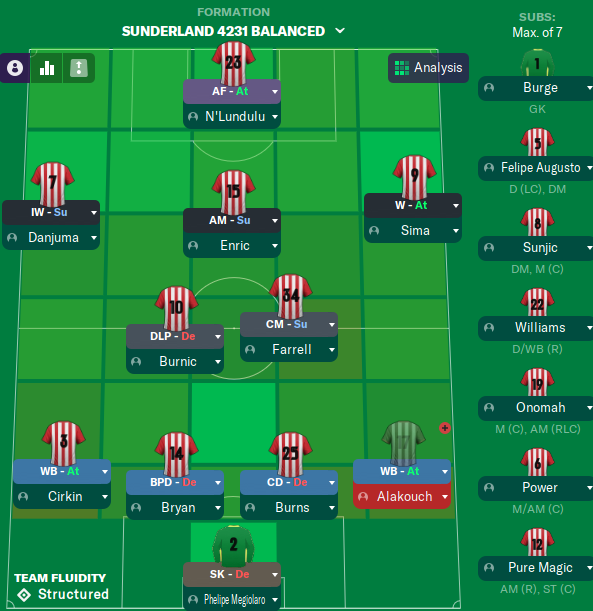 This will let us dominate possession, generate lots of chances, and hopefully score lots of goals.
We're fluid in most categories, and the rest will follow as the newer players get more time in their roles.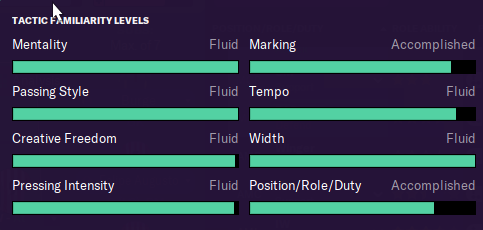 Our corner routine is as boring as vanilla ice cream, but it works. Fire the ball at the tall bloke's forehead and see what happens.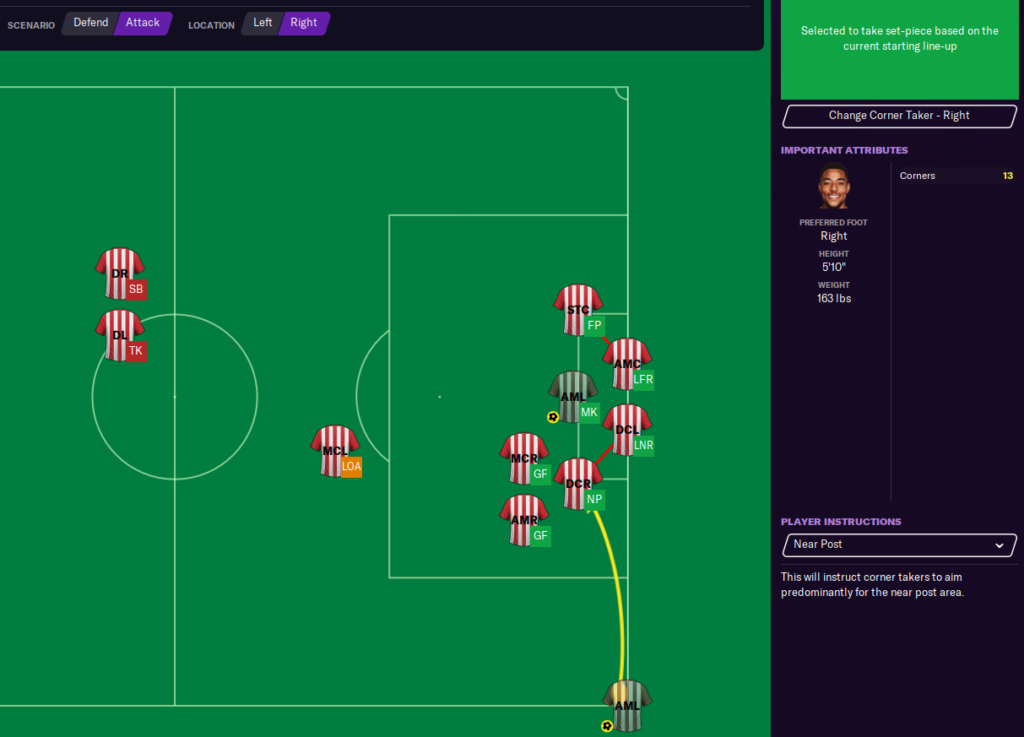 We dominated the first three matches of the season, though the scoreline didn't always show it. 2-0, 1-0, 1-0 meant we took 9 out of 9 points and looked good in the process.
The fourth match was in the Carabao Cup against fellow Championship side Huddersfield Town. We crushed them 4-0 and averaged out the xG from the earlier matches. Pace yourselves, dudes!
My Serbian wonderkid, Cikic, was supposed to give us depth at the wing so Sima could move forward, but he hasn't gotten his work permit yet, and I had to send him on loan to MLS. I'm hoping he can get some Serbian youth callups while he's at San Jose. Part of the problem is injuries. Enric has been hurt, and Gooch picks up a knock every other week. Hopefully Enric's return to the lineup gives me flexibility on the right so I can rotate Sima up top more often. In the meantime, I've taken Brad Laws off the loan list. He'll be the cover and go out on loan in January.
Our first setback of the season came at home against West Bromwich Albion. A first-half goal from West Brom ruined our perfect streak of clean sheets, but we scored two of our own and took all three points after dominating the second half.
We followed that by going to Swansea and losing 0-1 in a match where–you guessed it–we were the better side. More shots, more shots on target, better xG, but we couldn't finish and a defensive error gifted Swansea their goal. If you stick to the "process over results" mantra, we did fine.
As I feared earlier, our under-21 foreign signings limit has struck.

On the plus side, he was the player I was least happy about, so it's not a big loss. My real worry is what happens in January when Karel Hysky and Victor Hugo are supposed to join. I have a feeling I'll be trying to sign Victor on a contract starting in the summer. Oopsie. I just hope he'll accept it.
We visited bitter rivals Newcastle United to close out our eighth (!!!) match of the month in the 2nd round of the Carabao Cup. It went poorly, but that was largely due to an early red card. We held a 2-1 lead for much of the match, but the wheels fell off at the end, even with my usual shithousery. Some days you're the dog, some days you're the hydrant.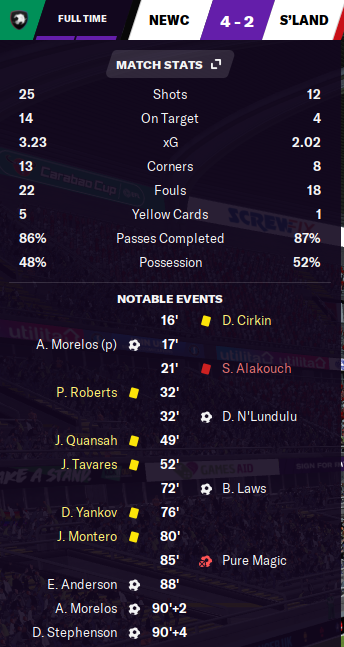 I'm not going to lose sleep over it.
Kyril popped around after the match with some notes on our financial performance.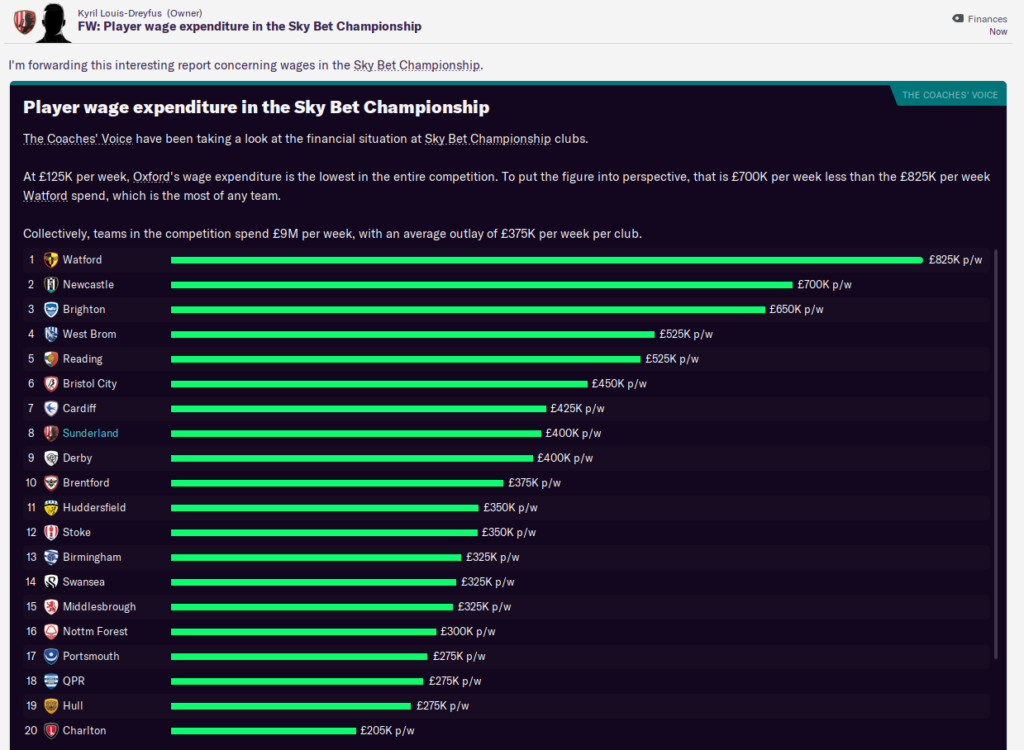 We aren't the biggest spenders in the division, but we're not quite the scrappy underdogs we used to be, either. Eh, I can try to spin it, but Sunderland should be the biggest club in the Championship. There are good teams in the division, but we're now one of them with the players to back up my confidence.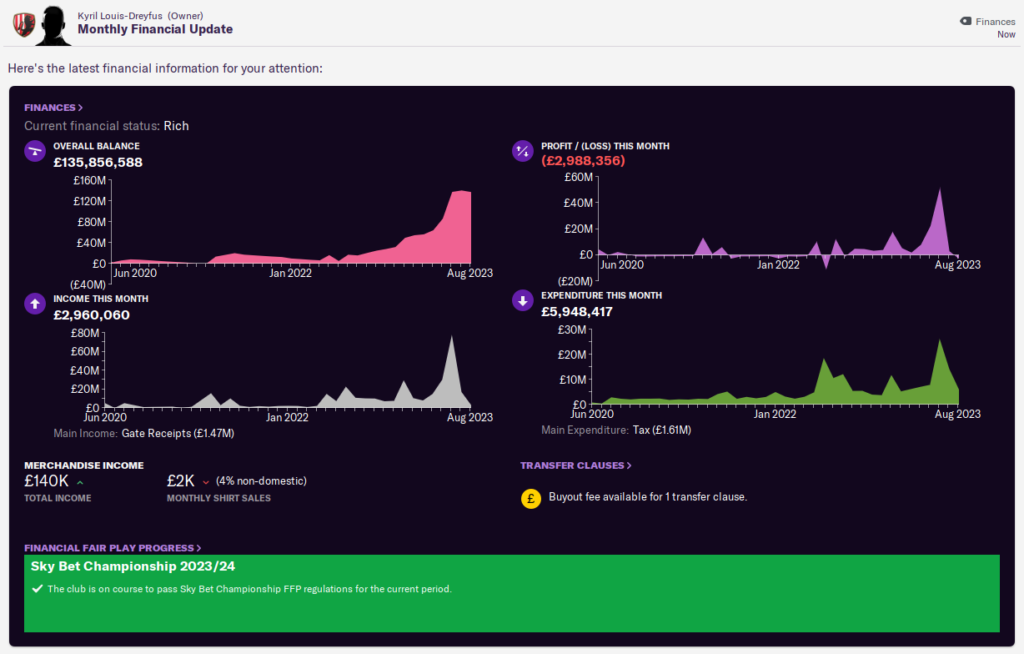 We're rich, biatch. We lost money on the month, but we have gobs in the bank. I'm curious to see how much we lose in September, but we should have plenty to see us through the season. If we don't go back up, the next season could be a little more worrisome, but now that I have capital to work with I feel confident I can bring in free and cheap players, improve them a bit, and sell them for a profit. The pre-promotion Brentford model, basically. I'm already well on my way.


Our transfers spanned June and July, so technically two seasons, but all during this transfer window. We spent 17.8m inbound and gained 30m from outbound. I wasn't trying to be thrifty, but I wanted value, and I feel like I found it. Our starting 11 is strong. Our backups are good. We're not as deep as maybe we need to be, but we are rich and can spend more in January, if necessary.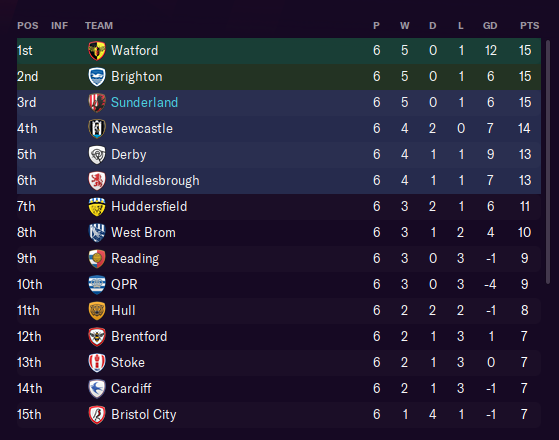 It sucks that we're looking at the Championship table and not the Premier League table, but things are about as good as they can be. We're in a three-way tie at the top of the table. I'm confident we can beat every team in the division. We'll drop more points, but we have the quality to finish with a higher total than last time.
After 8 matches in the month, I'm knackered. That's it for now. See you next time, footy nerds.