Welcome back, footy nerds. If you're just joining, the previous installment is available here, and the first installment in the series is available here.
Never let it be said that I'm not sentimental. Against my better judgment, I've given Max a two-year extension with a club option for one more. He's been hinting at wanting a new contract for the last year, and I felt like we either did it now or we let him leave on a free next year and piss off the entire squad and fan base.
He's a marginal Championship player at best, but he's still our captain and the most influential player in the squad. My thinking is that he'll be useful this season, and if we go up and he drops to being a sub next season, that's okay. I'm hoping I can convince him to become a coach for us before he starts complaining about his lack of playing time.
While I was feeling generous, I gave Arnaut Danjuma a new contract, too. He actually deserved his, and it allowed me to remove his release clause.
I might be overpaying him, but he's been outstanding. "A leading player for most Sky Bet Championship sides" with Premier League potential. He's also running an 8.08 average rating over his last 5 matches and 7.7 for the season on the back of 3 goals and 3 assists in 9 matches.
At the end of September, we were in good shape. Two losses in the league, but generally good form.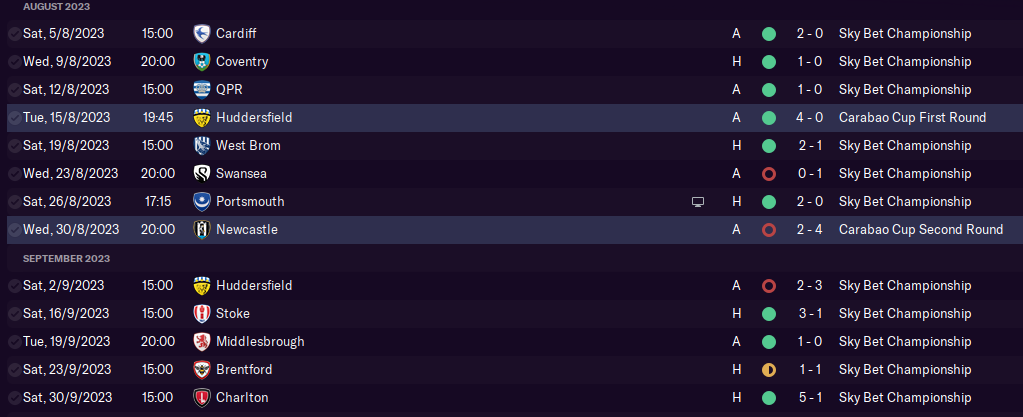 The Huddersfield loss was at the end of a run of far too many fixtures in far too little time, and we were carrying a number of knocks on top of an exhausted squad. The Brentford draw was annoying due to us dominating the match and allowing them a late equalizer. Overall, I can't complain, and we rebounded nicely by smothering Charlton with 5 goals.
Watford have been on fire, with Daniel Podence scoring 7 and creating 5. Oussama Idrissi has been right on his heels with 5 goals and 4 assists. It's a long campaign, and someone else may overtake them, but they look like our biggest competition so far. I look forward to taking them down a peg when we see them in November.
The October financial report came in.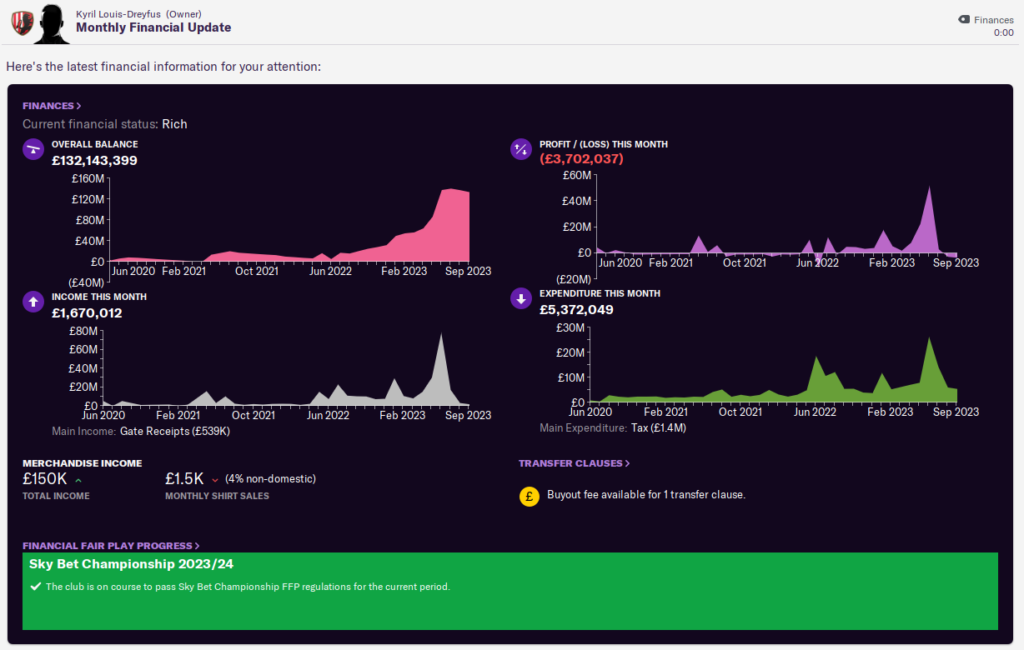 We continue to be rich. I'm not concerned about the 3.7m loss. Nearly half of that (1.4m) was taxes, which shouldn't be a concern next season given how much money we're likely to be losing this season.
Our second major injury of the season (after Enric) has hit.
This is why we signed two veteran midfielders in the summer. We're in a weird spot where I feel like we need about two more players to have the right level of cover, but if we had them and everyone was healthy, I wouldn't have enough minutes to go around.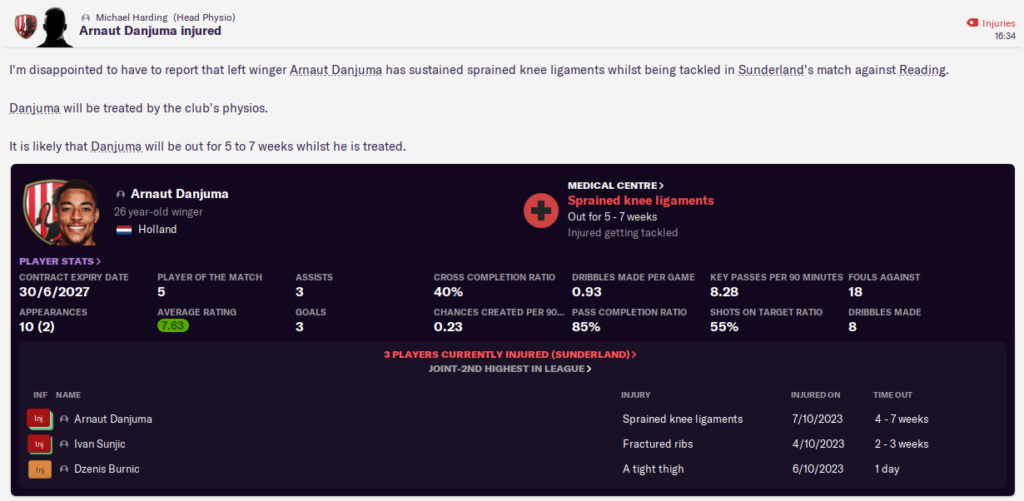 One match later and Danjuma joined Sunjic in the physio's room. Five to seven weeks out. That. Sucks. Left-wing is my thinnest position with Danjuma and N'Lundulu being my main guys. Cikic was supposed to cover it before his work permit failed, and Enric has been injured. The good news, and I use the word "good" here lightly, is that Cikic has been getting minutes with the Serbia U21s, so he might actually have his work permit in January if he's able to play in their October and November matches.
Okay, damn it, this is getting old. That's both my new midfielders hurt for multiple weeks, simultaneously.
Some people eat when they are stressed. Some people buy new shoes. I go shopping for youth prospects.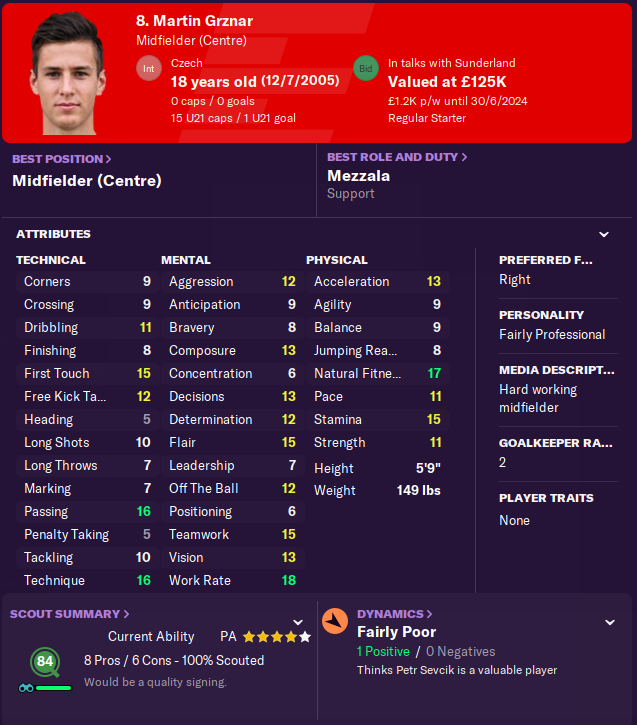 I made an offer on this kid. He's a decent midfielder with great passing and a great work rate. He even passed his work permit. But when it came to finally sign him, I hesitated. With only 6 international slots available for next summer, I'm not sure I want him to fill one. We have Dragic and Hugo on the way, and I was perusing the Serbia and Croatia U21 teams and it feels as if we can do better.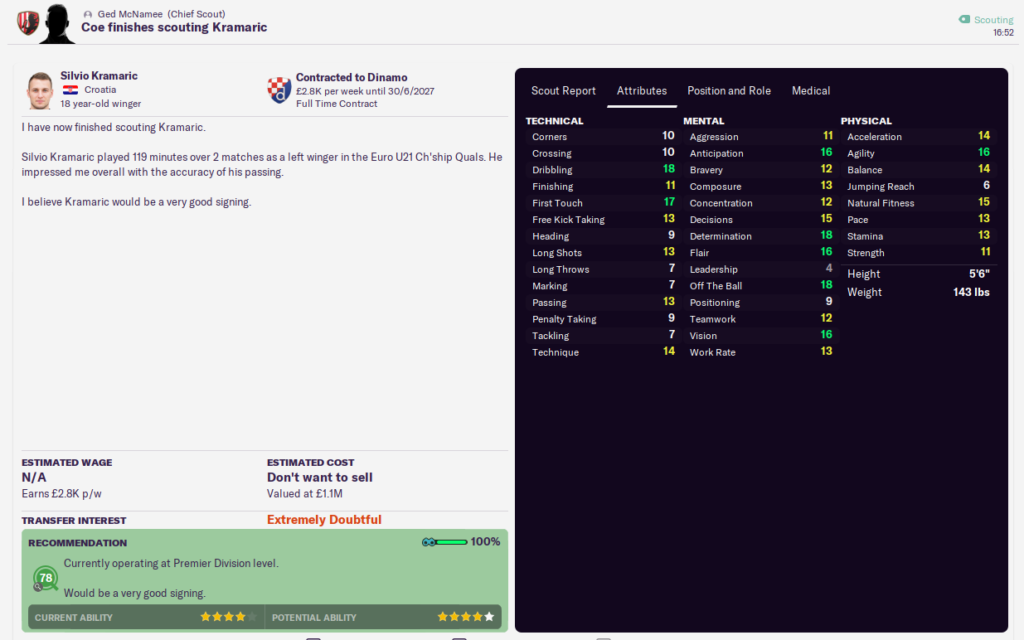 Look at this kid, as an example. He's amazing. He doesn't want to play in the Championship, but if we go up next spring? I'd drop 15m on him in a second.
Kontek isn't quite as good as Kramaric, but he's at least comparable to Grznar, so I know it's not a once-in-a-lifetime opportunity to sign Grznar.
I canceled it. Grznar is good, and we'd make money on the deal, but we don't need money. We need quality, and I just think we can do better with those precious under-21 slots. The Brexit rules are nice for getting kids in from South America who only have youth caps, but they suck for building a wonderkid army.
One of the the things I've realized as I've been scouring the planet is that there's a tier of wonderkid I can get, and a tier that I can't. Not yet. Kramaric is a "not yet," and so is this absolute beauty.
Soon, lad, you will be a Black Cat. Here's another, though it's not exactly a challenge to find promising youth players in the Real Madrid academy.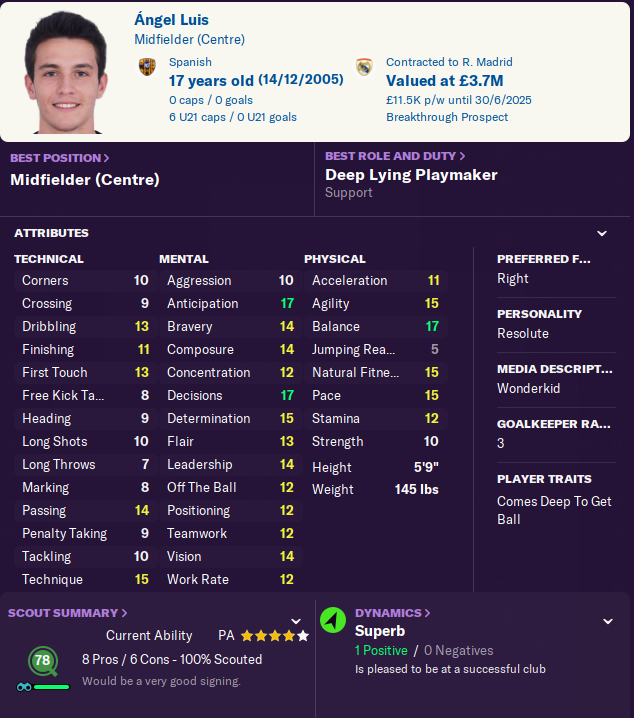 I found two others that were interested in joining.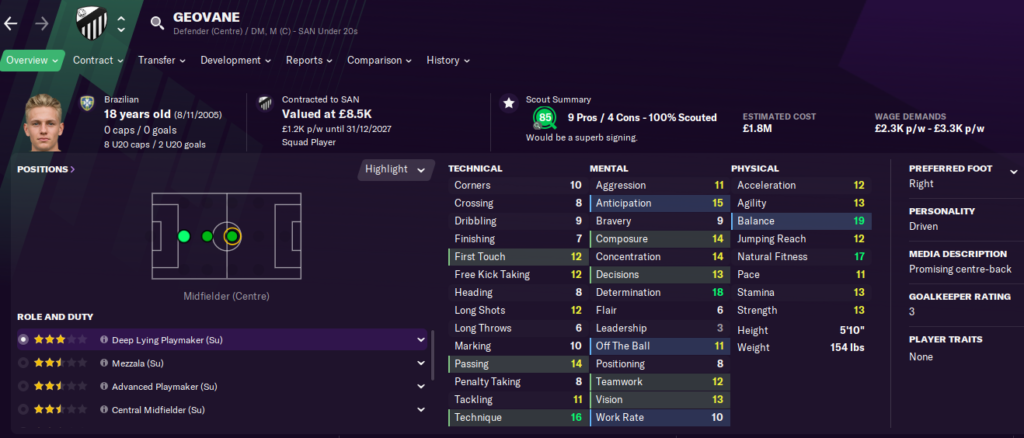 Geovane is a weird player. An allrounder, which I like, but at centerback and midfield? He has a 1.8m buyout, but I can't activate it yet due to having six prospects already signed this season. As soon as the January transfer window closes I'll activate it and have him arrive after the season ends. (Update: he signed a new deal that removed the clause before I could get to him.)
I have an offer outstanding on this lad: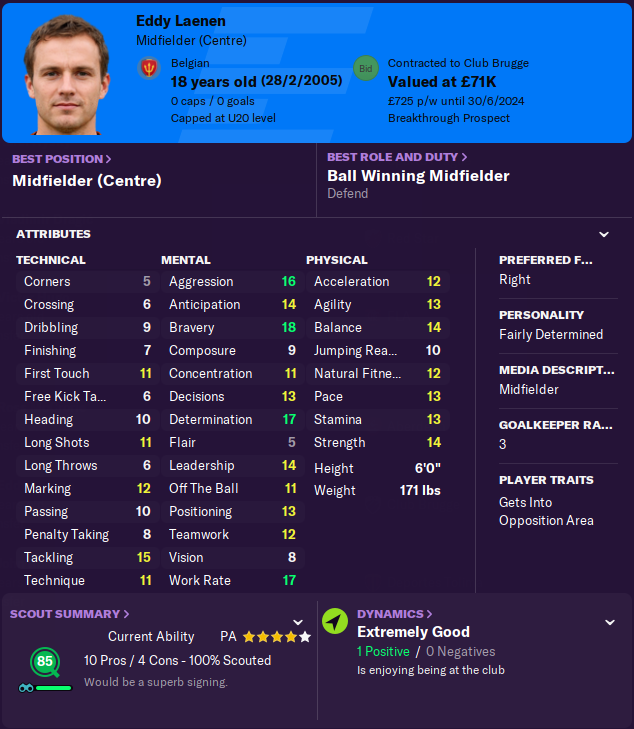 He looks a bit better than Grznar and more likely to reach his potential. The fee is 1.7m (who says money can't buy happiness; it can buy wonderkids!), and he's set to join us in the summer. He'll be a fantastic midfield destroyer in a couple seasons.
Okay, I have to be honest. The guys I'm signing aren't technically "wonderkids." That's an actual media description, which you can see on the profiles above. Anyone that's an actual wonderkid won't join Sunderland (yet). I'm finding players that look almost as promising and will improve our squad immediately while growing into top-tier players in a few years. Maybe they aren't the next Haaland or Mbappe, but maybe they are the next Son Heung-min or Jordan Henderson, and those guys are important, too.
Okay, enough wonderkid hunting. Back to the matches.
We went to Derby with a pile of injuries and played our worst match of the season.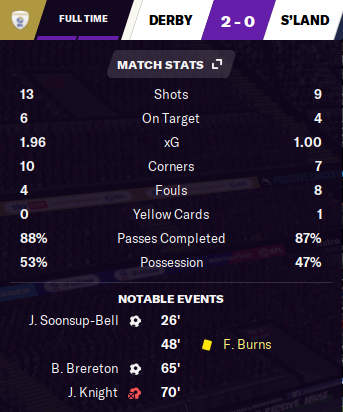 It turns out that having three of your starters in the physio room has an impact. This is the Debry that knocked us out of the FA Cup 2-4 in our last Championship campaign, and they're pissing in my cheerios again. We will have our revenge in the reverse fixture.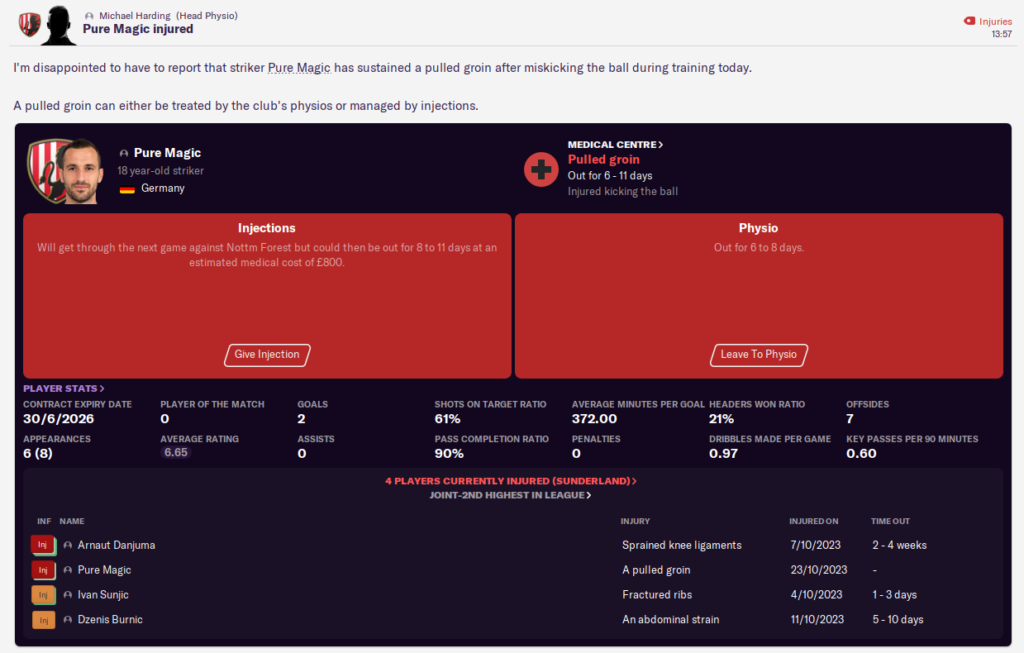 FFS!
At least we have MAX POWER to see us past the likes of Nottingham.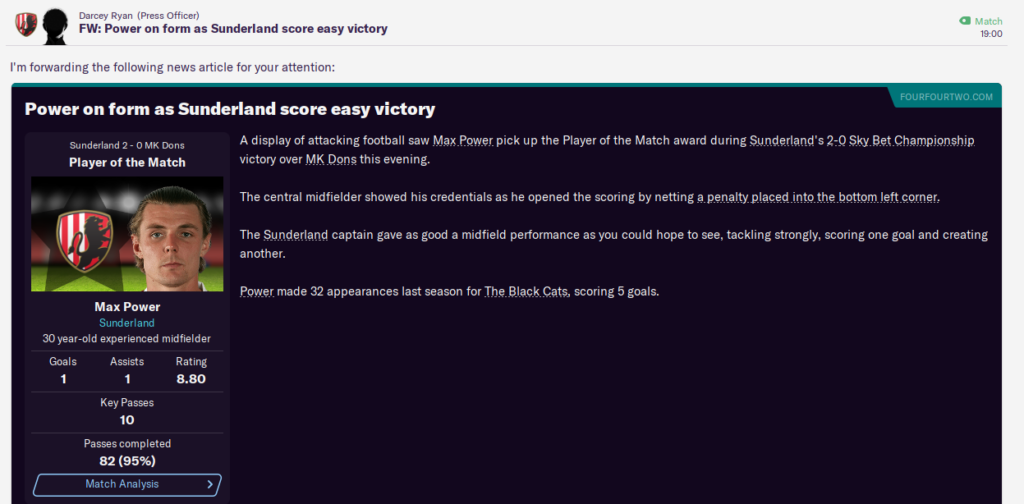 The man is an assassin. I like winning. Let's keep doing that, shall we?
Felipe, my son, you're gonna bankrupt the club.

His wages are criminally low, and he's probably going to be on 25k a week before the start of next season. He'll be worth every pence of it.
Look at those stats. That rating in the league. Felipe is the kind of player that makes me love this game.
In other news, we've found another good run of form, and Abdallah Sima has been on FIRE at striker. Turns out putting your guy with great finishing and great decisions at the tip of the spear works well. Who knew? That'll be another upgraded contract to hand out soon.
Yes! Operation "go to MLS to earn some youth caps" has succeeded to perfection. Which means he can play at right-wing and keep Sima up front. Our forward line is looking good again.
Our rash of injuries has cleared up, and somehow we've come out of it with 5 wins in a row after that loss away to Derby.
And then Watford came to town. We played well, with more shots, more shots on target, and better xG. We had two headers from corners saved off the line at the back post, but the quality of Podence and Idrissi was too much and we found ourselves down 2-0. A second-half free-kick saw Finley Burns finally head a ball into the net, and we scored again at 90+1 to claim the draw we fully deserved. Honestly, scoring at 90+1 to earn a hard-fought draw is like 95% as good as winning.
At the end of November, we were in great shape.

Our November form earned me another piece of personal silverware.
Kyril popped by my office and wanted a chat. Before he could get a word in, I started showing him the stats on the new free transfer I've lined up.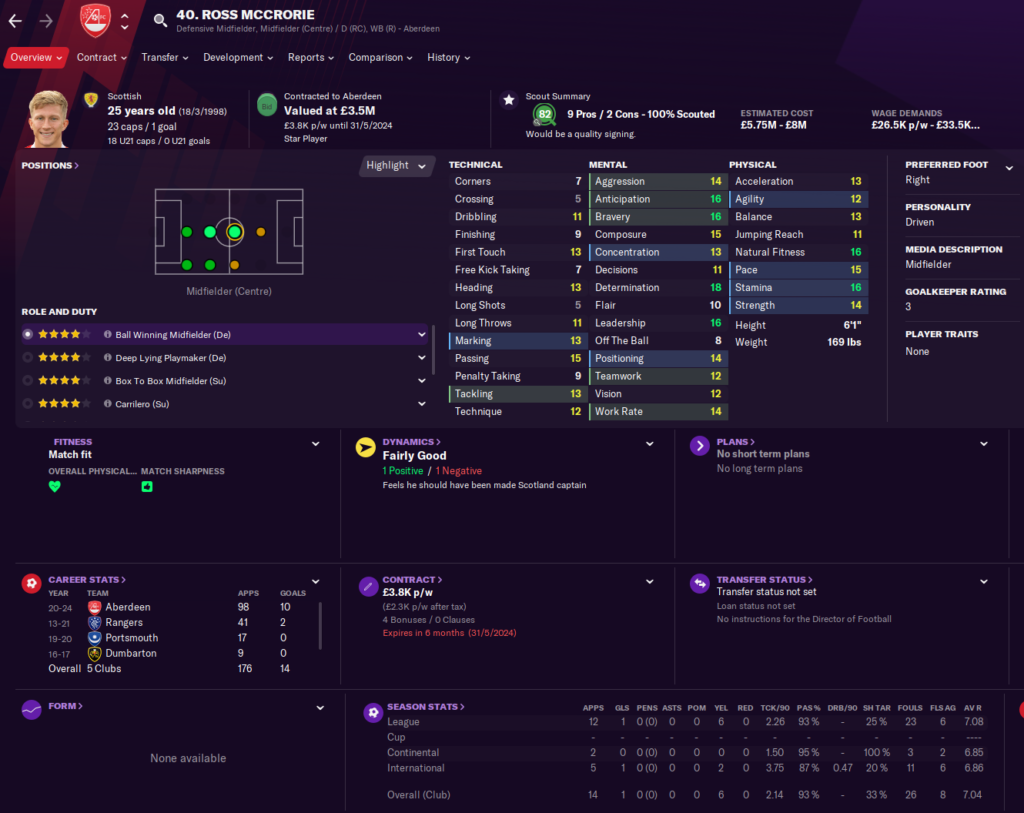 Me: I love a utility man, and this guy fits the bill like whoah. Isn't he amazing?!
Kyril backs slowly out of the room: I just wanted to say congrats…
Me: Contracts in Scotland apparently end on 31 May! I had no idea! Look at the VERSATILITY!
Unfortunately, the good times came crashing to an end. A trip to bitter rivals Newcastle ended our run of 6 wins on the bounce.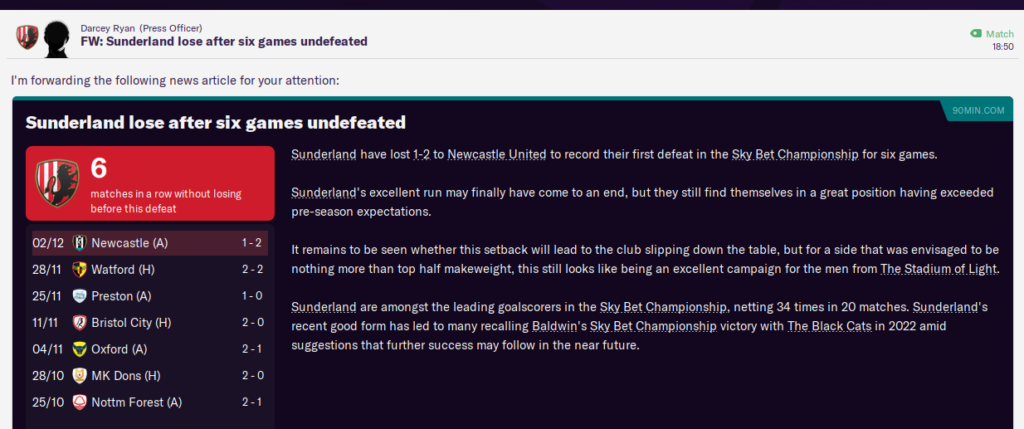 We were second-best, and we nearly took a point, anyway, but with Neco Williams out injured and Sofiane Alakouch picking up a knock in the match, we had to put MAX POWER at right back, and the poor guy got absolutely worked on the move that led to the winning goal in the 89th minute. I can't even be upset about it. It just means I need to get back to work to get us another rightback.
Back at my office, I was looking at the scouts' reports, and someone knocked on my door. Darcey Ryan, our press officer, stood in the doorway. Down the hall, where he thought I couldn't see him, Kyril lurked.
Darcey: Uh, boss, I have some bad news…
Me: Did McCrorie not sign the contract?
Darcey: No that. Um.
Me: Oh no, don't tell me Sima's gone down injured.
Darcey shoved a copy of the Evening Standard onto my desk and ran out the door.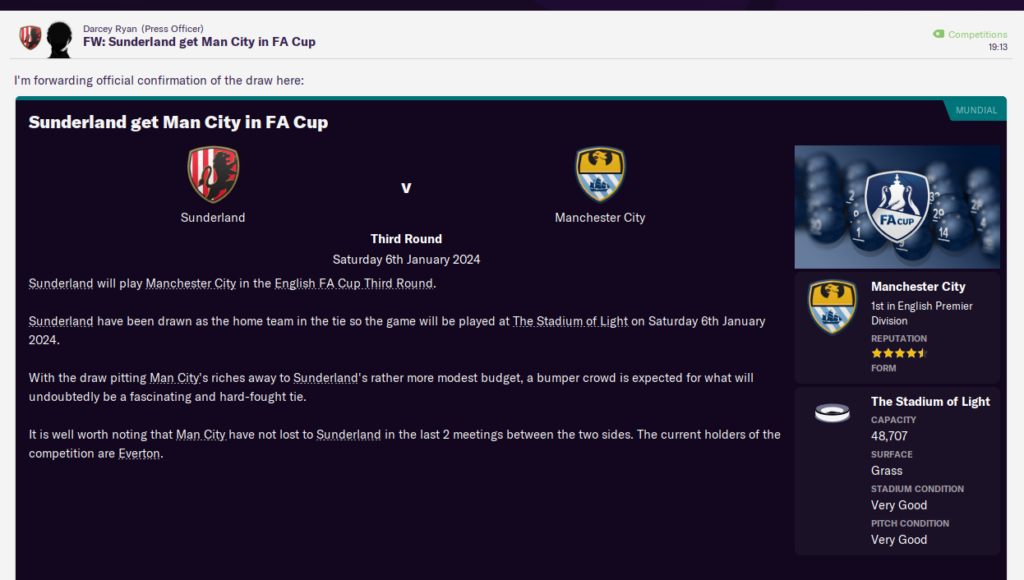 Well shit. Time to tweak our training:
Hope you like defensive training, lads. We're gonna be busy. It was also time to break out the 442 I've been prepping for the Premier League.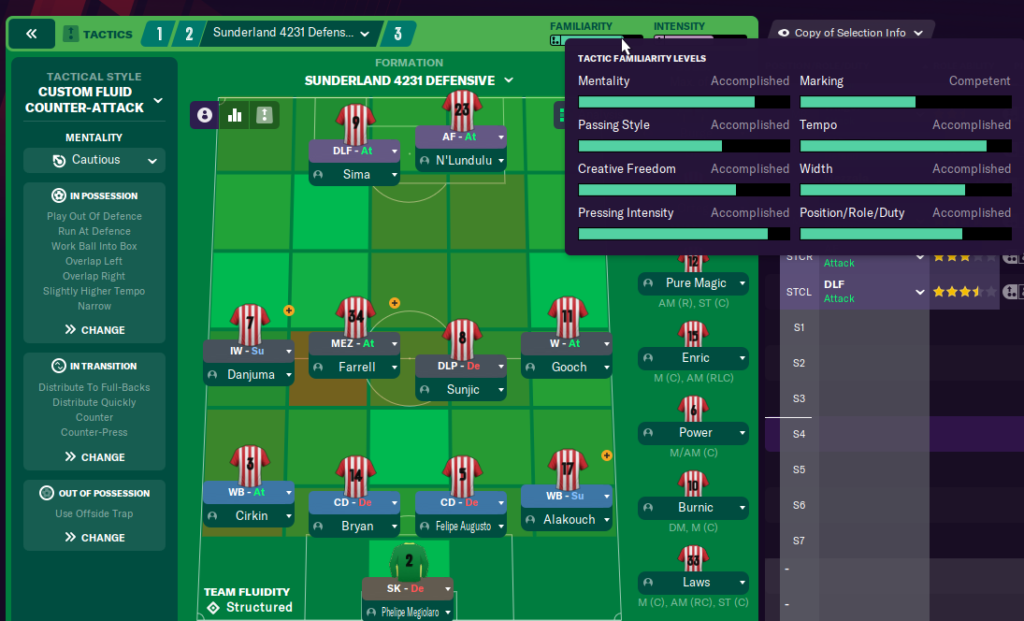 I'll probably regret this, but at least we have time to practice it.
Tactic trip report: I tried it away at Hull. We conceded once in the first half and offered nothing going forward. Switched to the 4231 at halftime and generated 18 shots, including 8 on target and 1.5 xG, but it wasn't enough to score more than one goal and take a draw. That was two points thrown away. Oops.
Our youth intake seems promising until you get to the final line. "Don't expect much from this youth intake." Bummer.
Me, slamming open Kyril's door: I just talked to Scully about our new prospect–
Kyril, furiously buttoning his trousers: Close the f***ing door, Baldwin!

What a wanker.
Later, in a meeting of the full board, I put forth the idea that we should always be looking to improve the club. With everyone else around the table nodding in agreement, Kyril caved.
He's all smiles now, isn't he?
This is a microcosm of December: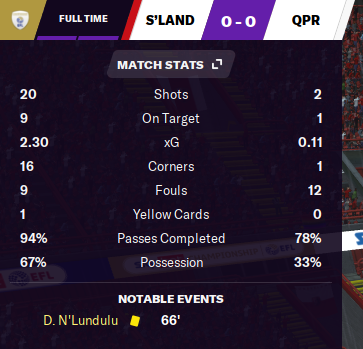 All that good work through the autumn, and then this:
If you're Cardiff here, do you feel hard done by that you couldn't take a point off a club that was apparently on a bender for an entire month?
The Coventry loss involved a Sofiane Alakouch red card for a horror tackle. I chewed him out for it, and he threw a hissy fit. Guess who's on the transfer list? I want him to be a good player for us, but this is his second red card of the season.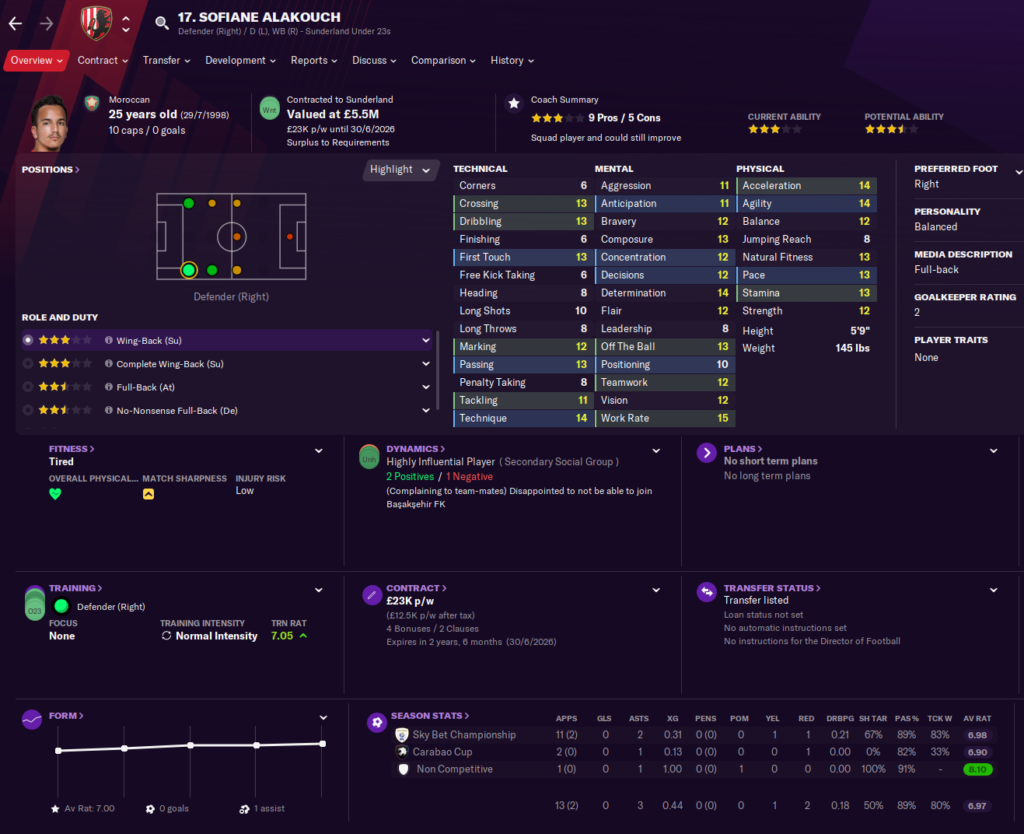 His stats are okay, and the 6.98 rating is actually good, but I will not abide someone that isn't a team player. If I can get 7m+ out of him, he's gone.
Our rubbish form means we've fallen down the table a bit.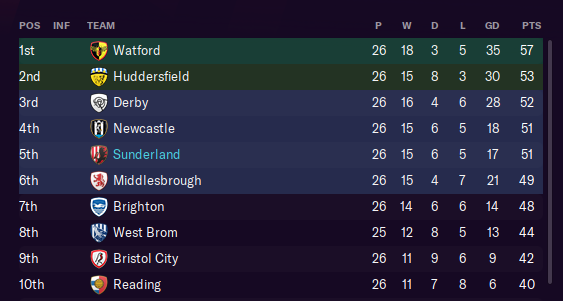 That said, we're 2 points from automatic promotion and 6 from winning the league. I'm annoyed, not worried.
That takes us to the end of December. January looks interesting with the signings that are about to fall through, Alakouch pissing me off, and Manchester City on the horizon.
See you next time, footy nerds.