Welcome back, footy nerds. If you're just joining, the previous installment is available here, and the first installment in the series is available here.
The last time we were here the club had just finished the 2024-2025 Premier League season, in which we were expected to fight bravely against relegation and actually secured comfortable mid-table survival, including famous wins over Manchester United, Manchester City, Tottenham, Arsenal, and Everton (four times lol).
The board have presented their expectations, and I have readily agreed to them.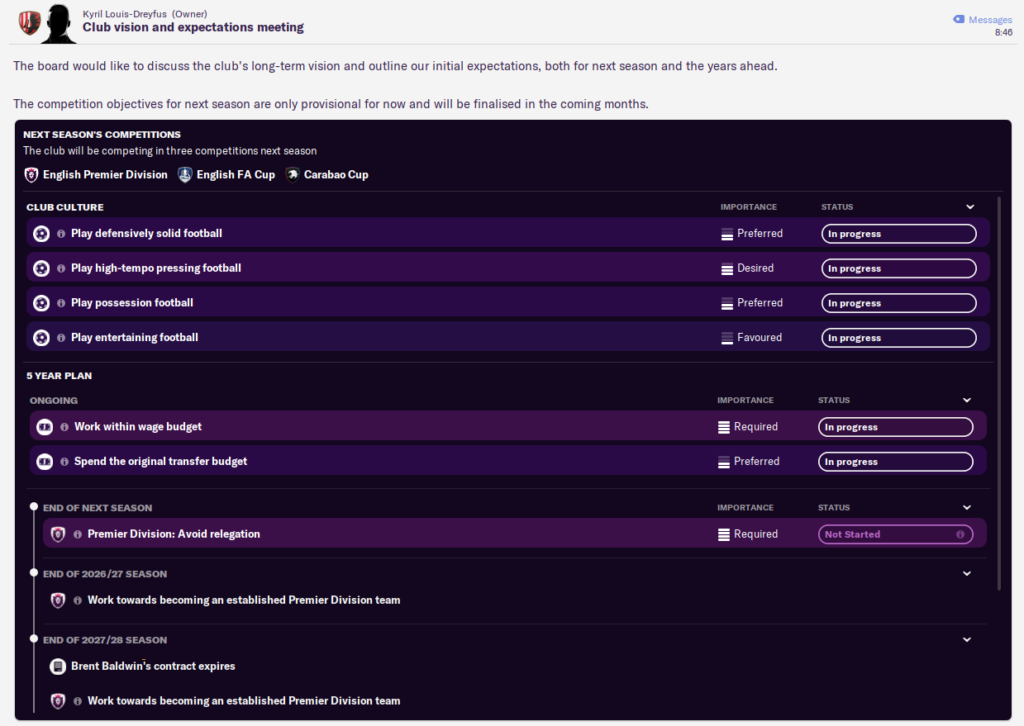 We shouldn't be relegated at this point. Our squad has enough quality to stay up. Don't tell the squad that, though. The knobs think we're going down were furious when I suggested we could avoid a relegation fight.
Current expectations are:
Squad: Relegation
Board: Avoid Relegation
Coaches: Qualify for Europe
The "Qualify for Europe" plans revolves around our transfers over the next three months. That means fueling the incoming wonderkid pipeline and greasing the journeyman ejector. It also means retaining our best players.

I told him he could leave if someone met his release clause. It's 77m for clubs in continental competition. If that happens, it happens. That's like 3-4 South American wonderkids, if so.

Cikic's clause is 43.5m, and he got the same speech as The Scottish Mistake. He took it fine.
We have multiple incoming players. First up is a free signing you haven't seen before.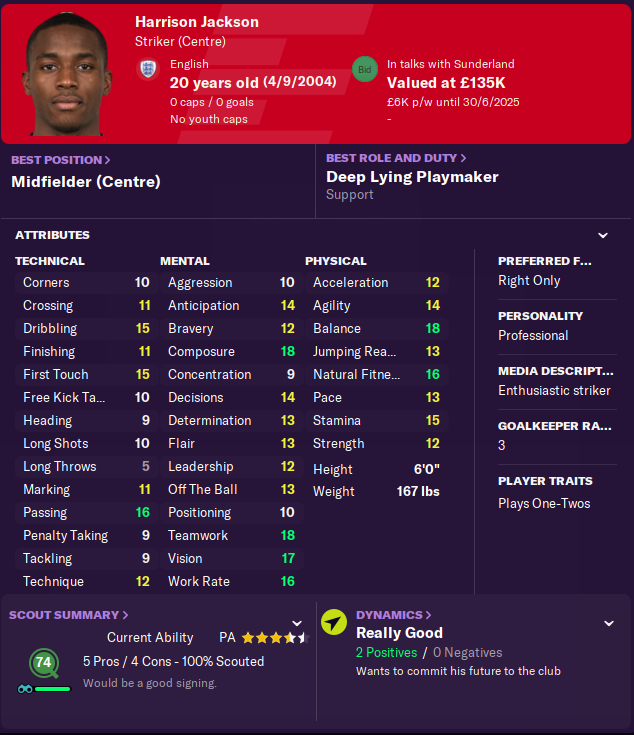 Harrison Jackson's contract at Sheffield United was set to expire in June, so we grabbed him for free. I envision him as a good rotation option at AMC or as a Deep Lying Forward at ST. Physically, he's not great. Good balance and fitness, but mediocre pace, strength and jumping. Mentally, he's already looking very good. Technically he's not really a striker, but he has good dribbling and passing, which I think will work well for us.
Adan Tirado was also free, from Real Madrid.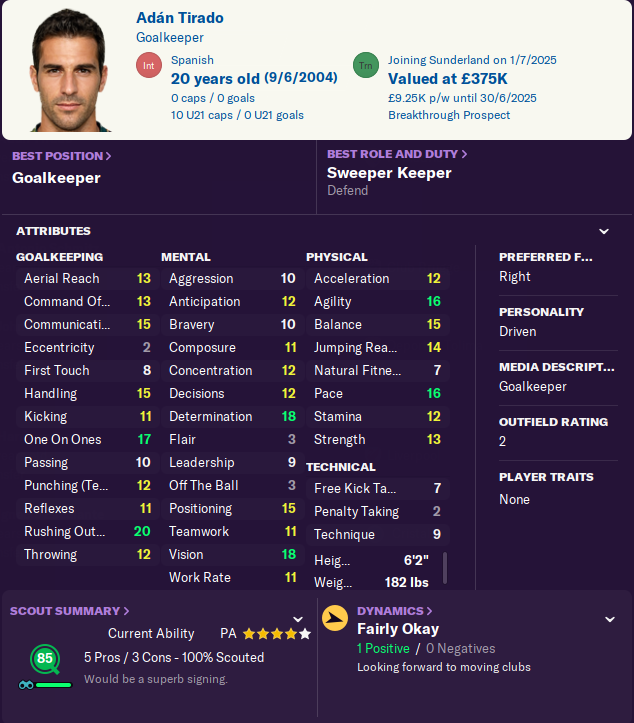 Decent-looking goalkeeper with good potential. About as good as Meggie, but will be far better in a season or two.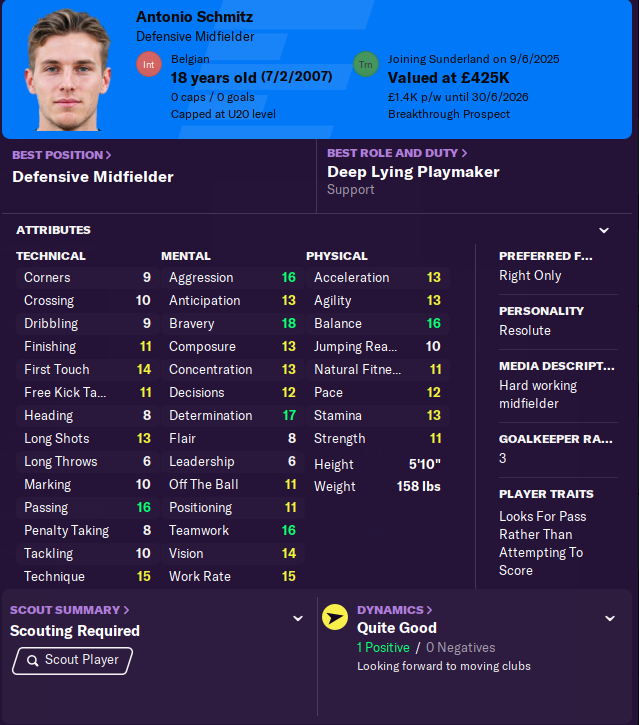 Schmitz will slot right into midfield as a creative passer. He set us back 3.5m.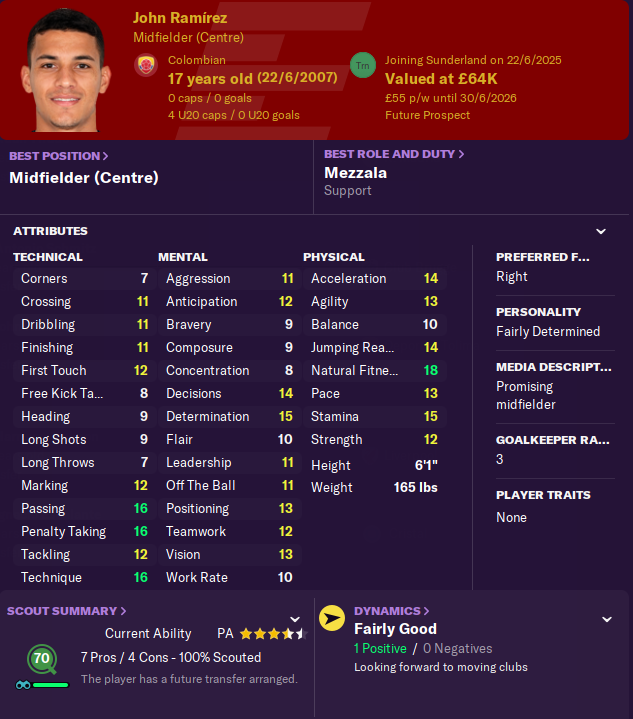 John Ramirez will fit there, too. We have rotation options for Lee Farrell and Enric. He was 925k.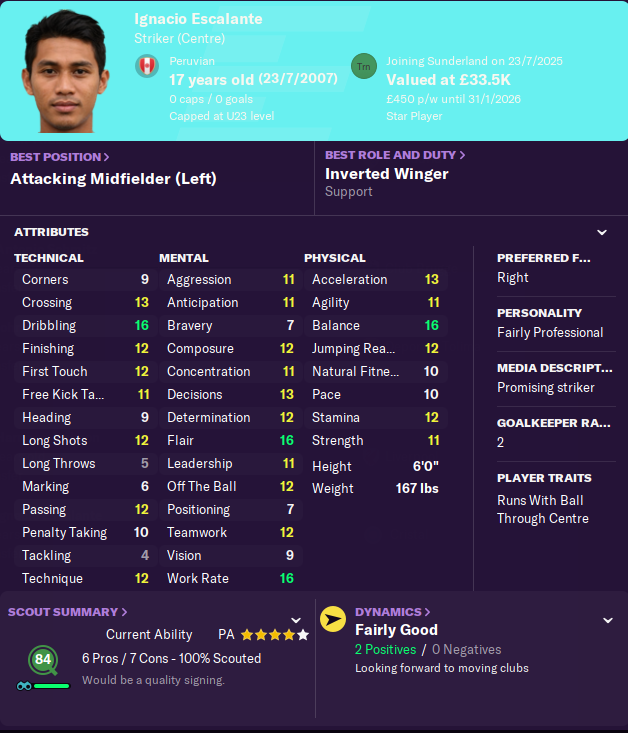 Ignacio is another great dribbler with mediocre pace. He doesn't have the passing or vision of Harrison Jackson, but he's only 17 and has great potential. He cost 950k. I'm not expecting him to contribute meaningfully his first season.
Because I can't resist another wonderkid, I've signed another wonderkid.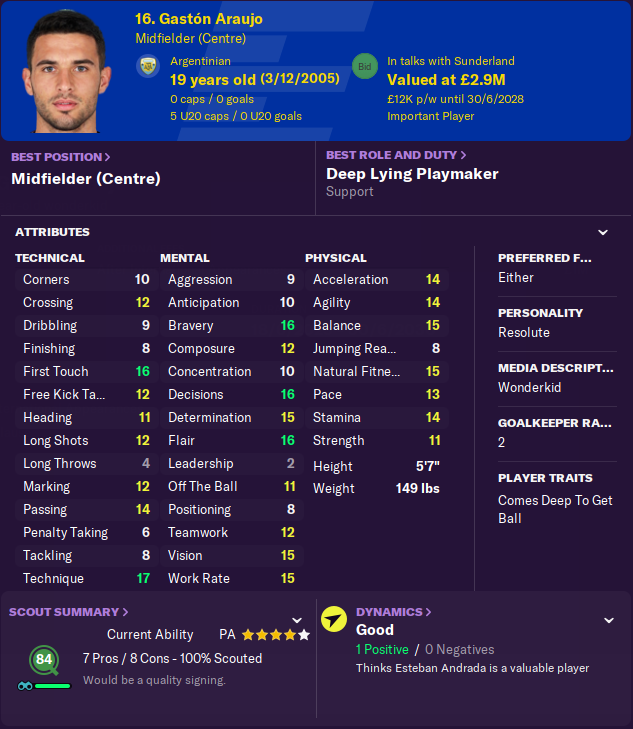 My midfield is going to have the opposite problem of last season when we barely had enough good players. Gaston set us back 7.5m in transfer fees with an escalator for another 1m if he reaches 10 international appearances. His contract includes a minimum release fee of 82m, which I'm more and more seeing as a win. Yes, someone could activate it, but that's a lotta clams for new players if they do.
It's wonderkid Christmas up in here.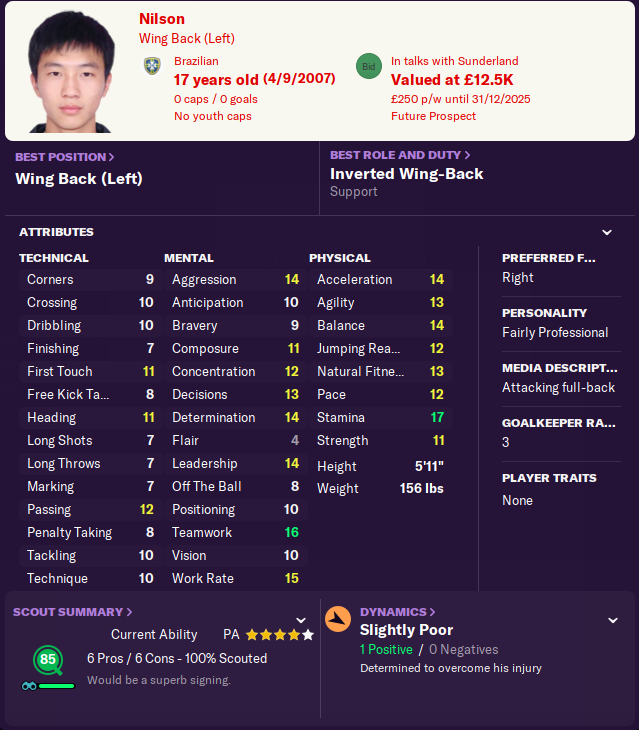 Nilson signed on a free and will arrive in January. His role will be determined in the future. Maybe leftback? Maybe left winger? Maybe just kick around on loans for a few years and be sold for a profit? He cost us practically nothing.
Nilson was the 5th of my 6 possible international transfers for the season.
I didn't need a new rightback. I have Neco. I didn't need a new leftback. I have Dragic. But was I supposed to pass up a < 20m deal for a Scottish wonderkid? I mean, that is not how I operate.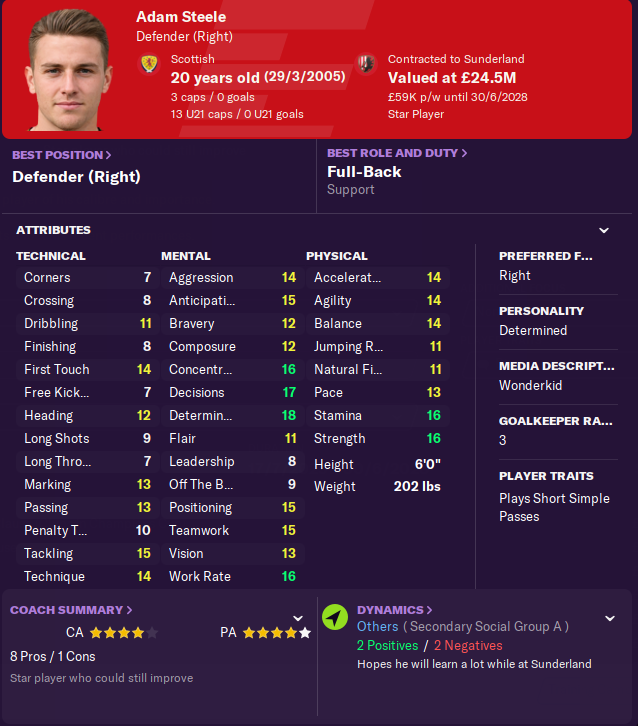 Adam Steele set us back 19.5m and came in as a star player on 59k per week. He can play either fullback position or at DM. Basically, I looked at him and asked myself, "could this kid play in the Champion's League in a year or two?" and felt like the answer was "yes." His attacking abilities aren't great, but he's very good defensively, he's only 20, and he has plenty of potential left. Even if he's just the "lockdown right back for top half matches," that will be helpful. He'll rotate with Neco and Dragic and get enough minutes to stay off my back. Hopefully.
And now for the nearly transfers.
After Enric worked out so well, I tried to go back to the well to poach another Barcelona midfielder, but…

He looked promising for his age.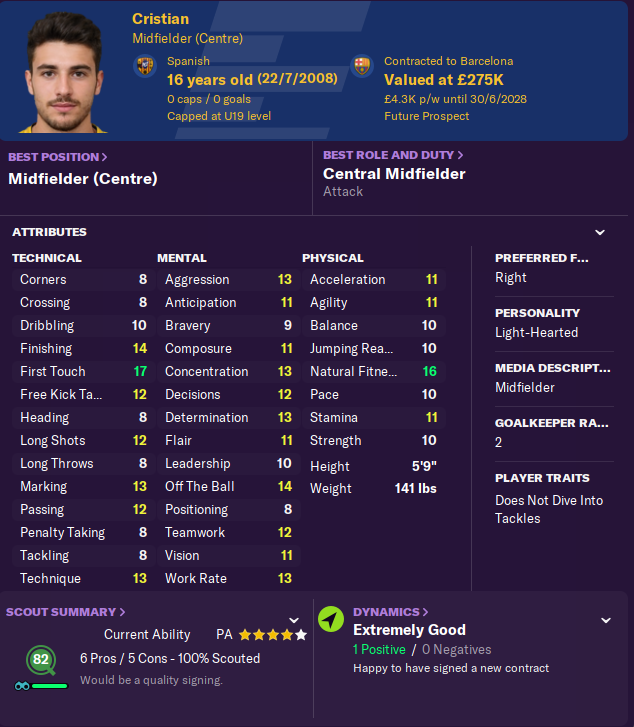 I thought, "well, maybe I can leave him be for a year and activate a slightly higher release clause." Uh, probably not. Barca set his clause to 69m.
We took a shot at signing a new left-winger to supplement (or replace) Danjuma.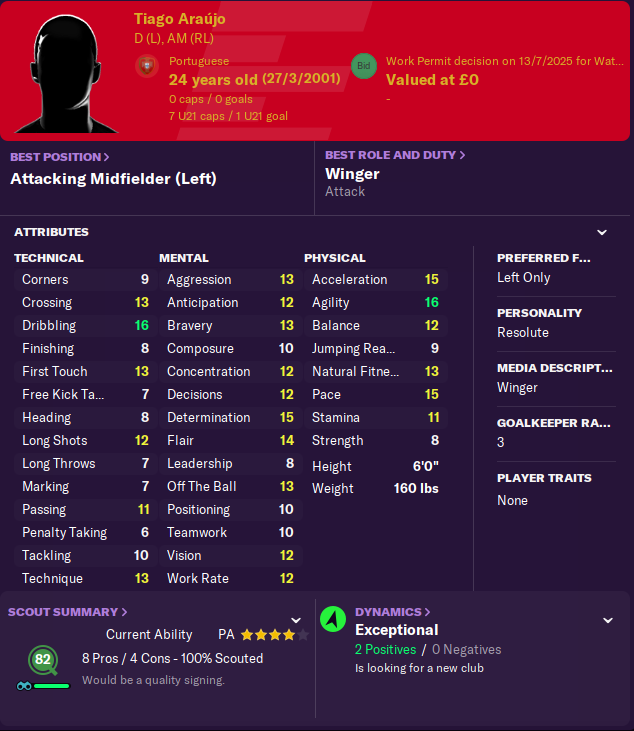 He went to Watford instead. They're in the Championship! (They also offered 16k more per week. I really need to pay attention to when players are wanted at other clubs. This isn't the first time I've made a lower offer and had them choose another club.)
Similarly, I tried to pick up Ivan Ilic from Man City for a cut price 6.75m. I didn't really need him, but he profiled as being my second-best midfielder, and I liked the idea of having another Resolute senior player in the squad.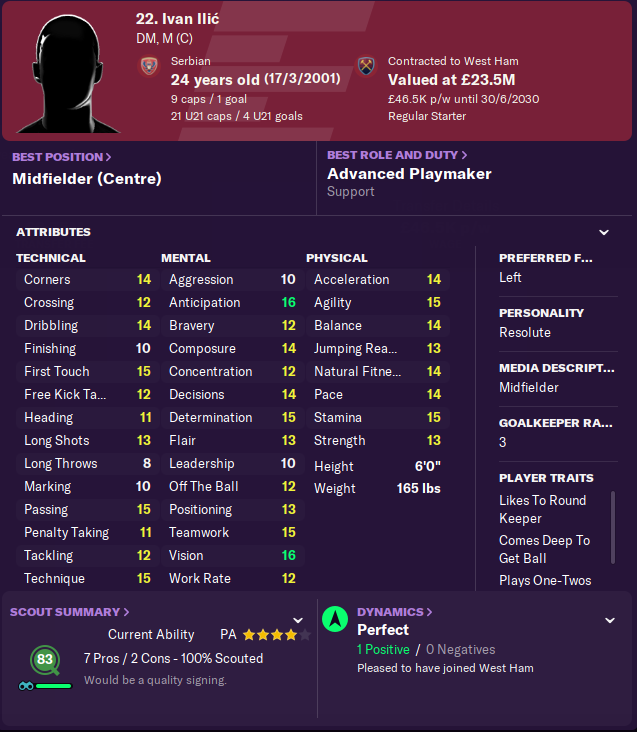 He chose West Ham instead. They at least were in the Premier League.
I was SUPER excited at the prospect of getting Liam Delap in for 8.25m from Man City.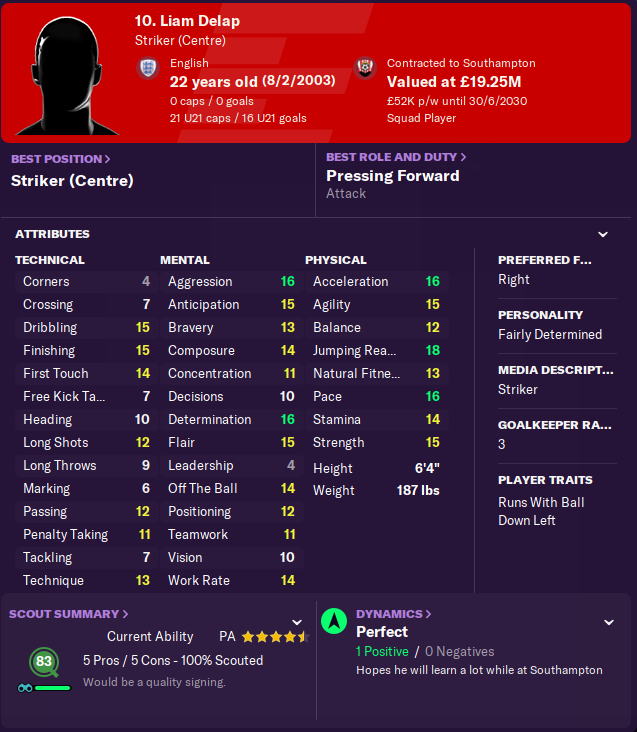 Naturally, he spurned us for Southampton. I even offered him better wages! Ugh. This one stings. He is a solid player right now and may still improve a bit with more playing time in the league.
When Delap fell through, I went after this lad from Germany with his 14.75m release clause.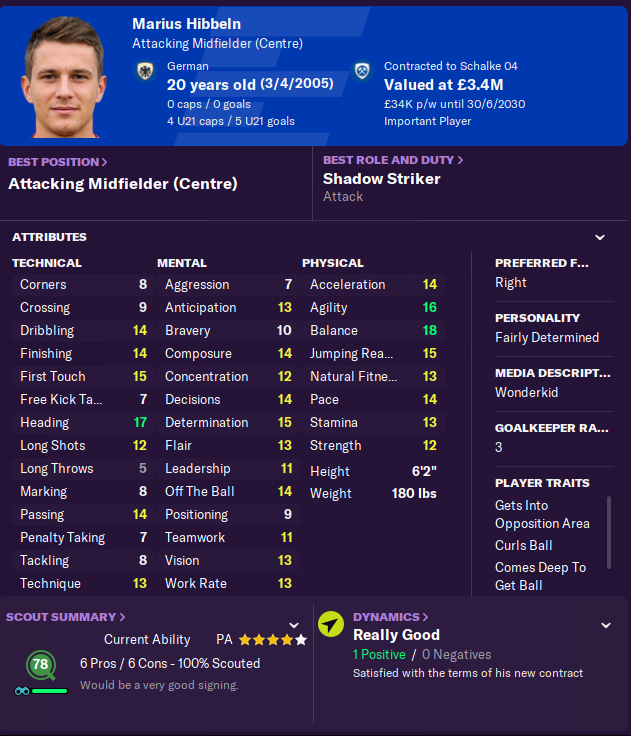 He treated us like we were Tottenham. His agent signed him for a new deal on better wages at Schalke. Less wages than I was willing to pay, even.
This lad spurned us for Liverpool.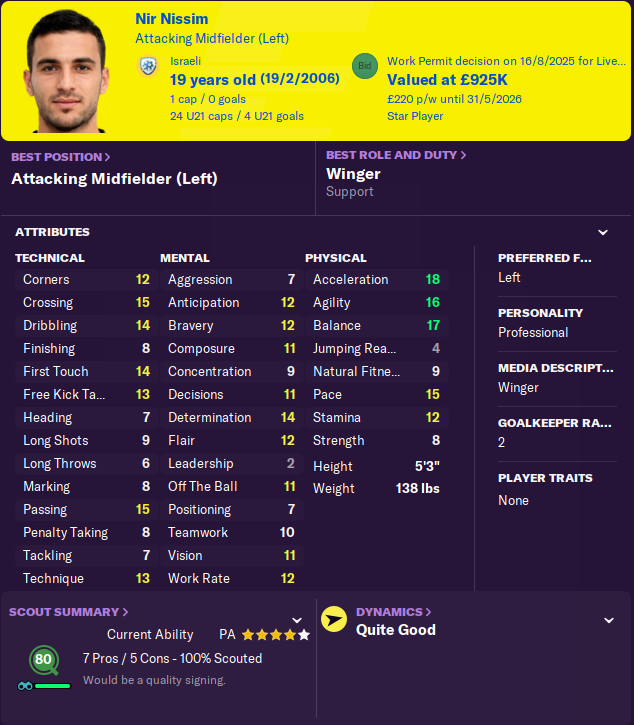 Bags of pace, gobs of potential, and now he's going to go sit on their bench or be loaned to some League One side for a few years before I buy him for the same price when he has a year left on his Liverpool contract. Whatever, dude. You could have been a Black Cats legend.
I didn't even make an offer for Billy, because his agent said we needed to be in the Champion's League for him to consider a move. I cannot believe Chelsea let him go for 8.5m.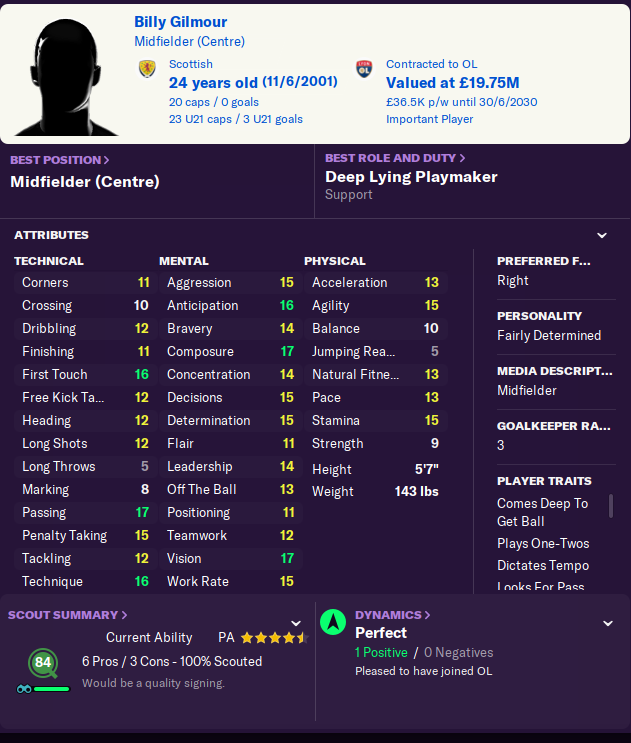 That is preposterous business for Lyon. He's not physically amazing, but he can be amazing in the center of their midfield firing balls around the pitch to their stupendous collection of wingers and forwards they won't sell me. (Lyon have so many amazing regens that are all out of our reach.)
On the outgoing front, we have to start with our long-time midfielder MAX POWER. It was time. Max was a good servant to the club, and he was immense all three of our seasons below the Premier League, but he was simply not good enough for our current level, and he wasn't getting any younger.

His last act for the club was to present the players' code of conduct.

He left the club on a free transfer. Farewell, friend, and safe travels.
Kean Bryan was key to our promotion from the Championship twice, but only had limited minutes in our last Premier League season. With Adam Steele here as a star player, it was time for him to leave.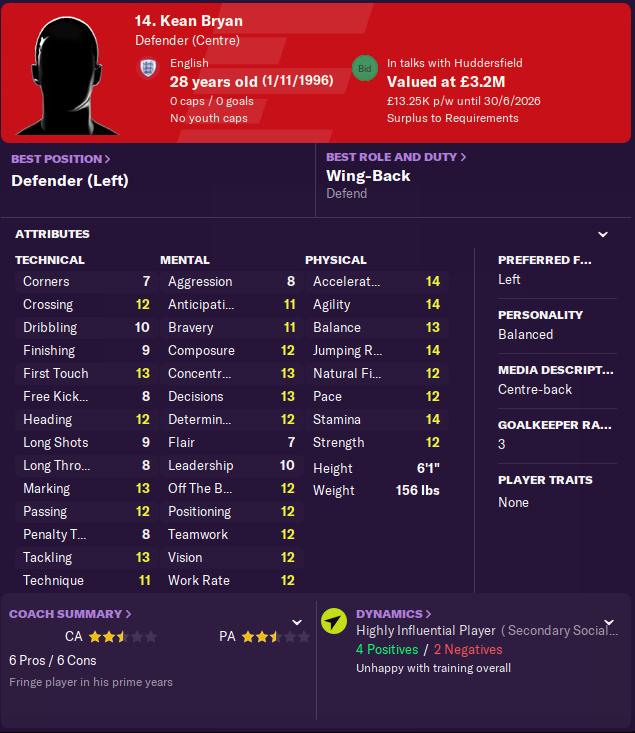 Huddersfield paid 7.5m over 3 seasons to take him. He originally joined on a free.
Not all my transfer business is perfect. Josh Tymon is a good example.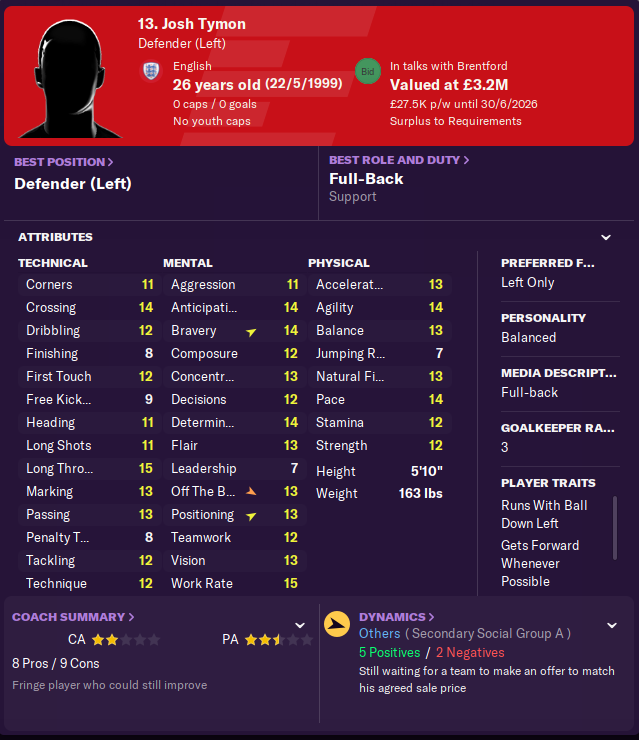 I overpaid for him at 7m, and he departed for a mere 3.7m. He didn't play much last season, and he wasn't going to play much this season, either.
Pure Magic was another departure under a cloud. Look, I don't want to call the guy a fraud, but our scouts f***ing lied to us. He wasn't improving much at all, and his potential had dropped to a mere 3 stars.
Here's how he looked when he joined us.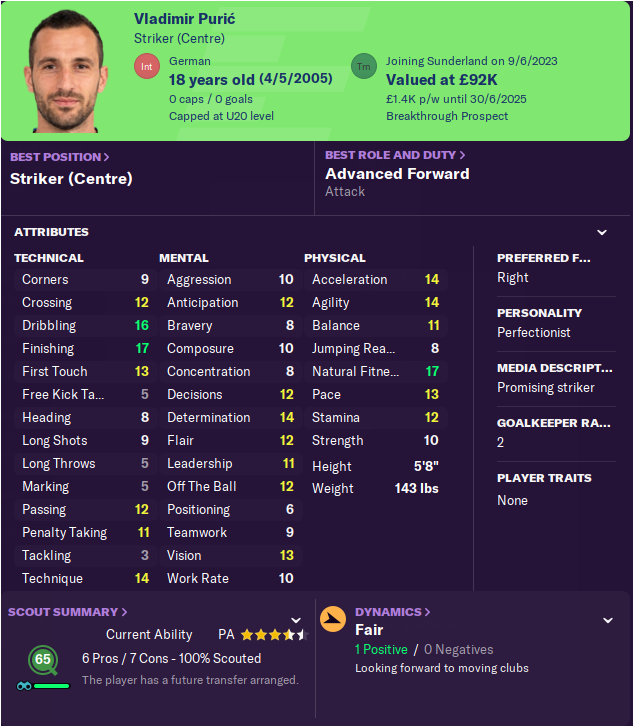 And here's how he looked when he left us.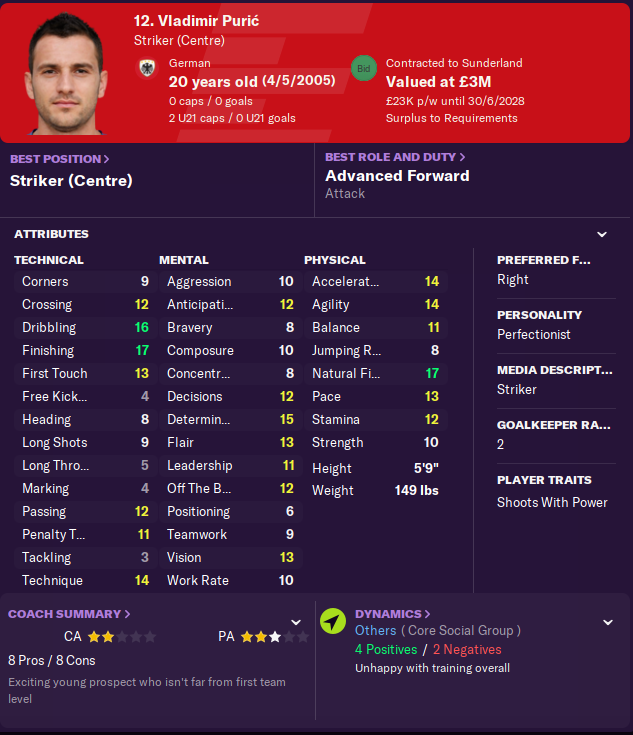 He gained an inch of height and put on a few pounds. Otherwise, not a ton of difference. He was supposed to go to Huddersfield for 5m spread over 3 seasons, but the jerk rejected their contract offer. He left on loan to League One Rotherham instead.
Longtime club servant Dan N'Lundulu was supposed to go to Brentford. They made multiple offers, and I finally accepted one that started at 15m and will likely reach 18m.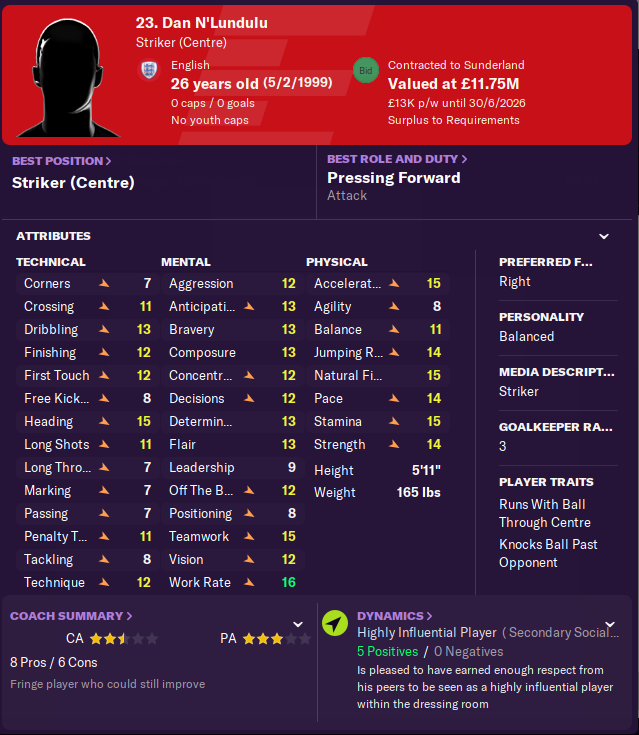 He rejected their contract! I'm clearly overpaying these guys if they won't go to places like Brentford where they'll actually get minutes. I nearly had him sold to Huddersfield late in the window, and he rejected them, too. Maybe he really wants to leave on a free? Maybe he's hoping for a big money move to China or America in January? I guess I'm stuck with him until then.
Our homegrown left-back, Calin Tututa, left for Huddersfield.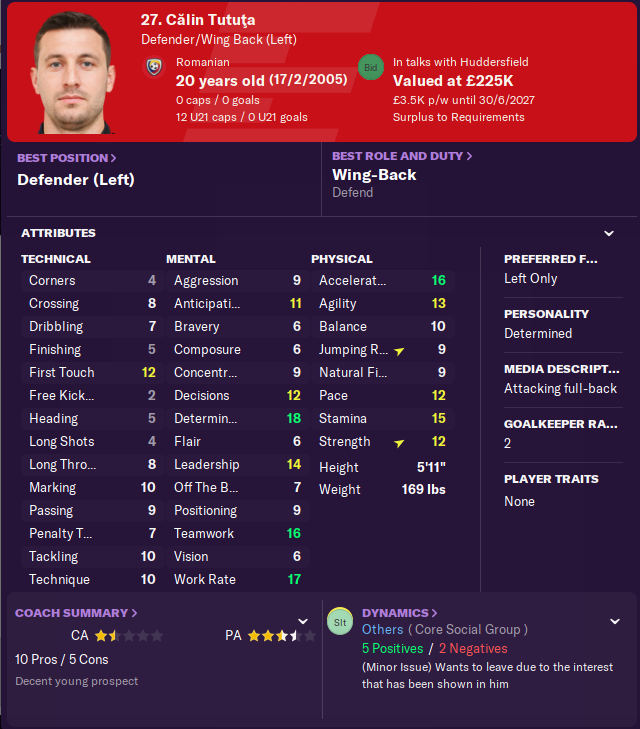 He fetched 500k. His potential appears to be okay, but in reality he wasn't improving much. Those stats are rubbish, too. He can't defend, he can't attack. All he can really do is sprint 10 meters a few times before getting knackered. My only regret is that the 500k felt a little too easy, and I might have been able to get another million out of him.
We loaned a bunch of guys out, too.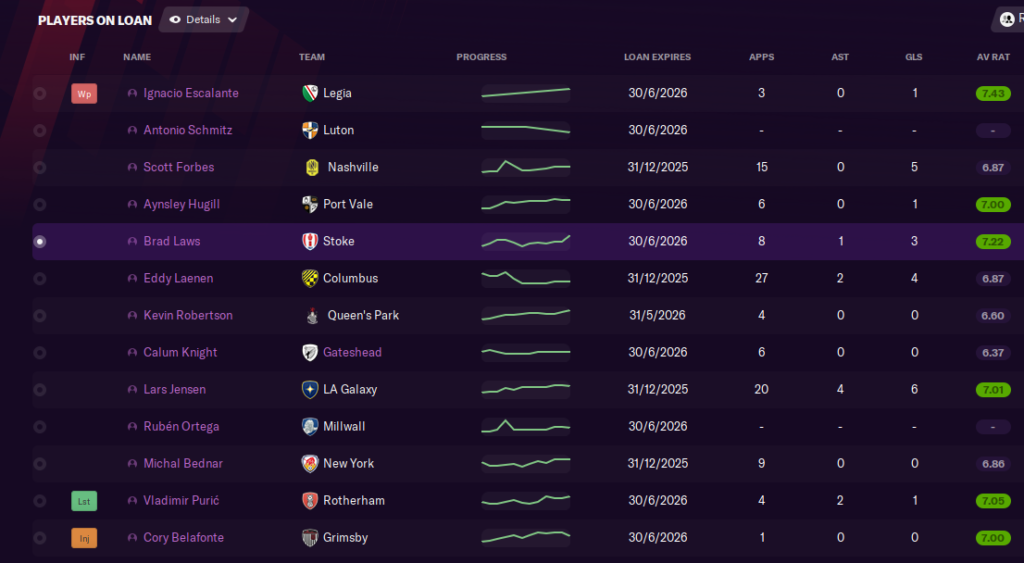 Calum Knight isn't looking great at our affiliate Gateshead, but Brad Laws and Ignacio Escalante are doing well. Speaking of Ignacio, I was hunting for striker options late in the window after all the failed transfers, and I found a kid in South America on the Peruvian national team who look promising. I went to check his transfer value, and I discovered he played for us already. Ignacio was like, hey boss, want to go out for some chicken and broccoli after the match? (The Cristiano Ronaldo diet, fyi.) Kid looks promising, and he already has two senior caps for his national team, so we should have him back in January and ready to help us through the second half of the season.
The bookies gave us decent odds for… Well, that's better than nothing, I guess.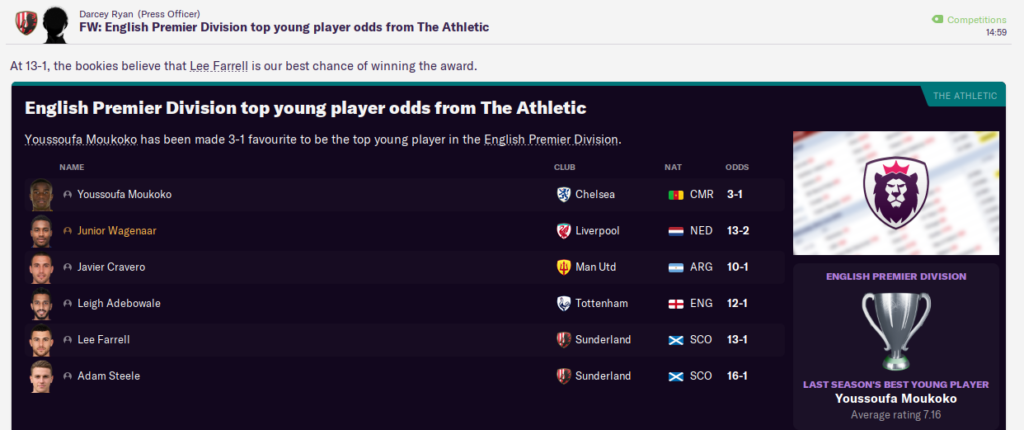 I'm still annoyed that Chelsea got Moukoko. Yes, it's been like 4 seasons since it happened.
I'm planning to start with the hybrid 4321/4411 that worked so well to end the season.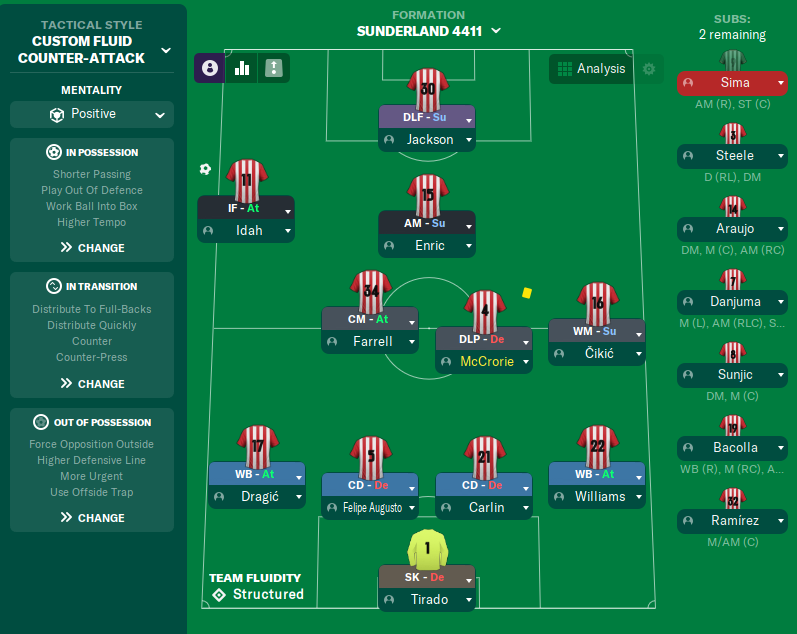 Results are generally good, though we've flattered to deceive.

Southampton came to town in our first match of the season. Idah put the ball in the net three times, two of them counted, and all Southampton could muster was a late consolation. Liam Delap was nowhere to be seen.
Away to West Ham was a struggle. We couldn't get anything going forward, and when I opened us up to be more attacking we got murdered on the counter. Myron Boadu scored all four goals for West Ham.
We turned it around a bit from there. We had to come from behind against Sheffield after a dire spell just after halftime, but we managed to take the win and look decent in the last 15 minutes.
Accrington looks good on the schedule, but what a shitshow. We didn't deserve this: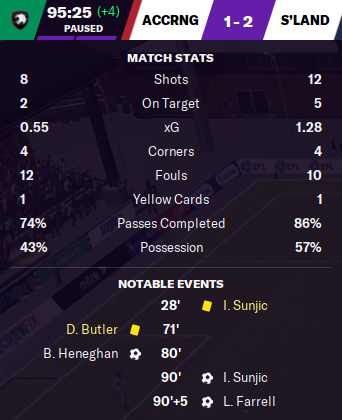 Maybe I rotated in too many young players, but we had massively more quality and played like my 5 aside team on a full-size pitch. It was shambolic. The opposite of the Southampton result. And yet, our quality managed to shine through at the last, and we avoided penalties.
Somehow Blackburn came into the match against us as favorites. We obliterated them on every metric. That one felt good.
At the end of the window we're sitting in the top half with a few good wins and one rubbish loss.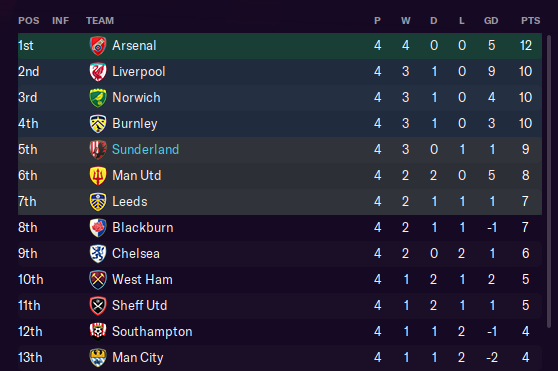 I figure we have about a 5% chance of relegation, 30% chance of lower mid-table, 50% chance of upper mid-table / non-European places, 13% chance of 6th or 7th, and about 2% of 5th or better. I would love to sneak into a qualification place for Europe, but it would require us to get lucky with the bigger, better sides stumbling.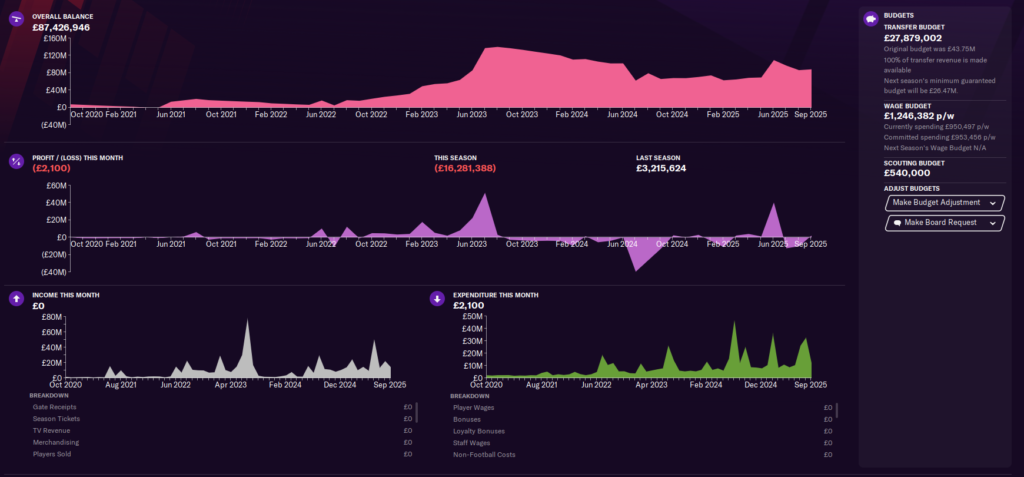 We have plenty of money, but I've struggled to spend it. Neco, Bacolla, Araujo, and Steele all cost decent money, but going up a level from there is harder. The best I can generally do is non-Central European wonderkids or the odd transfer-listed veteran. We still don't have the top class striker I want. I'm not super confident in my tactical choices. Our midfield is decent, but needs to gel.
Will I come to regret selling my backup leftback and my backup centerback/leftback combo? Will our strike force shit the bed for two months again and tank our chances at Europe?
Read the next section to find out!