Welcome back, footy nerds. If you're just joining, the previous installment is available here, and the first installment in the series is available here.
Kyril came 'round with his expectations for the season.
They're starting to align with reality, which makes it harder and harder for me to overachieve. Midtable is the right goal. We might manage to sneak into Europe. I don't see us cracking the top 4.
The game now gives you an option to tap up a player by having one of his international teammates speak to him. I didn't get a screenshot of the interaction, but I asked Vlad Dragic to talk to his international centerback teammate, Nenad Puric, which he readily agreed to do.
Supposedly Vlad's sales pitch didn't work, but either it (or the money) did, and we got our guy.
There are so many great players coming out of Serbia that it's ridiculous. Nenad signed as an Important Player, which means he needs lots of minutes to stay happy. I now have four very good (young) centerbacks, so I'll rotate him around with Burns, Augusto, and Carlin. He's not as much of a leaper as my other guys, but he's fast and has excellent agility. He'll be a great complement to enable our high defensive line. The fact that he's left footed is a bonus. He'll rotate on the left with Augusto while Burns and Carlin rotate on the right.
Nenad is my 4th of 6 possible U21 international signings. (The other three are at the top of the last installment since I completed their deals in January, though our new Spanish rightback, Victor Fernandez, did his ACL in April and is out for another two months.)
I didn't really need another hotshit midfielder, but if you've been reading this for a while, you know that I just can't resist a good wonderkid.
Matias Martin is a legit wonderkid, rated at 5 star potential. His passing, first touch, flair, and balance are all excellent, and he's pretty good across the board.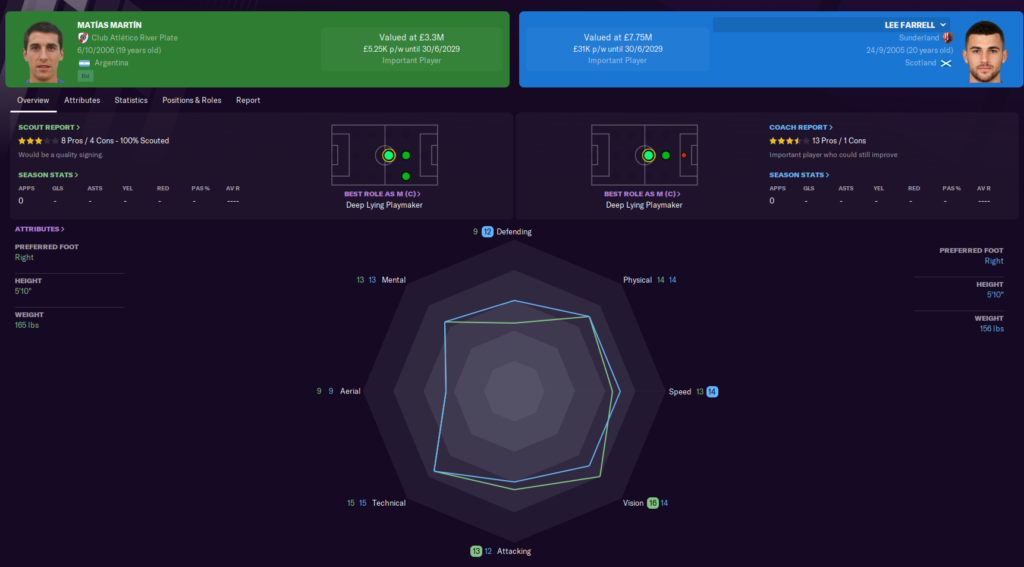 He profiles well against Farrell.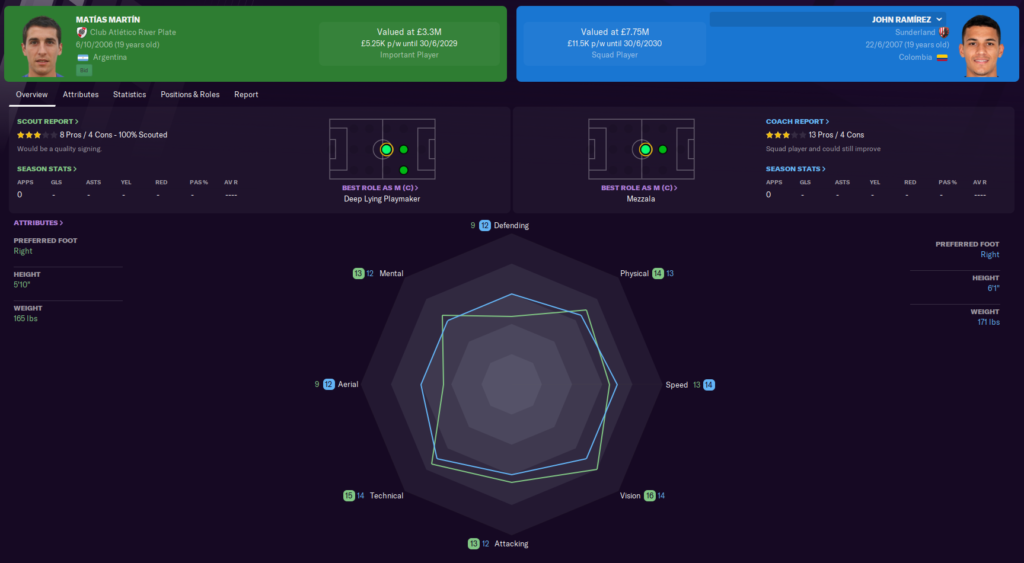 And Ramirez.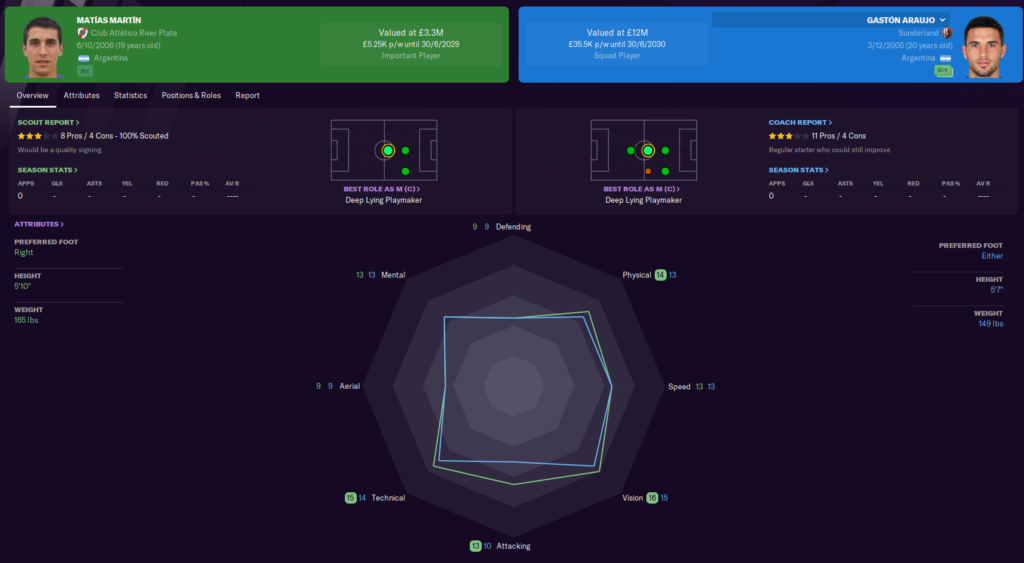 And better than Araujo, who is still unhappy I didn't sign someone for him to settle in at the club and may have to leave because of it.
Speaking of Araujo, the "sign a player to help me settle" promise has to be the worst promise in the game. I had no idea who he wanted to help him settle. He had no favored personnel. I had multiple Argentines already at the club. I asked him who he could suggest we sign, and he had no ideas. Maybe I just needed any new Argentine? It would be helpful if the game provided a bit more guidance on who qualifies. The worst part is that he's been with us a year, and he's still angry about it. Like, dude. C'mon.
He's not leaving for 10m. I actually had an offer for 20m in January, and the board refused to take it.
This shot is from early June, and it gives a good view of loan players at the beginning of the transfer window.
The most interesting area for me in terms of transfers is the progress. We have a bunch of guys who just haven't been progressing. Schmitz, Puric (no surprise there at this point), Belafonte, Bednar, Simon, Knight, Forbes, and Jensen all seem stagnant. A few still have potential and I'll give them another loan to develop further. Others are 3 stars at best, and I'll sell if I can get a decent fee.
The press came in with odds on best young player of the year.
I'm gonna take that as a vote of confidence. Farrell and Steele are 20 and 21, respectively, and they both cost about 15m. Both are developing really well, and I have high hopes that they'll be key players to help us qualify for Europe.
I was finally able to find a buyer for Vlad Puric that he would accept. He left us as about the same player as he joined us.
All I could fetch was 4.7m from Bristol City, but he only cost 1.3m. We probably broke even when you consider his wages. Given the profit, I'm not sure you can really count him as a failure, but I feel like he was a failure.
Michal never developed any pace or crossing ability, and he's only mediocre on defense. And yet, Almeria paid me 9.75m (in installments) for him.
Lars has good pace and dribbling with decent passing and crossing, but he wasn't developing well and I couldn't realistically see him in our first team pretty much ever. I sold him to AC Milan for 8.25m in installments.
I don't know what happened to Ruben's face, but he's gone on loan to Charlton with an optional future fee of 1.3m.
Arnaut Danjuma came into the transfer window as a 29-year-old squad player whose minutes were going to go to younger, better players in the next season. I wanted to move him on, hopefully for something in the region of the 30m offers I was getting a year ago. The transfer turned into an utter nightmare. He was nominally worth 15m, but I struggled to get offers for more than 7.5 early in the window. Then he came into the office complaining about me selling him. I was willing to go down to about 20m, but he felt that was too high and started texting his mates. Finally, after half the squad backed him, I managed to get some offers for 10m and 8m from France and Germany. His bloody agent came in asking for a payoff! I tried to negotiate the first deal, and the agent terminated negotiations. I agreed to the others.
He did eventually leave for Saint-Etienne for 10m and a 400k payoff. We lost another 500k in solidarity payments, but we saved 2.5m in wages and didn't have to let him leave on a free. The business was bad enough, but our morale tanked pretty hard. Fortunately, he left in mid-July, so we still had time to win some friendlies to get morale back to a decent level.
I had high hopes for Calum Knight, but he never developed the way I hoped.
He was homegrown, and I wanted to be sentimental, but with one year left on his contract and a fairly low ceiling, I sold him for 725k to Stoke. I would have even extended him for a few more years and given him some more loans, but he wouldn't agree to a new deal after my Director of Football angered his agent somehow.
I attempted to sell Abdallah Sima, but he threw a fit, and after the fiasco with Danjuma, I agreed to let him stay.
We do, oddly, have too many promising players at the club. I've sent a few out on paying loans.
Kevin went off to France to get some game time with Toulouse. He'll likely be sold when he comes back next summer. Hopefully, he improves while he's away; those orange arrows are not encouraging, but he just left a few days before this screenshot, so he hasn't had any matches yet.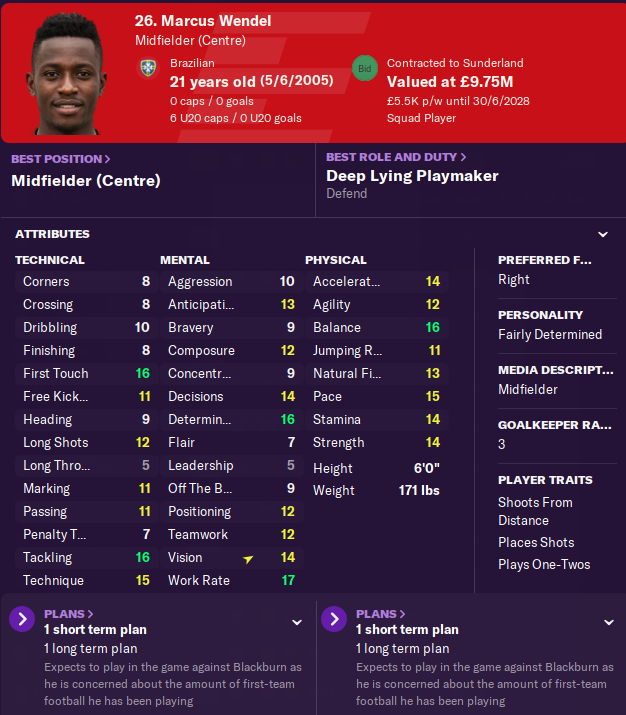 Marcus Wendel was the random free signing we picked up. He's looking like he could be a good midfield destroyer, so he's off to get more experience and develop further.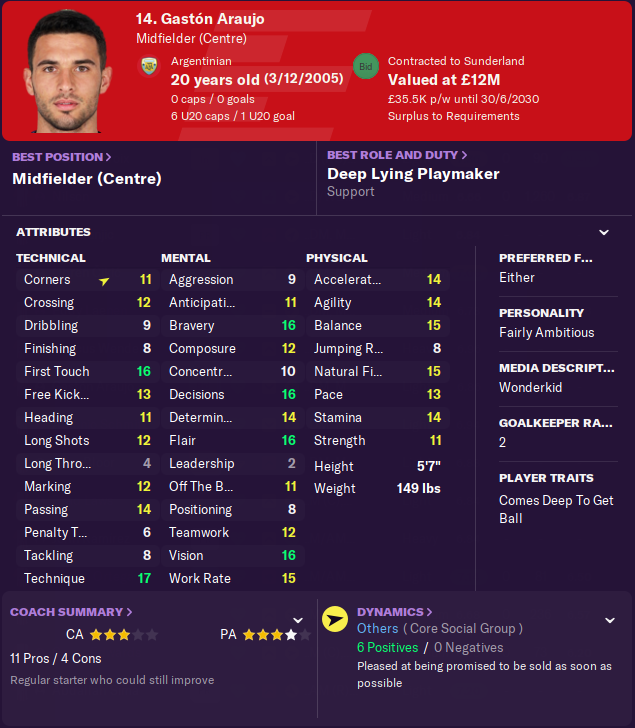 Araujo was still unhappy about being sold, but I can't get the price for him that I want (40m+) yet, so he's off on loan to develop further and be someone else's problem. He could turn out to be excellent, but he's my fifth-best creative midfielder behind Farrell, Martin, Ramirez, and Enric.
Our old pal Obren Cikic is off on loan as well. He's a weird player. Nominally a winger, but he's too slow to really be effective. He has decent tackling, so maybe he could play at midfield, but his passing and vision aren't really good enough. My hope is that he plays a bunch on loan and we can sell him for 25-30m next summer.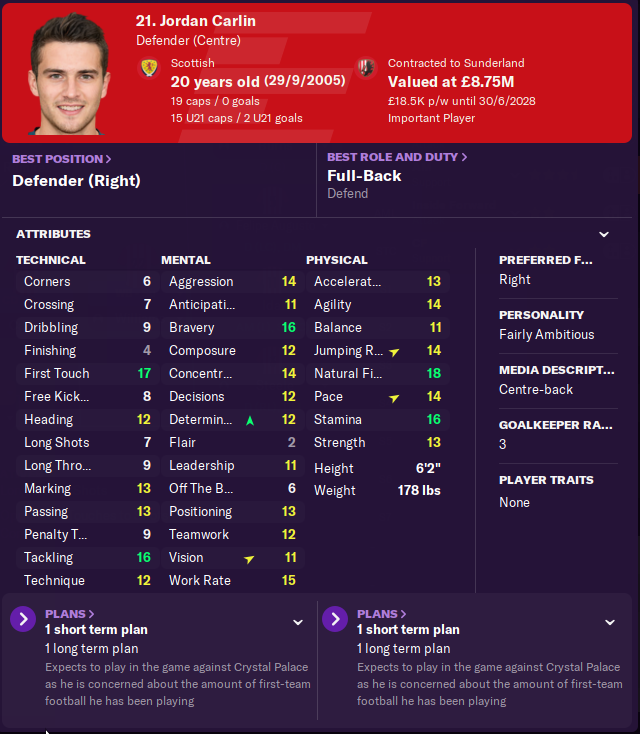 Watford made us a 37.5m offer for Jordan Carlin. He's still in my first-team plans, so I declined it. It definitely makes me wonder if I'll regret it in a year like I did Danjuma. Fact was, I needed Arnaut at the time. The wonderkid conveyor belt wasn't quite as loaded back then.
Going into our first competitive match, my plan was to use the 4231, tweaked for our new players. Fede Cordero, Freddy Baez, and Matias Martin look to be of such quality that they'll slot straight into the first team.
Fede is ridiculous. I've been wanting a good striker, and well, here he is. Four stars at advanced forward, and still plenty of room to improve. He looks as if he could be an incredible complete forward in the near future.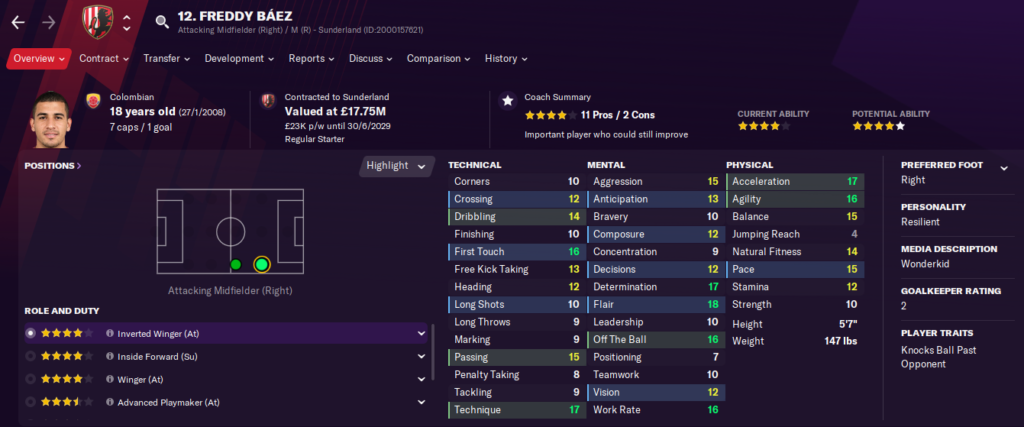 Freddy looks to be just as good, but as a right-footed winger going to the byline.
We'll roll with Idah on the left, cutting inside as an inside forward.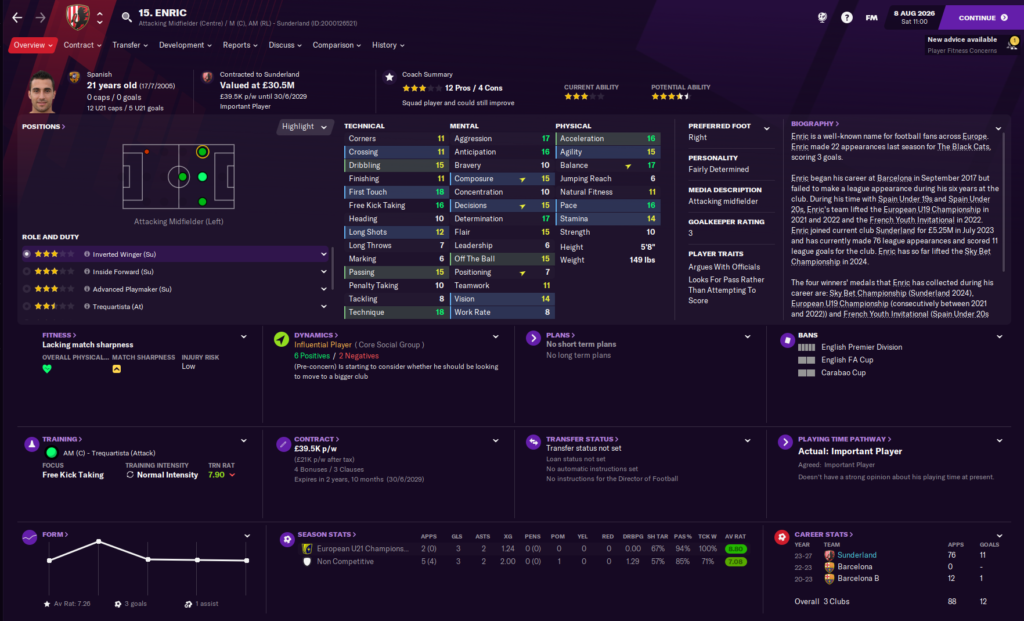 Enric is our first-choice AMC with excellent ability to play on either wing as needed.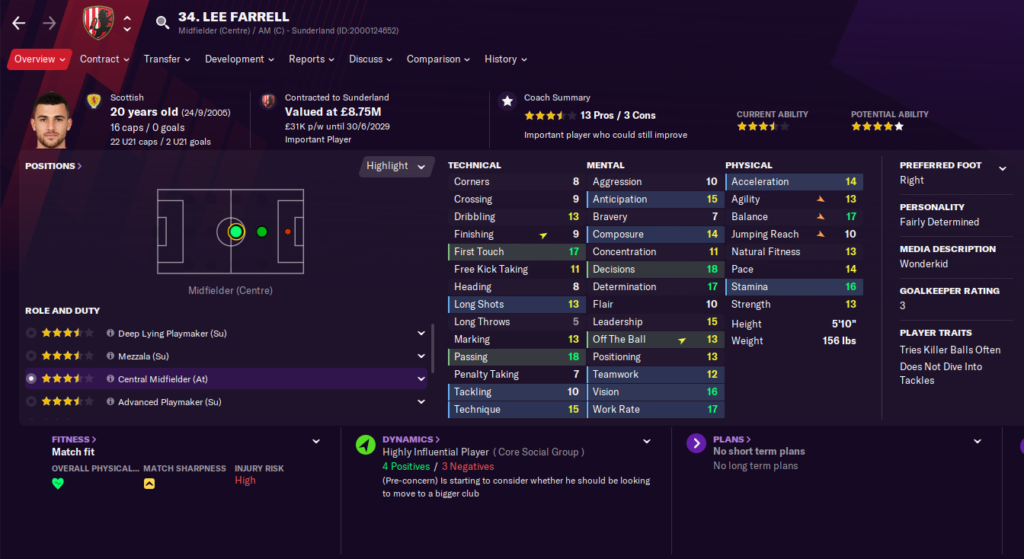 The Scottish Mistake will be at the base of our midfield as a CM-S alongside Matias Martin as a DLP-S.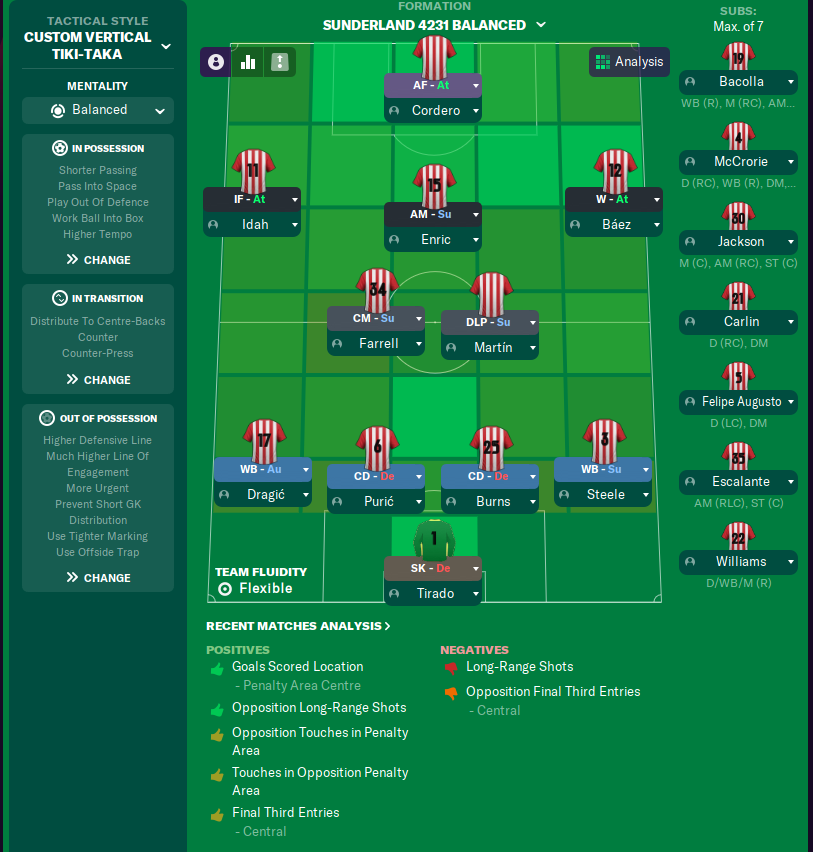 I feel more confident about this year's squad than any we've had so far. The summer signings were nearly all upgrades, and we have decent quality in the spots behind them. The only place I'm legitimately worried about depth is at GK. I've had a look at finding a decent backup, but without any real success.
My confidence was shaken in the first two matches. We scored early against Blackburn, and I was feeling as smug as a dog with two bones, but then we just couldn't get the ball in the net. They scored early in the second half, and we piled on pressure, but it ended in a draw. The Derby match was even worse. We were under the cosh from the 3rd minute when they scored on a corner. We pulled level just before halftime, but couldn't generate any offense. I thought we'd coast to a draw, which would be bad enough, but Derby scored the winner at 90+2.
I had to rethink our tactic. The rethink was to apply the lessons from last season. A lower line of engagement, forcing the other team wide, and no longer pressuring the opposing keeper.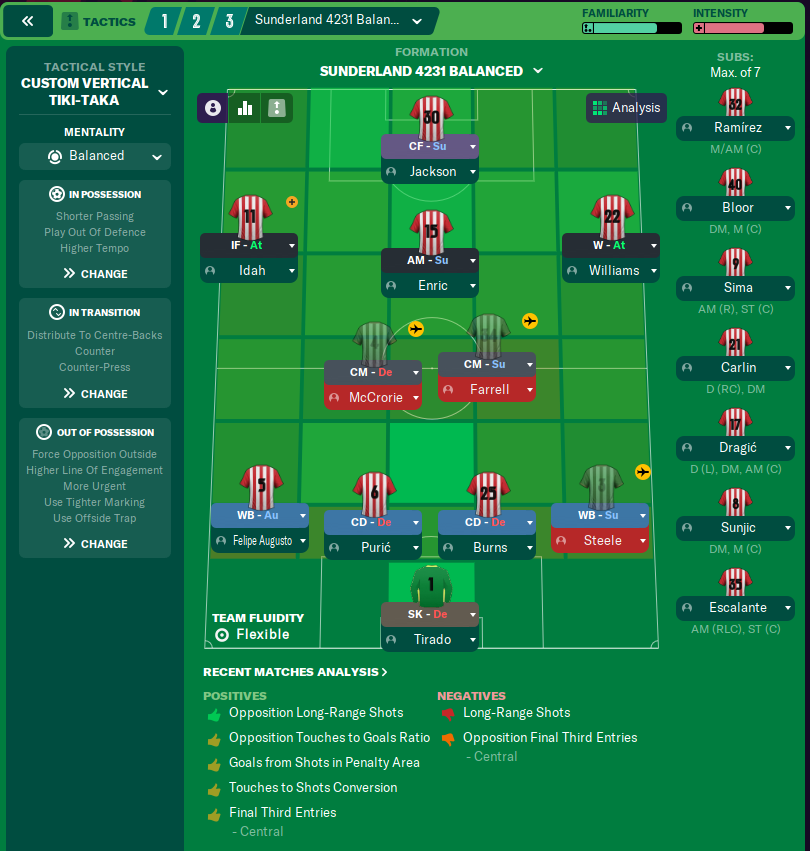 Results immediately improved, including a glorious first half against Chelsea where we scored three goals before conceding two in the second half. We duly smashed Mansfield and Crystal Palace.
The only worry at the moment is the number of early injuries, but we've managed to cope with them. I may need to recall a player or two in January to give us more depth for the second half of the season.
We're gunning for 6th, hoping for 4th, and wouldn't turn down a title if Liverpool wanted to collapse.
The table–while basically meaningless this early in the season–says we're on track.
See you in January, footy nerds.