Welcome back, footy nerds. If you're just joining, the previous installment is available here, and the first installment in the series is available here.
I love transfer season. I never stop looking for players, but the hunt goes up to 11 in the summer and in January.
I've found us an excellent Colombian winger.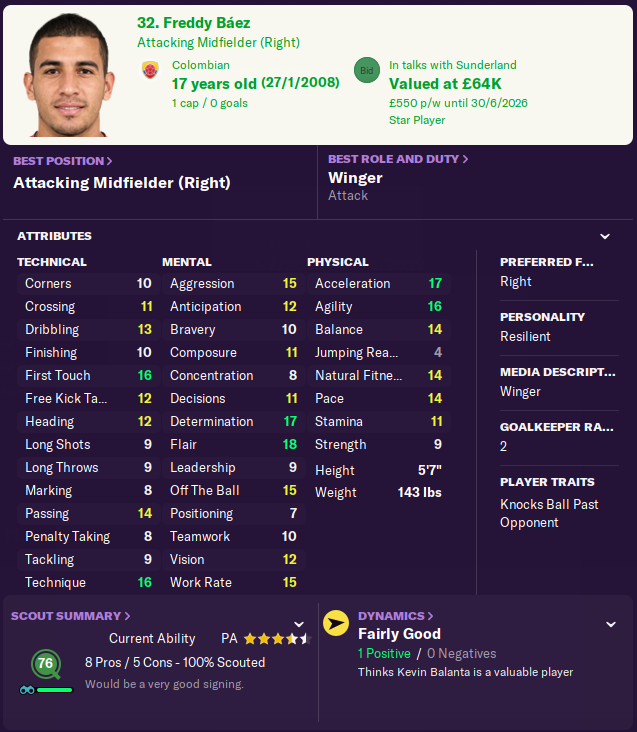 Do we need another player on the right wing? Not really, though his pace is a welcome change to the plodding we have from Bacolla and Cikic right now. I like them both, and they're both good players, but they're both slow.
Freddy cost us a staggering 50k. Thousand. Not million. Fifty Thousand Pounds. He was technically a free transfer, but apparently, we had some visa fees or something.
That's our first confirmed arrival for the summer and the first of six possible under 21 international players.
Victor is a Villareal player with an expiring contract. He will join us on a free transfer and provide an option on the right in rotation with Neco Williams and Adam Steele. We kind of have a crunch there with three players for one spot, but Neco can play at a midfield and Steele can play on the left or at DM. We'll manage.
Fede Cordero is the next hotshit Argentinian forward to come out of Boca. (We hope he is, anyway.)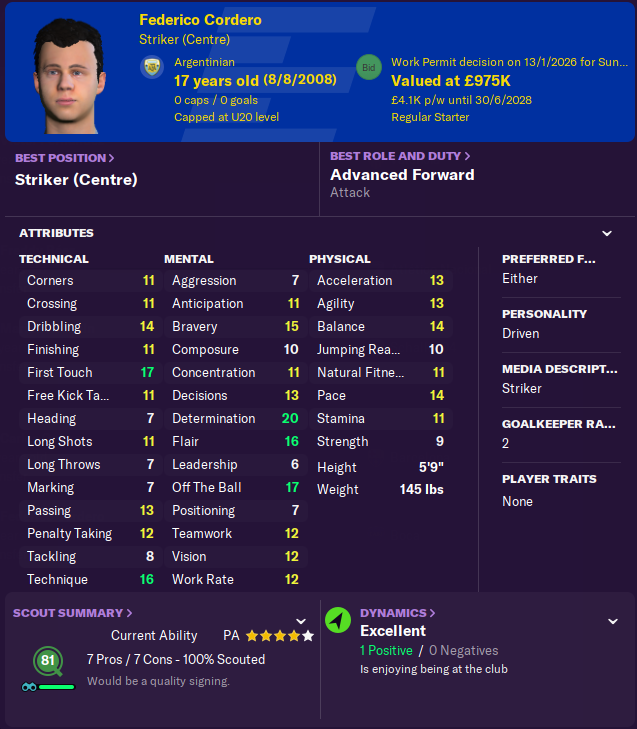 He cost a cool 7m to activate his release clause. He profiles as an excellent prospect, but also a player of the present. My scouts think he'd be third on our depth chart if he were at the club today. Kid is only 17! He's also evidence that I need to run the face updater again soon.
Wait a tick…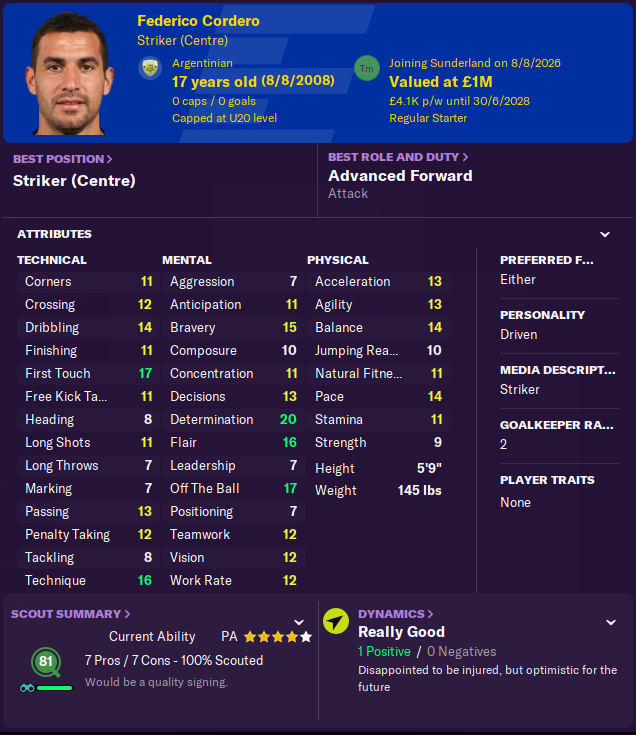 That's better. Fede makes the third of my possible six international U21 signings for next season.
January results were mediocre, so I made yet another round of tactical tweaks, this time modifying our third tactic based on the 4231 that was so successful in the Championship.
Our personnel are good enough now that it's not suicidal to try this. It actually makes me wish I had Freddy Baez to put on the right, so we'll have to give that a shot next season.
The tactical change wasn't enough to hold off 2nd place Arsenal when they came to visit, though a second-half change to the asymmetric formation was even less effective.
I know the cliche is "it's your tactics, mate," but it's also our quality. Here are a few comparisons.
Arsenal's starting striker is Patson Daka. Our best striker is Adam Idah.
Idah is better in the air, but worse in literally every other category.
Our best winger is debatable, but let's use Cikic for this.
Cikic is a great jumper, but that's not a stat you really need in your wingers. Tsygankov is better in the meaningful categories.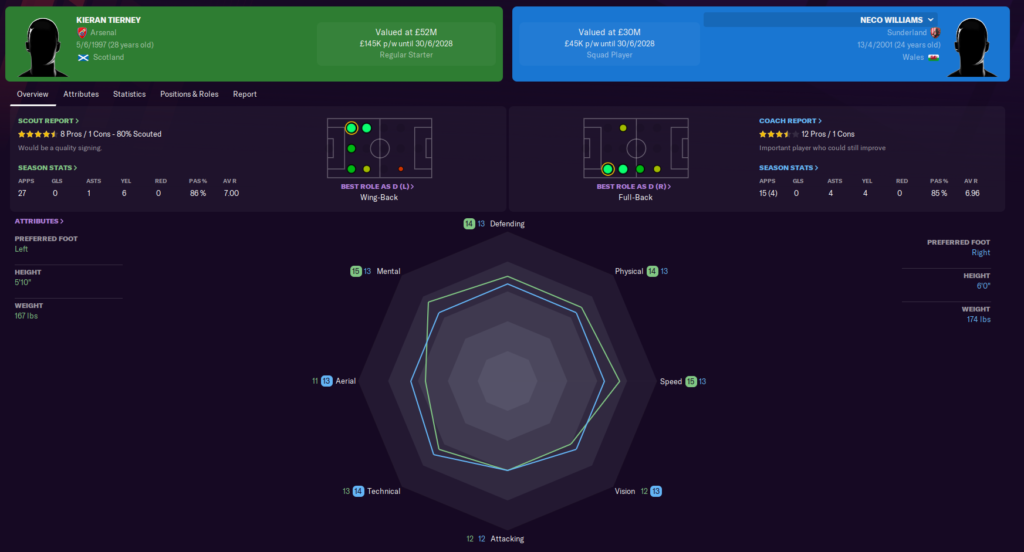 Neco is our best attacking fullback. He's simply outclassed by Tierney.
The numbers are more interesting. Not the score. Ignore the score.
Statistically, we played Arsenal fairly even. Other than goals. Due to injury, we did have our backup keeper playing, so maybe that's on me for not playing Meggie enough in the autumn that he asked for and received a transfer in January. It's hard to keep two quality keepers happy at the same time.
We simply have to improve our quality if we're going to improve our league position, and that's challenging in this league with so much talent already in on the teams we're facing. If we can scrape into Europe, that will help.
Moving on…
Don't tease me, Barca.
We played a two-legged tie against Arsenal in the Carabao Cup semi-final. The first match was away at Arsenal, where we played well but lost 1-2. The second match was at home, where we played well and f***ing crushed them 4-0. (They had their revenge a couple weeks later, as you can see above.)
Our biggest match of the season came on Sunday, March 1, 2026. Sunderland vs Everton at Wembley for (another) chance at our first trophy in our new Premier League era.
I went back and looked at our prior results. We played on Merseyside on 31 January and lost 2-4. We gave up four goals in the first half, including a brace to Juan Manuel Gutierrez. That was with our 4132 that I built for away matches. We played Everton at home on 21 September in a match that ended with a scoreless draw. In that one I used 442 with a wide midfield diamond that I haven't kept around because it was worthless. In both those matches Everton played three at the back with wingbacks, two central midfielders, a winger on each side, and a striker.
Given our prior results and Everton's formation, I took a gamble on using our 4231.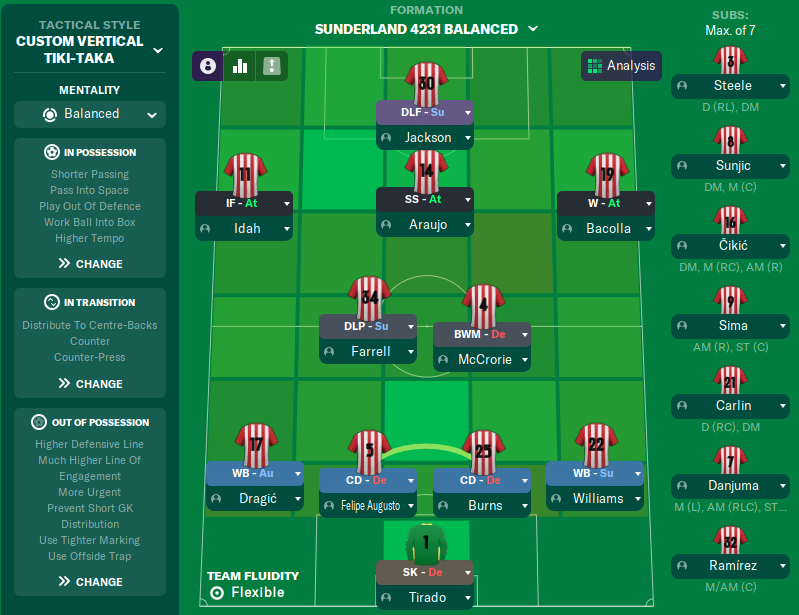 My thinking was that this would let us get a player into the hole between Everton's midfield and defense while matching them out wide. Farrell and McCrorie are set to stay deeper, and I've shuffled the BWM to the right to counter the pace and crossing threat from Ghislain Konan, Everton's attacking leftback.
I told the lads to get their revenge, and we took to the pitch.
Naturally, after all my research, Everton lined-up in a different formation.
I think they feared the mighty Black Cats and felt they had to mirror us.
The first half played out without too many opportunities and no goals. We had four shots with two on target. Everton had two shots with one on target. xG was dead even at 0.29 each. We were dominating possession with 68%, which made me pretty happy. I'd rather have the ball than not, especially when we're not giving up counter-attacks.
At the hour mark little had changed, other than a horrifically off-target Lee Farrell shot from the edge of the penalty area. I pulled Harrison for Danjuma, and moved Idah to the tip of the spear. Everton immediately counter-attacked down Danjuma's side, and we were saved from a Gutierrez goal by a narrow (but correct) offside call. At 75 minutes I pulled Araujo for Ramirez, in part because Araujo was on a 6.5 rating, but also because Ramirez is a far superior penalty taker, if things were to go that direction.
The match reached the end of regulation scoreless, though we were marginally the better side in shots and xG, and we were still dominating possession at 63%. I pulled Vlad Dragic from his spot at leftback and put in Adam Steele. Vlad was knackered and I wanted Steele's slightly better penalty taking.
Everton took a 1-0 lead on 104 minutes through our nemesis Gutierrez. He brought down a long clearance, beat a knackered Finley Burns, and finished low to Tirado's right. I pulled the ineffective Idah for Abdallah Sima and threw everyone forward. Everton scored again at 120+1 with a Scott McTominay thunderbastard from 25 meters.
Other than Adam Idah's 6.2 rating, we played generally okay. Not great, obviously, but we moved the ball well, generated some shots, and were not obviously outplayed.  That's two seasons in a row we've lost the Carabao Cup final. I hope that's just us getting it out of our system before we reach the European stage.
I complain about lack of quality, but we do have some good players in the team that only need more time to develop. John Ramirez is a great example. He has been with us less than a year, but he's developing as well as any player I've ever seen.
He was thinking about asking for a new contract, so I've given him one as a squad player. He appears to be very happy with it, and I'm looking forward to seeing his continued improvement.
Our youth intake came in March. It was as rubbish as usual.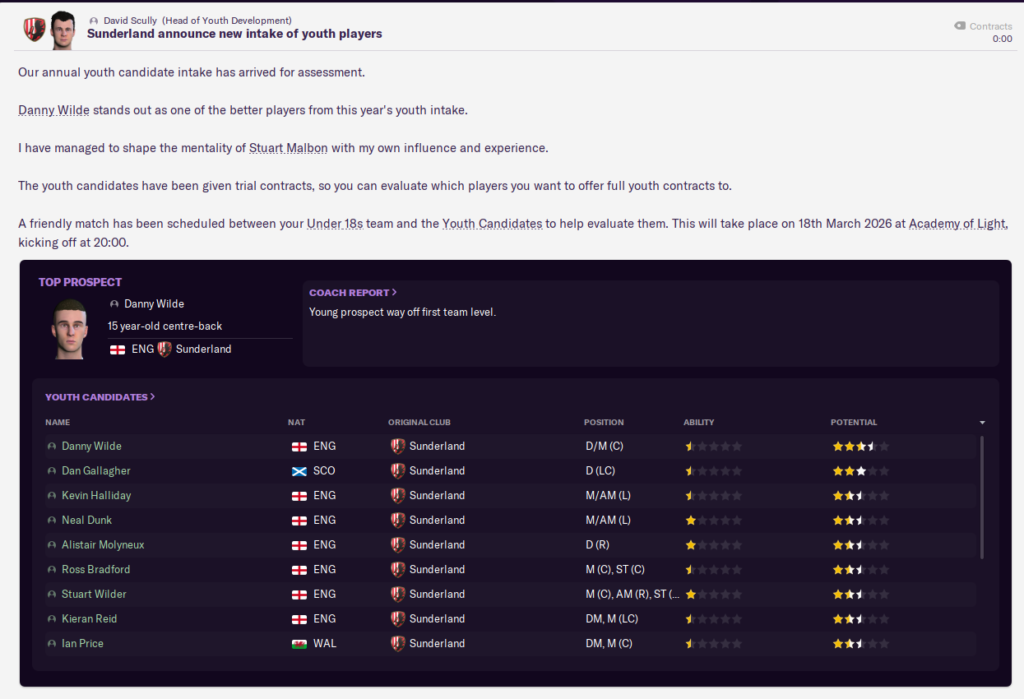 I'm not sure why it's so bad. Our youth setup looks good.
The academy coaching, maybe?
Yeah, looks like that was part of it. I feel pretty dumb. That's something I should have caught three seasons ago.
Had to go to the board and beg, but I got this done, too.

That should take us from excellent to state of the art.
We secured survival at some point. The board dropped me a note about it.

Let' s not get ahead of our– actually, f***ing cheer, people! We're fighting for European qualification, and relegation worries are in our rearview mirror.
With five matches to play we were sitting in 7th place.
With Everton defeating us in the Carabao Cup final, 7th won't be good enough for European football. We need to gain a point on Manchester United and hold off West Ham. Unfortunately, our run-in is ugly. Worse than ugly. Nigh impossible.
Norwich should be beatable, but we're not all that good when away. Liverpool is basically impossible. Spurs and Chelsea at home are possible, but we need a measure of luck. City away is basically impossible. We realistically could take 4 out of 15 points and fall to 9th, but we're unlikely to finish any lower.
We started the run-in by losing Ivan Sunjic for 3-4 weeks to injury. He's been our rotation DM, giving McCrorie breaks. Not the worst player to lose by any means, but I'd rather have him than not. By the way, we extended Sunjic's deal for three more years. He's 29, and I don't expect to keep him that long, but he's a useful player and I didn't want to let him leave for free in June. If I get an offer for him, I'll let him move to "new challenges."
We went to Norwich, played like rubbish, and lost 2-1.
Shortly after the Norwich horror show, Felipe Augusto pulled an abdominal muscle in training and went down for two weeks. That ruled him out of the Liverpool and Spurs matches. On the eve of facing Liverpool, Vlad Dragic damaged his foot, taking him out of contention for 11 to 14 days. You might think it was training, but all we were doing was match tactics and match preview.
On the one hand, Liverpool started Max Aarons at rightback, which was slightly better for us than them starting Trent Alexander-Arnold. On the other hand, they started Erling Haaland at striker. Harvey Elliott, playing in Mo Salah's old position, put the ball in the net on 20 minutes, but it was called back for offside. Somehow, we weathered the storm all the way to halftime. The xG was Liverpool 1.2 – 0.38 Sunderland. Not great! Because I'm a glutton for punishment, and because we were clearly not going to hold out for another 45 minutes, I changed things up at halftime. We switched to our asymmetric formation, and I dropped McCrorie to DM. Haaland scored 6 minutes later. It was ruled out for offside, but Haaland put the ball in the net again on a ridiculous piece of skill where the ball came in from a deep cross on his left and he hit it left-footed into the net. I don't see how it's physically possible. The match ended 0-2 with Haaland completing a brace with a late penalty.
I just have zero answers for how we can deal with serial Premier League winners and Champion's League holders Liverpool at Anfield. We can play them reasonably closely at the Stadium of Light, but on their patch? It's brutal.
Our second loss in a row left us right where we were before: 7th place with West Ham on our heels and still a point behind United, though they had a game in hand, which they won later in the week.
Spurs were all over us at the Stadium of Light, barely giving us a sniff of the ball. I noticed that Idah, playing as an inside forward on the left, wasn't doing anything to help out on his side, so I switched him from attack to support at around 15 minutes. I dropped our line of engagement from very high to high, hoping to compact midfield a bit more so Harrison Jackson wasn't on an island by himself. We also weren't getting many shots, so I moved our mentality from balanced to positive. Things settled down, and we stole a goal via a Finley Burns header from a free-kick just before halftime. Jackson and Idah came off midway through the second half for Danjuma and Laws. Our best chance came from the forwards working the ball through the box to Lee Farrell with half the goal open and no one in his way. He blasted it into the North Sea. Spurs didn't do much better, and we held on for a well-earned 1-0 victory.

Things remained tight with two matches to go.
I made a few personnel changes for the Chelsea match. Idah went up top and Danjuma came in on the left. I also lowered our line of engagement as I did for Spurs, and set our mentality to positive. The first half was pretty even, though we only mustered a single shot. We went into halftime scoreless, where I lied to the lads and told them I was happy with their performance, which they lapped up. Unfortunately, they didn't play any better in the second half, and Chelsea managed a goal on 58 minutes from a Moukoko to Tammy Abraham throughball. Things finished Sunderland 0 – 1 Chelsea, though even on shots and nearly even on xG.
My strikers are terrible and I hate them.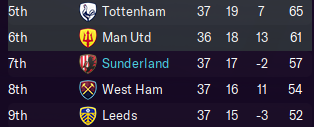 Our European dream died with a whimper.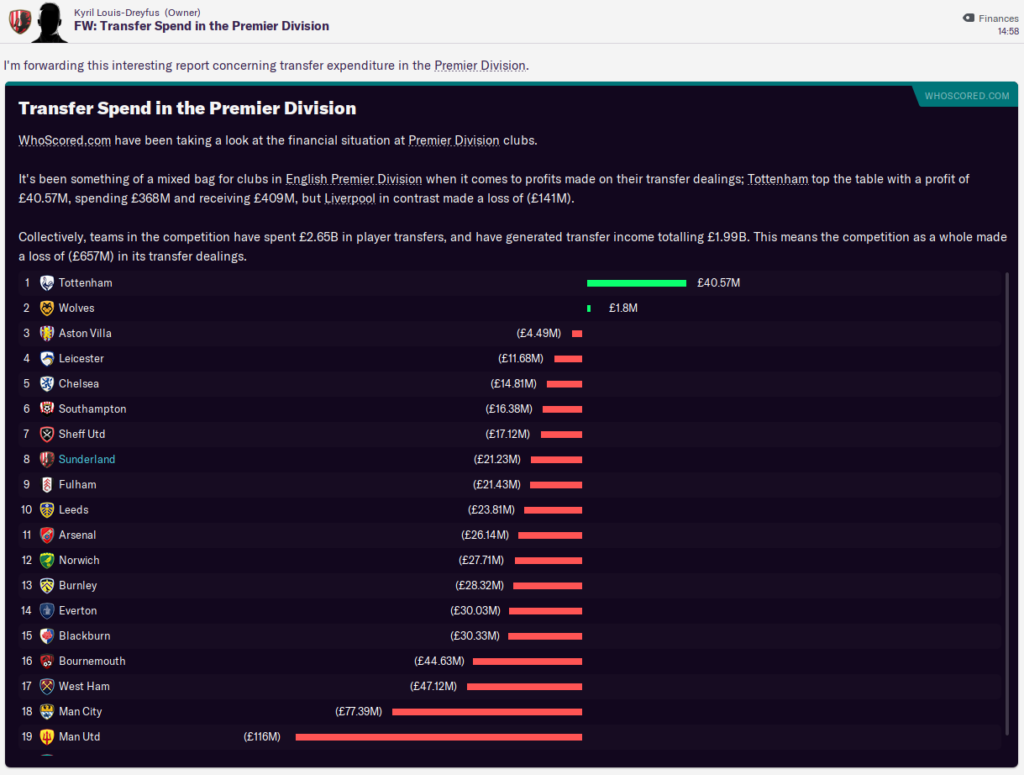 You can't see them in 20th place here, but Liverpool have spent 141m net. It's been spent well, too, given their titles in recent years. Spurs are, naturally, turning a profit on transfers, including the 69m Liverpool paid for Oliver Skipp last season.

Oh, and look at that. Harry Kane to Barcelona for 64m. How the heck did Skippy fetch more than Harry? Actually, how the heck did they get someone pay 64m for thirty-two-year-old Harry Kane?
So. Manchester City away. I didn't expect to win, but I didn't want to get pasted for 5 goals, either. I rolled out the 4132 and mixed in a few of the kids that needed minutes, including Brad Laws, John Ramirez, Obren Cikic, and Gaston Araujo. The bad news was that we once again generated nothing going forward. The other bad news was that City did. It took them 89 minutes, but they finally scraped a goal. After the match I made up some tripe about the lads giving it everything, which they once again lapped up.
But will he be wearing a Sunderland shirt when he ends it?
Five matches ago we were in 7th place on 54 points. In that time we managed a mere 3 points to get to 57.
And yet we stayed right there in 7th place. That is, if you're counting, the same number of points as last season, but two places higher in the table.
We were kinda bad in the second half of the season, though many of those losses were close. We are punching a bit above our level of talent, in my opinion. 
Actually, let's look at the analyst stats again.
Our keepers are below average, though I think this does us a disservice due to our backup keeper being so bad. So let's just look at Tirano compared to the league.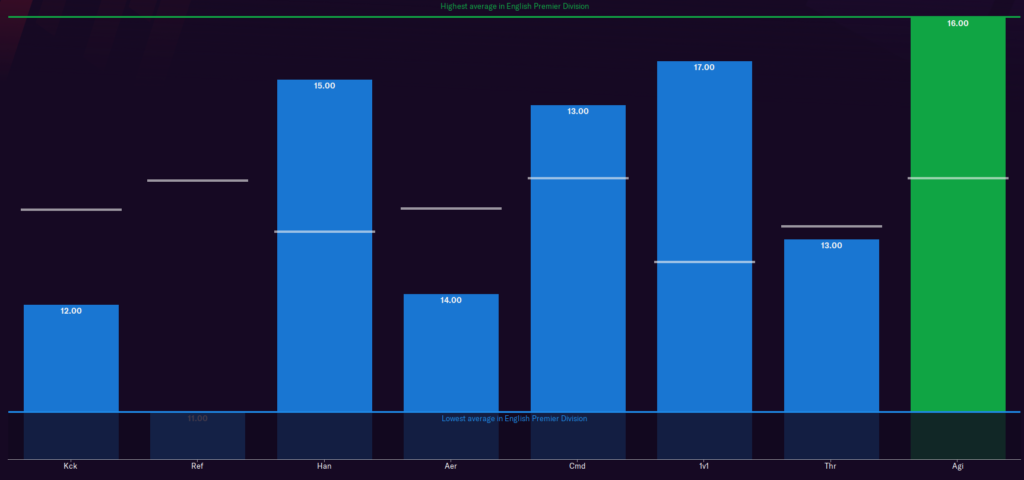 Not so bad! The best agility, but the worst reflexes. Generally decent otherwise. He'll get better, too.
Defensively we are legit. A bit slow, but good everywhere else.
Midfield is a worse story. Poor passing and vision on average, but good tackling and decisions. Decisions??? I have no idea.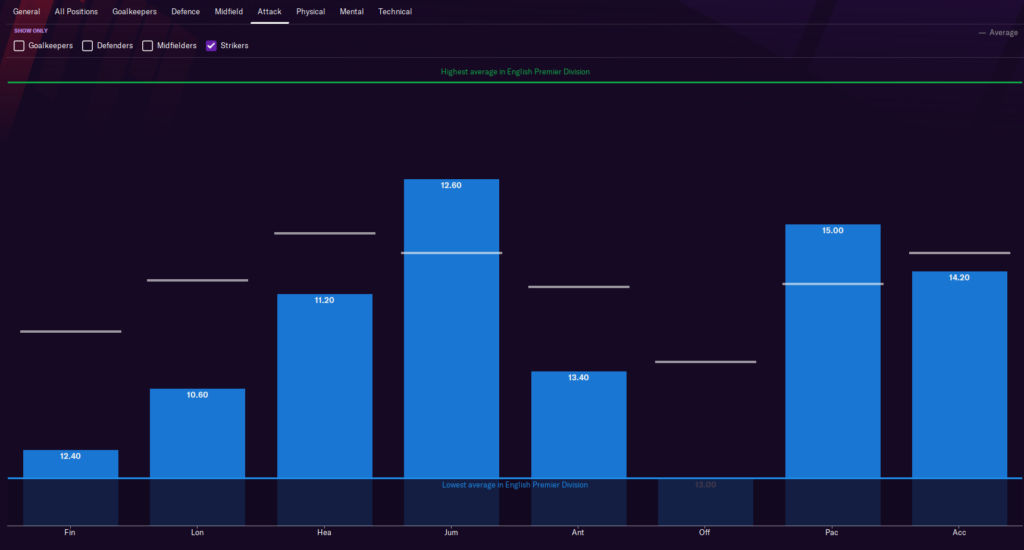 Our forwards are really killing us.
I have some excellent attacking prospects on the way, but they're still kids. We really need a 22-24-year-old striker with superlative stats. That's going to cost us 50m+, and I have no idea if the board will let me spend that much on a single player. I also have no idea if I can find someone who is both good and willing to join us. That will be for the next installment.
We played too much defense this season. Burns and Augusto were immense. Tirado and Idah were very good. After that things were mediocre. Lee Farrell, for example, is probably our best player in terms of ability, but he turned in the lowest rating.
He's still improving, though.
Jamie Allen has retired from football at only 30 years old.
I haven't noticed this screen previously (or maybe I have and have forgotten it). We were below our xG, which isn't a shock. We finished right on our expected position, though.
"There is currently a leadership void in the squad." This is what happens when most of your first team is under 21.
This is your yearly reminder that City sold him to us for 300k.
Speaking of City, they edged Spurs in the Europa League final.
That's brutal. A first-minute goal. I did go back and check, and yep, Spurs finished 5th and City finished 6th last season.
Arsenal edged Manchester United in the Champion's League final.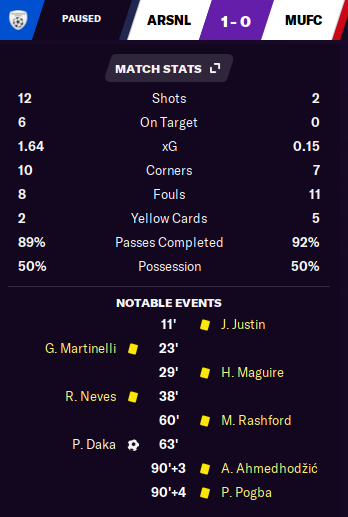 United have Calvert-Lewin leading the line. He's a good striker, but he's no Erling Haaland. To make matters worse, United needed to win to get back to the Champion's League since they finished in 6th.

Kyril, my man. You're a legend.
And on that fine note, I'll sign out. Until next time, footy nerds.