Welcome back, footy nerds. If you're just joining, the previous installment is available here, and the first installment in the series is available here.
One nice thing about having a decent-sized squad of wonderkids is that I can rotate and still have actual quality coming off the bench. My rotated sides are as strong as my starting 11 was our first season in the Premier League. It gives me the ability to play pretty much any non-Premier League side while resting my most-important players.

It's not Champion's League money, but that 2.66m isn't chump change, either. It doesn't matter too much for us, but if I were playing in a smaller league, that would be a noticeable boost. Add in money for wins/draws and advancing in the competition, and we're near 5m if you get to the semis and lose. (We should win the competition, but I'm thinking of some saves I've done in smaller European countries.) Did UEFA actually get something right in their latest money grab?
Our scouts turned up another hotshit Argentinian striker.
Great agility, good pace, dribbling, finishing, teamwork, work rate, and first touch. He is injury prone, which is certainly a negative, but the scouts think he would be the best striker at the club if he were here today.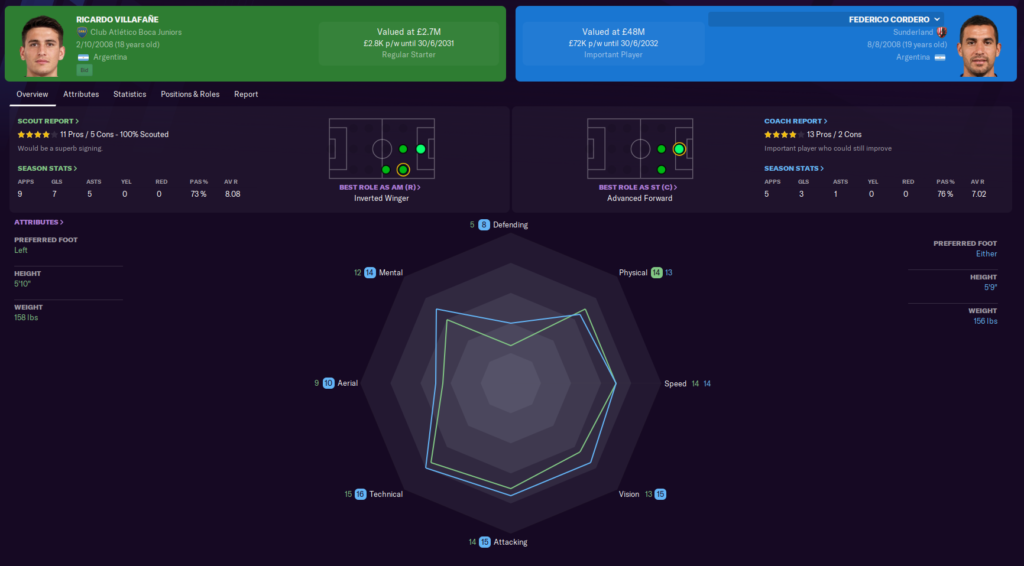 That doesn't look true to me, to be honest, but he's not far off, either. I signed him, of course. Boca was willing to take 10m with half over three years. Due to our signing limits, I've set him to arrive next summer.
September started pretty well with us being flat track bullies and running up the score against drastically inferior teams while I used highly-rotated lineups. And then this happened.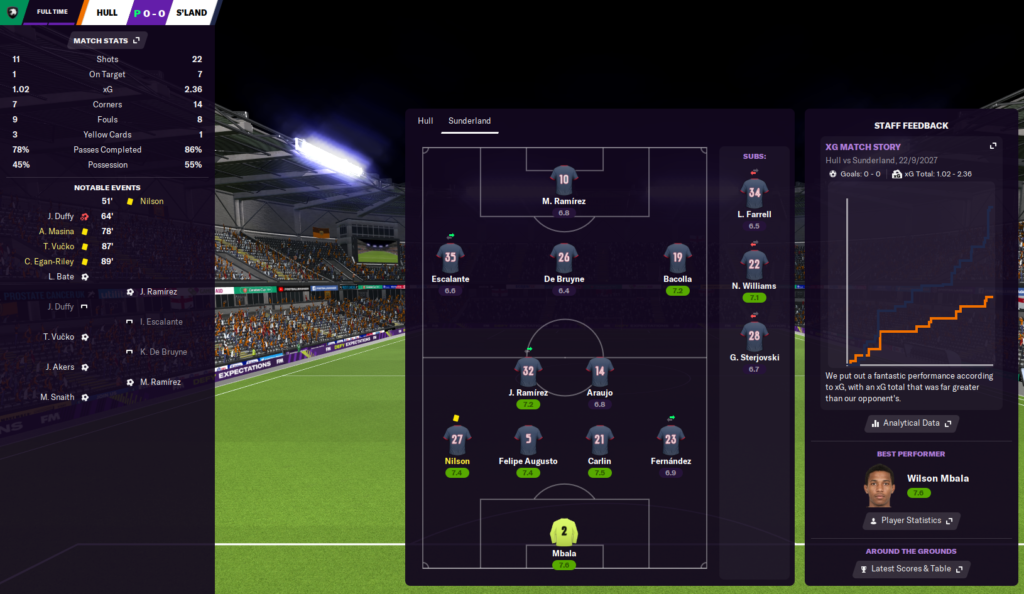 Some days you're the dog; some days you're the hydrant. Our defense of the Carabao Cup has ended at the first opportunity.
We went to Stamford Bridge to face league-leading Chelsea. We lost.
Our first big glory night on the European stage arrived with the visit of seven-time Ligue 1 winners Olympique Lyonnais. The weather was sadly pleasant, and while we hammered them in terms of shots, we only found the back of the net one time. That one time was enough to claim the points and keep us top of Group A in the Conference League.
We finished September in a good place.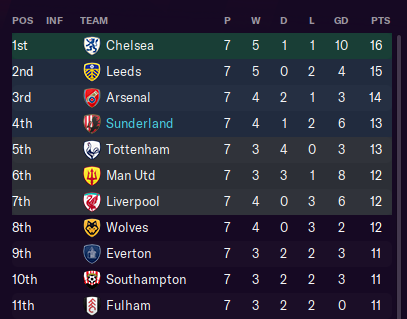 The only real surprise was away at Hull, but otherwise no complaints.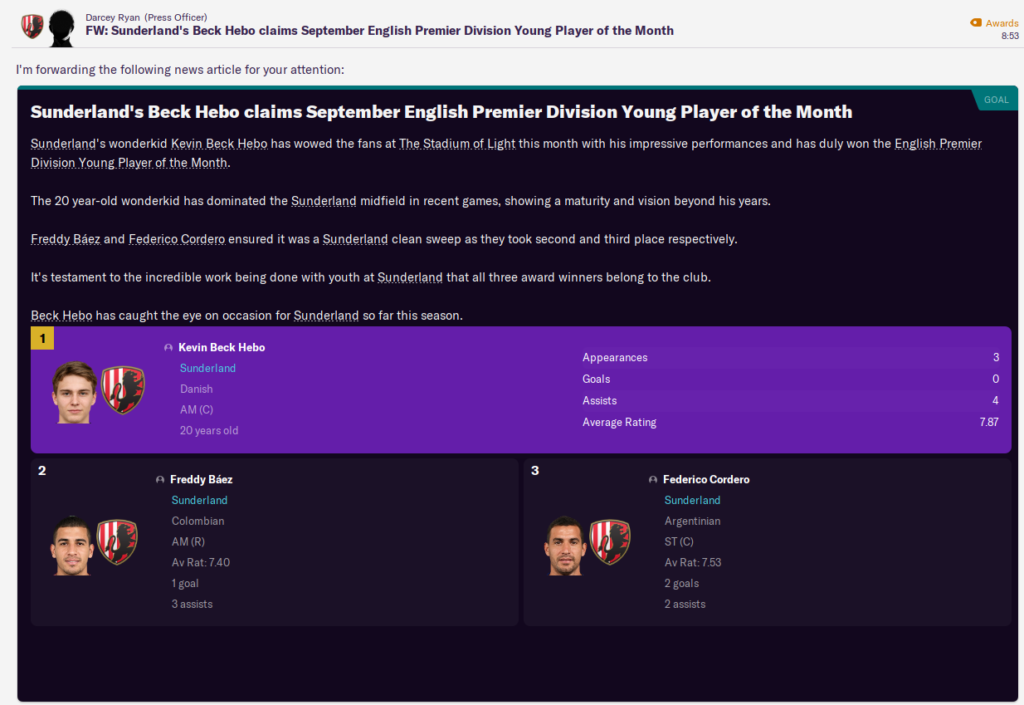 Individually, we had some stand-out performers. Ten goals in 3 matches got us some recognition. Our recruitment has been excellent. Someone should get a raise.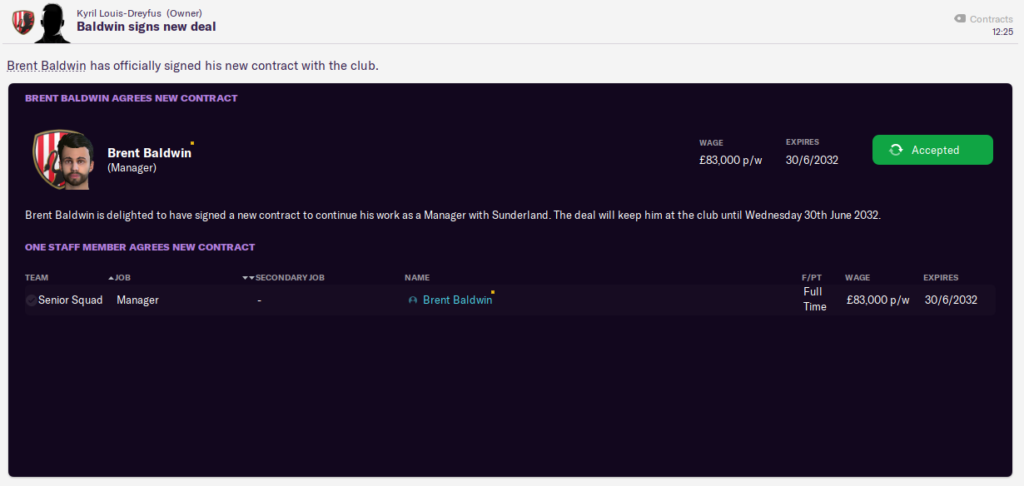 It's me. I should get a raise. 83k a week makes me tied for the highest earner at the club, with Kevin De Bruyne.
October started with a pair of narrow losses vs Manchester United and at Arsenal. Both matches were winnable, and I had my best 11 on the pitch, but we just couldn't keep the ball out of the net in two matches where we kept the opposition to low-quality chances. Therefore, I went stress shopping.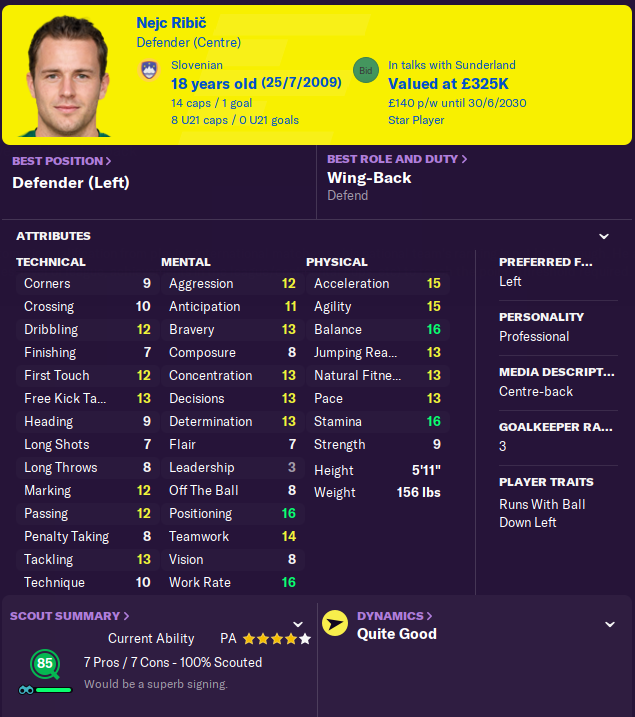 For the low, low price of one point three million pounds I was able to secure another left-footed centerback. (I already have three, somehow.) Nejc is a Professional, which I really appreciate. He's physically gifted, which I also appreciate. He's a little sub-par in his mental and technical attributes, though he's starting from a decent base and can easily improve. With his potential, he probably will improve.
Will he ever be as good as D'Haene or Puric? Maybe not. Will he give me another solid athlete to plug into my backline and make me 20m in a couple years? Almost certainly. I will admit this isn't my best purchase, but I wanted another centerback prospect, and he's only a Breakthrough Prospect, so it's not like he expects to play every match.
Some days you're the dog; some days you're the hydrant. Adam Idah edition.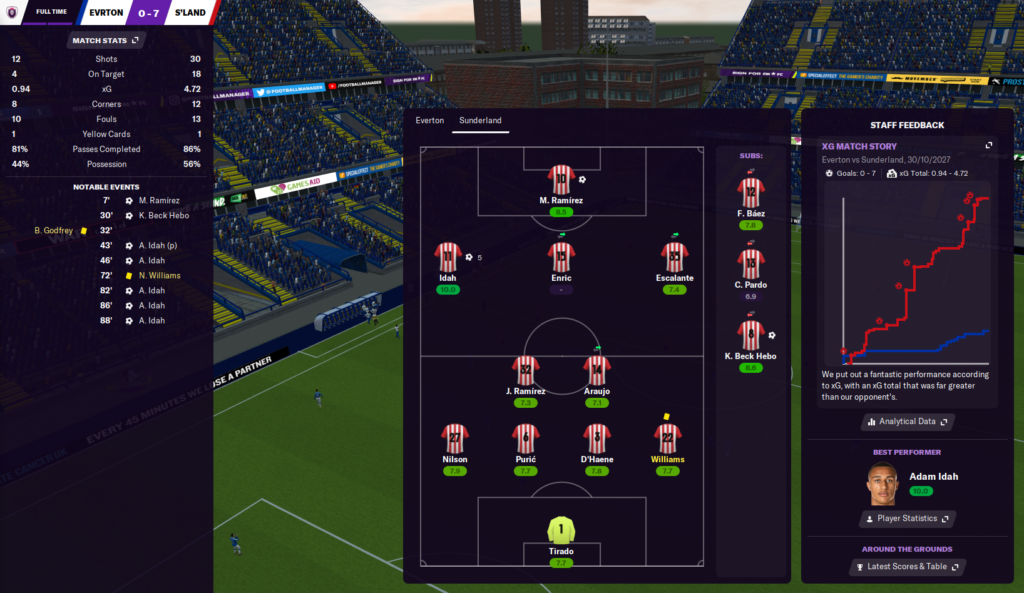 We scored SEVEN goals AT Everton. They're a good team in this save! What a way to cap off the month.

Like I mentioned, two narrow losses to start the month, but good results the rest of the way. I should feel bad about hammering Plzen so badly. I do not. The Leeds match was one we controlled, though didn't get as many chances as I wanted. I shifted things around a little prior to the Everton match. It, uh, worked.

We ended the month in 6th amidst a ridiculously tight table for there having been 11 matches already.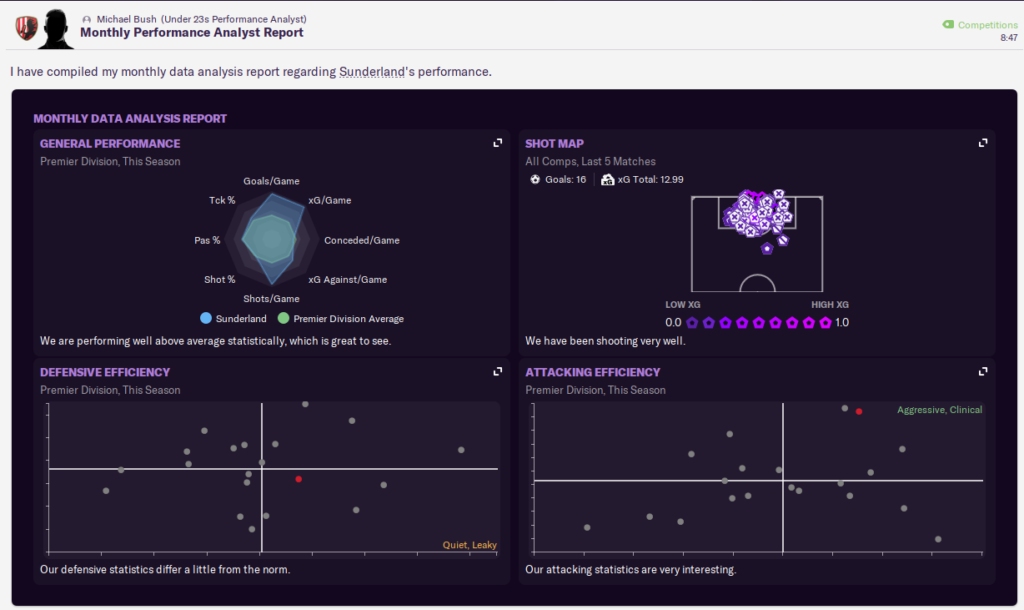 Our defense is quiet and leaky, but our attack is aggressive and clinical. This is so strange. In seasons past we were the opposite.
Let's talk set pieces.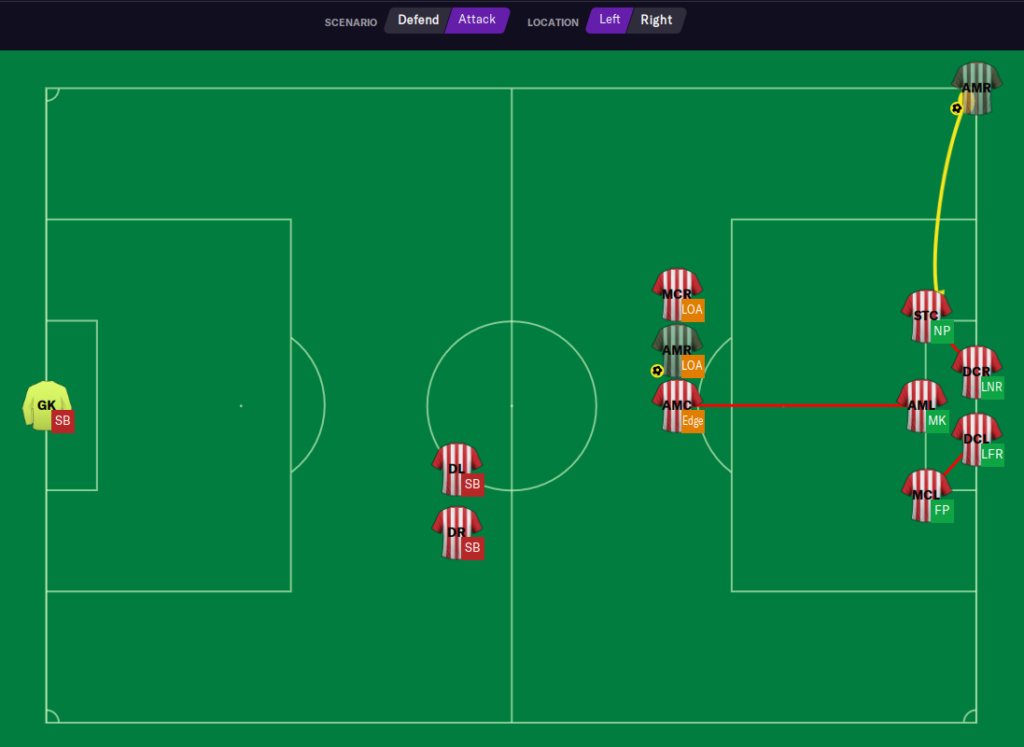 I've been double-checking my corners before each match. Well, before most matches. I forgot against Southampton, and we were counter-attacked twice and conceded two goals. The problem was that my guys on the edge of the area were actually forward, since my usual guy there was taking the corner. The ball was cleared out, the defenders got to it first, and it was two on two against our fullbacks. By keeping someone lurking on the edge of the area, we have someone to sweep up the loose ball, or at least a third body to contest the counter-attack. I'm also using someone to attack the ball from the edge of the area to give us another body rushing into the box, but this person has little effect on stopping counters. As you're drawing up your own corner routines, I really, REALLY recommend having two back plus one on the edge of the area. Be smarter than me.
November was almost perfect. The start was a little dicey with a narrow 1-0 away at Viktoria Plzen and a 0-0 at home to Villa, but when you score 15 goals in the next 3 matches, it's hard to complain too much.

It feels really good to hammer mid-table Premier League teams.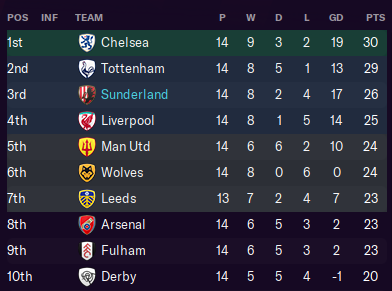 We finished the month in the lofty heights of 3rd. Can we stay there? I doubt it, but the upcoming schedule is forgiving.

We should dismantle Norwich, Fulham, Huddersfield, and Bournemouth. That doesn't mean we will, but it's more possible this season than ever before. I don't much care about Lyon and will probably rotate with Spurs in mind. Spurs and City are always tough matches. We could lose 4-1. We could win 2-0. We could draw 3-3 or 0-0. Pretty much any result is in the cards. If we come out of the month with 12 more points, I'll be happy. That will keep us in the Europa League places, I think.
Fede Cordero hit a rough patch without any goals, so moved Martin Martinez up top. He's been outstanding.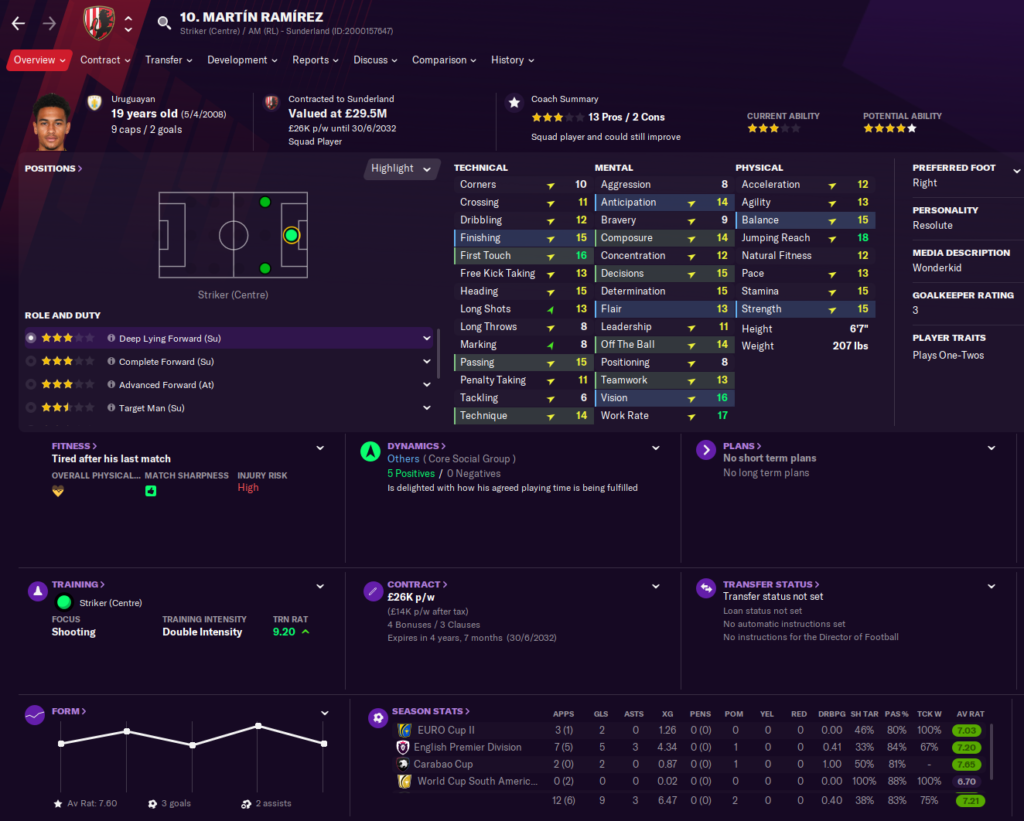 Fede is still getting lots of minutes in the Conference League (EURO Cup II) and off the bench, but Martin is the clear starter until his form falters. We'll see how he does against the top of the Premier League.
Oddly enough, Idah has been our best goalscorer coming off the left.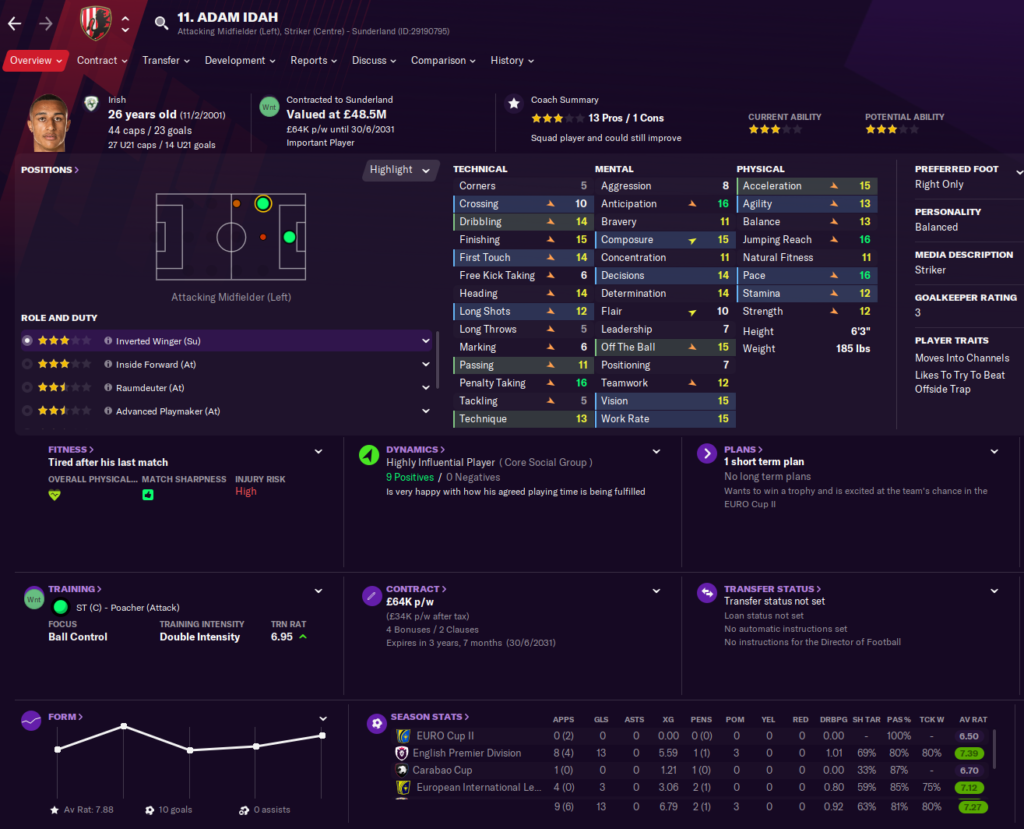 Thirteen in the league! I'd say about half of them are headers, either from Freddy Baez and Neco Williams crosses or from set pieces.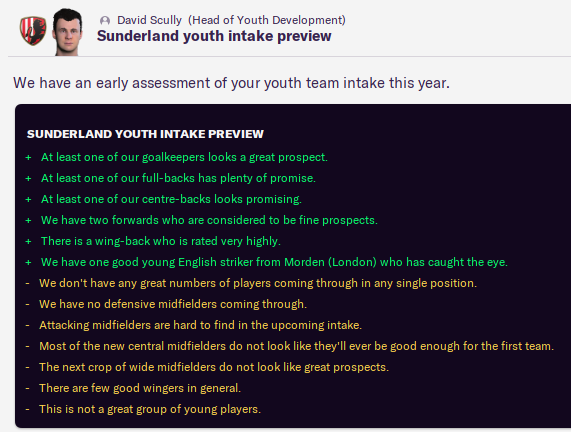 All that investment in our youth setup and we get "This is not a great group of young players." Killing me, SI.
I said I'd be happy with 12 points from December. I would have been, though I was a bit worried that we followed up a 4-0 demolition of Norwich with a 1-1 draw at Fulham. The low score was bad enough, but we gave up an 84th minute goal to drop the points. Away to Lyon was a freebie as far as I was concerned. I heavily rotated our lineup. The lads brought us back another 1-1 draw. I was far happier about that one. For a few minutes of the Spurs match I thought we'd run away with it. Martin Ramirez scored in the first minute, and we had a chance to go up by 2 goals on 29 minutes, only for Fede Cordero to have a penalty saved. After a first half of Black Cat dominance, Spurs scored early in the second half and played much better. We had a chance to seal it late, but Fede hit the post, and we took only another 1-1 draw against the league leaders.
Then we rattled off 12 unanswered goals against City, Huddersfield, and Bournemouth. Twelve unanswered goals nicely spread across the 3 matches, no less.
We ended up with 14 points from the month.

We're 3 points back of first place after Boxing Day.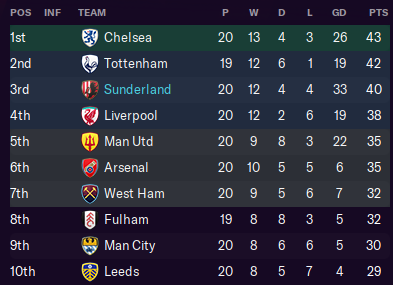 That will probably turn into a 5 point deficit if Spurs win their game in hand. We've played exceedingly well over the first half of the season. The only loss where I was genuinely annoyed was at Wolves in August. I can't complain about Chelsea, United, or Arsenal, especially when 2 out of 3 were on the road.
Looking ahead, January is promising.

An FA Cup match we'll probably bottle, a tough home match against Liverpool, and a bunch of matches we absolutely should be winning. I predict 10 points from the 5 matches, but I'm secretly hoping for 13 (and assuming that we'll draw one of Liverpool or West Ham).
At this point I think we're more likely to win the league than to come in 7th. More likely we finish 4th or 5th, but anything could happen. We even play Spurs at home on the final day, so there's opportunity for high drama.
But to find out whether that happens, you'll have to read the next installment. See you next time, footy nerds.