Welcome back, footy nerds. If you're just joining, the previous installment is available here, and the first installment in the series is available here.
This update is going to be a bit of a different structure than the others have been. Mostly because I didn't take as many notes as I went along this time, so the fixtures and results are all retrospective. The blog is not dying, and I'm definitely playing at least another season after this one.
Our players are actually good now. Not just young and with potential, but young and ready to play Right Now. Remember how I told you that Martin Ramirez was outshining Fede? The rest of the world seems to agree.

For the record, while a few of my wonderkids have release clauses in their contracts, Martin does not. He also has 4.5 years left on his 26k per week deal. (That will soon turn into 44.5k a week due to him playing so much.) I'm not saying I'm good at this game, but I do get things right on occasion.
Coming into the January transfer window, we had a solid war chest if we found any players who could improve our squad and were willing to join.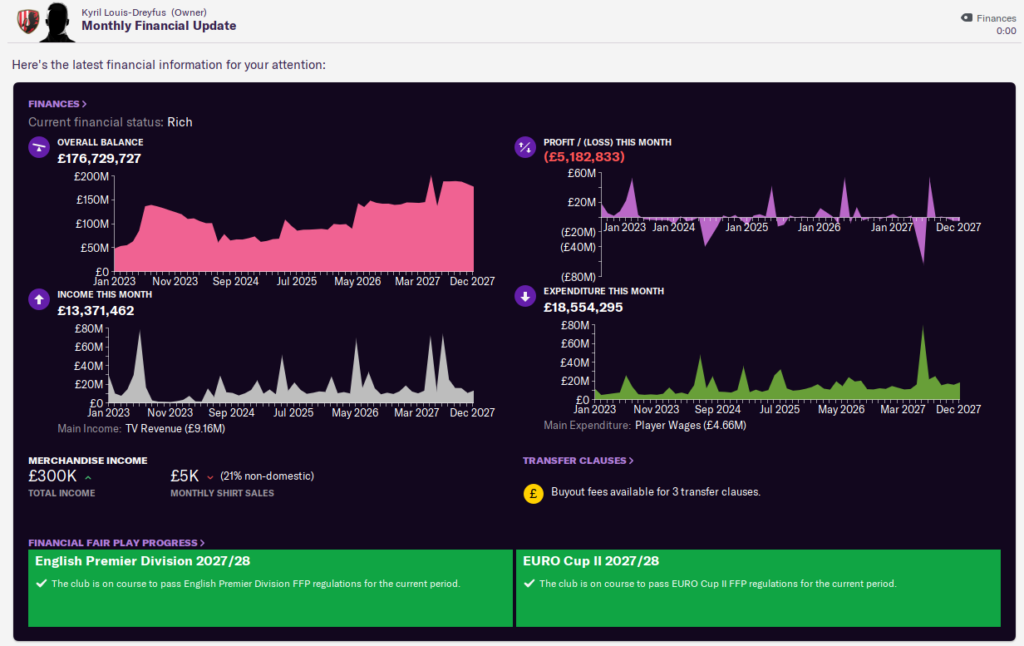 By "war chest" I mean "176m quid at the end of December." That's frankly obscene, but so is the Premier League TV revenue.
Our January form wasn't great. Losing to Liverpool didn't bother me, but the West Ham result was poor, and the dropped points at Bristol City were egregious. We continued to fight for the top 4, but at this point we were down into the Europa League places and I was afraid we'd slip right back to 7th as we have in the past.
We turned things around in February, stomping Chesterfield in our FA Cup replay, recording a famous victory over Chelsea, losing narrowly in a match where we played well at United, and thumping Leeds.
March was nearly perfect, only marred by the FA Cup exit. Annihilating Hoffenheim made up for it, though. The win against Arsenal was a good one, too. This put us back into the top 4.
Our youth intake was rubbish, as usual.

LA Galaxy turned up in March asking to take Harrison Jackson on loan. I countered with a 15m direct sale, which was a bit lower than the 20m I wanted last summer, but matched his value at the time. They accepted it.
He joined us on a free in 2025, played a good bit in his first season, but was replaced by better, younger players. In the end, he made us 15m quid. Darn good business, in my view.
April was one of the best months in the history of this save. After floating around the top 4 spots in the league, we finished the month with an amazing win at Manchester City that left us in second place in the league, behind Chelsea. We also progressed in the Conference League, including a first leg away win at Lyon.
And then there was May. We finished the job against Lyon to make the Conference League final. We then had a horrible, terrible, I-can't-believe-it match against Huddersfield. A match that we may rue for decades to come. Had we won that match, we would have gone into the final day with a chance at winning the league. We would have needed Chelsea to stumble (which they did), but without those points, Chelsea clinched it. We needed a win vs Spurs to confirm 2nd, which we achieved with surprising ease.
To repeat: Sunderland Football Club just finished second in the Premier League!
This was Chelsea's run-in:
They had a commanding position in the league at the beginning of April, and then the wheels just fell off. Four scoreless draws! They wanted us to win the league, and we nearly did it.
We're in the Champion's League next season, friends.
I don't know if we'll ever have a better chance at winning the league. Hopefully next year, but 80 points is the lowest any league winner has had during this save. Honestly, though, if we can win some of those home matches against the top 6 sides and clean up our form a little against the basement dwellers, we should be in the conversation again.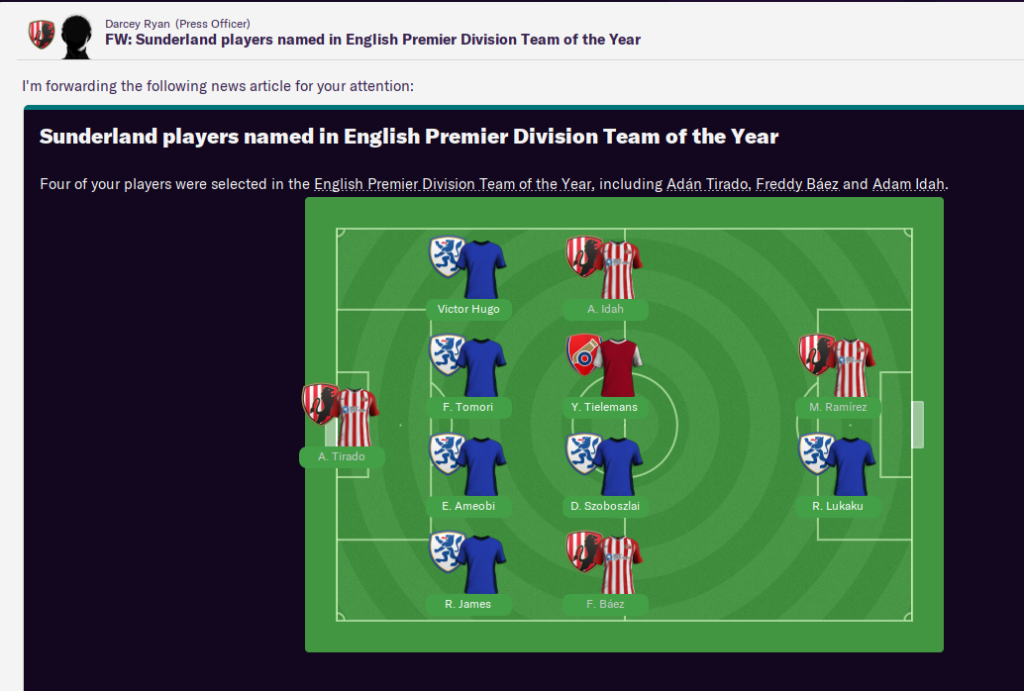 Our players received significant recognition. Chelsea received more, but they did win the league.
We did still have one match left vs Braga in the Conference League. Going into the match, I went with our 4231.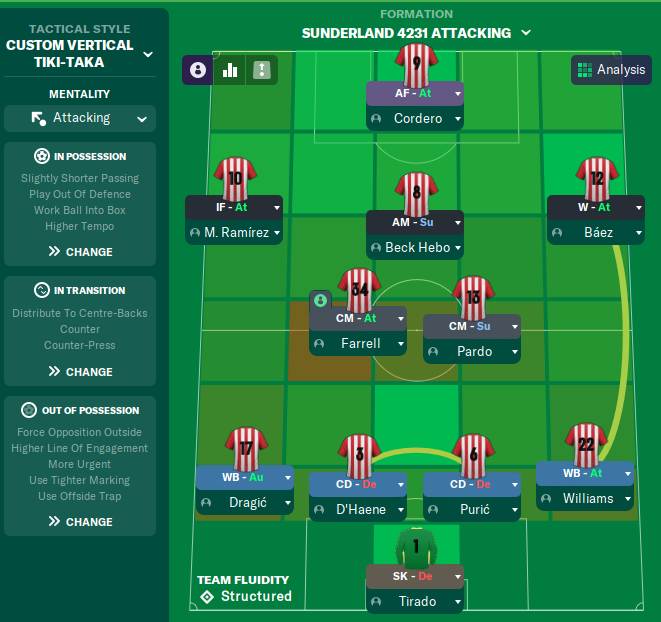 I wanted our best players on the pitch, and I wanted to exert as much control over the match as I could. And if we needed to go more defensive, Pardo could drop into the back three.
Freddy Baez had our first shot within 15 seconds, but it was horrifically off target. To my surprise, Braga held possession around 52%, but they couldn't generate much going forward while we were taking shots, including hitting the woodwork on 30 minutes. We went into halftime with 15 shots, but only 1 on target. Braga had exactly zero.
I gave the lads the hairdryer, and sent them back out exactly as they were.
Martin Ramirez scored his 32nd goal of the season on 54 minutes, cutting in from the left wing in Adam Idah's role. It was nearly offside, but the goal stood and we were up 1-0. We kept the pressure, not so much dominating possession as simply never allowing Braga to get near our goal. Freddy Baez doubled our lead at 90+2.
We won, of course. 2-0. Braga never took a single shot. It was the most anti-climactic cup final imaginable.
Winning the cup paid us 2.5m, but check this:
19m for television money! I didn't expect that, at all. How delightful. We also received 1.45m for ranking pool money. Not bad at all.
Our new arrivals were key. Ramirez was even better than Fede, D'Haene was worth every pence, Kevin Beck Hebo played a ton, and Pardo was brilliant as our holding midfielder.
Finances were good. We're still rich, of course.
End of season meetings are so dumb.
We came in second, and you don't think we can qualify for the Europa League next season, lads? Are you mental? I suggested that we could finish top half, and they felt like that was better.
We're still rich. Richer than ever, in fact.
Our keepers are better than league average. I actually just gave Tirado a new contract on 79k a week. He wanted over 100k, and I had to offer a massive loyalty bonus to keep the wages down.
Our defenders are better than league average. We're actually being held back here by Burns, Augusto and Jordan, who are all mid-table quality rather than Champion's League quality. At least one will need to go in the summer if I can make it work with the homegrown rules.
Our midfield is now a position of strength rather than weakness. You love to see it.
The attack isn't quite as good as the midfield, but our best attackers are top shelf and the guys behind them still have room to develop (other than Idah).
Looking about the squad, we don't have any glaring holes. We could probably do with a better left-winger than Adam Idah, and our fullbacks could be better. I have tons of quality forwards, so I may not even need to go shopping for the winger.
We'll leave it here, for now. I'm super excited about next season. See you soon, footy nerds.