Welcome back, footy nerds. If you're just joining, the previous installment is available here, and the first installment in the series is available here.
January didn't start well. Not just LAFC reneging on their contract for Wright, but our first FA Cup match went horribly.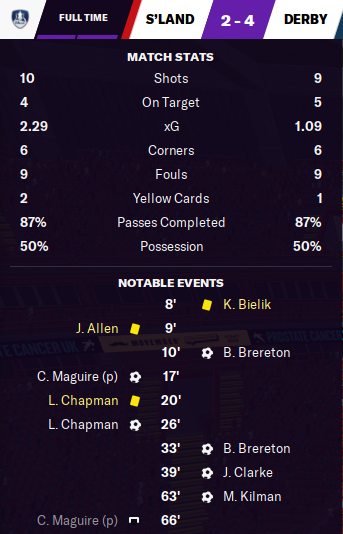 We lost, obviously, and the scoreline reflects the match more than the xG, which was inflated by the two penalties. Derby were clinical. We were shite. The board was upset with the loss, but it did let us focus 100% on the league. That's okay, I'm telling myself. The league is more important. Our owner will inject more cash; we don't need that cup money. I hope.
We scraped a 1-0 win against Hull and then went to Brentford. Going down a goal on 17 minutes to a clinical Sergi Canos finish didn't worry me. Losing Troy Parrott on 27 minutes to a red card for a two-footed lunge from behind did, in fact, worry me. There was a time, back in October, when we were Barcelona of the north. When we would expect to strangle a match and deprive even Brentford of the possession they needed to harm us. That time is long behind us, but Jamie Allen came through with a banger in the 50th minute to give us hope. Lyndon Gooch had a tidy finish on 60 minutes to give us belief. I immediately shut up shop by switching to a Defensive mentality and dialing Time Wasting to 11. I wish I could tell you that it worked. It did not. We gave up another goal on 77 minutes to make it 2-2, and Bryan Mbuemo scored at 90+6 to win it for Brentford. It might have been gutting if it hadn't been so damned expected.
There was another time, not so many years ago, that Brentford 3-2 Sunderland would have been a massive upset. That time has also passed. We came into this match the underdogs, we did ourselves credit taking the lead while being down a man most of the match, but we lost as expected. The good news was that we were still firmly in the playoff picture and only five points out of first place. Not gonna lie, though, I'm disappointed we couldn't hold on for the three points after having the lead after an hour.
I spent the rest of January working the scouts overtime. McKay left as planned (jerk cost me 2.5m by taking Wright's DP slot and I'm still salty about it), and I sold Carl Winchester to QPR for 230k.
I've agreed a deal for Anthony Ralston at the end of his current contract to come play right back. Ben Woodburn is back from Liverpool (I guess Klopp didn't hold that grudge), not because I expect him to be that good, but because his contract expires in June and I thought I'd keep him around to see if he's worth signing on a free. I don't know; it sounded like a good idea at the time, okay.
The big signing, though, was Dan N'Lundulu from Southampton. He can play anywhere across the attacking band or at striker, though he's probably best up top given his poor passing. With Parrott injured, he'll start at striker and then slide out to the right in a few weeks. He came in for 1.8m, which makes me even more annoyed about missing out on the Wright money. Remember, folks, never sell more than one player to the same MLS club in a given window.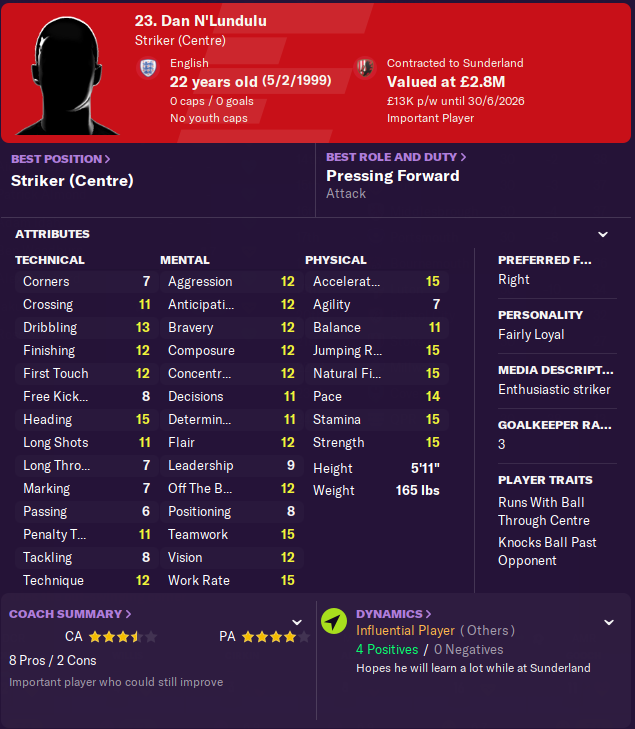 We rumbled onward through February, beating the teams we should beat and losing to the ones that are, if I'm being honest, better than us. We went to Sheffield, played them about even, and lost 0-2. Much like Brighton and Brentford, Sheffield are superior across the board. So is half the league.
If you're not familiar with FM21, know that Youssoufa Moukoko is the wonderkid in this version. He's 15 when the game starts, and he never signs an extension at Dortmund, so if you're a good side, you can sign him on a free in 2022. He was amazing for us in my Verona save, and I'm still not sure why he agreed to the contract I offered him. (Money and playing time, in equal parts.) In this Sunderland save, this happened:

As if Chelsea need the help. It's depressing. And yes, I did try to sign him multiple times, but he had no interest in us. He'll leave Chelsea for Real Madrid in three seasons for 200m, mark my words.
I've switched to using the analyst view of the match to review whether my tactic is still working. Here's a screenshot of us in possession.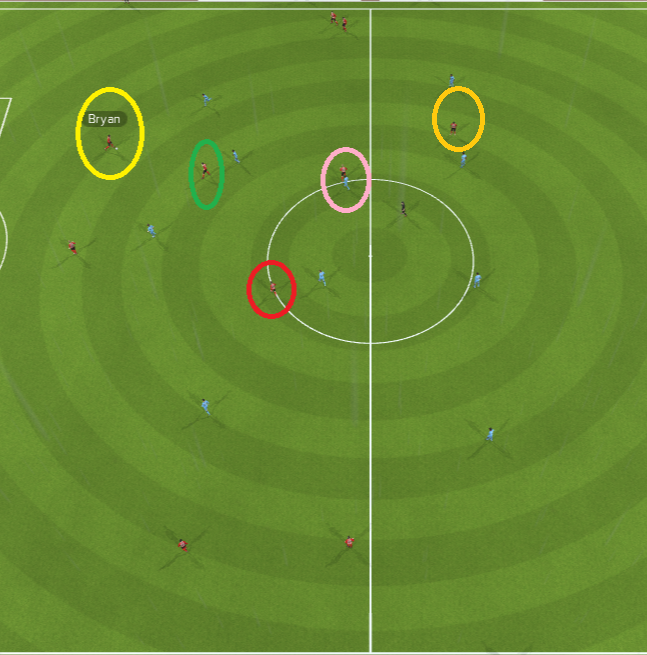 Kean Bryan, in yellow, has the ball. Further upfield the central midfielders are set up in a triangle of options. Dobson at DLP is in green, providing a short option. Allen in red is positioned to cover space and open a triangle with Pritchard, in pink, further forward. N'Lundulu, in orange, is waiting on the shoulder of the last defender. I like that we have spacing to the bottom of the image with the fullback and winger wide. I also like how compact we are from defense to striker.
The centerbacks play back and forth amongst themselves for a few passes until Jimmy Dunne pings a ball over the top to a streaking N'Lundulu, who finishes into the corner.
Here's another, more typical (i.e. non-goal-scoring) passage.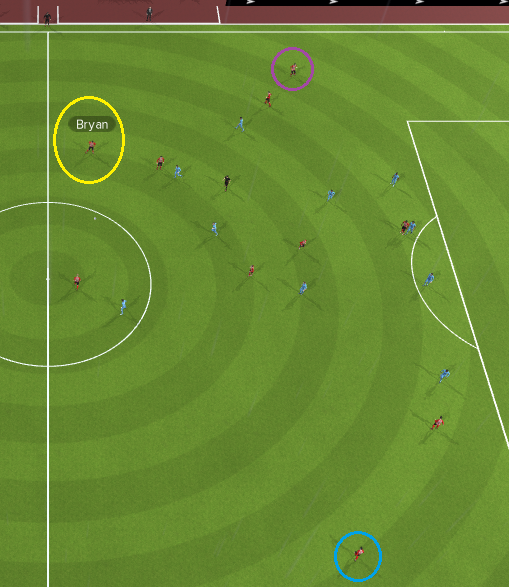 Bryan works the ball wide left to the wingback, Hume (purple) who drives forward into a position to cross. O'Nien is wide on the right, providing width from his fullback position.
Hume crosses low into the mass of Sunderland players crashing into the box, finding our winger Gooch, in green as O'Nien, at right-back, closes in from outside.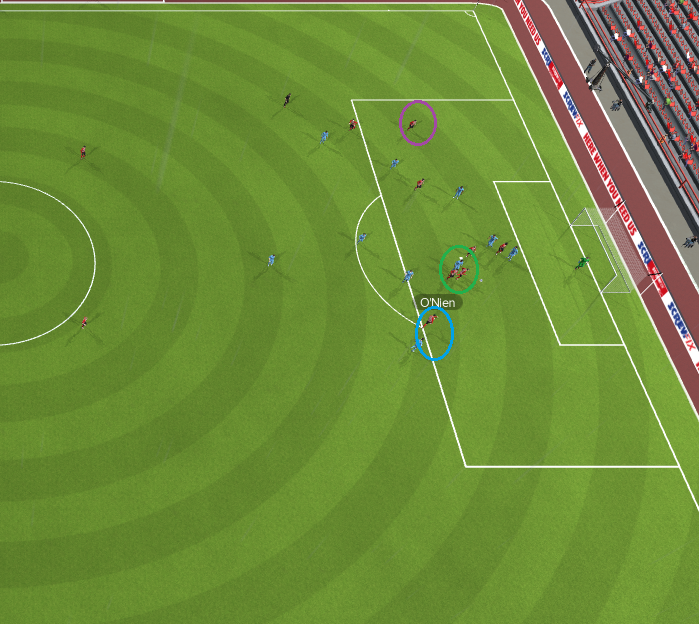 Gooch lays off to his right to O'Nien who, with a clear shot at goal, misfires wide left and directly into a defender. We've worked the ball well down the flank made a low cross into the box, and turned it into a decent shooting opportunity. A better player would have put that on target.
We did that while allowing three shots with only one on target, and none very threatening. The tactic is working well, even if January results don't show it.
I know it's only February, but I've already extended loan deals for Idah, Neco Williams, and Cirkin for next season. Worst case is that I terminate them in the summer, but I thought I'd get them locked in now while the costs would be low. I'm paying 11k a month for Neco in fees, plus his 8k salary; the others are fee-less and on similar wages.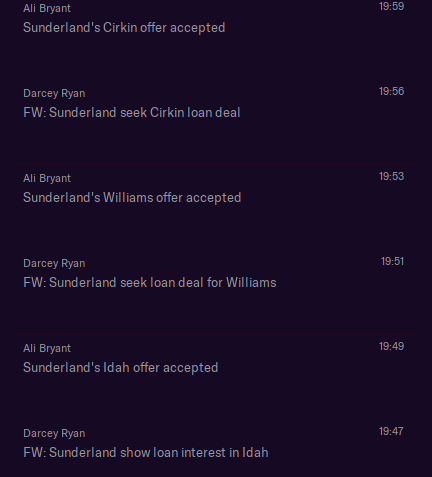 This ensures my backline is set and that I have a rotation striker / winger alongside N'Lundulu. I have not extended Parrott. Dude had a blazing start to the season, but unless he finds form again, he'll go back to Spurs and I'll find someone more consistent.

The lads scraped a nervy 1-0 win to mark the occasion of my 100th match. Thanks, lads. that was also the 5th win a row. I think Barcelona of the north is back on.
We went to West Brom for the next match and repeated the performance with another scrappy 1-0.
We didn't deserve to win, but we did, anyway. Take that, FM!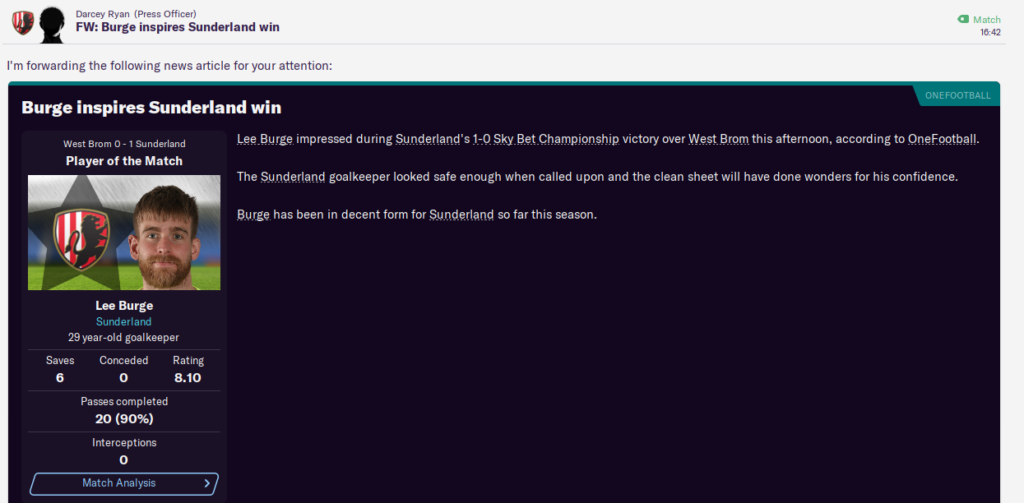 Lee Burge has been solid again this season. I'm sure I could find an upgrade, but I don't actually need to, which is nice. This win sees us move ahead of Brentford into third place on 75 points, even with Watford and only 1 goal behind in differential. We're 7 back of Sheffield United in first place with 9 matches left in the season. We couldn't lock in automatic promotion, could we?
This is our familiarity with the 4231 we've been using all season.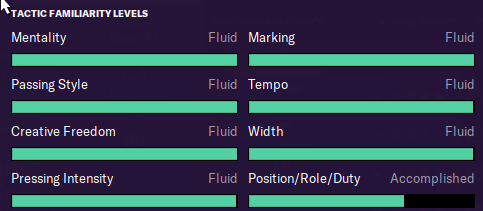 With Woodburn and N'Lundulu in the side, our positional familiarity is a little below perfect. If I bring on Gooch and Parrot, it ticks up a little further. What I don't understand is how MAX POWER is not intimately familiar with this formation and his position in it.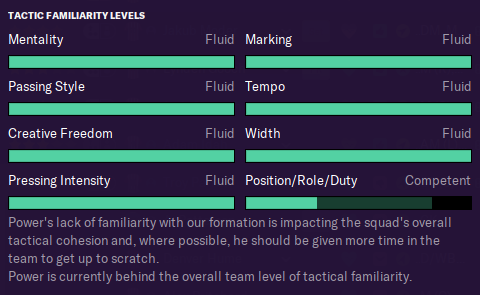 He's played the exact same role for nearly two seasons, to the point that he has a good relationship with Jakub Moder.

Ultimately, it doesn't matter. We're doing well, and the tactic is working.
Ross Stewart is little more than a backup at this point, but apparently Patrick Jackman, a regen winger/striker is gunning for his minutes and damned aggressive about it. Dang, dude. Go easy on the old man.
Jackman himself is moderately promising. The 4.5 star potential is Premier League quality, though it's far from certain he'll ever realize his potential. He did just score 4 goals and get a 10.0 rating in an under-23s match, though.

We actually have a few youngsters (ignore the loan players) with decent potential. None that are sure things and ready for the first team, but some that I can see getting some loans and either being squad players or sold for a decent amount in the future.
After the West Brom match we went to Nottingham and administered a whuppin'. After going down a goal, we turned on the style and hit them for four in a row. The win–and the extra goal differential–took us ahead of Watford to second with us both on 78 points and only 4 behind Sheffield. That was our seventh win on the bounce. We have eight matches to go.
Another gritty 1-0 win at home, this time against Stoke, coupled with a Sheffield loss tightened things further, leaving us only one point off the top. Seven matches to go.
A trip to Preston presented little difficulty. Adam Idah scored his 9th goal of the season just before halftime, which was all we needed to win and secure a place in the playoffs. Oh, and it moved us ahead of Sheffield by 2 points, though Watford are 3 back with a game in hand. Six matches to go, and anything could happen.
The March international window arrived, giving us a welcome break for two weeks. During the window, our youth intake came in.
We have a few decent-looking prospects, but they're at least 3 or 4 years from any meaningful contribution to the first team. We should be a Premier League team by then, so these star ratings will surely drop, potentially to the point that even if they reach their potential they won't be good enough. We should be so lucky.
During the break Watford made up their game in hand, winning 1-0 over Brentford. We stayed top, barely. Even on 84 points and +34 goal differential, ahead only because we've scored more goals.
Troy Parrott had the hottest start I can recall seeing, followed by the worst possible rest of the season. He caught another injury that will see him miss the remainder of the campaign. I hardly know what to say at this point. Sorry, Spurs supporters. I really did try to help your boy succeed.
At the end of the international break, we made a trip to Wales that saw Jamie Allen come back into the starting lineup alongside Jakub Moder. Coincidentally, I also activated the club's extension on his contract to keep it from expiring at the end of June. He combined well with Dan N'Lundulu, who has been the stuff of dreams, to help us to a 4-2 victory over Swansea and maintain our position at the top, even with Watford on 87 points and 4 ahead of Sheffield in 3rd. Five matches to go.
Looking at the run-in, anything could happen. We have Derby (7th), Bournemouth (15th), Watford (2nd), Brighton (10th), and Birmingham (14th). Watford is the obvious must-win, but Brighton smashed us 0-3 the last time we faced them. We drew Derby, edged Bournemouth 1-0, and pasted Birmingham 5-1.
Derby came to visit. They left disappointed. Two-nil to the Black Cats with N'Lundulu scoring another. We stayed top and put a two-point separation between us and Watford. We're now 7 ahead of 3rd place Sheffield. Four matches to go.
With him being such a key part of the team, I've gone back to Brighton about extending Jakub Moder for another season. They originally wanted to keep him around for their first team, but suggested that an improved offer could change their minds.

Spoiler: I didn't improve anything. I clicked "Make Offer" and left it to them. The fools accepted.
Bournemouth rolled into town in some kind of teal kit that looked more like saltwater taffy than a proper football shirt. We should have punished them for the effrontery to football sensibility, but Lyndon Gooch went in two-footed on 16 minutes and got sent off. We've really had a rash of red cards this season. Somehow, a few minutes later, we drew a penalty and MAX POWER slotted it home. Exactly one minute after that, Bournemouth broke upfield and Taiwo Awoniyi bundled home after a scrum in our six-yard box. So. Frustrating. The draw held less than five minutes before Awoniyi skinned my entire defense to score his second. We shipped 3 more and came out of the match with zero points and a dent in our goal differential. Not ideal with only four matches to go. Of all the matches left, this is the one I expected to be the easiest, and it marks the end of a streak of 11 consecutive wins.
The loss dropped us to second, one point behind Watford, who we play next. Get ready for ~drama~
One of the things I find interesting about this save is our success as a team. We are objectively a good team. The table, particularly at this point in the season, doesn't lie. When I look at scouting reports, I see so many players from other Championship sides that would be stars for us, but I can't remotely afford them. The thing is, we don't have any stellar individual players. Some good allrounders and some kids on loan that will one day be excellent, but even if everyone were on my books, I don't think any of them would be leaving for 15m in the summer based on their current ability. (Neco and Jakub might, but that's more potential than where they are currently.) We're doing as well as we are on the basis of the collective. Or as Doc Rivers would have said, the ubuntu.

Nah, screw that.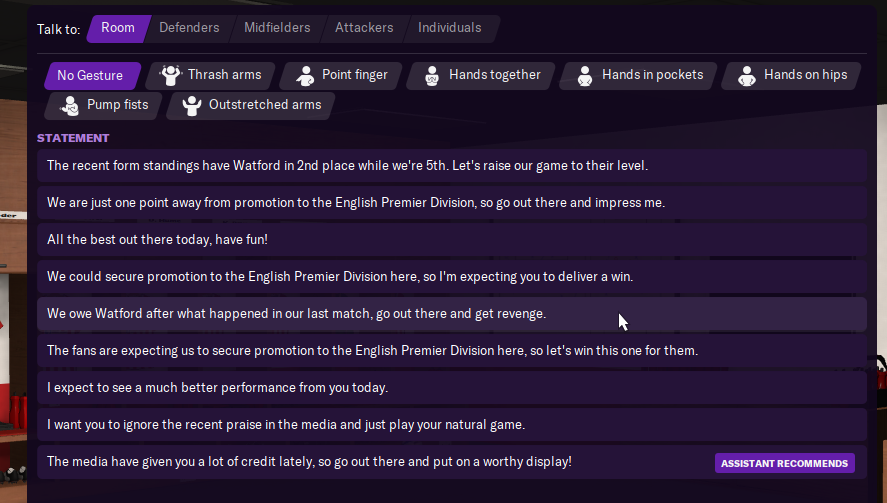 I could talk about being a point from the Premier League. I could talk about the current standings. GET YOUR REVENGE, LADS!
Twenty seconds into the match and MAX POWER goes in on a Hornet and I have to hold my breath. We've had a rash of red cards in the last few months, so one more wouldn't be a shock. He gets away with a yellow. And breathe. We work the ball well, getting the first shot and putting it on target, but it's an easy save from an Adam Idah header. Hume gets the ball on the left, plays it centrally to Onomah, who lays off for N'Lundulu on the edge of the area. Dan one-touches it to Ben Woodburn, who one-touches it into the net. Black Cats 1-0 Hornets on 9 minutes. Game. On.
We're able to play the match we want. Lots of short passing, lots of overlaps, lots of good touches in the area for us. Watford, to their credit, don't let us dominate possession as much as usual, but it still takes them 28 minutes to get their first shot. Burge gathers easily. We go into halftime at 1-0 with 58% possession and having only given up 2 shots worth a paltry .09 xG. We've only put 3 shots on target ourselves, but I can't really complain.
I make the first change just before the hour. MAX POWER is on a yellow and not playing terribly well, so he gets hooked for Jamie Allen, who immediately combines well with Onomah for a shot that really should have put us up 2-0 but goes agonizingly wide of the left upright. A few minutes later Malang Sarr drives into the right channel, but Kean Bryan is with him every step of the way and forces him into a bad angle that Burge shovels out for a corner. My heart was in my throat for a second. We struggle to get anything going until the 72nd minute when N'Lundulu is put through one on one with Dahlberg, but he can't get the ball around the keeper. He really should have scored.
Things settle for about 10 minutes until Watford get a break down our right. Neco Williams is caught forward, and Jimmy Dunne has to close down a winger with far more pace. He does well enough, stalling for the team to recover, but Watford slide the ball through to Troy Deeney, one on one with Burge who saves acrobatically and preserves our lead. Again, heart in throat. I tell the lads to drop to a more defensive shape and waste as much time as they can get away with.
They do. Black Cats 1 – 0 Hornets.
WE'RE GOING TO THE PREMIER LEAGUE!
We're also 2 points ahead of Watford with two matches to play. We're two goals behind them in goal differential so we can't really afford a draw, either.
In the runup to the Brighton match, Adam Idah twisted his knee, taking him out for 4 to 7 days. Both Cirkin and Williams are in need of a rest, but neither are going to get one. Two more matches, lads. You can rest all summer.
Brighton did not put up the same fight as last time when they beat us 0-3. This time N'Lundulu scored a brace, and I gave a debut to one of our academy players, Brad Laws. (Not that same lad that smashed up Ross Stewart.) We strolled to a 2-0 win. Elsewhere, this happened:
Which means…
We won the league! I honestly didn't think it was possible. It shouldn't have been possible. We were about the 8th best team in the division, and then only with some luck. That first six weeks with Troy Parrott on absolute fire gave me hope, but when he went cold and we were lucky to scrape draws in the late autumn, I would have been happy with making the playoffs. N'Lundulu in January didn't just save our season, he worked a miracle.
With the league settled, the board have sent me a note.

The summer is gonna be busy. We only have 191k committed spending next season, and not many players are getting a wage boost with the promotion. Ever the (secret) optimist, I kept the 30% wage escalator for promotion out of most of the contracts I've issued.
The bad news is that I've had our scouting package set to the Football League, i.e. League Two, League One, and the Championship. Our scouts have little idea what's happening in the Premier League, so the players they're bringing me are generally less skilled than we want.
For our final, meaningless match against Birmingham, I sent out a lineup with some promising kids, some fringe players, and MAX POWER. Brad Laws, in his second-ever senior match, scored a fine goal. It wasn't enough for us to actually win, but it was enough for a draw, and that will do just fine.
We've done back-to-back promotions, including two league titles and the Pizza Cup. It's been brilliant. The stuff of dreams, and the best kind of Football Manager.
Here are a few stats for you.
We brought in ten players. Woodburn was easily the worst of the lot, and I'll let him leave at the end of the season. Jimmy Dunne had the best average rating, but N'Lundulu was right there with him. They were both essential.
Our team of the season was exactly as I would have picked it. We really settled on a first 11 around February, with minor rotation for freshness and injury. I'm surprised to see Gooch rated as highly as he is, but he kicked on well.
With the season over, we've had our scouting budget upgraded. I've gone for the top package. South American wonderkids, here we come.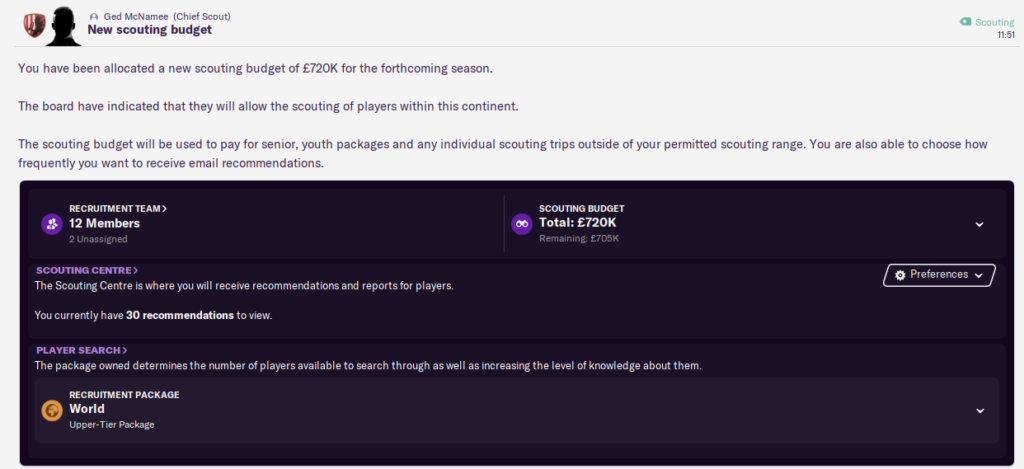 Kyril, ever the bro, has dipped his hand in his pocket again.
But for some reason, and I think this is because I asked in May rather than June when the game treats the season as actually finished, he rejected my request to upgrade the training facilities.

Not really a surprise, but I'll put it on the mantle, anyway.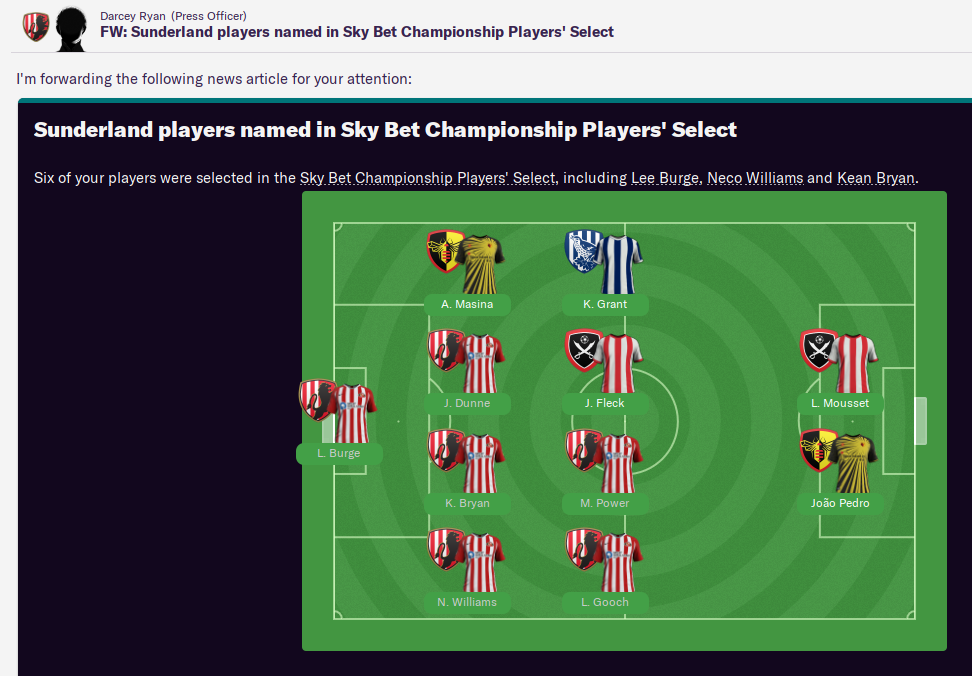 Slightly more of a surprise, and I'm happy to have them all under contract for next season.
We are to the end of the 2021/2022 season. Sheffield United won the promotion playoff. The next step is the transfer window, which is going to take ages, and I do need to get some writing done this week.
I reckon that next season will see us finish lower mid-table. I know I've sandbagged a bit on my last two predictions, but A) I was honestly shocked we won the Championship, and B) there is a zero percent chance we win the Premier League. We might, if we are stupendously lucky in the transfer market, challenge for a Europa League place. I'd give us about a 25% of being relegated, 50% chance of being lower mid-table, 20% of being 10th or above, and 5% of 6th or above.
I'll leave things here for now. See you next time, footy nerds.