Welcome back, footy nerds. If you're just joining, the previous installment is available here, and the first installment in the series is available here.
In addition to sending the scouts around the world, I'm doing some house cleaning amongst the coaching staff, including taking the course for my Continental Pro License.

This will increase my personal coaching stats by a few points, which will in turn help us with training up our upcoming generation of wonderkids.
With a number of staff contracts coming to an end, I've hired a new Director of Football and a new Head of Youth Development. Both new guys have better stats for the jobs and better personalities.
This chap may not be Pep Guardiola, but he's a Model Professional and he likes to play with the same style and formation I do, which makes him perfect for finding youth players for us.
I've also hired some more scouts to fill our quota, and I'll replace the outgoing (rubbish) staff.
The market has been tough. Even guys that are out of jobs barely want to come play for us. I've managed to sell Jamie Allen for 1.4m rising to 1.7, which feels like highway robbery. Various contracts expired and a few youth players left. Nothing special.
Incomings have been harder. I've made so many offers only for guys to go to other clubs on lesser wages. I'm probably batting .300, which is great in baseball, but sucks when you're trying to rebuild a football team on a budget. (Fabio Paratici is laughing at me in his espresso right now.)
I'm trying to balance cheap purchases with room to grow and players that will be able to provide us immediate support to stay in the Premier League. I probably should focus on the latter, but there's a reason I refer to this game as a youth exploitation simulator, and it's that I love finding young players and moulding them into world beaters. (News has just come out that FM will be adding women's leagues to a future version. That's awesome, and I'm totally in for it. I will also have to stop using the tacky "youth exploitation simulator" description of the game because yiiikes.)
Here's the new crop that will either keep us in the division or position us for long-term success. Lee Farrell is a Scottish wonderkid who looks like he'll be a star in 2 seasons (and is capable of playing immediately.) He's only 16 and he's able to play today, though, so the 17.5m (spread over three seasons) is steep, but not that steep. I'm pretty sure I can flip him for a profit in two years, if necessary. He'll rotate with MAX POWER at central midfield, much like Jamie Allen did last season, but hopefully with more minutes.
In retrospect, in the cold light of the morning, I shouldn't have committed so much money to a kid who is still raw. It's still a good long-term buy, but I really should have saved the funds for strengthening us for this campaign.
Finley Burns has joined us from Man City for 300k. I wasn't planning to sign him, but he turned up on my scouting feed as available for what seemed like a bargain price.
That does not look like a bargain player to me. I think we just robbed Txiki Begiristain. Look at that tackling! That jumping! Yes, he's slow, but he's 6'6″, has good mentals, and generally solid stats for a ball playing defender.
He compares well to Jordan Willis, who he his battling for 3rd choice centerback.
If he develops physically at all, he'll be amazing.
I actually went for Billy Koumetio at the same time as Finley Burns thinking that I'd be lucky to get one. That was 100% correct.
They compare reasonably well, though Koumetio is more physically developed.
But I didn't get him, and Finley cost so little that I hardly care.
I mentioned Anthony Ralston in the last installment. I signed him last January on a free, and he's arrived to the club this summer. He provides us an option on the right along with the ever-reliable Neco Williams. Not quite the quality I want for the Premier League, but he's on low wages and a three year contract, so I'm actually pleased with myself. If he can develop a little more, he can be a good squad player for us. Otherwise: profit.
On the other side of the defense, I've brought in Sofiane Alakouch for 3.1m rising to 4.1m from Nimes. He's nominally right-footed, but his left is nearly as good, and he's capable of playing on either side. I really needed a better left back, and I really appreciate his versatility.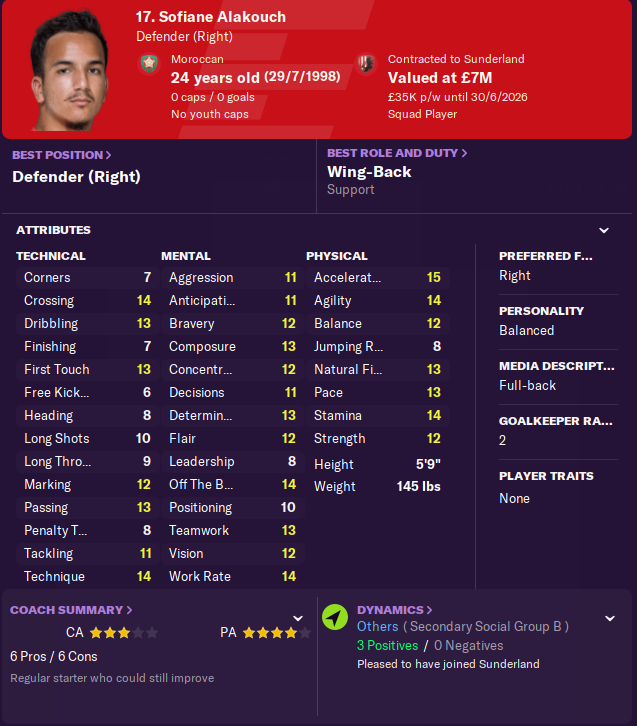 Grady Diangana was not in my plans, but he was transfer listed by West Brom, and our first match of the season showed me that we needed more quality if we were going to survive, so I opened the chequebook.
Pros: he's relatively young, at only 24. He has good pace, acceleration, dribbling, and crossing. He has plenty of room to improve and a personality that means he might even do it with some playing time.Con: He cost me 6.5m and he's on 25k a week wages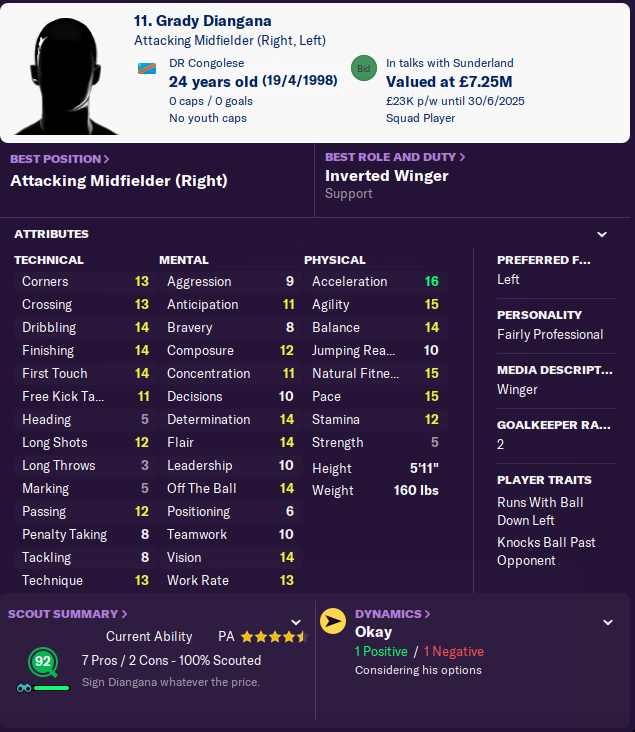 But look at that potential ability! He'll hopefully take most of Lyndon Gooch's minutes, and Gooch will be sold in the winter.
Emi Martinez (no, not that Emi Martinez) is arriving in December when his current contract ends. He was free, and he'll add some quality to our midfield alongside Moder and Dobson.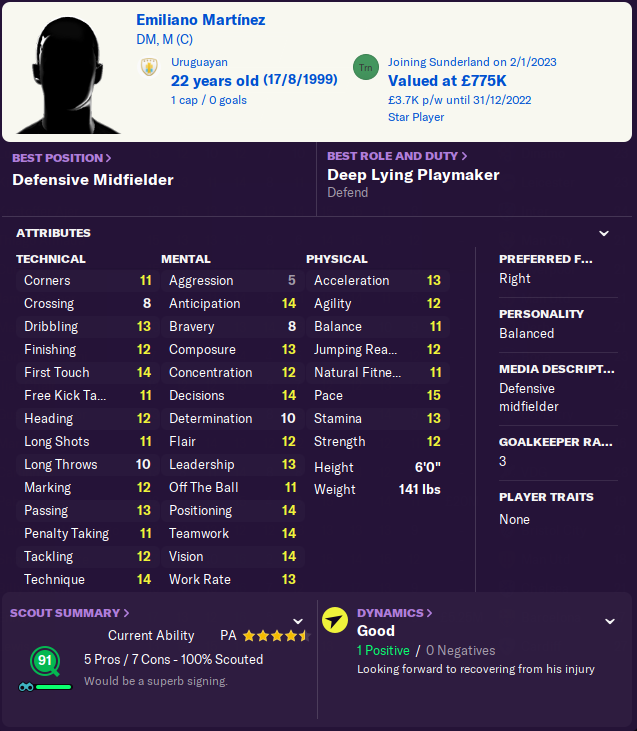 I was a little on the fence, but then I compared him to Jakub Moder, who had been excellent for us.
He's pretty similar, one year younger, and still has room to grow. This is probably not good news for George Dobson, but he has half a season to convince me that he should keep playing.
Arnaut Danjuma was another, somewhat expensive attacking addition at 6.5m rising to 7.5m. He's quick and capable, and he gives us a good option coming in from the left that I hope is as good as Adam Idah was last season. He wasn't my first choice, but my first choice shunned us for Burnley. (Hold that thought.)
Speaking of Adam Idah, I've run into something weird. These are the loan rule for the Premier League.

At the point I realized they were a concern, I had Neco Williams (DR), Jakub Moder (CM), Dennis Cirkin (DL), and Adam Idah (AML/ST). According to the rules, I'm only allowed to have two of the four. I immediately canceled Idah's loan; he was a good player, but I already had my sights on Danjuma. I've kept everyone else around to see what happened. So far, nothing. We've just finished our first Premier League match and it involved Williams, Moder, and Cirkin. So maybe the fact that all these loans were extended last spring when we were in the Championship has skirted the Premier League rule?
In addition to the guys above that will contribute this season, I've been scouring the world for wonderkids. My method is one I've seen on various blogs, but it boils down to this:
Go to your scouting center and create two shortlists. I use "Youth Intake" and "Promising Youth Intake"
Click the Globe icon in the top right of the game.
Choose World
Choose Transfers
Go to the combo box that says "Transfers" and change it to "Youth Intake"
Go through this list and add the players to your "Youth Intake" shortlist in groups of 100 or so at a time. I do this in early December and late May, usually.
Go back to your Scouting centre and go to your Shortlist tab
Select the Youth Intake shortlist from the combo box on the upper right
Create a filter to sort out the dross. I like to do Decisions 8, Determination 12, Anticipation 8, Acceleration 9, Stamina 8. Does that mean I miss out on some possible players? Probably. It also means I sort out 95% of the kids with zero chance of ever making my team. If you have hundreds of kids left at this point, maybe refine your criteria a little more. I keep it somewhat generic so I'm finding kids with wonderkid potential in all outfield positions.
Copy the players from this list to the "Promising Youth Intake" list
Have your scouts start scouting all these players
Delete the dross from the "Youth Intake" list so it's clear for next time
If you have a decent number of scouts, you'll get through the promising kids within a few weeks. From there you can start looking for ones with expiring contracts, with release clauses, or where you can poach them for compensation money.
I have lined up a few kids already. One key Premier League change post-Brexit is that you can only bring in 6 foreign kids per year, so you'll have to balance punts with players that can play immediately. (That's for that, Boris.)
Karel Hysky is going to cost me 46k from Sparta Prague, and he's due to join in about 18 months. I'm not blown away by him, but he has good potential and he cost about as much as a pint and a packet of crisps in London.
Michal Bednar is our second Czech, and poor Sparta Prague are really hating me right now. He'll cost us a whopping 52k. His ceiling is a little lower, but these things shift over time. For the price, I figured why not. He joins next summer.
Filip Beck is one of two Danes coming from FC Kobenhavn. His personality is Fickle, which is not great, at all, but if I can get him a work permit I'll try to put him in a group with some older, more professional players. He cost nothing, but he's also failed his work permit. He's scheduled to join next summer, and I'm hopeful he gets some Denmark youth team minutes between now and then. If not, I'll try to loan him to someone on the continent.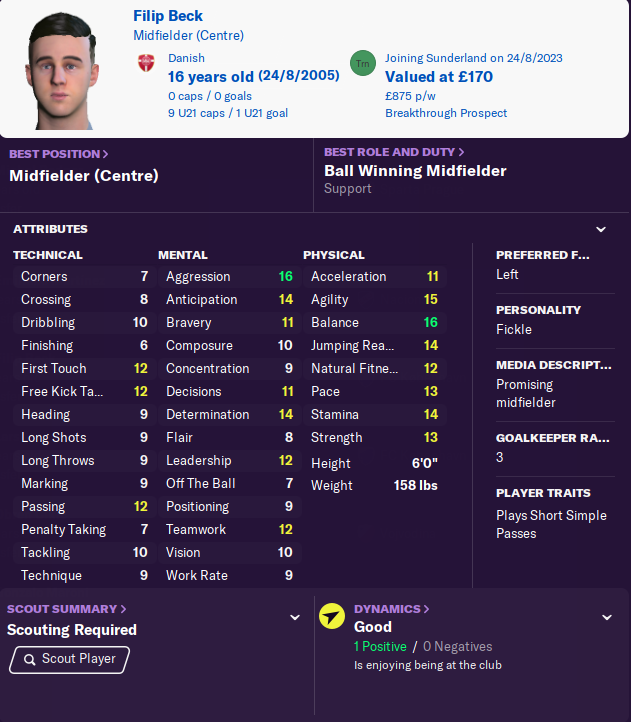 His mate Lars will be joining with him, hopefully, work permit Gods willing. He looks reasonably promising, and he also cost nothing. The Director of Football in Copenhagen is either asleep on the job or knows something I don't.
I do appreciate that Lars has a Professional personality. The 15 pace and 15 acceleration at only 16 years old gives me real hope he is a starter for us in a few seasons.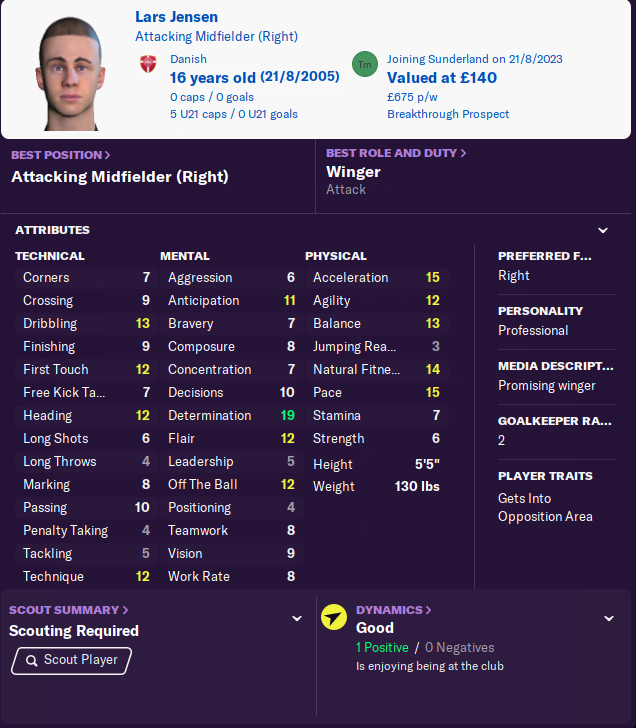 Obren Cikic is a Serbian set to join next summer, and he looks like he could start in the Championship right now. He's not very fast, but he's already pretty good across the board. He can play DM and MC, and he has a tackling of 14, so he'll probably end up as a midfield destroyer. He's going to cost at least 650k, and I think that may go up if he turns out to be great. I hope it does.
Enric will be joining us next summer, and I'm hoping that by then he'll be good enough to rotate at AMC with Onomah. He cost 5.25m to activate his release clause, and I'm hopeful that's money well spent. I'd love to poach a Barcelona player who will truly make us Barcelona of the North. Shoot, in five or six seasons, they'll be referring to the Blaugrana as "Sunderland of Catalonia."
Felipe Augusto is the product of the SPO (aka São Paulo Futebol Clube) academy. With his Professional personality, physical tools, and already high marking, he should develop into a starter in a season or two. He cost me 4m, and he won't join until next summer, but he looks as if he could be a star in two or three years.
I've spent about 10m on future prospect players. If even one of them works out decently, I'll break even. I'm pretty sure Felipe Augosto, Enric, and Obren Cikric will be not just Premier League players, but ones that I'll struggle to keep away from the biggest clubs in the country.
I've spent about 35 million more on the starters, half of which was 16-year-old Lee Farrell. That adds up to 45m of the 35m budget I was given. Thank goodness for spreading transfer fees over time.
If you're thinking this has a trolley dash feel to it, then you're not wrong. I wasn't trying to do any particular squad building; I was trying to get the best players I could with the money I had. (I'm seriously hoping I don't regret the Lee Farrell deal!)
There's a million quid left in the transfer budget, and I've committed 315k of my 643k budget. That will rise to 367k next season, though I may sell a player or two between now and then to clear dead weight and raise funds. Maybe I can get LAFC to come back in for Bailey Wright? (I wish.)
Remember me telling you to hold the thought on the Burnley match? We went to Burnley and got pummeled for three goals with only one very late set piece goal in response. I was using the same tactic that has been successful for us for so long, and I'm thinking I'm going to need to flip to the backup.
This still needs some refinement, but it should give us a stouter defense than the 4231. I didn't think I'd need it for Burnley. I was wrong.
The Burnley match spurred some of the spending above. Diangana and Burns both came in to help out the attack and defense, respectively. Diangana will help from day 1. Burns will be my first rotation option on defense.
The Championship is brutal for how long the campaign is, but you at least run into some rubbish teams along the way. Luton and Birmingham and QPR, to name a few that we trounced last season. Teams that don't have the resources and players to really challenge for the top of the table. The Premier League has weaker teams, and we're one of them. Burnley and Fulham have already handled us with ease. We took three points off Sheffield at home, and then we went to the Tottenham Hotspur Stadium.
A trip to the Marcelo Bielsa-coached Spurs went about as you'd expect. Their strikers alone make more money per week than our entire squad. The new tactic hardly slowed their attackers. They smashed us into pieces, fed those pieces into a blender, and poured the blended pieces into a wood chipper. We lost 4-nil. Spurs finished 4th last season, so this current iteration isn't exactly Spursy.
Our last match before the transfer window closed was Liverpool at the Stadium of Light. I stuck with the same counter-attacking 433 that failed us against Spurs. It also failed us against Liverpool. We lost 3-nil this time, but the xG was moderately positive with Liverpool 1 – 0.5 Sunderland. I don't think I need to panic yet.
Burnley away didn't really bother me. Sheffield at home we actually won. Fulham stung, though. Yes, it was away, but we needed points there. Spurs and Liverpool: whatever. They are so, so much better than us it hardly matters.
I'm really stuck between two minds. The 433 is holding xG down. Spurs scored 4 with 1.7 xG. Liverpool scored 3 with 1.04, which was less than Fulham's 1.56 (two goals conceded). We've barely had anything going the other direction, though. Do I ease up a few roles to get more attacking or tighten down to try to nick a goal on a set piece?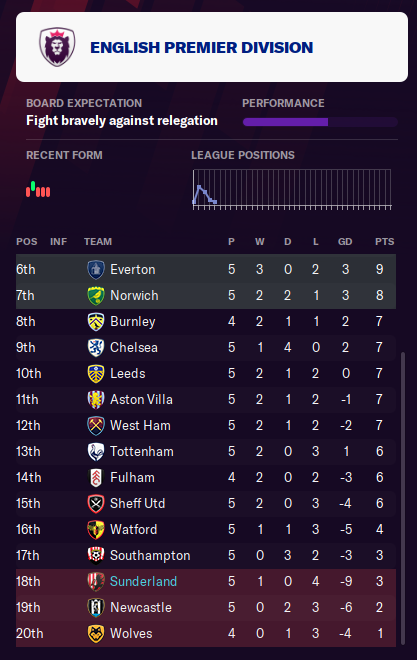 At the end of August, and the end of the transfer window, we are not looking great. There's plenty of football to be played, but usually you expect the player-managed clubs to do better than the computer-managed clubs at this point.
See you in January, footy nerds. Hopefully, I still have a job by then.
Update: the next installment is here.