Welcome back, footy nerds. If you're just joining, the previous installment is available here, and the first installment in the series is available here.
We rolled through September.

After our start in August, I didn't think the good times could continue. They did. I had to rotate a bit due to fixture congestion, and Leicester were able to take advantage to nab a point off us. We had great wins against Liverpool and Chelsea in the league.
We rolled through October.

Same story, different month. More good wins in the league, this time over Man United and Spurs.
At the end of October, we were top of the league.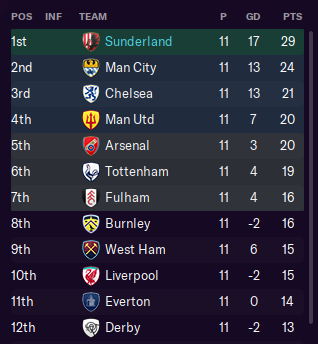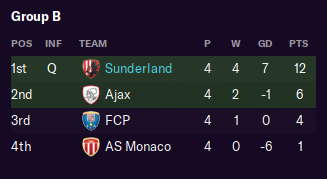 We were also top of our Champion's League group.
November was our first actual stumble.

My squad rotation bit us at home against Villa. We were slightly the better side, but couldn't find the net. Rhian Brewster scored a penalty on 82 minutes, and Villa got their second after I threw everyone forward.
Our youth intake preview came in.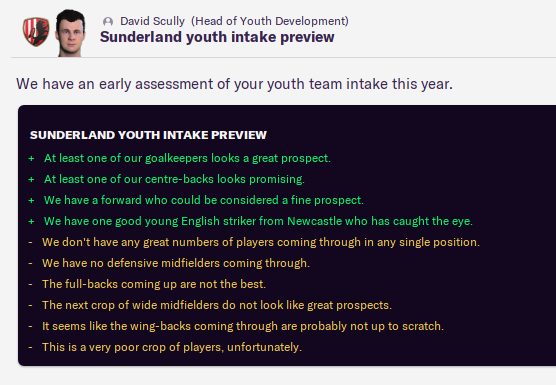 It doesn't look very promising, despite the green rows. "This is a very poor crop of players." That's after I managed another upgrade to our recruitment.
One of my positions of "need" (I use the word lightly) is left back. Gabriel has been hurt for months, and Nilson is right-footed. Our scouts turned up a great-looking player.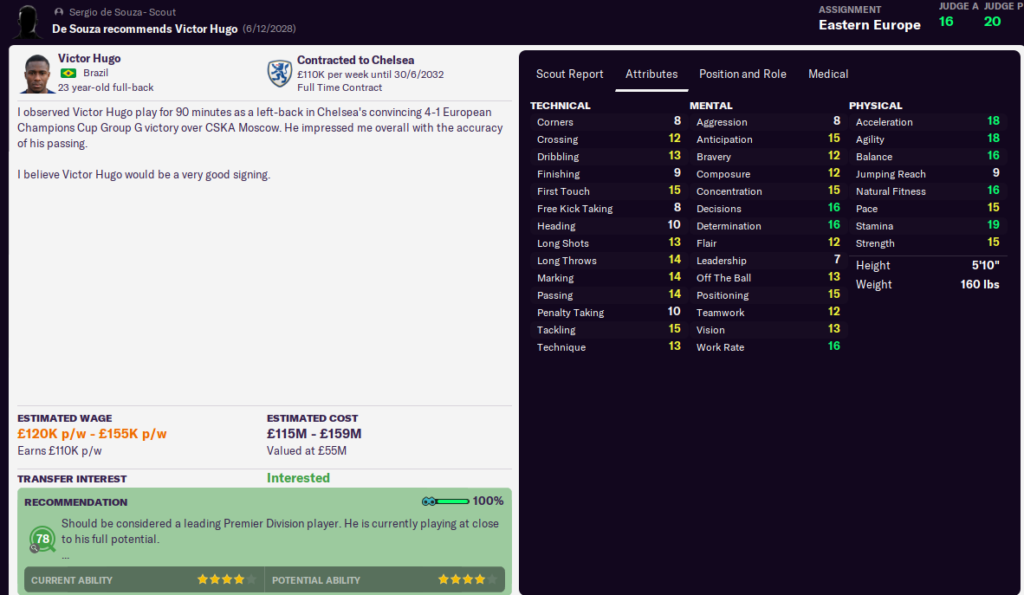 Oh, wait. Victor Hugo. The one that got away. He ended up being better than Vlad Dragic. He is also monumentally expensive. I don't think we'll be signing him. Hopefully Gabriel stays healthy and develops further.
You know how I complain about not being able to spend our transfer budget? I… may have done a thing.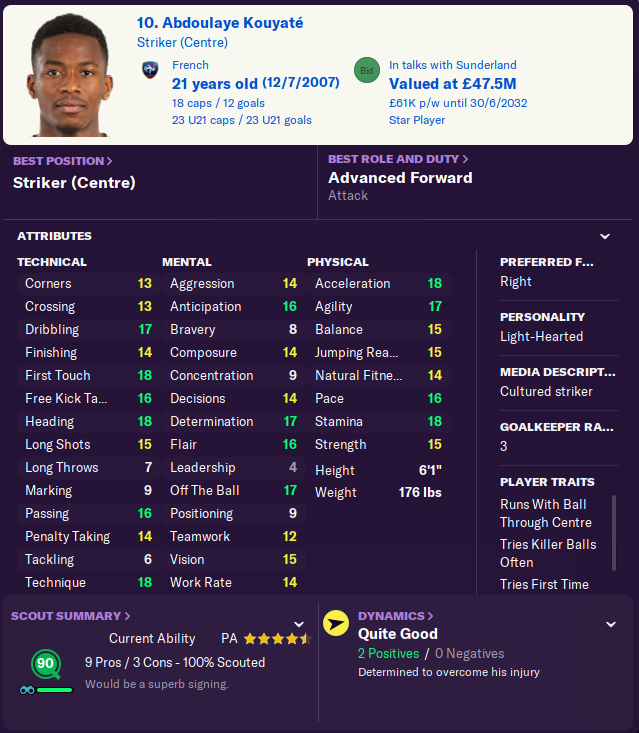 I've been sending the scouts to watch Kouyate for a few years, but he was never interested in joining us. He is now. He's not the best striker in the world. I still think City's guy Delgado is–and Mbappe and Haaland are still very much playing–but Kouyate could be top 5.
The catch is that I don't really need another top-shelf striker. (You always need another top-shelf striker.) I have Martin Ramirez, who is probably top 10 in the world. Fede Cordero is right there with Ramirez.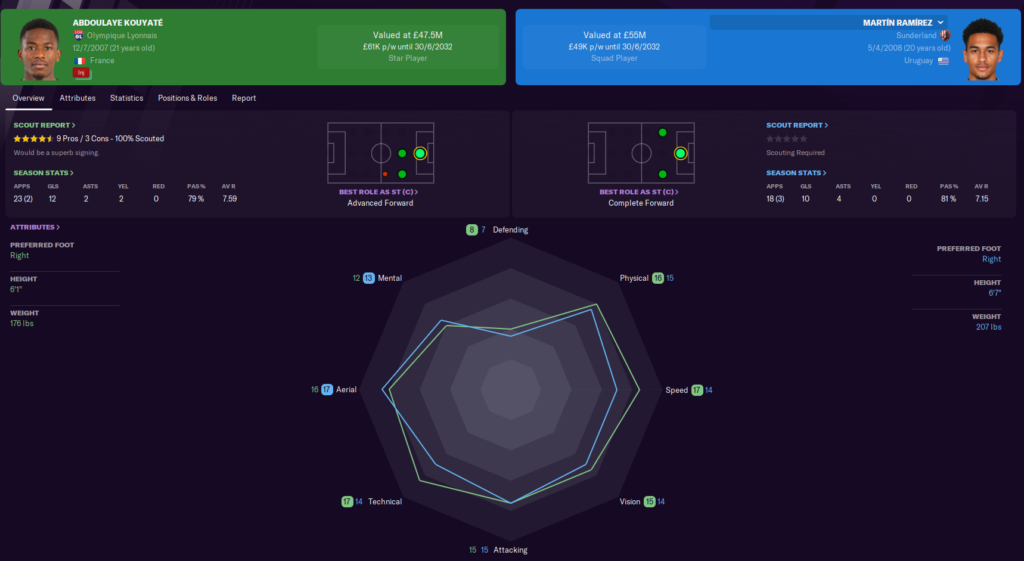 Kouyate is better than them! He also will cost me 130m quid (plus agent fees) with a 15m bonus due after 50 league appearances.

I did it. F*** it. What's the point of being rich if you don't enjoy it.
There are clubs that have a philosophy of not signing a player only because they are good and available, instead looking to fill the actual needs in their squad. That is not my philosophy in general, but certainly not when I have a 165m quid transfer budget burning a hole in my pocket. You could argue I overpaid for him. You would probably be right, given our squad situation. But if we win a major trophy this year, and Kouyate is scoring goals along the way, will you complain? I don't think so.

We are so loaded in attack, it's kind of ridiculous. Kouyate, M. Ramirez, Baez, Cordero, Idah, Villafane, Palacios. I need to start playing 3124 and see if we can win with 4 strikers and 2 wingers on the pitch.
Our form in December dipped a little.

But only a little. City scored multiple late goals when we were throwing bodies forward to recover a 1-2 scoreline for a draw. The Porto match was a heavily rotated side in a match that was meaningless for us.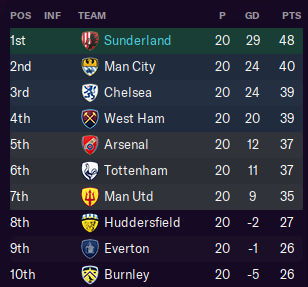 We're in great shape at the end of December. I guess, technically, I could ask for a perfect record, but WE'RE TOP OF THE LEAGUE AT CHRISTMAS. By 8 points no less.
This is from 2 January, to reflect our club record transfer.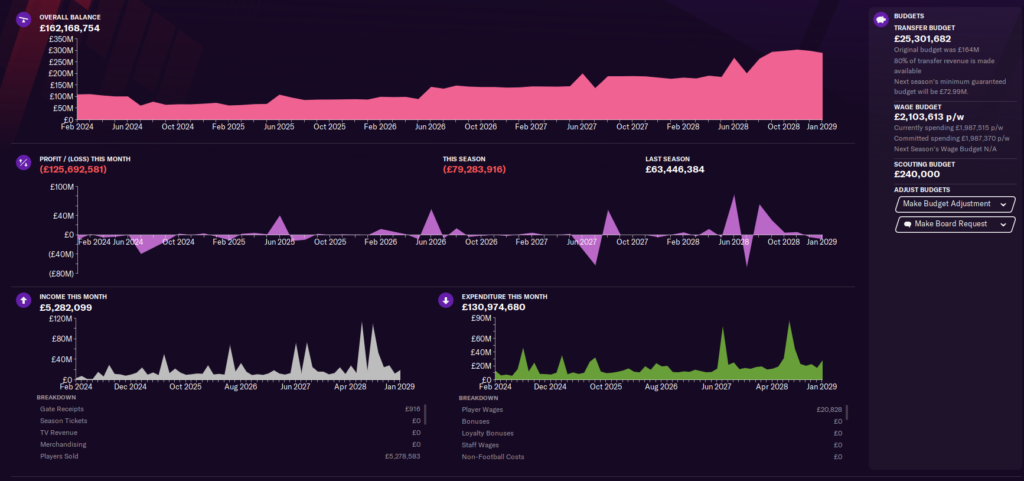 After we paid Lyon for Kouyate, our bank balance took a major hit, but we're still preposterously rich. If I sell a couple more fringe players like Araujo and Escalante, I could still potentially bring in a 50-60m midfielder.
The rest of this season should be fascinating, but it will have to wait until the next update. See you then, footy nerds.