Welcome back, footy nerds. If you're just joining, the previous installment is available here, and the first installment in the series is available here.
I checked to see if he'd come coach for us, but he wants to be a Director of Football, and he has terrible stats for it. I passed.
We had four new kids join the club in early June.
I mentioned him in the last update, but Neja checks a lot of boxes for me. He's a professional, has good physical attributes for his age, and starts with a good foundation of defensive technical attributes. I don't think he'll play much his first season, but if he develops well, he could get lots of minutes in the future.
Miguel is another professional who has tons of room to get better. I initially signed him thinking he'd be a decent right back, but he'll actually fit better as a centerback. With his personality and potential, I have high hopes he's pushing Puric and D'Haene for their minutes.
Oliveira is a project signing. He was free, he had high potential, and I thought I could sell him on in a season or two. I also need to run the face updater again.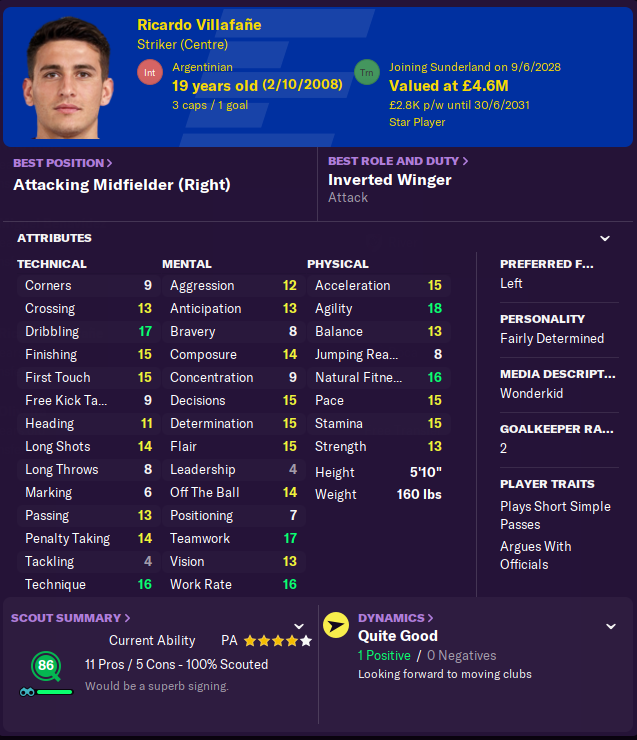 Ricardo is another I've previously mentioned. He was scheduled to arrive this summer to avoid our registration limits last season. I expect him to contribute from day 1. He's cut from the same cloth as Fede Cordero and Martin Ramirez. If his physical abilities develop a bit, he could be a top, top player.
These guys make up 4 of my possible 6 transfers for U21 international players.
Julien is a world-class wingback, and the whole world can tell. He cost us 45m rising to 69m. He doesn't really have the crossing I want, but he's a physical beast and really good everywhere else.
Shortly after making the bid for Julien Barji, PSG approached with an offer for Vlad Dragic.
Vlad is a good player, and two seasons ago he would have been too important for me to allow him to leave, but at this point I'm not so sure. He has okay physical attributes with good pace. Mentally he's excellent. Technically he's just okay. His crossing is poor, and his dribbling is meh. Yes, he can pass and defend, but I need more from my wingbacks.

Farewell, Vlad. You were a good player for us. He cost us 18.75m in 2024, and he's departed for 34.5m.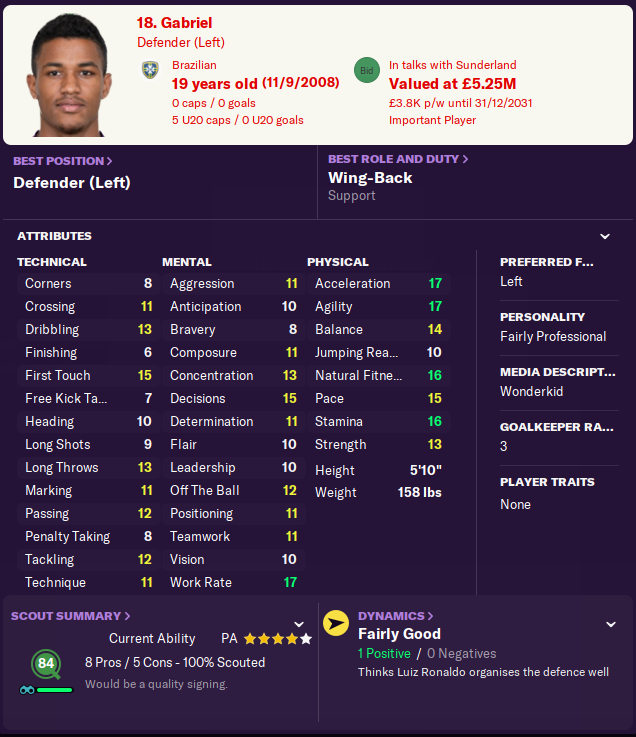 I immediately replaced him with a Brazilian wonderkid. Gabriel set us back 13m. He's pretty comparable to Vlad, tbh, though with slightly better crossing.
Gabriel is 5 out 6 U21 internationals.
Maybe I should have held out for more money for Vlad? Because a couple weeks later, I offered out Jordan Carlin, who ended up being a good player, but not Champion's League calibre, and Club Brugge offered me 26.5m for him.
Tot ziens, Jordan. You ended up better than Finley Burns, but not quite good enough.
Goce was supposed to be our left back of the future, but I'm an idiot and didn't realize he was right-footed. He actually did well in that role, but he came by my office worried that he'd never be good enough for our first team. I let him leave for Club Brugge in a deal that starts at 23.5m and could reach 32.5m. I am, unfortunately, paying part of his salary for the next FOUR years, but it's still a great profit on a guy that joined us on a free (and forfeited his loyalty bonus by asking to be transfer-listed). With Nilson and Gabriel as the first-choice left backs and Puric and Augusto who can cover it, I'm not worried.
I brought in my final international wonderkid of the season late in the transfer window.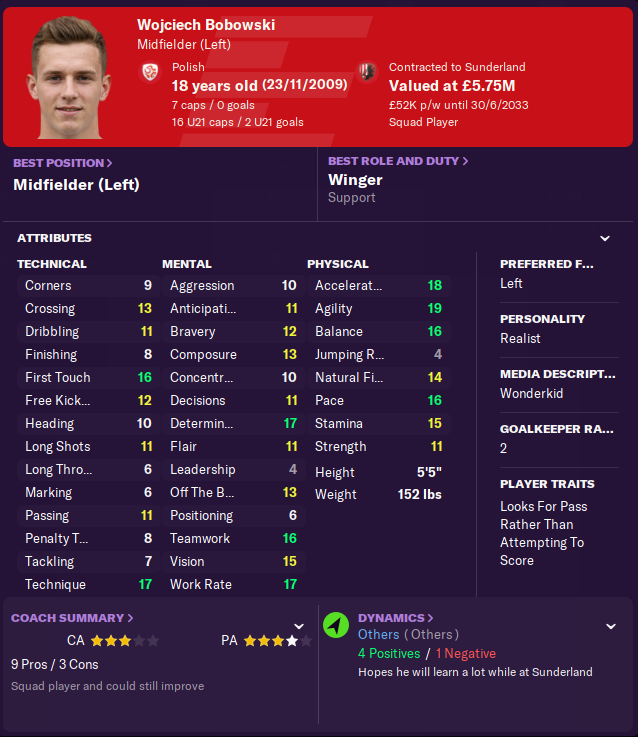 Wojciech was too good to pass up. The scouts thought he was 5 star potential, he had a release clause of 4.9m, great pace, and good enough mental and technical attributes. I can see him being a left-sided Freddy Baez in 18 months, so I got a deal done before West Ham or Arsenal could steal him. Now that he's here and my coaches think he's only 4 star potential, I have mild misgivings, but it's getting hard to gauge the really high potential players.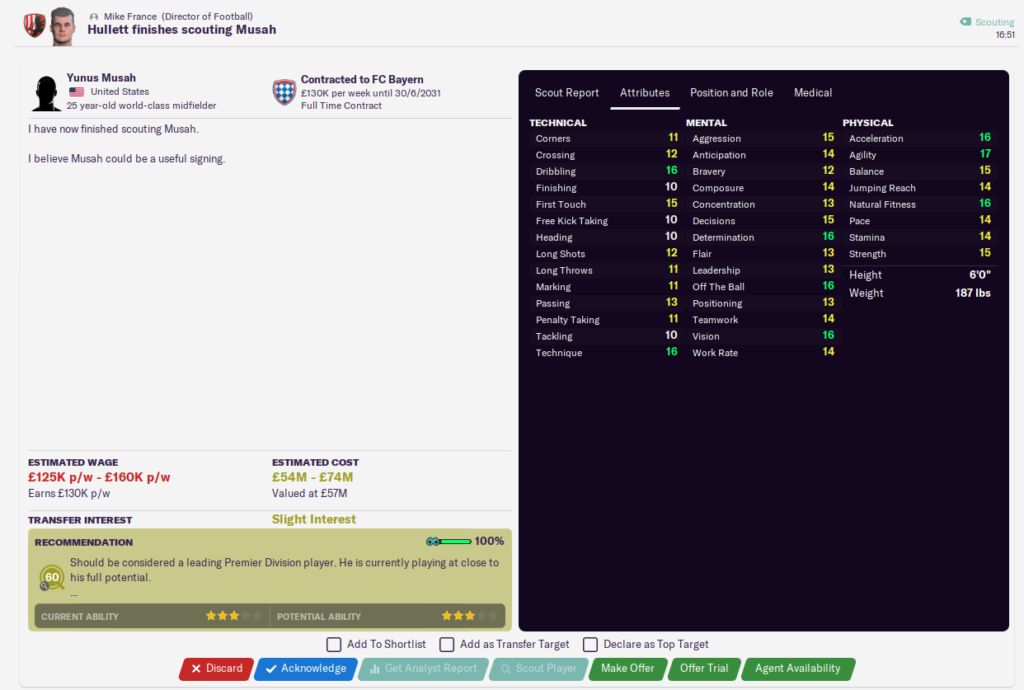 I'm trying to come to terms with this:
Yunus Musah is a Bayern Munich player, and he would join us if I paid to get him
He's a "world class midfielder"
My scouts rate him as 3 stars
Are we really to the point that world-class players are only 3 stars? I think my scouts are LIARS.
We took a shot at this guy, a truly world-class player, for 54m quid, who is–according to my (lying) scouts–the best midfielder in the world. He's in the top few, for sure.
He chose Arsenal. I even offered him more money! (Seriously, dude wanted extortionate wages.) I would be annoyed, but I was more shocked that his agent even considered our offer. I'm trying to spend our war chest. I am. I just can't do it with our current reputation.
I was minding my own business when Arsenal offered something like 30m for Nicolas Bacolla. I rejected it, of course. And the numpty decided to whinge about it.
He's a good player, but also a little weird in that he's supposed to be a winger, but he's not really fast enough for it. He actually does reasonably well in midfield, but he doesn't quite have the defensive nous or work rate to be one of my top three mids. If he didn't already play for me, I'd seriously consider buying him, but I'd probably pass unless I could get a good deal. In the end, I let him leave for 62m (in installments). We didn't end up paying many of the escalators in our original purchase agreement, so he only cost us 13.5m. I hope he likes keeping the bench warm for Filipe Canario.
Our first match of the season was against… Arsenal. I probably should have put us into our 343 to give us good defensive solidity away against a top 6 side. I forgot. We went in with 10 of our first choice 11 (Nathan D'Haene was still away on international duty), and we won 2-0 while looking good in the process. Guys. Gals. We're good now. Legitimately good.
Leeds came to visit the Stadium of Light. Other than giving away an unnecessary penalty, we played our game and took full points with a 3-1 victory.
A trip to Sheffield United was spoiled only by the lack of a clean sheet. We cruised to a 4-1 victory, and Ricardo Villafane bagged two, proving that he's an excellent addition to our attack and giving me a great option to rotate with Freddy Baez. He'll get the winger minutes Bacolla would have seen, plus get some time at striker.
Burnley visited us. We smashed them 3-0.
We swept the August awards with me getting manager of the month, Fede Cordero getting player of the month, Martin Ramirez coming in second, and Kevin Beck Hebo coming in third.
At the end of August, the table looked like this:
I rotated players for those matches, and we still dominated.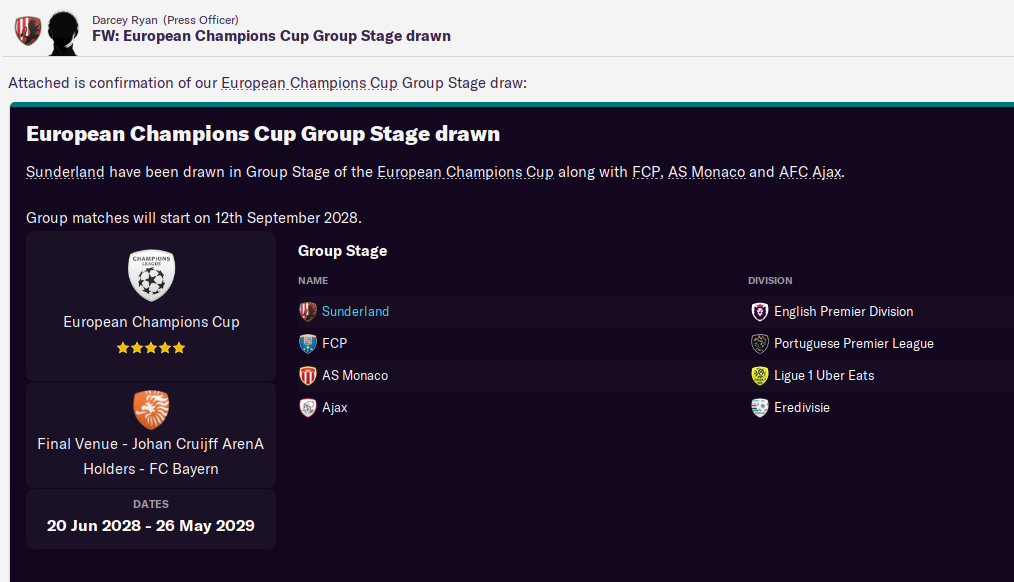 This could have been a lot worse. We can realistically top our group.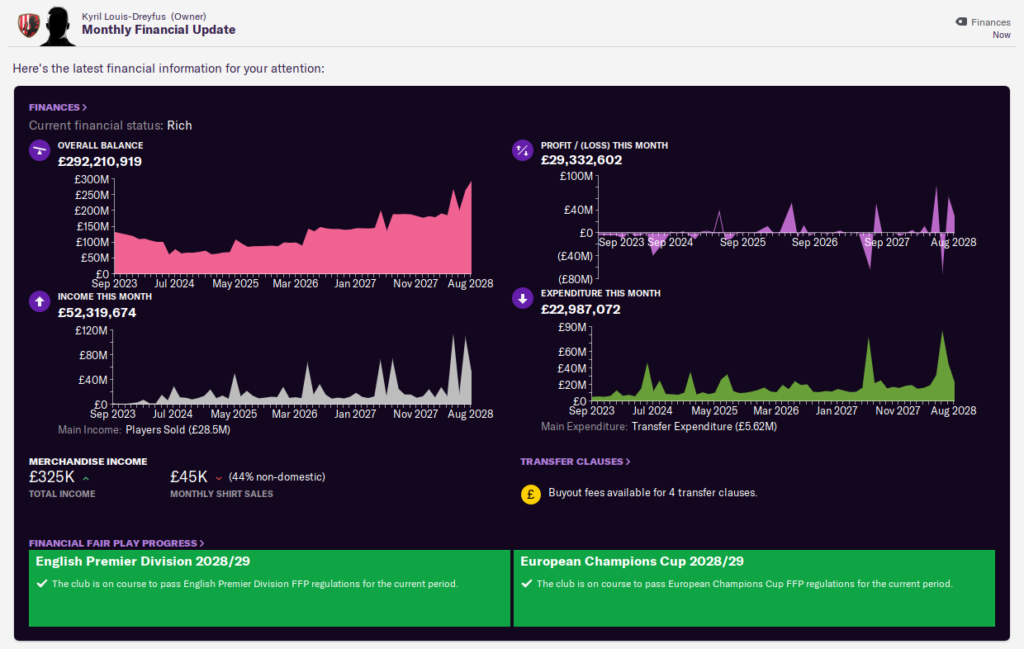 We are richer than ever. I tried to spend 84m on a good (but not as good as Canario) German midfielder. Bayern wouldn't take my money.
So I was cruising along, dealing with transfers and the start of the season, and who should come calling but the actual Football Association.
Huh. England made it to the Euro 2028 semis and went out in extra time to eventual winners Belgium.
I thought about it for a good 5 minutes before I declined the job. Even if I could work both jobs, which was possible in previous iterations of FM, I'd rather focus my (real life) time on Sunderland.
Which does bring us to my personal objectives. If we win the Champion's League, I'm retiring. If we win the Premier League, I'm probably retiring. If we do well in both but win neither, I don't know. I may have another season after this one in me. Beyond that, the outlook is unclear.