Welcome back, footy nerds. If you're just joining, the previous installment is available here, and the first installment in the series is available here.
One of these seasons we'll get a good run of form and not make me want to pull my hair out by mid-October. This was not that season.
A spotty start in August turned into an undefeated September, but "undefeated" meant three consecutive draws in the league.

I went back to tinkering with my tactics and ended up with this.
The thinking was that we had 3 legitimately good centerbacks in Augusto, Puric, and Burns, plus a very good Carlin for cover. Our wingbacks were not as strong, but we were in good shape in midfield and up top.

We lost at Old Trafford 2-3, but played well. We drew at home to Everton, followed by two convincing victories against Burnley and Norwich. It felt as if things were working.

November really irritated me, though. We dominated Wolves and only managed to find the net once, but fortunately it was all we needed. An ugly 2-4 loss to Villa was bad enough, but losing at home to Southampton was worse.
I tweaked things a little midway through our match at (frankly terrible) Leicester.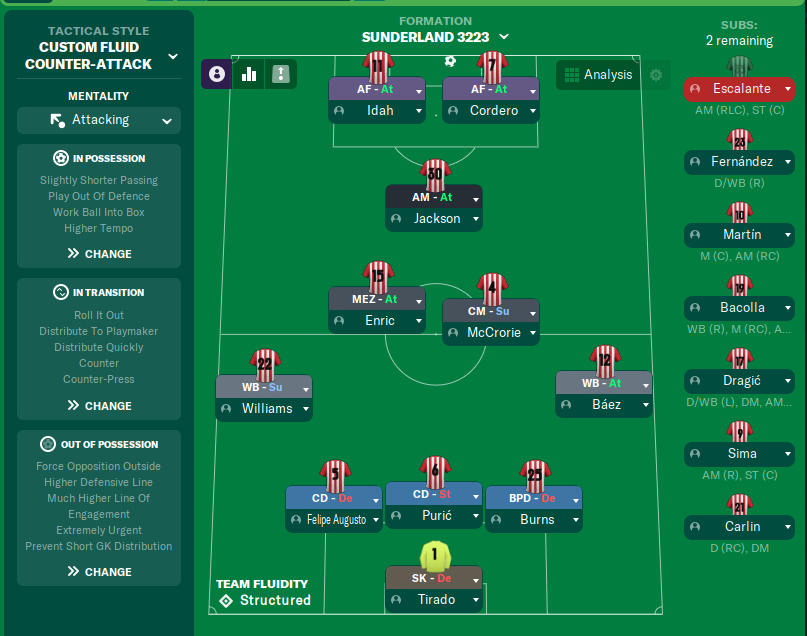 These changes helped us turn things around after a tepid first half.
Look at that xG. Look at those Fede Cordero goals.
Our form after Leicester wasn't bad, necessarily. A narrow loss at Arsenal wasn't upsetting. They're legit stacked in this save. A famous 5-1 win over Liverpool in the Carabao Cup was probably the high point of our season. We lost at home to City, drew to Liverpool in the league, and then had an away loss to Blackburn in which we scored early, looked good, and gave up two thunderbastards to Moises Caicedo.
We're in a place where I feel like our talent level has gone up, but we're getting the same kinds of results as we were two years ago.
Personnel news was more of what you'd expect. (Maybe that's the problem?)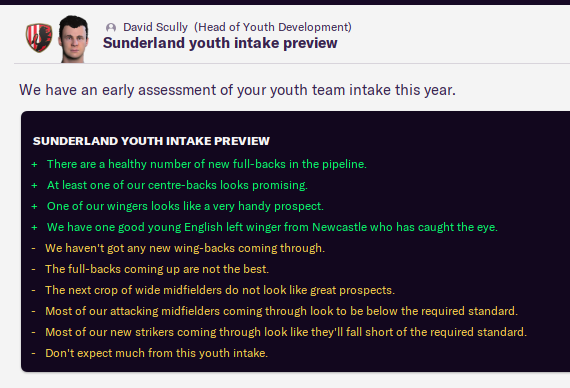 Glad to see our investment paying off already… We will, at some point, get a good youth intake. That point is not this season.
Since I didn't have a good youth intake, I went shopping. Check out this 700k bargain.
He'll be joining us in January 2028 (13 months away). He already has good pace, good agility, good dribbling, and a good first touch. And flair. And teamwork. And work rate. And composure! Other than some mediocre finishing, he looks great right now. My scouts could be pulling a Pure Magic on me, but with his current level of ability I am 100% sure I could flip him in the summer of 2028 for a few million.
This lad is Danish, which means I had to pay a premium. A big premium. 33m over three years big.
But once again, look at him! I'd like him to be just a bit faster, but he's so very nearly what I want in a forward.
Very comparable to Fede Cordero.
Yeah, yeah, Fede is better. Fede is better than everyone. But it's really close.
The better comparison might be Enric, who he would also compete with for our AMC spot. Enric is quicker, but Kevin has slightly better passing and work rate.
Unfortunately, I can't sign him in January, so he'll be arriving next summer. (Because, get this, I let my DoF sign kids for the U23s, and he snuck a foreign player past me, which still counts for the senior team's limit of 6! That will not be happening again.)
Since I'm trying to make 3 at the back work, I picked up a Bosman signing at left wingback.
Goce will arrive in July. His best comparison is probably Vlad Dragic.
They both can play wingback, but Vlad offers excellent defensive capabilities while Goce offers better attacking capabilities.
Red Star also had an excellent AMR/ST that was available for free in the summer, but he chose Manchester City instead of us.
At the end of December we were just over the halfway point in the season.
The European places aren't far away, but we really needed to string together some decent runs of form if we were going to get there and stay there. We're good enough at our best, but not quite as consistent as we need to be.
We'll break here. See you next week, footy nerds.
Update: Part 2 is now posted